Cruise Guides
Cruise Guides
Planning a cruise can be a stressful experience. How much are drinks on a cruise? How much will gratuities be? Do I need a visa too? Travel insurance? All these things need to be considered before you go cruising; not to mention questions like what to wear on a formal night, which cruise lines are best for kids or disabled passengers or where you can or can't smoke on a cruise ship. But what if you could see exactly what a cruise ship menu looks like before you cruise? Or how much a massage in a cruise ships spa will cost?

Now you can……… Take a look below at some of our useful information and guides to cruising so you know exactly what to expect before you board.

Need Help?
Do you have a question about cruising? Ask your question here and visitors to the site, who have real cruise experience, will share their answers with you.
Post your own questions
Read answers from real cruisers
Help other cruisers with their questions
Be part of a real cruise community
Expand your cruise knowledge
If you'd like to know more about prices or a cruise that you've already booked, speak to a specialist cruise consultant, call us on 0800 408 6228.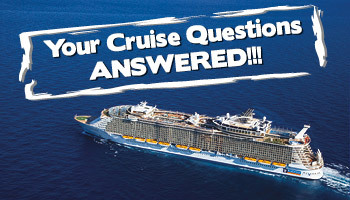 Would You Like To Ask A Question?