Pillow Menus
As cruising becomes more luxurious cruise
ships need to do more and more to stay ahead of the
game. One route some cruise lines have taken is in offering
their guests that little bit extra in comfort and luxury by providing
pillow menus in guests cabins. They're not, as they may sound, edible
pillows but rather a full list of all the different types of pillows your cabin
steward can provide you on request. If your cruise ship offers this service
then there will normally be a little card in your room with the different types
of pillow available and all you need do is request which one you'd like
from your cabin steward. Celebrity cruises offers this service when
you book a cabin on their concierge level or higher. Crystal cruises
also offer this service to all their guests as do Uniworld, (the river
cruise company). But how many different types of pillow can
there really be to choose from? You may be surprised!

Magnetic Therapy Pillows
A lot of companies offer magnetic therapy pillows. They reduce swelling and joint discomfort, relieve insomnia and fatigue and improve skin tone by stimulating circulation.
Satin Pillows
Normally just a standard pillow, (or you may be able to combine it with many other types), a satin pillow is just a pillow case made out of satin for a soft, silky nights rest.
The Lullaby Pillow
It's a set of ultra-thin speakers buried in a hypoallergenic fiberfill pillow that you can plug any USB device into to play your music as you drift off to sleep.
The Snore-No-More Pillow
The shape of this pillow is specially designed to lift your chin off of your chest to keep your airways open. You might want to order this one for a partner if they normally keep you up with their snoring.
The Water Filled Pillow
It's a vinyl cushion filled with either warm or cold water.
Feather & Down Pillows
Normally a blend of feathers and down, (down are the small soft feathers found underneath the hard exterior feathers), these pillows tend to be of a medium firmness and are normally the most popular choice with guests.
Memory Foam
Memory foam is a self-molding, heat sensitive material that shapes itself to the body and responds to temperature, keeping you cool in the summer and warm in the winter. They also give great neck support whilst conforming to the shape of your head. These pillows will feel quite firm.
Hypo-Allergenic Pillows
These pillows are meant to drastically reduce sneezing, morning headaches, sinus congestion and other symptoms associated with allergies to feathers, fibers and dust; so if you've ever had a problem with any of these symptoms it might be worth trying one of these pillows the next time you're on-board a ship.
Buckwheat Pillows
Small and thin, the buckwheat hulls conform to the head and neck for maximum support and stress reduction. Don't try this pillow if you have any kind of wheat allergy however.
A Cloud Pillow
This is a specialty pillow found in some high-end hotels. There are more than 10 million air beads per pillow to keep the head cool at night. This pillow is classed as a firm pillow and will offer a lot of support.

Need Help?
Do you have a question about cruising? Ask your question here and visitors to the site, who have real cruise experience, will share their answers with you.
Post your own questions
Read answers from real cruisers
Help other cruisers with their questions
If you'd like to know more about prices, call us on 0800 408 6228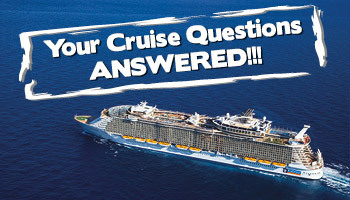 Would You Like To Ask A Question?