Privacy Policy | Cruise 2021
About Your Information and How We Use It
Cruise.co.uk collects personal information when you register with us, share and comment on content, or place a booking.
We will use this information to provide the services requested, maintain booking records and, if you agree, to send you marketing information.
Cruise.co.uk will not share your information for marketing purposes with companies outside the Cruise.co Group.
For more information explaining how we use your information please see our privacy notice.
Privacy notice
Cruise.co.uk is part of Cruise.co Group Ltd which also includes Kreuzfahrtberater GmbH. This privacy policy explains how we use any personal information we collect about you when you use this website.
Topics:
What Information Do We Collect About You?
We collect information about you when you register with us, share and comment on content, or place a booking.
We also collect information when you voluntarily complete customer surveys, provide feedback and participate in competitions. Website usage information is collected using cookies.
Your website visit may be recorded for training and quality purposes, but no personal information will be stored in these recordings.
How Will We Use The Information About You?
We collect information about you to process your booking, manage your account and, if you agree, to email, text or write to you via post about other cruise products and travel services we think may be of interest to you.
We use your information collected from the website, and from enquiries and bookings you have made in the past, to allow our sales consultants to personalise the product and services offered to you.
We may also use this information to personalise your repeat visits to our website and to tailor advertising from us displayed on third party websites.
If you agree, we shall pass on your personal information to our group of companies so that they may offer you their products and services.
Cruise.co.uk Ltd will not share your information for marketing purposes with companies outside the Cruise.co Group.
In processing your booking, we may send your details to, and also use information from credit reference agencies and fraud prevention agencies.
Enquiring About A Cruise Or Package Holiday
If you want to contact us for more information or a quote for a cruise or package holiday, you can do so in a number of ways:
Via telephone
By completing a form online
Requesting a call back
Via social media
When you do, we will record some simple contact details (such as phone number, email, name and sometimes your address), as well as the details of your general or specific requirements.
Our helpful cruise consultants will then use this information to give you the best cruise or package holiday options available. Usually we will do this via telephone, however we will also use email, text messages, social media and occasionally post to get in touch with you about your enquiry or to let you know about cruise offers and package holiday options that we think you will be interested in.
If you decide to use the call back option on our website, your telephone number will be shared with the company who provide this service to allow them to connect you to one of our helpful cruise consultants.
We will also record any calls you make to us, or when we call you, for training and quality purposes.
You may ask for our team to stop providing details of holidays or offers tailored to your requirements at any point.
Booking Your Cruise Or Package Holiday
Make a booking
Book Packages Components
Ancillary Bookings
We hope that you will go ahead with booking your cruise or package holiday with us and when you do, the information that we will require may vary depending on a number of things. Such as:
Whether we are acting as your travel agent or the holiday operator
Who is providing individual services involved in your holiday
In order to make sure that your holiday goes as planned, we must pass on any information required by the different suppliers and partners we work with to fulfil your travel services. This could include things like:
Booking your cabin on the cruise ship
Arranging your car parking
Booking your flights
Arranging any trips, excursions or tours
Booking your stay in a hotel
Or providing anything else detailed in your cruise or package holiday itinerary
We will only pass on information necessary and relevant to the service they are providing. We will work closely with all our suppliers to ensure that they take your data security seriously, and any data passed to them is adequately protected and adheres to the levels of privacy and data security practised by us.
The types of data we might need to store ourselves or share with our partners to fulfill your holiday are:
Names of passengers
Dates of birth
Contact details such as email address, phone number and address
Details of the holiday booked
Any information that we may need for the fulfilment of your holiday
Details of any communication that we may have with you or our partners and suppliers
We may also need other information, such as:
Passport details
Details of insurance policies held
Next of kin contacts
Any details that you require us to record to ensure that your needs are met (such as dietary requirements and medical needs)
Obviously we will only collect such details with your consent and where they are essential for the smooth running of your holiday.
In all cases the data we record and share with our partners will be processed and stored securely.
Paying Your Deposit Or Balance
Whether you are paying your deposit or the full balance of your holiday, we will need to pass your payment details to the partners who process these payments on our behalf.
We provide three main methods of payment:
Direct debits
Bank transfers
Credit or debit cards
In all cases, as we do with your personal data, the payment details will be processed and stored securely at all times.
After You Book Your Cruise Or Package Holiday
We believe it is important that we stay in touch with you whenever necessary before, during or after your holiday to keep you updated about your holiday and to make sure everything went as planned.
We will usually always try and contact you by phone, but we will also use email, text messages, social media or post using the contact details you gave us at the time of booking.
This could be to:
Pass on any important information, such as changes to your holiday
Obtain any further information required
Make you aware of services that we think will complement your upcoming holiday
Provide all appropriate documentation for your travel
Our helpful consultants will often contact you before (to make sure you are all set) and after your holiday (to make sure you had a good time), even if we do not need to make you aware of any specific information or obtain any further details from you.
We work with TrustPilot to collect independent feedback on the service we provide. When you make a booking with us, we will provide your name, email address and the name of the holiday booked to TrustPilot.
Your information is used solely to send a survey on our behalf and to collect your feedback. This allows us to measure whether we are providing the level of service we think our customers deserve and to provide you with an opportunity to quickly and easily provide feedback. If you choose to complete this survey, your feedback will be published on their website. In each instance, we will be provided with details of who has left feedback, though you will have the option to publish your feedback anonymously so that you cannot be publicly identified.
We reserve the right to reply to reviews publicly and we will always take care not to communicate any personal information from which you could be personally identified.
In addition to this survey, we will also contact you directly via email to ask for feedback on the cruise consultant you dealt with. If you choose to use this service, your feedback will be published on our website and from time to time be used in marketing communications.
If you choose not to provide feedback we will not prejudice the service provided to you in any way. Upon booking, you will be provided with alternative methods of contacting our business directly to provide feedback and get any immediate concerns or queries addressed.
Visiting Our Website
Free cruise competition
Track website usage
Use forum
Personalise website
Capture UGC
When you visit our website information we will collect information digitally can include your IP address, data from your browser, cookies (pieces of data stored on your computer) and how our website is used and from what kind of device.
This can be used for a number of purposes, such as providing aggregate information as to how users may access our site to providing a more individualised experience, such as showing your more news and offers from cruise lines we know you love.
We work with third parties such as Google Analytics, Qubit and Hotjar to carry out this work.
In all cases we will not share any personally identifiable information with this companies.
When using our website you may decide to take part in our online community and share things with other visitors, such as:
Write a review
Ask a question
Answer a questions
Comment on something
Upload a photo
Post onto our forum
When you do so we will ask you for information (such as your name, email and address), but we will only ever display you surname and town to other users and take every effort to ensure that you cannot be publicly identified.
When posting content onto your website we would urge you to avoid ever sharing any personally identifiable information with people you do not know personally.
The content you post onto our website may be used to help us understand your preferences better and improve your experience when using our website or booking with one of our consultants. For example, we might use information from a review you write to show you information on cruises you might enjoy based on what you told us about your last cruise.
Marketing
We would like to send you information about products and services of ours and other companies in our group which may be of interest to you. You will receive marketing from us if:
You have provided us with explicit consent to do so
You have booked or enquired about a holiday with us in the past
You have taken part in our online community in the past
How we will contact you will vary depending on the information you have given us, but will most likely be one of:
Sending you emails
Sending you mail via post
Sending you text messages to your mobile phone
We will use securely held information and details of previous activity to ensure these emails are as relevant as possible. This information could include:
Information about when you have visited our websites
Your past bookings and enquiries with us
The content you have posted on our website
How you use any marketing emails that we may send
We may also use this information to ensure any advertising you see from us on other websites is as relevant as we can make it.
If you have received marketing from us, you may opt out at a later date, at which point any and all direct marketing will cease (with the exception of any campaigns that are currently in the pipeline for despatch - for example direct mailings already submitted for fulfilment).
You have a right at any time to stop us from contacting you for marketing purposes or giving your information to other members of the Cruise.co Group.
You can decide which email marketing you receive from us by updating your preferences here. You can also unsubscribe from all email or text message marketing here.
We do not sell, trade or rent your personal details to third parties unconnected to your holiday. Details are provided to suppliers connected to your holiday for the purposes of the fulfilment of your holiday only (as described above).
If you no longer wish to be contacted for marketing purposes, please click here.
Accessing And Updating Your Information
We will only process your data for as long as it is deemed necessary after which time it will be securely deleted.
You have the right to request a copy of the information that we hold about you.
If you would like a copy of some or all of your personal information, please email or write to us at the following address. We may make a small charge for this service.
We want to make sure that your personal information is accurate and up to date. You may ask us to correct or remove information you think is inaccurate.
You have the right to complain to the relevant supervisory authority. For companies in the UK and, in any event, for data subjects born, working or living in the UK, this will generally be the Information Commissioner's Office www.ico.org.uk.
Cookies
Cookies are text files placed on your computer to collect standard internet log information and visitor behaviour information.
This information is used to track visitor use of the website and to compile statistical reports on website activity.
For further information visit www.aboutcookies.org or www.allaboutcookies.org.
You can set your browser not to accept cookies and the above websites tell you how to remove cookies from your browser. However in a few cases, some of our website features may not function as a result.
Other Websites
Our website contains links to other websites. This privacy policy only applies to this website so when you link to other websites you should read their own privacy policies.
More information about the companies we work with and how your data is used
When someone visits our website
When someone visits our website we use a number of third party services, Google Analytics, Google Signals, Qubit and Hotjar, to collect standard internet log information and details of visitor behaviour patterns. We do this to find out things such as the number of visitors to the various parts of the site. This information is only processed in a way which does not identify anyone. We do not make, and do not allow Google, Qubit or Hotjar to make any attempt to find out the identities of those visiting our website. If we do want to collect personally identifiable information through our website, we will be up front about this. We will make it clear when we collect personal information and will explain what we intend to do with it. You can opt out of personalised ads in your Google Account Settings, by going to Data and Personalisation, and changing your Activity Controls.
Qubit is designed to enhance the your experience when you visit our website and to personalise your online experience. With the help of this cookie we record how people move around our website. This helps us to test different versions of our website and to provide tailored experiences to people based on how they use our website. For more information, please see Qubit's privacy notice.
When we send you a marketing or customer service email
We use a third party provider, Ongage, to deliver our daily cruise emails. We gather statistics around email opening and clicks using industry standard technologies including clear gifs to help us monitor and improve our e-newsletter. For more information, please see Ongage's privacy notice.
When you contact us via social media
We do not use a third party provider to manage our social media interactions.
If you send us a private or direct message via social media the message may be stored by social media website, however we will not be shared with any other organisations.
If you choose to share personally identifiable information with us via a social media website, please ensure you are aware of the specific privacy practices of the website or service before doing so.
When you call us or your consultant
When you call us or your consultant, we collect Calling Line Identification (CLI) information. We use this information to help improve its efficiency and effectiveness.
We work with ResponseIQ to provide the call back service on our website. ResponseIQ will store the telephone number you enter to allow them to connect you to one of our cruise consultants and to allow us to monitor the performance of this service. For more information, please see ResponseIQ's privacy notice.
When you email us or your consultant
We use Google to manage all of the emails our staff send and receive (excludes marketing emails). Google use Transport Layer Security (TLS) to encrypt and protect email traffic in line with government. If your email service does not support TLS, you should be aware that any emails we send or receive may not be protected in transit.
Google will also monitor any emails sent to us, including file attachments, for viruses or malicious software. Please be aware that you have a responsibility to ensure that any email you send is within the bounds of the law.
When you use our LiveChat service
We use a third party provider, Live Chat Inc, to supply and support our LiveChat service, which we use to handle customer enquiries in real time.
If you use the LiveChat service we will collect your name, email address and the contents of your LiveChat session. This information will be retained for two years and will not be shared with any other organisations.
You can request a transcript of your LiveChat session if you provide your email address at the start of your session or when prompted at the end.
When you make a payment
We use multiple third party providers to process payments:
Barclaycard, to process debit and credit card payments.
Go Cardless, to process direct debit card payments.
Trustly, to process online bank transfers.
Your personal data protected during transmission with the use computer safeguards such as firewalls and SSL data encryption.
For more information, please see:
For your own protection, you should never send credit card details by e-mail.
Changes To Our Privacy Policy
We keep our privacy policy under regular review and we will place any updates on this web page. This privacy policy was last updated on 21 May 2018.
How To Contact Us
Please contact us if you have any questions about our privacy policy or information we hold about you by either:
Writing to us at: Cruise.co Group, Privacy Team, Grosvenor House, Prospect Hill, Redditch, B97 4DL
Need Help?
Do you have a question about cruising? Ask your question here and visitors to the site, who have real cruise experience, will share their answers with you.
Post your own questions
Read answers from real cruisers
Help other cruisers with their questions
Be part of a real cruise community
Expand your cruise knowledge
If you'd like to know more about prices or a cruise that you've already booked, speak to a specialist cruise consultant, call us on 0800 408 6228.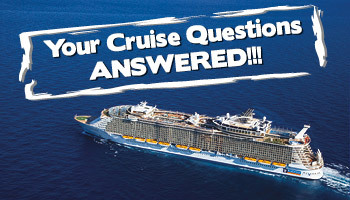 Would You Like To Ask A Question?