How does my cruise ship card work?
"How do I buy things like drinks or gifts on a cruise ship?" is one of the most commonly asked questions for anyone that's yet to enjoy a cruise. After all, everyone knows a cruise ship is a cashless environment.
So how does it work?
It's a fairly simple process with an easy explanation but for those of you that have been wondering; here's how…
When you check in for your cruise, during the embarkation process, you will be asked to register your credit/debit card details with the cruise line.
This can also be done before check-in, online, on the appropriate cruise lines website. *Please note, not all cruise lines offer this facility but the majority do. If you're in any doubt just ask your travel agent.
You will then be handed your cruise card.
This will be used as your room card, (for getting in and out of your cabin), ship board I.D, (for when leaving and entering the ship in port) and for onboard spending.
Every time you make a purchase your card will be swiped and the amount will be added onto your bill which will be deducted from the debit or credit card you registered at the start of the cruise on your final morning as you are leaving the ship.
Whenever you do use your card you will be handed two receipts, one for you to keep and one for you to sign for the ships records.
Depending on the cruise line there will be different ways of keeping track of what you have spent. You can either keep track of your receipts or check at the purser's desk. Some cruise lines like Royal Caribbean allow you to keep track of your onboard bill on the interactive TV in your cabin whilst others like Norwegian Cruise lines have gone so far as to create an app for your smart phone which can be used at sea for free and will track your account instantly.
When you leave the ship to get off in ports you must take your card with you as most cruise lines will use this as ID, to get back onto the ship. When you leave the ship they will scan your card and re-scan it when you get back on. This helps them make sure everyone is back on the ship so it can sail to the next port without leaving anyone behind! It also means random people cannot embark the ship as a photo of yourself will be stored in the ships computer next to your details.
Don't panic – If you lose the card reception will be able to replace it straight away. No one will be able to get in your room as the card doesn't have your room number on it and they won't be able to buy anything on it without a valid signature.
At the end of your cruise when you disembark they have to scan your card to show you have got off the cruise, some cruise lines will let you keep this card as a 'souvenir' but most cruise lines will take it from you upon disembarkation.
Need Help?
Do you have a question about cruising? Ask your question here and visitors to the site, who have real cruise experience, will share their answers with you.
Post your own questions
Read answers from real cruisers
Help other cruisers with their questions
Be part of a real cruise community
Expand your cruise knowledge
If you'd like to know more about prices or a cruise that you've already booked, speak to a specialist cruise consultant, call us on 0800 408 6228.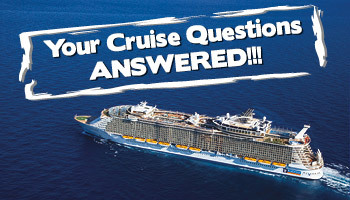 Would You Like To Ask A Question?