Cinema and movies | cruise information

So when you are aboard ship, do try to catch up on that movie or old blockbuster you missed first time around. What are your options?
Well some ships have a dedicated cinema; some have a screen outside and most have a movie channel on the TV or a DVD library.
There may be a fee which is charged to your on-board account, or in some case the viewing may be complimentary.
You will find details in your cabin and/or on the daily newspaper produced by your cruise line, but hopefully this guide will help a little, and if you have any questions don't hesitate to speak to the reception on-board your ship.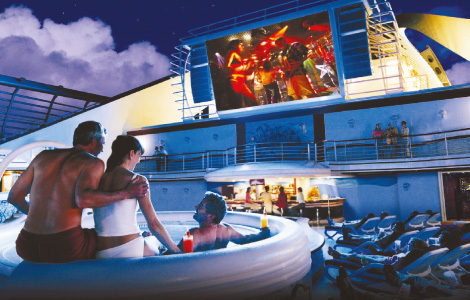 Cruise Line
Dedicated Cinema
Films on TV in cabin
DVD Library
Outdoor sea screen
Other Movie Venues
Extra information
Azamara Club Cruises
N
Y
-
-
Cabaret Lounge
-
Carnival Cruises
On selected ships
Y
Y
Y
-
Carnival Liberty, Valor, Freedom, Victory, Triumph, Destiny, Splendor, Dream, Conquest, Glory, Magic, Breeze & Sunshine have a seascreen with movies screened
Celebrity Cruises
Y
Y
-
-
Main Theatre Celebrity Central
-
Costa Cruises
4d cinema on selected ships
Y
Y
Y
Main Theatre
Costa Fascinosa, Favolosa, Deliziosa, Pacifica, Luminosa & Serena have giant screens, but do not show movies
Cruise & Maritime
N
Y
Y
-
Cabaret
-
Crystal
N
Y
Y
-
-
-
Cunard
Y
Y
-
-
Illuminations Royal Court Theatre
3D films may be available in Illuminations on QM2
Disney
Y
Y
-
Y
Main Theatre
All ships have a cinema and Movies on Deck, some may be first-run Disney films
Fred Olsen
only on Black Watch
Y
Y
-
Neptune Lounge on selected days, Marina Theatre
-
Holland America Line
Y
Y
-
Y
-
All ships have small dedicated Cinemas
Hurtigruten
N
N
-
-
-
Not every cabin category has a TV
MSC
4D cinema on selected ships
Y
-
Y
Theatre for broadway style shows
Musica & Fantasia class ships have outside screens but do not show movies
NCL
N
Y
-
Y
-
Epic has an outdoor screen
Oceania
N
Y
Y
-
Theatre for live shows and musicals
-
P&O Cruises
Y
Y
-
Y

Adonia - Curzon Lounge

Azura - Malabar Ventura & Oceana - Theatre

There is a cinema on Arcadia, Aurora and Oriana. Azura has an outdoor cinema SeaScreen
Princess Cruises
N
Y
-
Y
Theatre for Broadway Productions
Golden, Crown, Sea, Star, Dawn, Coral, Caribbean, Emerald, Ruby, Sun, Island, Diamond, Sapphire and Grand Princess have a seascreen with movies screened
Regent
N
Y
Y
-
-
-
Royal Caribbean
N
Y
-
Y
Aqua Theatre
Outdoor movie screen available on Allure, Oasis, Independence, Freedom, Liberty, Radiance & Splendour
Seabourn
N
Y
Y
N
-
Movies occasionally shown in Theatre
Seadream
N
Y
Y
Y
-
-
Silversea
N
Y
Y
-
-
Silver Explorer & Spirit have interactive TV rather than DVD players
Star Clipper
N
Y
Y
-
-
-
Thomson
only on thomson spirit
Y
Y
Thomson Discovery
-Theatre for west end style shows
DVD players are available in some Suites,Dedicated cinema on Thomson Spirit. Discovery has an outdoor screen.
Voyages to Antiquity
N
Y
-
-
-
Movies being shown, but not on demand
Windstar
N
Y
Y
-
-
-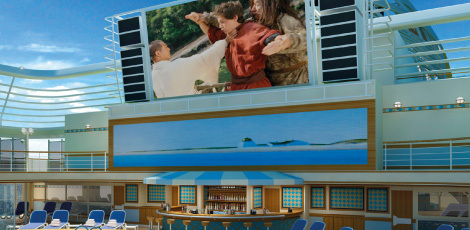 Dedicated Cinemas
Although they come very close to Disney Cruise Line, both have a dedicated cinema on 4 of their ships. However with P&O Cruises you have the choice of an adult-only ship.
P&O Cruises have dedicated cinemas on Arcadia, Aurora and Oriana. Azura has a Seascreen – an outdoor screen in the pool area.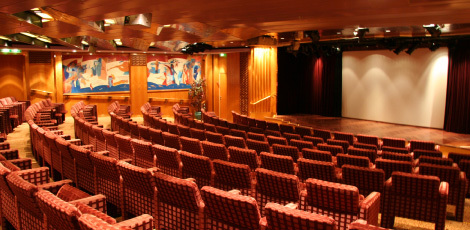 Other Venues Onboard
There are other venues on board P&O Cruises' ships where movies are shown; The Curzon Lounge on Adonia, The Malabar on Azura and the Theatre on board both Ventura and Oceana.
P&O Cruises cater for movie lovers while at sea. So relax and enjoy a movie whether you like a romantic love film or an action-packed adventure film, there will be something for you on board.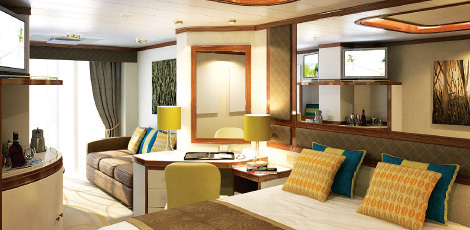 Movies In Your Cabin
Although there isn't a DVD library available with P&O Cruises, there are movies on the TV for you to enjoy in the comfort and privacy of your cabin.
The above information is to be used as a guide only. Please check with individual cruiselines or your cruise consultant before booking a cruise. Each cruiseline reserves the right to change their policy at any time without notice for which Cruise.co.uk cannot be held responsible. The information is compiled and calculated by Cruise.co.uk - this information is not to be reproduced without prior permission.
Need Help?
Do you have a question about cruising? Ask your question here and visitors to the site, who have real cruise experience, will share their answers with you.
Post your own questions
Read answers from real cruisers
Help other cruisers with their questions
Be part of a real cruise community
Expand your cruise knowledge
If you'd like to know more about prices or a cruise that you've already booked, speak to a specialist cruise consultant, call us on 0800 408 6228.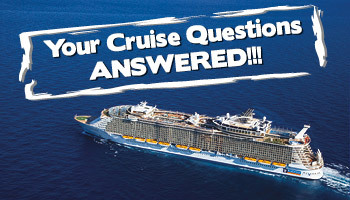 Would You Like To Ask A Question?