Almost all of cruise lines will welcome assistance dogs on board and create an enjoyable cruise experience for both owner and the assistance dog. To help you along with any worries you may have regarding ports of call, we've gathered some information for you...
| Country requirements | Australia | Baltic | Canada | Caribbean | Dubai | Egypt | EU/Norway | Far East | Hawaii | US/South America |
| --- | --- | --- | --- | --- | --- | --- | --- | --- | --- | --- |
| Animal needs Quarantine? | The animal placed under quarantine surveillance but won't actually spend any time in a quarantine station. | No | No quarantine needed but there may be an inspection fee on arrival. | No | No | Before departure your pet must go to the quarantine office. So the health certificate can be issued. | No | No | No | No |
| Vaccinations? | Must prove that your animal does not have Rabies. | The animal must be vaccinated for rabies and various other diseases at least 21 days but not more than 12 months prior to travel prior to travel. | Proof of the vaccination is required with the date when vaccinated, who it was licensed by (the country of origin) and then the trade name with serial number of the vaccine. | Yes, Rabies. | Must have had rabies injection Must have a RMATT blood test (abies test). | Yes, Rabies. | Yes, Must be vaccinated for rabies at least 21 days prior. | Must have a certificate showing they have been vaccinated against rabies within one year and at least 30 days prior to entry. | Yes, Rabies. | Yes, Rabies. |
| Animal can disembark at port? | Yes | Yes | Yes | Yes | Yes | Yes | Yes | Yes | Yes | Yes |
| Animal must be trained? | No | No | No | No | No | No | No | No | No | No |
| Animal age requirements? | No | Animals under 3 months old may enter an EU Country, but there are additional regulations that must be met. Certain aggressive breeds of dogs are prohibited from entry. | No | No | Animals cannot be under 4 months old to enter. | No | No | Animals under 3 months of age are exempt from the rabies vaccination. | No | No |
| Does your animal need to be micro chipped? | No | If your pet's microchip is not ISO 11784/11785 compliant, you can bring your own microchip scanner. | No | No | No | If the microchip is not ISO 11784/11785 compliant then you should bring your own microchip scanner. | Yes | No | No | No |
| Pet passport required? | Yes | Yes | Yes | Yes | Yes | Yes | Yes | Yes | Yes | Yes |
| Port inspection? | No | No | Yes | No | No | There could be a small administrative fee that might be charged on your arrival. | No | No | No | Subject to inspection at port and may be denied entry. |
| Extra information | | | Assistance dogs that are endorsed for a guide, hearing or another service of dog are not subjected to any of the restrictions for importation where the person that is importing the dog is the actual user of the dog and to accompany the dog to Canada. | In the event that you are traveling with a service animal or emotional support animal, you will be required to obtain an import permit from the Veterinary Services Division of the Ministry of Agriculture prior to arrival. | All pets must arrive in UAE manifested cargo- it cannot arrive as accompanied baggage. | Within 14 days of travel, a USDA accredited vet must complete the Egypt Veterinary Certificate for endorsement by the USDA or CFIA if it is then travelling from the United States of America or Canada. | If you are entering from non-EU or non-listed country same rules apply but a blood sample must also be taken 30 days after the vaccination, and then you must wait 3 months to avoid your dog being put into quarantine. | China does not recognize as many kinds of service dogs as the U.S. does. For example, they do not recognize psychiatric service dogs. Service dog owners also don't have as many public access rights as they do in the U.S. | There are restrictions regarding the entry of service animals into Hawaii. Customers planning to travel to Hawaii should contact the Hawaii Animal Quarantine Branch manager directly for quarantine requirements. The 24-hour phone number is 1-808-837-8092. You may also view animal quarantine information at the Hawaii Department of Agriculture website. | If a dog appears to be ill, further examination by a licensed veterinarian at the owner's expense might be required at the port of entry. |
The above information is to be used as a guide only. Please check with individual cruiselines or your cruise consultant before booking a cruise. Each cruiseline reserves the right to change their policy at any time without notice for which www.CRUISE.co.uk cannot be held responsible. The information is compiled and calculated by www.CRUISE.co.uk - this information is not to be reproduced without prior permission.
Need Help?
Do you have a question about cruising? Ask your question here and visitors to the site, who have real cruise experience, will share their answers with you.
Post your own questions
Read answers from real cruisers
Help other cruisers with their questions
Be part of a real cruise community
Expand your cruise knowledge
If you'd like to know more about prices or a cruise that you've already booked, speak to a specialist cruise consultant, call us on 0800 408 6228.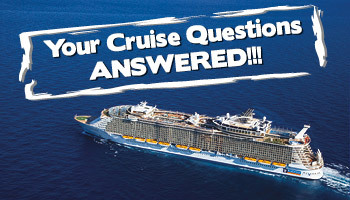 Would You Like To Ask A Question?