Southampton Port Guide
The Port of Southampton is the busiest cruise terminal in the UK and second largest container port. Located on the south coast it benefits from a sheltered location, unique 'double tides', close proximity to the motorway network and good rail links. It's been owned and operated by Associated British Ports since 1982.
A lot of cruisers that use Southampton prefer to stay the night before their cruise and enjoy everything that Southampton has to offer. Where should you stay though? What should you do? Hopefully the below guide will answer some of your questions………
Hotels in Southampton
DeVere
West Quay Road, Southampton, SO15 1AG
The Grand Harbour Hotel is ideally located when you are cruising from Southampton. They provide tea and coffee on your day of departure. Parking is also available for the duration of your cruise. The hotel offers a range of pre and post cruise packages. They will transfer you to the ship at a pre-arranged time and also take care of your entire luggage.
Ibis
9 West Quay Road, SO15 1RA
An economy hotel which is located in central Southampton. The rooms are modern and cosy with a comfy bed and bathroom with tea and coffee making facilities. All rooms include satellite TV and free WiFi throughout. Light meals and snacks are available at the Café and the bar serves a range of drinks.
Ibis Budget
9 West Quay Road, SO15 1RA
Ibis budget Hotel Southampton Centre is a low-cost hotel situated in central Southampton. The rooms are modern and comfortable with flat screen TV's with Freeview. Each room has an en-suite shower. All rooms have free WiFi throughout.
Jurys Inn
Charlotte Place, Southampton, SO14 0TB
Jury's Inn is located in the heart of the city overlooking East Park. The hotel provides spacious and affordable rooms. Each en-suite contains a flat screen TV with Freeview. Includes free WiFi and tea & coffee making facilities.
Holiday Inn
Herbert Walker Avenue, Southampton, SO15 1AG
The Holiday Inn Hotel overlooks the docks in Southampton. Located on the waterfront giving easy access to all the main Cruise Terminals. They offer secure parking and also packages to people staying there before or after their cruise. Spacious rooms with a TV and with tea & coffee making facilities.
Premier Inn
Mitchell Way, Southampton, Hampshire SO18 2XU
Premier Inn puts you right by the airport, which is useful to stay in if you are flying to or from Southampton. With cosy and spacious rooms each including a bathroom there are tea & coffee making facilities as well as TV's.
Things to do in Southampton
Southampton's Western Walls and Vaults Walk
Guided Tours of the Southampton's historic old town take place throughout the year every Sunday and Bank Holiday Monday, commencing from the south side of the Bargate near the entrance to the Bargate Shopping Centre at 11.00am. Tours last 1.5 hours Cost £4.00 P.P – Accompanied Young Persons under 16 Free
Mayflower Theatre
26 Commercial Road, Southampton, SO15 1GE
The Mayflower is a Grade II listed theatre in the city of Southampton. Regular shows are held here with a capacity of 2,300 guests. Backstage tours are also available to book.
Solent Sky Museum
Solent Sky Museum showcases the history of aviation in Southampton - Spitfire City - and the surrounding Solent area. Geographically this was the most important area in the country, perhaps the world for aircraft experimental and development work between 1908 and the late 1960s. Twenty six aircraft companies set up shop in the area and many of the world's greatest aircraft, including the legendary Spitfire, first took to the air in the skies over Southampton.
Tudor House and Garden
Tudor House gives a unique and atmospheric insight into the lives and times of both its residents through the years and of Southampton itself. It appeals to visitors of all ages and interests who find the family-friendly activities, interactive technology and fascinating displays a winning combination.
Cineworld Southampton
Cineworld Southampton is a five screen cinema situated in the Ocean Village development. The cinema is close to the town centre and is served by good transport links.
Restaurants in Southampton
The White Star
28 Oxford Street, Southampton SO14
An award-winning bar, restaurant & boutique guest accommodation set in the heart of Southampton's cosmopolitan Oxford Street district renowned for its high quality restaurants & bars. Open for breakfast, lunch & dinner seven days a week. The food has been awarded 2 AA Rosettes which are only awarded to 'Excellent restaurants'.
Olive Tree
29 Oxford Street, Southampton SO14
Located in Oxford Street, Southampton the Olive Tree has a reputation for good, honest food. As well as specialising in seafood, with a changing daily seafood specials board, the restaurant is also known for its seasonally inspired classic French bistro dishes. Served seven days a week, with lunch from midday to 6pm and dinner from 6pm until late.
Cantina Mexican
2a-3a Bedford Place, Southampton, SO15
Cantina is passionate about bringing you fresh, tasty and authentic food. There are many ways to eat from their menu as there are many different flavours. Have a light snack or market tapas with drinks; share small dishes with friends or have a hearty meal all to yourself.
Buffalo Bills
3 Commercial Road, Southampton, SO15
Buffalo Bills is an authentic western restaurant serving authentic western cuisine. They have an extensive menu including steaks, chicken, pizza & pasta and not forgetting their speciality burgers.
Buon Gusto Italian Restaurant
1 Commercial Road, Southampton, SO15
Established for over twenty years and now under new management; Buon Gusto offers quality Italian cuisine in elegant contemporary surroundings. A separate lunchtime menu is available from Monday-Friday. Just a stone's throw away from the historic heart of Southampton and opposite the famous Mayflower Theatre, Buon Gusto is an authentic Italian Restaurant that brings the true taste of Italy to the City.
Southampton Transport links
Southampton Airport
Southampton airport is a 14 minute transfer to the docks
Head southwest on Mitchell Way Follow Wide Ln, A335 and A33 to Central Rd in Southampton Follow Central Rd and Maritime Way to Old Rd Arrive Port of Southampton
Southampton Coach Station
Harbour Parade, Southampton SO15 1BA
Right in the centre of the city, with the imposing West Quay retail park, and an easy distance from the main railway station, Southampton Coach Station couldn't have chosen a better location.
Southampton Central Train Station
Blechynden Terrace, Southampton, SO15 1AL
Ticket office opening hours: Monday to Friday - 05:40 to 20:45 Saturday - 06:00 to 20:45 Sunday - 06:30 to 20:45
Need Help?
Do you have a question about cruising? Ask your question here and visitors to the site, who have real cruise experience, will share their answers with you.
Post your own questions
Read answers from real cruisers
Help other cruisers with their questions
Be part of a real cruise community
Expand your cruise knowledge
If you'd like to know more about prices or a cruise that you've already booked, speak to a specialist cruise consultant, call us on 0800 408 6228.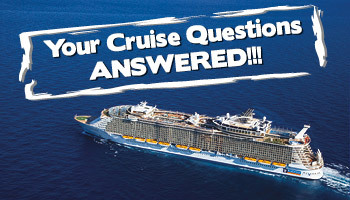 Would You Like To Ask A Question?