Top Tips
for 1st time Cruisers
As a first time cruiser you probably have lots of questions and don't know where to start. Here is a guide to cover the most important topics on cruising.
If you're a first time cruiser in need of advice why not call our First Time Cruiser's Helpline on -
0330 303 8344
Choosing the right cabin for you
When it comes to your cruise picking the right cabin can be a big decision. If you have never cruised before then you might need some guidance with this. What are the pros and cons of cabin grades?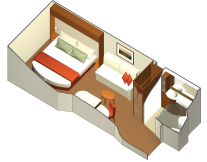 Inside Cabin
An inside cabin is accommodation in the interior of the ship. There is no window with this cabin therefore no natural light. They will have a separate en-suite as standard. These can be smaller rooms depending on the ship but are the most cost effective. Most people only use their cabin to get changed and sleep so these will suit a lot of people.
On certain ships you will find that there are inside cabins with a window (Promenade cabins) but these windows will look onto the inside promenade of the ship. These give you a bit more light in the room but will be more expensive. You will be able to see the cabins opposite however there are net curtains; it is just worth remembering when you are getting changed.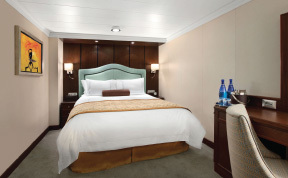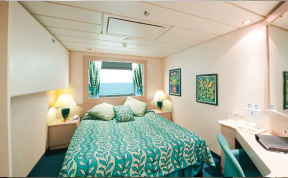 Outside Cabin
An outside cabin will basically be the same layout as an inside cabin however you will get either a porthole or a
popicture window with a view of the ocean. These give you natural light. They are more expensive than an inside cabin but certainly worth the extra to know what the weather is like every morning. You will also get some outside cabins that are larger than the standard rooms.

You will find under each category type of cabin will be subcategories and you can be paying more for an inside cabin to be on a higher deck than lower down the ship. It is worth bearing in mind that some cabins also have restricted views; these tend to be where the lifeboats are positioned on the ship. It is always worth checking when you come to book that you are opting for a clear view unless you are happy to have a restricted view. (Check out our Cabin Types guide for more in depth information).
Balcony Cabin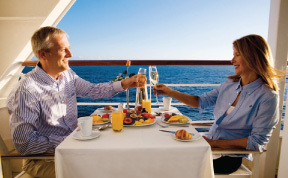 A balcony cabin will be pretty much the same as the inside cabin although will be larger. In addition to the room you will have doors that lead out onto your own private balcony overlooking the sea. You normally get two chairs and a table out on the balcony. These rooms give you the fresh air and the sound of the sea. It is nice to be able to go out on to the balcony in the morning or even order room service for breakfast on the balcony. You do pay more for the privilege of a balcony but it is certainly a good category to be in. You need to consider when looking at these cabins how long you are planning on being in the cabin as if you plan to be out and about all the day you won't get the use from a private balcony.
Some ships now have balcony cabins that don't look out onto the ocean and will look out onto certain areas within the ship. These will be cheaper than sea view balconies but you will be able to see the balcony cabins opposite your cabin.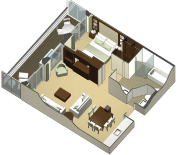 Suite
Suites are the top accommodation you can choose from on-board a ship. There will be different categories in the suites and these can vary in size. Most suites will have a separate living area to the bedroom and also your en-suite. These are a lot larger than the standard cabins and on certain ships these suites can be over two levels. Most suites will have a balcony with sun loungers however it is worth bearing in mind that not all suites feature a balcony and some will have a floor to ceiling window. Some suites will also have their own private butler if you are after pure luxury. You do pay more for the suites but if you are celebrating something special or just like to be treated like royalty then this type of cabin is for you.
Your dining options
When you book your cruise you will always be asked what dining option you wish to go for. This can be quite a hard decision to make and many people will try different options every time they cruise to find what suits them best. You will find that most ships offer traditional set time dining and also a freedom dining.
First Dining
First dining is a traditional dining. A Traditional dining time is normally between 6pm and 6.30pm. This can vary on cruise line as some of the European cruise lines don't start their 1st sitting until 7pm to 7.30pm. If you opt for 1st sitting for your cruise you will eat in the main dining room at the same time each evening on the same table. You get to choose the table size you would prefer.
Table size will also be a request basis on board. You can choose a table for 2,4,6,8 10 or even 12 on certain ships. Tables for 2 are very limited and can be requested at the time of booking. Whichever size table you opt for you will be sat with the same people each evening for the duration of your cruise. You will also have the same waiter throughout your sailing.
Second Dining
Second dining is also a traditional dining. Second sitting is normally between 8pm and 8.30pm. This can vary on cruise ship as some second sittings will be 9pm to 9.30pm. You will again eat in the main dining room at the same time each evening on the same table. The same applies with picking the table size and having the same waiter.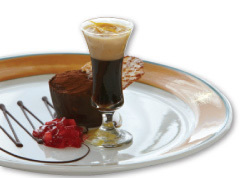 Both sittings for dinner will have their pros and cons. 1st sitting for dinner can be too early if you have been on a full day shore excursion but then eating on the 2nd sitting can be too late. Whichever sitting you look at you can still take in a show if you wish and won't miss out. Also table size can cause upset.
A good table size is a 6 or 8 unless you want a table for 2. A table for 6 or 8 is a good number of people to be able to talk to without having to shout across the table on a table of 10. Tables of 10 are good if you are travelling with friends or family. A table of 4 can be awkward unless you are travelling as a four, as if you don't get on with the other couple this could spoil your cruise. The Maître D will do their best though if you do incur any problems at dinner to sort them out for you. If you have any special dietary needs this will also need to be passed on to the cruise line.
Freedom Dining
Freedom dining will have lots of different names (Freedom, Mytime, Select, Open, anytime, Choice and Freestyle) depending on which cruise line you are looking at but they all mean the same thing. This style of dining has been introduced to give passengers more flexibility. With this dining you can eat at whatever time suits you in the restaurant within the opening hours which are normally 6pm to 9.30pm. You can eat at a different time each evening if you wish and you can sit at a different table each evening if you wish.
This dining gives you the option to eat at what time suits you and not having to rush or wait around for your set sitting. You will receive the same menu however you don't get the same waiter and you won't be sat with the same people every night. This dining does work well and if you turn up one night and they haven't got the table for 2 you wanted you will be sent away with a buzzer device and called back when your table is ready.

On top of these dining options you also have the option to eat in the Buffet restaurant (self service restaurant) on board or in a speciality restaurant. (Optional intimate dining venue by reservation and may incur a cover charge)
Dress Codes
When it comes to dress codes on-board this can really vary ship to ship. All cruise lines will have a guideline to what you should wear but this is there for your guidance only. (Check out our Fashion guide).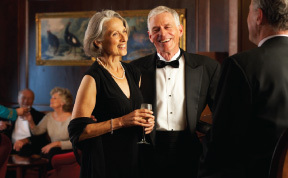 Some people will get put off by a cruise as they feel they are being told what to wear. On the majority on cruises you will have formal evenings. This is normally a welcome party where you normally get the chance to meet the captain or a farewell dinner at the end of the cruise.
On these nights then you will normally find men in black tie/tuxedo and women in a cocktail dress. This dress code will only apply if you are in the main dining room for dinner on these evenings. If you feel you don't want to get dressed up then you are free to eat in the buffet restaurants on board on these nights.
The other nights on your cruise will then vary from semi-formal (smart casual) or casual. All cruise lines vary with what they consider semi-formal. Some cruise lines will still expect the men to wear a jacket on these evenings where other would accept a shirt and trousers. It is always best to check on the individual cruise line to know their dress code. The majority of the cruise will then be casual.
On these nights men won't be expected to wear a jacket. It is still worth checking on the individual cruise line as jeans would be accepted on certain cruise lines but not others. Dress codes do vary a lot and it also makes a difference to what area you are cruising to for how people will dress.
Dietary Requests
A lot of people worry when it comes to having special dietary requests on a cruise ship, but there is nothing to worry about at all as the cruise lines cater for this very well.
If you are a vegetarian you can notify the cruise line but it isn't necessary as cruise lines will always have vegetarian options on their menus. If you have a request for Kosher food then this will need to be advised at the time of booking to the cruise line so they can arrange this for you.
If you have any food allergies then you will need to notify the cruise line. A lot of the time you will be able to find what you want and can eat from the menu but if you need any assistance with this the waiter can run through menus with you for the following days meals.
If you are a diabetic again the waiters can help and you will need to let the cruise line know. If you have any intolerance to foods the cruise line will need to know to try and cater for your needs. If they can't cater for certain things then you may be able to take your own on board. It is always best to check they will let you do this.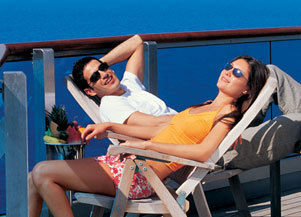 Weather

Choosing your cruise destination can be hard and the weather can be a big factor. It is always best to check the climate of your chosen destination before you book your cruise. Cruise ships do tend to sail to certain destinations when it is the best time/season (check out our Seasons to Sail guide) to travel, but this isn't always the case.

It is always worth to check with your cruise consultant as you may find you need to change your destination to suit your holiday dates (check out our Weather guide for further details).
Medical Facilities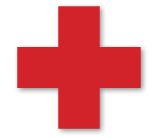 When you go on a cruise the last thing you would expect is to be taken ill and need medical attention but this does happen on some occasions and so all ships have a medical centre and facilities on board.
The medical centre is there to deal with minor problems to the not so minor. They are there if you are suffering from sea sickness to if you have fallen and broke a bone or cut yourself. It is always worth bearing in mind that the services from the medical centre will probably come with a charge so having your travel insurance (check out our Travel Insurance guide) is a must as it could get pricy.
In the event of a passenger having something more serious like a heart attack then it will become necessary to medevac you to land. A lot of the large cruise ships have heli pads on board so passengers can be airlifted from the ship, but on other ships the doctors will look after you until you reach port to be taken to hospital.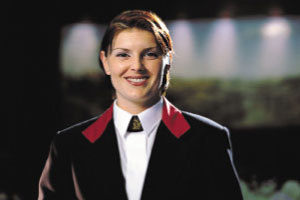 Gratuities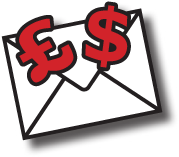 When it comes to Gratuities on board a cruise it is hard to know what to pay and who to pay. The gratuities are paid to your head waiter and cabin steward. Most cruise lines will automatically add their recommended Gratuity amount to your on board account. This saves you having to worry how much to pay. A lot of the time you have the option to now pay these before the cruise so it is one less thing to think about when on board. Other cruise lines include the gratuities already so you don't need to worry. All cruise lines will operate differently on this so it is worth knowing how each cruise line operates. (check out our Gratuities guide for more information).
On Board Credit

What is on board credit? When it comes to cruising on board credit gets mentioned a lot. On board credit can also be referred to as OBC or SBC (ship board credit) and OBS (on board spend). Cruise lines will try and offer some extras to encourage passengers to cruise with them.


How does on board credit work? You will receive your on board spending money on board the ship. You don't receive this before you travel. Once you have your on board account on board the ship the money will be credited to your account. You can check this early on in your cruise if you wish to make sure the money has been applied. The money will then be deducted every time you make a purchase. Once the money has gone then your credit card/debit card you registered at check in will kick in for any other purchases.
You will need to check on which credit/debit cards the cruise line you are travelling with accepts as not all of them with take debit cards. When you receive your final bill at the end of the cruise you will see the on board spending money has been applied.
Dream Destinations
Everybody has a dream destination that they would love to travel to. Cruising gives you so many opportunities to travel to those places that you never thought you would get to. As a first time cruiser many people don't realise where they can travel to on a cruise. The Mediterranean and the Caribbean are always places that come to mind when you think of a cruise and are a good start to cruising, but that is only the start with where you can travel to. There are lots of cruises out there to look at ranging from 2 night mini cruises to give you a taste to cruising to doing a full world cruise for over 100 nights. There is always something to suit everyone and every budget.
Some destinations that are a must see when cruising include;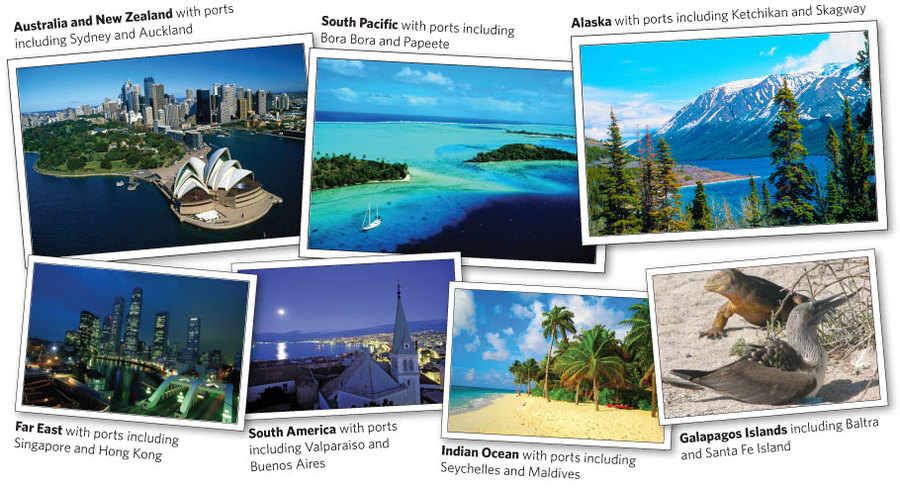 Guarantee Cabins
When you book a cruise a lot of the time now there will always be some sort of offer on the sailing. A lot of the cruise lines will offer lower prices but with some restriction on the cabins. A guarantee cabin is something that pops up a lot. Cruise lines offer guarantee cabins in different ways. It basically means that you don't get to choose your cabin number for your cruise. The cruise lines offer you to pick and book a particular grade of cabin but your cabin number will be allocated by the cruise line at a later stage. They will either offer you a cabin number within the grade you booked or will look at upgrading you to a higher cabin category. Some cruise lines will offer a different guarantee and offer either an inside, outside or suite. With this again you won't know what cabin number you are getting but it would be an inside if you have booked a guaranteed inside cabin etc. This way of booking suits a lot of people as they are getting a good priced cabin and may get upgraded from the grade they have booked. A guarantee cabin isn't for everyone though – if you like to know what deck you are on, or if you like to be in the middle of the ship it's probably best not to go with this option.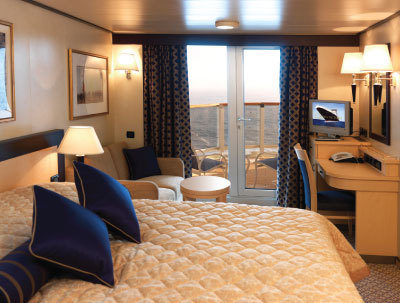 Tender Ports
I am sure you have heard tender port pop up a few times when looking at cruise itineraries but what does it actually mean? A tender port is when a ship cannot get into port to dock alongside so has to anchor in the harbour and ferry the passengers to shore. This can be due to the fact the ship is too big to dock or that the water isn't deep enough for the ship to dock. So how does a tender port work? On a normal port of call you will be able to disembark the ship when you want and just walk off the ship. What you need to do for a tender is normally collect a ticket and wait for your number to be called to join the tender boat. If you are on a booked shore excursion the cruise line will organise and help disembark these passengers. You will then proceed to the gangway to step onto the tender boat to take you to shore. The tender boats are normally one of the ships lifeboats but some port will have their own boats that they use. The tender boats will run to and from the ship throughout the day while the ship is anchored. You will get given the time of the last tender boat before you get off the ship. It is always worth checking how many ports are tender in an itinerary because if you have restricted mobility then these may not be suitable for you.
Disabled Facilities
If you are disabled maybe you have been put off by cruising as you don't know how the cruise lines would cater for you and your needs. Cruise Lines do cater for the disabled passenger and all cruise ships will offer different facilities on board. If you are confined to a wheelchair then a disabled cabin would be the option to go for as disabled cabins on board ships will have wider doors, a wet room and much more space than a standard cabin for you to manoeuvre. If you require a hoist then these aren't as standard in cabins and will need to be hired. There will be a selection of disabled cabins on board ranging from inside cabins up to suites. You do need to bear in mind that there are limited cabins for disabled passengers so you do need to book far in advance to get the cabin you would prefer. If you aren't confined to a wheelchair then some cruise lines will let you have a standard cabin and take your own wheelchair for use around the ship or on excursions. Some cruise lines do limit the amount of wheelchair users they will have on board the ship so again booking early is essential.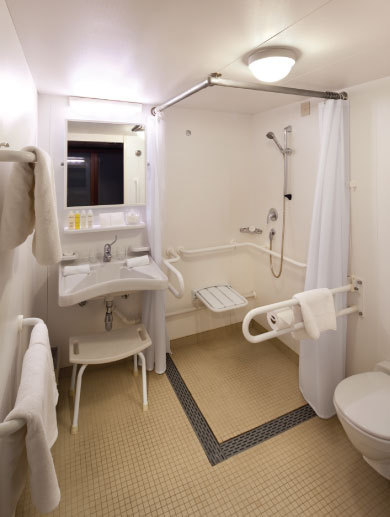 There are plenty of facilities around the ship for disabled passenger also. When you have the muster drill when you board the ship the lifts will be out of order. What normally happens is the cabin stewards will be at your door to come and help you to your muster station. Cruise lines will normally have sections reserved in the theatres for disabled passengers and some ships will also have hoists into swimming pools. For the deaf and hard of hearing passengers the some ships will have text telephones, visual alert alarms, closed caption decoders on TVs and an assistive listening system in the cinemas. For the blind then Guide dogs are accepted on board but may not be in the ports of call. The menus will be in large print and braille and there will also be braille signs on elevator buttons and on the cabin signs. (Check out our Disabled Facilities guide for more information).
Kids Clubs
When you are taking your family on a cruise you want to make sure there is plenty to keep the kids occupied. Some cruise lines will offer more family facilities than others so it is always worth looking into this before booking your cruise. Some cruise Lines will offer Kids clubs, these will be staggered in age groups and normally start from age 2 up to 17. The will also offer baby-sitting facilities for the under 2's however this can incur a charge. (Check out our Family Facilities guide for further information).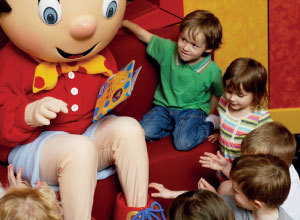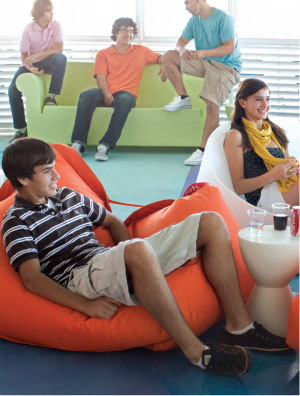 Keeping in Touch
When you go on a cruise you may want to stay in touch with family and friends especially if you are travelling for a long time. People think as you are at sea you won't get a signal on your mobile phone so won't be able to keep in touch but this isn't the case. If you are at sea then your mobile phone would normally pick up the ship's satellite for you to be able to use it. Once you are near land then the roaming will kick in and you will be on a network. It can be expensive to use your mobile so it is always worth checking with your provider to what they charge. An alternative way of keeping in touch is to use the Wi-Fi on the ship. You can buy packages to use the internet and hook it up to your Ipad or laptop. Most ships will also have an internet café where you can go and pay to use the computers in there to keep in touch. (Check out our Wi-Fi guide for more information).
Drinks Prices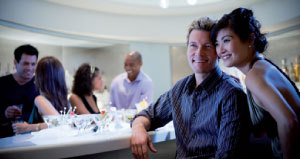 One big thing when it comes to a holiday is the budget. You know how much your holiday has cost but the spending money can really add it. The drinks prices on the ships really do vary. It is always a good idea to know in advance how much the drinks are going to cost as they can really add up. Some cruise lines offer drinks packages which will bring the cost of your drinks down also. Here is a guide to drinks prices. (check out our Drinks guide).
Size of Ship
As a first time cruiser you can really be thrown into the deep end with the amount of cruise ships that are out there. How do you know which ship to go for? It is always worth considering what size ship you would prefer to sail on board.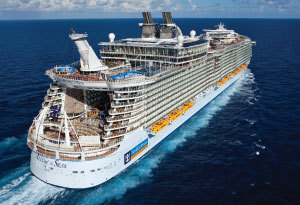 Large Ships carrying over 2000 passengers. Large ships are considered more of a social experience with extensive amenities. Some ships now are considered as super ships carrying over 5000 passengers. You really wouldn't believe you were at sea as lots of large ships will have ice rinks, rock climbing walls and golf simulators. You will normally have more dining options on these ships to accommodate all passengers including speciality dining options. Entertainment will be in large venues and the shows will be of a Broadway style. It can take a while to find your way around on a large ship. With the amount of people on board getting on and off the ship it can take longer and there may be queues.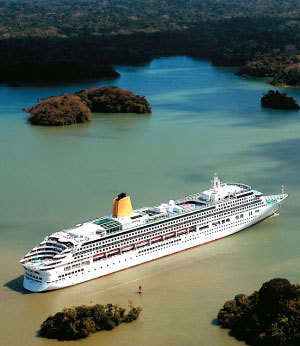 Mid-Size Ships carrying 1000 to 2000 passengers. Mid-size ships will have a variety of entertainment and facilities but with more of a personal touch compared to the larger ships. You will find it is easier to find your way around on these ships and also getting on and off the ship will be quieter than on the large ships. They will also be able to dock into smaller ports.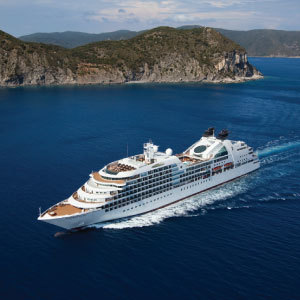 Small Ships carrying up to 1000 passengers. A small ship makes life much easier on finding your way around. You will have a more intimate cruising experience. With a smaller number of guests there will be more choice regarding food quality and most small ships offer open dining. The smaller ships are able to access the smaller out the way ports of call. Most of the small ships will be considered as luxury 6 star cruise ships and the crew to guest ratio will be better than some of the larger ships.
If you're a first time cruiser in need of advice why not call our First Time Cruiser's Helpline on -
0330 303 8344
Need Help?
Do you have a question about cruising? Ask your question here and visitors to the site, who have real cruise experience, will share their answers with you.
Post your own questions
Read answers from real cruisers
Help other cruisers with their questions
Be part of a real cruise community
Expand your cruise knowledge
If you'd like to know more about prices or a cruise that you've already booked, speak to a specialist cruise consultant, call us on 0800 408 6228.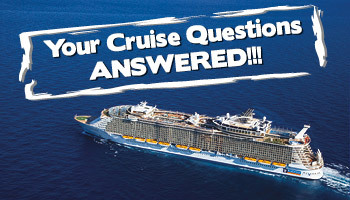 Would You Like To Ask A Question?