Thomson Terms & Conditions
OUR AGREEMENT WITH YOU, and your's with us
OUR AGREEMENT WITH YOU
We are TUI UK Limited, Company Number 02830117, having its Registered Office address at TUI Travel House,
Crawley Bus1ness Quarter, Fleming Way, Crawley, West Sussex RH10 9QL and Our Agreement With You sets out
what you are legally entitled to expect from us when you buy a Package Holiday from us and will not apply to
any course of dealings between us other than the Package Holiday booked. The Package Holiday as advertised by
us will also have restrictions set out in our A-Z Guide which should also be read carefully. Because we sell a wide
variety of Package Holidays you should read our A-Z Guide and these terms and conditions carefully, before you
book, to see how they affect your specific travel arrangements made by us
1. Your Travel Booking
Whether you book alone or as a group, we will only deal with the lead booking name in all subsequent
correspondence, Including changes, amendments and cancellations. You must be 18 years old and possess the legal
capacity and authority to book as the lead name and travel on holidays with us and take up the offers advertised
by us if they are still available. You are responsible for ensuring the accuracy of the personal details or any other
information supplied in respect of yourself and any other person travelling on the booking and for passing on any
information regarding the booking or any changes made in relation thereto, to all persons travelling on such
booking, including but not limited to information on schedule changes or copies of booking confirmations
In addition, if your holiday includes a flight. you are also responsible for
(a) notifying us prior to the time of booking of any personal circumstances and needs pertaining to a person
included in the booking including, without limitation, whether any such person is not self reliant or is a person
with mobility - for example if you, or a member of your party, have difficulty 1n walking 500 metres; and
(b) notifying us at any time from the time of booking until 48 hours prior to the flight's departure by calling our
call centre if any person travelling on the booking has ceased to be self reliant or a person with reduced
mobility or if a person previously reported to be with reduced mobility or as not being self reliant does no
longer fall into either category.
It is a condition of your booking with us that you and all other members of your party, including infants and
children, are adequately insured on holiday. Any person who is under 18 years old must be accompanied by an
adult on his or her journey. There may be other restrictions and conditions on some offers, but these are explained
in the details of those offers when you or (if you are booking through a travel agent) your travel agent ask for your
booking to be confirmed, we will confirm the booking there and then, and set aside your chosen accommodation,
holiday or transport for you. Next, we will send you or your travel agent a Confirmation invoice within 14 days.
We may not be able to confirm some of our ground arrangements straightaway (e.g. bespoke accommodation, tours
etc). In these instances we may issue a confirmation invoice. However, a contract for arrangements that have not
been confirmed on that invoice will only be made when we have sent you written confirmation that those additional
arrangements have been completed if there is any change to any of the details discussed at the time of booking,
before the Confirmation invoice is issued, we will notify you promptly of any new or changed details, including a
change to the total price (If any) If any detail on the Confirmation invoice is not correct tell us or your travel agent
immediately. If there is an obvious error on the Confirmation Invoice we reserve the right to correct it as soon as we
become aware of it, but we will do this within 7 days of issuing the Confirmation invoice or, if your departure is
with in 7 days, no later than 24 hours before you go. If any of these changes are not acceptable then you will be
entitled to a full refund.
The contractual terms of Our Agreement apply between you and us because you have chosen a Package Holiday
with us (hereafter, a "holiday") which is a 'package' within the meaning of The Package Travel, Package Holidays and
Package Tours Regulations 1992 and will enjoy the benefits conferred by it. Excursions or other tours that you may
choose to book or pay for whilst you are on holiday, whether or not booked through one of our official
representatives, are not part of your package holiday provided by us. We may transfer your booking to another
company within our group, but this will have no effect on your holiday arrangements.
When you buy an ATOL protected air holiday package from us you will receive a confirmation invoice from us
(via our authorised agent through which you booked) confirming your arrangements and your protection under
our Air Travel Organ1ser's Licence number 2524. In the unlikely event of our insolvency, the CAA will ensure that
you are not stranded abroad and will arrange to refund any money you have paid to us for an advance booking.
For further information visit the ATOL website at www.atol.org.uk.
The price of your holiday will include the Air Passenger Duty for an economy seat. If you upgrade to a premium
cabin this will be included in the upgrade cost.
2. The Price You Pay
All prices we advertise are accurate at the date published, but we reserve the right to change any of those prices
from time to time. Prices include a cost for fuel that was estimated at the date of this publication. We reserve
the right to add a fuel supplement to holiday prices should this increase after the date of this publication.
Prices can go up or down We will be able to tell you or your travel agent the up-to-date price of your chosen travel
arrangements and of any other services advertised by us before confirming your booking
We reserve the right to increase the price of your holiday after you have booked but no later than 30 days
before the departure date stipulated and will forward an Amendment invoice reflecting any changes made.
After a Confirmation Invoice has been sent to you, any increase to your holiday price will be as the result of
changes in our costs of supplying your holiday resulting from transportation charges (fuel, airport charges,
scheduled air fares and other transport charges which form part of our contract with the transport provider),
currency fluctuations and government action. An administration charge and any relevant travel agent's commission
is included within these amounts.
If the increase would be 2% or less of the holiday price shown on your Confirmation Invoice (excluding Insurance
premiums and any amendment charges), we will absorb the changes in our costs described above and will only
pass on any increase above that level. If any change in our costs would cause a reduction in your holiday price,
we will not make refunds of amounts less than 2% of your holiday price (calculated as above), but we will refund
in full amounts exceeding such 2%, after deducting an administration charge of £1.
If the increase is more than 10% of the holiday price (calculated as above), then:
1 You may cancel your holiday booking within 14 days of the Amendment invoice date and receive a refund of
all monies paid to us except any amendment charges; we will only consider an appropriate refund of Insurance
premium paid if you can show us that you are unable to transfer or re-use your policy; and
2. The increase will be considered a Major Change as described in section 4 below and, unless you choose to cancel
under paragraph 1 above, you Will be entitled to the alternatives set out in section 4 for those circumstances,
but in either case you will receive compensation in accordance with section 4.
The price quoted on the last Amendment Invoice issued is guaranteed, unless you change your holiday booking.
Any increases in our costs which occur after the last Amendment Invoice has been sent will be borne by us.
Should you instruct your credit/debit card company to "charge back" any payment(s) properly due from you
in respect of your booking, we will charge you an administrative fee of £10 per incident and associated costs. We
further reserve the right to cancel your booking and/or take legal action against you for all outstanding payment(s).
3. If We Cancel Your Booking
We aim to provide your holiday as booked. But if for example, there are not enough people booked on your
holiday or you do not pay the balance of the holiday price on time, we may cancel it. We reserve the right to
cancel your holiday in any circumstances but if we cancel your holiday, except where this is because you have not
paid, you can either have a refund or accept a replacement holiday from us of equivalent or closely similar standard
and price (if one is available) This can include the choice of a replacement holiday from another TUI Travel Group
company. Should you choose this option the terms and conditions of your holiday will not change and these
conditions will still apply to your booking In either case, we will pay you compensation, using the scale shown
(unless we cancel your holiday because you do not pay us the balance of the holiday price or because of one of
the events listed in the 'Important Note - Events Beyond Our Control' apply) and we will always refund the
difference in price if the replacement holiday is of a lower standard and price. We will not cancel your holiday after
the balance due date, unless this is the result of one of the events in the 'Important Note - Events Beyond Our
Control', or you have not paid.
4. If We Change Your Booking Details
We hope that we will not have to make any change to your holiday but, because our holidays are planned
many months in advance, we sometimes do need to make changes. We reserve the right to do this at any time.
We will let you or your travel agent know about any important changes when you book.
If you have already booked, we will let you know as soon as we can, if there is time before your departure. Flight ·
timings shown by us are for guidance only and may change. Occasionally we need to change the aircraft type for
your flight, which may mean that some facilities such as in-flight entertainment or the advertised seat pitch may
not be available Where we are unable to provide a seat option that you have paid for we will refund the amount
you have paid. Your Confirmation Invoice will show the latest planned timings Your actual flight timings will be
shown on your ticket (including any e-ticket Itinerary), which you should check carefully as soon as you receive it.
Major Changes To Your Holiday
Occasionally, we have to make major changes to the flight or accommodation making up your holiday with us
If we tell you about any of these changes after we have confirmed your holiday booking, you may either:
accept the new arrangements offered by us; or
accept a replacement holiday from us of equivalent or closely similar standard and price, if one is available;
this can include the choice of a replacement holiday from another TUI Travel Group company. Should you
choose this option the terms and conditions of your holiday will not change and these conditions will still
apply to your booking; or
cancel your holiday with us and receive a full refund of all monies paid.
Either way, we will pay you compensation, using the Compensation table shown, unless the change is for reasons
beyond our control (see the ' Important Note - Events Beyond Our Control') and we will always refund the
difference in price if the replacement holiday is of a lower standard and price.
Major changes to your holiday for which we will pay compensation unless the change is for reasons beyond our
control (see 'Important Note - Events Beyond Our Control'), using the scale shown, may include the following
changes a significant change of destination, a change in accommodation to that of a lower category, a change in
the time of your departure or return flight by more than 12 hours, a change of UK departure airport (excluding
changes between London airports, London, Ebbsfleet and Ashford stations and between Dover/Folkestone ports)
A delay to your flight that we need to make within 24 hours before you are due to depart will not be considered a
major change. These changes are only examples and there may be other significant changes which constitute major
changes. This standard payment will not affect your statutory or other legal rights. We will only make one payment
for each full -fare -paying adult in the holiday booking. Any children not paying the full adult fare will receive 5O% of
these amounts. Children using a free child place will not receive any standard payment.
Compensation
Any compensation payable will be on these scales based on how many days before your
booked holiday departure we tell you of a major change.
Period before departure when a major change is notified Compensation payable peer person
84 days or more 0
83 - 29 days £10
28 - 15 days £20
14 - 8 days £30
7 - 0 days £40
If The Change Is Not Acceptable To You
If any major change indicated above is not acceptable to you, you can cancel your holiday booking In this case,
we will refund all the money you have paid us and will pay you compensation, as shown above, depending on how
many days before your holiday we tell you about this change unless the change is for reasons beyond our control
(see 'Important Note - Events Beyond Our Control'). This standard payment will not affect your statutory or other
legal rights.
Important Note- Events Beyond Our Control
Events beyond our control include: war, threat of war, riots, CIVIl disturbances, terrorist activity and its consequences,
industrial disruptions, natural and nuclear disasters, fire, epidemics, health risks and pandemics, unavoidable
and unforeseeable technical problems with transport for reasons beyond our control or that of our suppliers;
dosed or congested airports or ports, hurricanes and other actual or potential severe weather conditions,
and any other similar events.
In February 2005 a new Europe-wide law relating to denied boarding, delays and cancellation of flights came
into force this law granted rights to passengers including in certain circumstances the right to cancel their flight
and receive reimbursement of the cost of the flight from their airline. Full details of these rights is publicised at
EU airports and is also available from affected airlines. You should note that reimbursement of the cost of a
flight that forms part of your holiday is the responsibility of your airline and will not automatically entitle you to
reimbursement of the cost of your holiday from us.
5. What Happens To Holiday Complaints
We can usually resolve out any complaints you may have. But if we cannot agree, The Passenger Shipping
Association offers an efficient conciliation scheme at no cost. For more mformat1on please contact the
Passenger Shipping Association on 0207 436 2449 or visit www.the-psa.co.uk
Alternatively, you can take the matter to an arbitrator under the Arbitration Scheme devised for the travel
Industry by the Chartered Institute of Arbitrators. This is a simple way of sorting out complaints and there are
limits on the costs you might have to pay. You do not have to appear in person, but can send documents to
explain your complaint.
Details and application forms are available from ABTA, 30 Park Street, London SE1 9EQ.
YOUR FINANCIAL PROTECTION
The Package Travel. Package Holidays and Package Tours Regulations 1992 require us to provide security for the
monies that you pay for the package holidays booked from us and for your repatriation in the event of our
Insolvency. We provide th1s security by way of an ATOL (number 2524) administered by the Civil Aviation Authority
and a bond held by ABTA for packages that do not include flights. If you book arrangements other than a package
holiday from us, the financial protection referred to above does not apply
6. Our Responsibility For Your Holiday
We will arrange for you to receive the holiday that you choose and that we confirm. These services will be
provided either directly by us or through independent suppliers contracted by us. We are responsible for making
sure that each part of the holiday you book with us is provided to a reasonable standard and as was advertised by
us (or as changed and accepted by you). If any part of your holiday is not provided as described, we will pay you
compensation, 1f appropriate, unless this is due to reasons beyond our control (see 'Important note - events
beyond our control').
We have taken all reasonable care to make sure that all the services which make up your holiday advertised by us
are provided by efficient and reputable businesses. These businesses should follow local standards. However,
overseas safety standards are generally lower than in the UK, for example few hotels yet meet EC fire safety
recommendations, even in Europe.
7. Personal Injury
If you suffer injury, illness or death directly as a result of the services provided as part of your holiday,
we may make a payment to you. We will not make any payment if your injury, illness or death was caused by an
event or circumstances which the person who caused it could not have predicted or avoided even if they had taken
all necessary and due care. We will not make any payment if your illness, injury or death was your own fault.
If we do make a payment, it will be similar to one you would receive under English law in an English court.
1. You must tell us and the supplier involved about your injury or illness while you are in the resort (see section 13).
You should also write to After Travel Customer Support at the address given in our A-Z Guide about your claim
within three months of coming home from your holiday to allow us to investigate it properly and co-operate
with us so as to enable us to carry out such investigation Please include a letter about your injury or illness
from your doctor if you can.
2 You should transfer to us any rights you have against the supplier or any other person
3. You should co-operate fully with us if we or our insurers want to enforce those rights
4. Any payments we make may be limited in accordance with international conventions.
We ask you to transfer your rights to us so that we can claim back from suppliers any payments we make to you,
plus any legal or other costs. We will not make a profit from this. If we get back from the supplier more than we
have paid you plus these costs, we will give the extra money to you
If you or someone on your holiday booking is injured, falls ill or dies while taking part in an activity which is not
part of the holiday, or you need to incur unpredictable extra expenses for which we are not liable because the
event is beyond our control (see 'Important Note - Events Beyond Our Control') we will, where appropriate and
subject to our discretion, try to help if we can. We may help everyone on your holiday booking up to a total cost
to us of £5,000 as long as the following conditions are met:
1. You must ask us for help within three months of coming back from holiday.
2. You must make a claim under your Insurance policy's legal expenses or other appropriate section.
You must show us proof that your insurance company has received your claim and, if you get back the cost of
legal or other expenses, you must repay us any money we have spent in helping you.
8. Excursions
From time to time we may introduce you to reputable third party suppliers of excursions or other leisure services.
If you choose to enter into a contract for the provision of excursions or other leisure services, your contract will be
with that supplier directly and we act only in the capacity of an agent, and therefore would have no liability for the
proper performance of that contract.
The terms and conditions in this "Our Agreement With You" will not apply to any contract for the provision of
excursions or other leisure services.
YOUR AGREEMENT WITH US
9. Your Contract
By asking us or your travel agent to confirm your booking, you are accepting on behalf of all persons travelling on
this booking that the terms of this Agreement, which incorporate the information, restrictions and obligations set
out in our A-Z Guide, and the conditions of any terms and conditions of carnage - see Conditions of Your T1cket -
constitute the entire agreement between us with regard to your booking and your travel arrangements
You also consent to our processing personal Information about you and other members of your party. Where the
context permits, reference to "you" and "your" will include you and all persons travelling on this booking Your
contract with us shall be governed by and construed in accordance with the law of England and Wales. You agree
to submit to the exclusive jurisdiction of the courts of England and Wales over any claim or matter arising under or
in connection with your contract with us. You may however choose to submit to the law and jurisdiction of Scotland
or Northern Ireland if you are resident in either of these jurisdictions, but not to any other law and/or jurisdiction.
10. Paying For Your Travel Arrangements
You will be required to pay a deposit to us for each person when you book unless this is within 12 weeks of
departure when the full amount for the booking is payable. The deposit amount will be specified by us or your
travel agent when your booking is made. If it is not specified then it will be the amount that we ask you to pay
when you book, even if this is 100% of the holiday price. If you pay less than the deposit under a low deposit
booking scheme, then this is only part of the deposit referred to in this paragraph. The remaining deposit will be
due on cancellation or date specified at time of booking or on your confirmation invoice Please note your booking
deposit may be increased or there may be a charge payable for some accommodation, holidays or flight bookings
where it is necessary to secure spec1fic facilities with full payment at the t1me of booking eg. weddings, coach
touring and specific types of airline tickets. Once confirmed, the booking deposit, additional charges paid and
Insurance premiums will not be refunded in the event of cancellation except in the circumstances specified in
Sections 2, 3 or 4 or as otherwise required by law. This is your only commitment until 12 weeks before you go.
Within two weeks of booking, we will send you a confirmation invoice showing how much you owe us. You must
pay the amount on the last invoice issued by us, at least 12 weeks before you go on holiday. If you don't, we
reserve the right to treat your booking as cancelled and to charge you a cancellation charge up to 100% of the
total on that last invoice, in accordance with section 12.
If you pay money for your booking to a travel agent appointed by us, they will hold that money as our agent
from the time they receive it until they pay the money to us. Telephone bookings may incur an additional charge,
check at time of booking. If your payment is made by credit card a handling fee will apply; please check at time of
booking. This may also apply to some debit cards. We do not accept personal cheques, only building society and
bankers' drafts will be accepted.
11 . If You Change Your Booking
1. If you want to change any details of your booking, such as changing to a different hotel or cruise,
changing a name in your booking, or cancelling an optional extra you've booked we'll do our best to help. Please
note that more major changes, such as those that would lower the basic price of your holiday or that would
result in your holiday ceasing to be a Package Holiday or a Thomson Cruise, will be treated by us as a different
holiday. Changes to the hotel or flight Within 70 days of departure will also be treated by us as a different holiday.
We charge an 'Amendment Fee' for each detail of the booking, which we allow you to change without a
cancellation. Please see the table below as a guide.
The price of your new travel arrangements will be based on the prices that apply on the day you ask for the
change These prices may not be the same as when you first booked your travel arrangements
Name changes and/or departure details, such as date and time changes, are not always allowed by airlines and
other transport providers. We'll do our best to change the details of the booking, but please bear in mmd that
most airlines and other transport providers treat name and departure detail changes as a cancellation and charge
accordingly. These charges will be passed on to you. Once tickets have been issued, and sometimes even before they
have been issued, any changes made to the ticket, including names or initials, will result in you having to pay for
the cancelled ticket and buy a new ticket at full cost. Even if we're able to give you a refund, we won't be able to
do so until we've received all your old travel documents, including tickets.
4. Some types of accommodation, such as apartments, or hotel rooms with reductions for three adults, are priced
according to the number of people staying there. If your booking changes because someone in your party
cancels, we'll recalculate your booking cost based on the new number of people going. If fewer people share the
accommodation, then the cost for them may go up. This extra cost isn't a cancellation charge, and it isn't
normally covered by insurance.
5. Subject to clause 11.3, 1f you're prevented from taking the holiday you've booked, you may transfer your booking
to another person, provided it's not within 14 days of departure and the following conditions are met:
- You authorise us to make the transfer
- The person to whom you transfer your holiday booking complies with the terms of the existing booking
- That person accepts the transfer and the terms of Our Agreement
- That person shows us evidence of their holiday insurance, as your policy can't be transferred, and the premium
can't be refunded
We'll charge amendment fees. This will be added to the new invoice issued to that person. You'll remain responsible
for the payment of any balance on that new invoice if that person fails to pay it.
Guide To Our Amendment Fees
Change 71+ 70-57 56-36 35-22 21-15 14 - 0
To change passenger name or age - £50 per Person 100% Cancellation fee
provided the passenger type is the
same e.g. child
To travel earlier than planned, or to £50 per person* 90% 100%
travel on the same day but change Cancellation Cancellation
accommodation, flight time, airport fee fee
and/or duration
* If you amend your booking to travel earlier than planned, or to travel on the same day but change your accommodation,
flight time, airport and duration, there won't be any refund if your new travel arrangements are cheaper.
An amendment to a booking to change the date of travel to later than planned is treated as a cancellation and
will incur cancellation charges as stated in section 12 "If You Cancel Your Booking".
Once booked and paid for the following arrangements are non-refundable: room/cabin upgrades in the same
accommodation or on the same ship, board supplements, transfers, excursions, theme park tickets, flight seats,
flight service upgrades and additional flight extras. This is purely a guide and not an exhaustive list.
After the balance due date changes to your holiday arrangements that reduce the overall cost of the holiday are
non-refundable. Prior to the balance due date, amendments are subject to a £50 per person charge. A £50 per
booking charge will be applied if you cancel car hire insurance more than 14 days after the initial holiday booking.
12. If You Cancel Your Booking
If you want to cancel your booking, or part of it, you or your travel agent must advise us. Once we receive your
notice of cancellation you can expect to receive a cancellation invoice within 14 days. If you don't please contact us.
To cover the cost of processing your cancellation, and to compensate us for the risk that we may not be able to resell
your travel arrangements, we'll make a cancellation charge on the scale shown below. The person who made the
booking is responsible for paying this charge. The size of the charge depends on when we receive your notification
- the more notice you give, the less we'll charge. Although, if your deposit is greater than the applicable cancellation
charge at the time we receive your notification you won't receive a refund of your deposit, or any part of it.
If you're travelling on a scheduled flight. we can't give you any refund until we've received your old travel documents,
including tickets so please return them to us or your travel agent immediately.
For certain travel arrangements e g. coach tours and many scheduled transport providers, the cancellation charge
may be higher than those shown. In certain cases a 100% cancellation fee applies as soon as the booking is made
and the ticket is issued. Please ask for details of cancellation charges when you book, and check your insurance
policy to see if you'd be covered for any cancellation charges.
Guide To Our Cancellation Charges
These charges are based on how many days before your booked departure we receive your cancellation notice.
These charges are a percentage of the total cost of your booking, not including your Insurance premium. If you want
to cancel one or more passengers on the booking you'll have to pay a proportion of the applicable cancellation
charge based on the number of passengers you wish to cancel from the booking.
Period before departure when notice of cancellation is received % of total booking price
71 days or more Loss of deposit*
70-57 days 30%
56-36 days 50%
35-22 days 70%
21-15 days 90%
14-0 days 100%
*Where the standard deposit is increased to secure specific facilities or an additional payment has been made
for transport tickets, see Section 10 and 11, 3, and these are non-refundable in whole or in part, the scale of
charges shown will be calculated based on a percentage of the cost of all other arrangements and the nonrefundable
charges will be added to that cancellation charge to give the total charge. If a low deposit scheme was
used for your booking, the full deposit as advised at time of booking or as stated on the confirmation invoice will need
to be paid in full upon cancellation, if you have not already paid the full percentage of deposit due.
13. If You Have A Complaint
If you have a complaint about your arrangements whilst away, you must immediately notify the supplier of the
service in question locally If they are unable to resolve the problem immediately, and a member of our staff is not
available, you should contact us straight away by telephone/fax and we will endeavour to assist. If you are still not
satisfied on your return home, you must write to our After Travel Customer Support at the address given in our
A-Z Guide, Within 28 days of returning from your holiday to allow your complaint to be investigated properly.
Please write your holiday reference number on your letter, and include your daytime and even1ng telephone
numbers. If you do not give us the opportunity to resolve any problem locally by reporting it to the supplier,
or calling and informing us, then we may not be able to deal positively with any complaint on your return.
14. Conduct While Travelling
We reserve the right to refuse to accept you as a customer or continue dealing with you if your behaviour is
disruptive or affects other travellers or is threatening or abusive towards our staff or agents in the UK or resort, on
the telephone, in writing or in person. If the Captain of your flight or cruise ship or any of our resort staff believes
that you could be disruptive or that you are suffering from a contagious disease, they can also refuse to let you
proceed with your travel arrangements or restrict your movements on board or disembark you from a ship or
aircraft. If you are disruptive and this means you are not allowed to board the flight outbound from the UK, we will
treat your booking as cancelled by you from that moment, and you will have to pay full cancellation charges -
see section 12. If this occurs overseas then you will become responsible for your own return home and any other
members of your group who cannot or will not travel without you. If you are refused carnage because of your
disruptive behaviour, or you are under the influence of alcohol or drugs, your airline may pass on your details and
date of the refusal of carriage to other airlines for their information. This in turn may make it difficult for you to
book other airline tickets. In any of these circumstances no refunds or compensation will be paid to you and we may
make a claim against you for any costs and expenses incurred as a result of your behaviour e g. the cost of diverting
an aircraft or ship to remove you. Criminal proceedings may also be instigated.
Fit to Travel
We, the local port authorities, and/or the ship's senior officers shall be entitled to administer a public health
questionnaire on their own behalf at any time. You and all passengers travelling with you agree to supply accurate
information regarding any symptoms of illness including but not limited to gastrointestinal illness, in relation to travel
by sea and/or by air. We and/or your cruise ship captain may deny boarding to any passenger that we consider in our
sole discretion to have symptoms of any viral or bacterial illness including but not limited to norovirus. Refusal by a
passenger to complete the relevant questionnaire may result in denied boarding. Denied boarding will be treated as
a cancellation and 100% cancellation charges will be payable by you.
We and/or the ship's senior officers may refuse travel to any passenger who is considered to be unfit to travel, or
likely to endanger health of safety of any other passenger, or is likely to be refused permission to land at any port or
render the cruise ship liable for maintenance of port or repatriation. Alternatively we and/or the ship's senior officers
may require the passenger to remain in his or her cabin for reasons of health and safety. If the passenger refuses
then we and/or the ship's sentor officers may disembark the passenger without any further liability.
15. Your Accommodation
Any accommodation we arrange for you must only be used by those people named on your Confirmation Invoice,
or on latest Amendment invoice issued. You are not allowed to share the accommodation or let anyone else stay
there. You are responsible for the cost of any damage caused to your accommodation or its contents during your
stay. These charges must be met by you and may have to be paid locally.
16. The Conditions Of Your Ticket
When you travel by air or by sea, your journey may be subject to certain international conventions such as
the Warsaw Convention, Montreal Convention or Athens Convention. You agree that the transport company's own
'Conditions of Carriage' will apply to you on that journey When arranging this transportation for you, we rely on
the terms and conditions contained within these international conventions and those 'Conditions of Carriage'.
You acknowledge that all of these terms and conditions form part of your contract with us as well as with the
transport company. You can ask us or the travel agent booking your holiday to provide you with a copy of any of
the conditions applicable to your journey. The airline's terms and conditions are available on request and Thomson
Cruises & Louis Cruise Lines conditions of carriage are available at www.thomson.co.uk/cruise. We will tell you the
identity of the air carrier when you book with us and if it is not known at that time or subsequently changes we will
inform you as soon as possible and no later than at check-ln.
17. Contacting You
If you book via our website or have opted in other circumstances for us to contact you via e-mail, we will
communicate with you using the e-mail address you have provided. For example, to provide your e-confirmation,
e-ticket, e-cancellation, etc. We will assume that your e-mail address is correct and that you understand the risks
associated with using this form of communication. You may still have to contact us via our call centre or in writing
as required in our terms and conditions.
Need Help?
Do you have a question about cruising? Ask your question here and visitors to the site, who have real cruise experience, will share their answers with you.
Post your own questions
Read answers from real cruisers
Help other cruisers with their questions
Be part of a real cruise community
Expand your cruise knowledge
If you'd like to know more about prices or a cruise that you've already booked, speak to a specialist cruise consultant, call us on 0800 408 6228.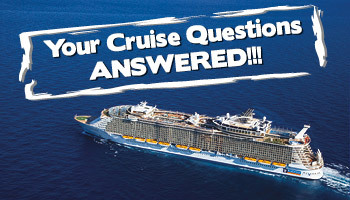 Would You Like To Ask A Question?