If you're travelling with a pet then there are a number of things you need to take into account before travelling. To help you out we've put together some information to help you ensure that fido can travel with you.
Are there kennels on board every ship?
No, kennels are available but only on Queen Mary 2's Transatlantic Crossings. This makes it an ideal way to transport your pet if you are relocating to or from the US.
What pets are allowed?
Cats & Dogs
How much does it cost?
Upper kennel -$500*
Lower kennel - $700*
Cat in upper kennel $1000*
2nd pet in same kennel $500*
*Prices are subject to change
Does the dog need anything specific before on board the ship?
If travelling from New York to Southampton – all pets MUST be fitted with a microchip, satisfactorily blood tested to ensure sufficient protection against rabies, vaccinated against rabies, official PET passport or 3rd country certificate, issued with an official PETS certificate, treated against ticks and tapeworm no more than 48 hours before check in and issued with an official certificate of treatment.
If travelling from Southampton to New York – all pets MUST have been issued with a current Health Certificate and had a rabies vaccination within 12 months to 14 days prior to Entry into the State of New York.
What items do I need to bring for my dog?
You will need to bring suitable supply of all dry dog food, food and water bowls, plus any applicable blankets/bedding
Where can I feed my dog?
Dogs can only be fed in your stateroom and under no circumstance should you feed your pet 'tit-bits' in any public areas.
Are there any pets prohibited?
The following breeds of dogs are prohibited in the UK as they are seen as fighting dogs and Cunard will not transport them
| | | | |
| --- | --- | --- | --- |
| Pitbull Terrier | Japanese Tosa | Dogo Argentino | Fila Braziliero |
Or any mix of breed which included these breeds
How big are the kennels?
6 Small upper kennels are - 30" x 35.5" x 27" (Length x Width x Height). The 6 upper cages can be converted into 3 larger cages at 60 inches long.
- 6 Large lower kennels are - 30" x 35.5" x 36" (Length x Width x Height). The 6 lower cages can be converted into 3 larger cages at 60 inches long.
Are there any dogs that cannot be accommodated due to their size?
Because of the size constraints the following dogs are not permitted for transport:
| | | | |
| --- | --- | --- | --- |
| Afghan | Curly Coated Retriever | Bloodhound | Gordon Setter |
| Borzoi | Mastiff | Briard | Greyhound |
| Great Dane | Irish Wolfhound | New Foundland | Saluki |
| Deerhound | Doberman | Pyrenees | Irish Setter |
| St. Bernard | Weimaraner | Bull Mastiff | Malamute |
Will pets receive anything?
Pets will receive the following benefits:
A Frisbee

Name Tag

Food Dish & Scoop

Fleece Blankets

Selection of Premium Food

Healthy Gourmet Cookies (Freshly baked every morning)
Where can my dog exercise?
There is an outdoor play area on board. Guests are welcome to come and exercise pets.
Do dogs have to wear a harness?
Yes, a dog will have to wear a harness, or vest, at all times when not in the stateroom.
Is there a charge for an Assistance Dog to travel on board?
There is no charge for an Assistance Dog to accompany their owner.
Does an assistance dog need to be trained?
Your assistance dog will need to be trained and also there will need to be some conformation of this, they will have needed to be qualified by one of the following organisations:
Support Dogs

Hearing Dogs Association

Guide Dogs for the Blind Association

Dogs for the Disabled

Canine Partners for Independence
Can you disembark the ship in ports of call with an Assistance dog?
It is the responsibility for the owner to find out each country's individual regulations, including re-entry to the UK. Cunard cannot be held responsible should your dog be denied entry upon disembarkation in Southampton for not following DEFRA regulations.
Need Help?
Do you have a question about cruising? Ask your question here and visitors to the site, who have real cruise experience, will share their answers with you.
Post your own questions
Read answers from real cruisers
Help other cruisers with their questions
Be part of a real cruise community
Expand your cruise knowledge
If you'd like to know more about prices or a cruise that you've already booked, speak to a specialist cruise consultant, call us on 0800 408 6228.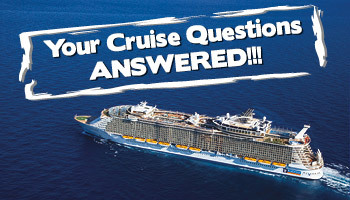 Would You Like To Ask A Question?