CELEBRITY CHEFS
& DINING
Dining at sea should be an event every day. That's why P&O Cruises work with top chefs to develop interesting and varied menus befitting of your luxurious surroundings. Simply put, P&O love food. Not just for what it is, but for what it brings with it; exquisite surroundings, great company and conversation, silver-service waiters who become friends and, of course, fine wines from around the world.

All their chefs have been inducted into the prestigious 'The Chaîne des Rôtisseurs' gastronomic society - a society devoted to promoting and developing gastronomic values and their passion for premium quality is clearly reflected in every mouthful.

Inclusive in your fare are sumptuous silver-service restaurants, buffets offering a wide choice of high-quality cuisines from around the world and informal pool-side restaurants. In addition to the main restaurants, P&O Cruises' ships offer smaller speciality restaurants such as the Ocean Grill by Marco Pierre White where a modest cover charge applies.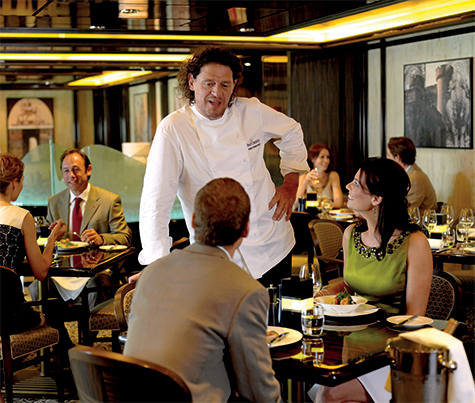 ---
INTRODUCING...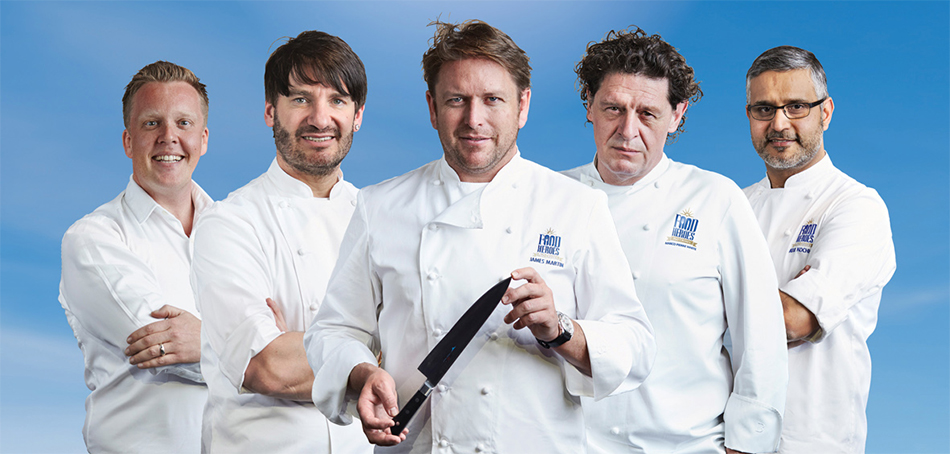 It's all about food on-board P&O and so they've brought on some of the British Food Greats to enhance the dining experience on Britannia. Each of whom will bring their own brand of valuable expertise into the mix. Plus it's not just about eating, enjoy creating your own masterpieces under the guidance of the best in the business, James Martin, in the innovative Cookery Club.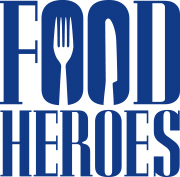 OLLY
SMITH
The man for wines and beers. Olly smith is the face of The Glass House on Britannia
ERIC
LANLARD
The man for baking and patisserie. Eric will feature in Britannia's Market Café.
JAMES
MARTIN
The man for cookery tuition! James Martin will feature in the Cookery Club on Britannia
MARCO
PIERRE-WHITE
Featuring on the main restaurant menus and gala evenings with classic British and European cuisine.
ATUL
KOCHAR
The man for fine Indian and Indonesian cuisine, Atul has the Sindhu on Britannia

---
SPECIALITY DINING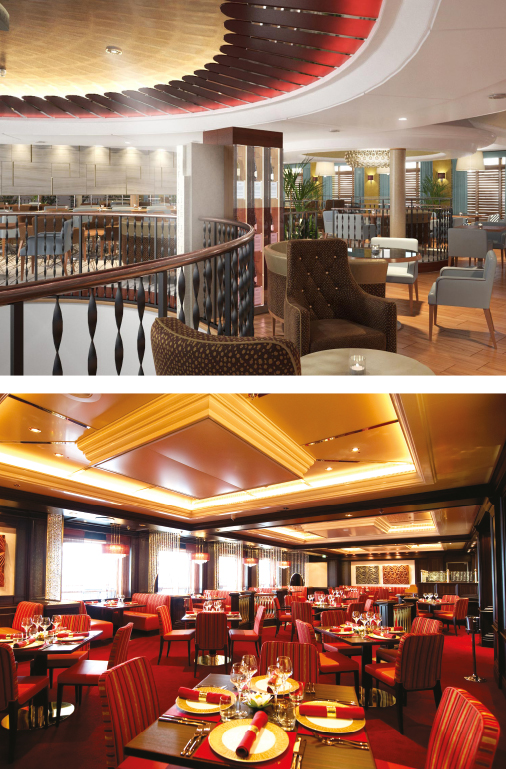 Speciality Dining (or
Select Dining
) is wonderfully flexible, allowing you a change of scene and the opportunity to dine with different people. This is a great way to add variety to your holiday, if you wish to dine earlier or later than usual, celebrate a special occasion or enjoy an intimate meal for two.
Please note that a modest Select Dining cover charge applies.
Adonia - The Ocean Grill (a Marco Pierre White restaurant) and Sorrento a fine dining Italian restaurant
Arcadia - The Ocean Grill (a Marco Pierre White restaurant) and The Orchid an Asian fusion restaurant
Aurora - Café Bordeaux (bistro created by Marco Pierre White) and The Pennant Grill an al fresco grill restaurant
Azura - Sindhu (Indian style created by Atul Kochhar) and Seventeen a classic fine dining restaurant
Oceana - The Horizon Grill an al fresco grill restaurant and Cafe Jardin (bistro created by Marco Pierre White)
Oriana - The Ocean Grill (a Marco Pierre White restaurant) and the Terrace Grill an al fresco grill restaurant
Ventura - The White Room (Italian created by Marco Pierre White), East (Oriental restaurant) and Ramblas (Spanish tapas)
CLUB DINING
With Club Dining you'll enjoy the special ambience and sociable atmosphere of the main dining room, as well as silver-service and a five-course menu (six-course on Gala Nights). This style of dining is a wonderful way to share your holiday experiences and meet new friends. By choosing Club Dining you're opting for the cruising tradition of set sitting times. The same table will be reserved for you and your table companions every night for first or second sitting, at 6.30pm or 8.30pm. You simply need to request your sitting preference when you book and you will be informed of your table number, sitting and restaurant with a card in your cabin when you board.
Adonia - The Pacific Dining Room
Arcadia - Meridian Restaurant
Aurora - Alexandria and Medina Restaurants
Azura - The Oriental Restaurant and The Peninsular Restaurant
Oriana - Peninsular and Oriental Restaurants
Ventura - Saffron and Bay Tree Restaurants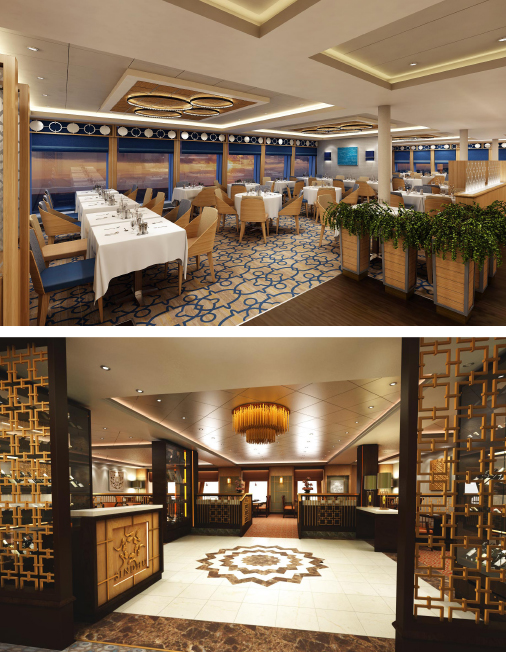 FREEDOM DINING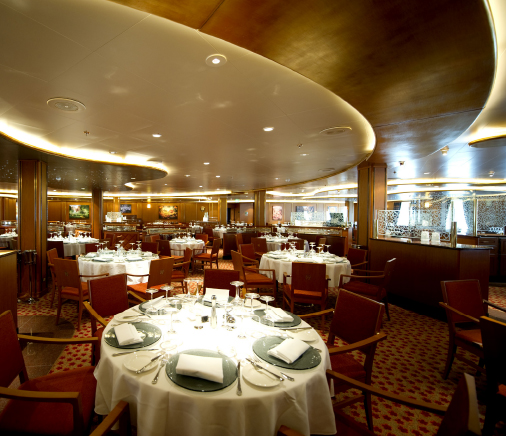 With Freedom Dining you'll still enjoy the special ambience and sociable atmosphere of a main dining room, as well silver-service and five-course menu (six-course on Gala Nights). The difference from Club Dining is that this option allows you the flexibility to turn up at selected restaurants anytime you choose between 18:00 and 21:30, with whom you like, and every effort will be made to accommodate you. Freedom Dining is included in your fare and available on board Azura, Oceana and Ventura. If the flexibility of Freedom Dining appeals, then please opt for it when making your booking.
Azura - Meridian Restaurant
Oceana - Ligurian Restaurant
Ventura - Cinnamon Restaurant
OTHER DINING
Regardless of which option you choose, all ships have a buffet restaurant which you are welcome to use at any point during your cruise for more casual meals.

You can also take advantage of room service for light bites and/or full meals. Room service is available 24 hours a day and some items encur a charge. A room service menu will be available to you in your cabin.

Normally children join their parents for breakfast and lunch but since you might occasionally want to dine on your own, P&O Cruises' family-friendly ships lay on a special children's tea every night featuring all the food that children will enjoy: sausages, fish fingers and pizza to name just a few. In addition there are many healthy options, such as salads, soups, fruit, vegetables and pasta.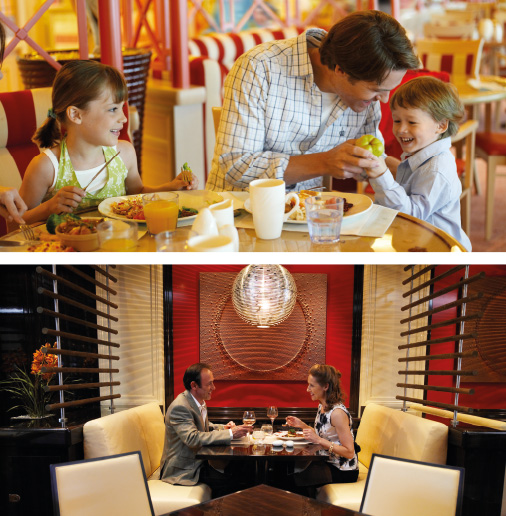 ---
INTRODUCING FOR BRITANNIA...
GLASS HOUSE
Will be a signature venue for P&O Cruises and will be found on Deck 7, the superb wine menu is to be thoroughly enjoyed with wines selected by TV's Ollie Smith. The stylish relaxed restaurant and bar offers an informal menu of steak and seafood. The wine is served via an Enomatic System which allows passengers to sample each one by the glass, find the perfect match for each course and drink in those sea views!
THE SINDHU
Is a select dining venue which will enrich passengers experience of dining with P&O Cruises and will be found on deck 7. Atul Kochar 'The Master of Spices' is the creator of the Sindhu which will showcase a range of Indian Style Dining which is great to enjoy as a couple or whilst meeting new friends. Plus find the bar in the Sindhu which will also offer the informal option of Nashta, Indian Tapas.
NEW
FOR HORIZON
A live cooking station with dishes changing daily. For example, Breakfast – American Pancakes, omelettes, waffles, Indian dosa, fresh fruit cutting stations. Lunch – Stir fry, dosa, stir fries and noodles
Tea and coffee is now served to the table at breakfast, lunch and dinner More tables for two, plus counter seating
Dedicated salad counter
Improved layout, with emphasis on ease of flow
The adjacent Terrace Bar – which will have a small self-service counter so you can grab & go!
HORIZON RESTAURANT
Find the Horizon on Deck 15 and enjoy the relaxed, self-service buffet restaurant that's open for breakfast, lunch, afternoon snacks, dinner and late night treats!! The Horizon restaurant offers a great casual alternative to the main and Select dining restaurants. A wide and tempting range of dishes are on offer and change daily, passengers are free to help themselves to whatever they fancy.


FOOD
WITH THE
FAMILY
The best way to keep the family happy is to enjoy food!! Take the ease of the Grab & Go Pizzeria that you can eat right by the pool.

Need Help?
Do you have a question about cruising? Ask your question here and visitors to the site, who have real cruise experience, will share their answers with you.
Post your own questions
Read answers from real cruisers
Help other cruisers with their questions
Be part of a real cruise community
Expand your cruise knowledge
If you'd like to know more about prices or a cruise that you've already booked, speak to a specialist cruise consultant, call us on 0800 408 6228.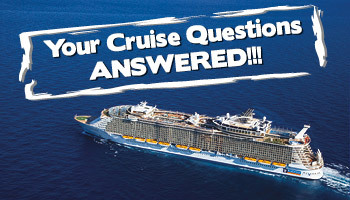 Would You Like To Ask A Question?