Facilities for Assistance Dogs
Most cruise liners follow the same set of rules when it comes to assistance dogs travelling on board. Here are a few questions and answers you may have before travel with your assistance dog.

Does the cruise liner provide toys?
No toys are supplied by the cruise liners, owners must take any toys and accessories that will be needed for the service animal.
A port of call has a Tender, will my dog be able to travel ashore?
It is possible for a service animal to travel onboard the Tender to shore, you will need to discuss this on board to clarify that there will be a member of staff available to help with the process.
Do you provide dog food?
The cruise liners will not provide any food, or other extras for the dog, the customer will need to bring plenty of food, water/food bowls, blankets and anything else your dog will require whilst travelling. Customers are not permitted to feed dogs in any bar or food establishment onboard.
Can my assistance dog enter any restaurants?
The assistance dog may enter restaurants, in which the animal must stay by the side of the table and cannot be given food 'scraps'.
Where can I feed my assistance dog?
Dogs can only be fed inside your cabin.
Will the cruise liner provide any dog treats?
No treats are supplied by the cruise liner, all food items must be taken on board by the owner.
Does my assistance dog need to be trained?
Yes, service animals must be fully trained to embark on a cruise.
Will the cruise liner charge for the assistance dog?
No, there is no charge to travel with your assistance animal.
Are there any restricted areas?
Service animals are welcome in all areas of the ship, restaurants, bars, deck areas etc there are no set areas animals are not allowed to visit, please check with your chosen ship for the most current details.
Are service dogs allowed in the swimming pools?
No, service dogs are not allowed in any on board pool.
Where will my dog sleep?
The ship will provide a wooden 4ft x 4ft box that will be filled with wood shavings (sawdust). Your cabin location will determine exactly where the litter box will be placed and the cruise line will endeavor to ensure that this is as close to your cabin as possible without compromising safety. The cruise line will advise you nearer to departure of the exact location of the box. Litter boxes cannot be placed on cabin balconies or inside the cabin itself.
Where will my assistance dog go to the toilet?
The 4x4 box that is filled with wood shavings is where your animal will go to the toilet.
Is there a Bathing or Clipping service available?
No bathing or clipping service is available on board any cruise ship.
Need Help?
Do you have a question about cruising? Ask your question here and visitors to the site, who have real cruise experience, will share their answers with you.
Post your own questions
Read answers from real cruisers
Help other cruisers with their questions
Be part of a real cruise community
Expand your cruise knowledge
If you'd like to know more about prices or a cruise that you've already booked, speak to a specialist cruise consultant, call us on 0800 408 6228.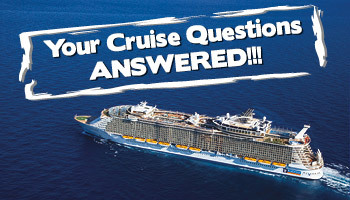 Would You Like To Ask A Question?