Sign up today!

Receive the latest guidance on post-covid cruising.

Be one of the first to receive updates on cruise health & safety measures as they're announced. Plus regular email updates on the latest cruise dates, money-saving deals and information about cruise holidays that interest you. Unsubscribe at any time quickly and easily. Further information can be found in our privacy policy.
We have over 100 consultants with 500+ years combined cruise experience. Take a look at what some of our past customers have said about us...
---
Reasons To Sign Up
Unbeatable Cruise Deals
With almost 30,000 deals updated daily from over 25 cruise lines, we will have the cruise for you. If you're still unsure we can tailor any offer to meet your requirements, to ensure you book your perfect cruise!
Receive the latest updates from cruise lines
Be the first to find out when cruise lines will be sailing again. Learn more about any new health and safety procedures onboard ships and receive information on how to prepare for cruising in the future.
Honest, Unedited Cruise Reviews
Real reviews, written by real cruisers. With over 110,000 unbiased reviews, you can find out everything you need to know about your next cruise. Find out real opinions about the ships, destinations, food, cabins, décor and every aspect other of cruising.
Essential Advice On Cabin Selection
Here at Cruise.co.uk, we ensure that you have all the information you need to book your perfect cruise. Our innovative system will allow you to check live cabin availability, view all available fare promotions & pick your preferred deck and cabin number, all at the click of a button..
Incredible Competitions
You'll get the chance to win some of the most amazing cruises. Sign up below!
Need Help?
Do you have a question about cruising? Ask your question here and visitors to the site, who have real cruise experience, will share their answers with you.
Post your own questions
Read answers from real cruisers
Help other cruisers with their questions
Be part of a real cruise community
Expand your cruise knowledge
If you'd like to know more about prices or a cruise that you've already booked, speak to a specialist cruise consultant, call us on 0800 408 6228.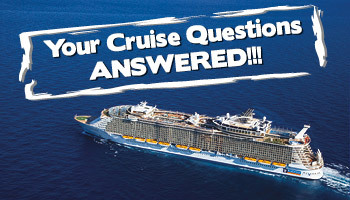 Would You Like To Ask A Question?