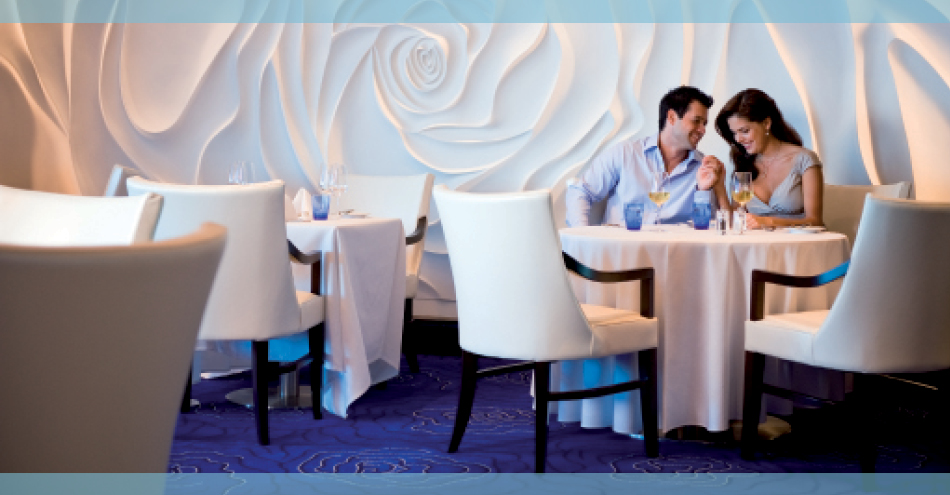 DINING ON CELEBRITY CRUISES
Award-winning dining and globally influenced cuisine make dining on board a Celebrity cruise an experience like no other. Carefully crafted menus pair classic and contemporary flavours. From al-fresco dining and a Sushi café, to the spectacular main restaurant and speciality restaurants, there's something to satisfy all tastes. On a Celebrity cruise, the choice is all yours...
---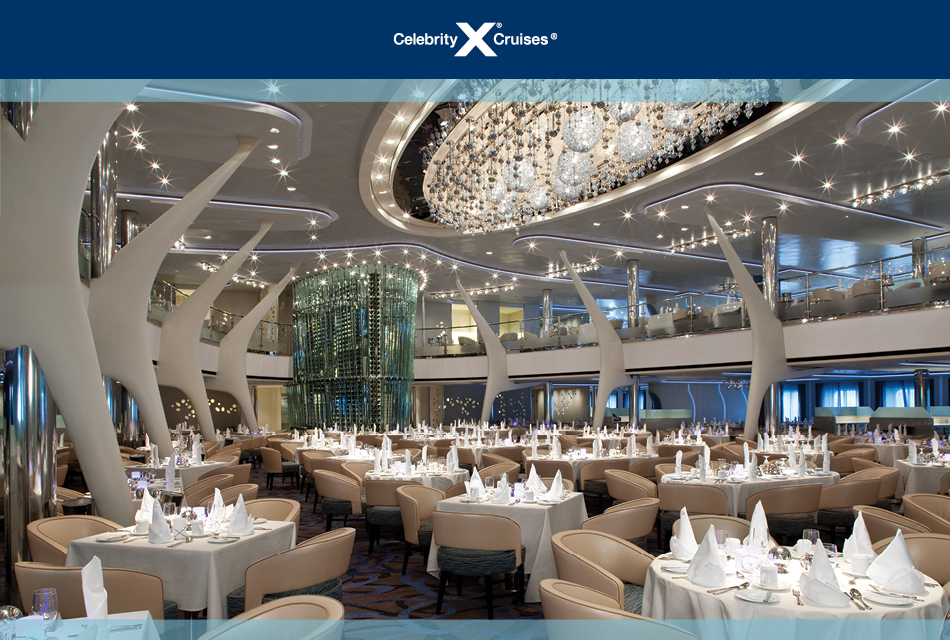 Right at the heart of the Celebrity Cruises® dining experience is the grand main dining room. Eat, drink, laugh and take your tastebuds on a journey of their own.
INSPIRATION
Chic and contemporary, the Celebrity Cruise main dining options are the centrepiece of the on board experience. The unparalleled range of choices and attentive, friendly service are as delightful as the array of flavours available. Everything about this venue is lavish, so attire is suitably stylish. It is smart casual for most sittings, with a more sophisticated dress code for sensational special events.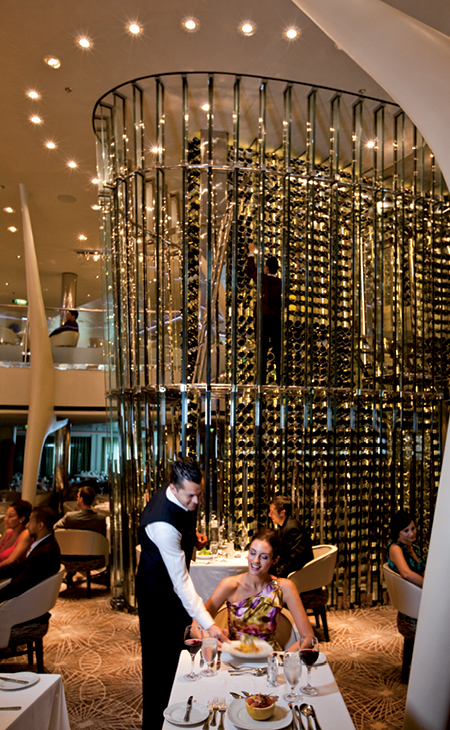 CUISINE
Celebrity Cruises' chefs work round the clock to supply the most incredible tastes and textures. Each dish is a little masterpiece in its own right, with every detail designed to please, right down to the garnish. The options change every night – sample a variety of top-quality meats, like quail and black salmon, coupled with expertly-crafted side dishes and full-on flavour sauces. Dinner in the Main Restaurant is always the main attraction.
The range of options is tailored to suit every taste: if you prefer to dine at the same time every night then Traditional Dining is for you. For more flexibility and to make reservations each day, opt for Select Dining. Special Needs are catered for, with a dedicated team of specialist chefs to whip up perfect meals for your individual dietary requirements.


AVAILABLE ON
Eclipse, Equinox, Reflection, Silhouette, Solstice, Constellation, Infinity, Millennium, Summit, Century and Xpedition.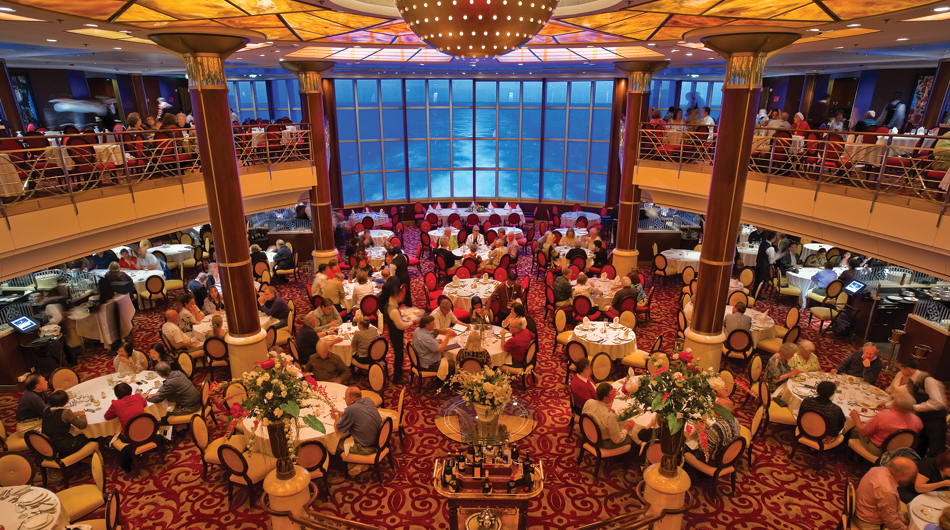 ---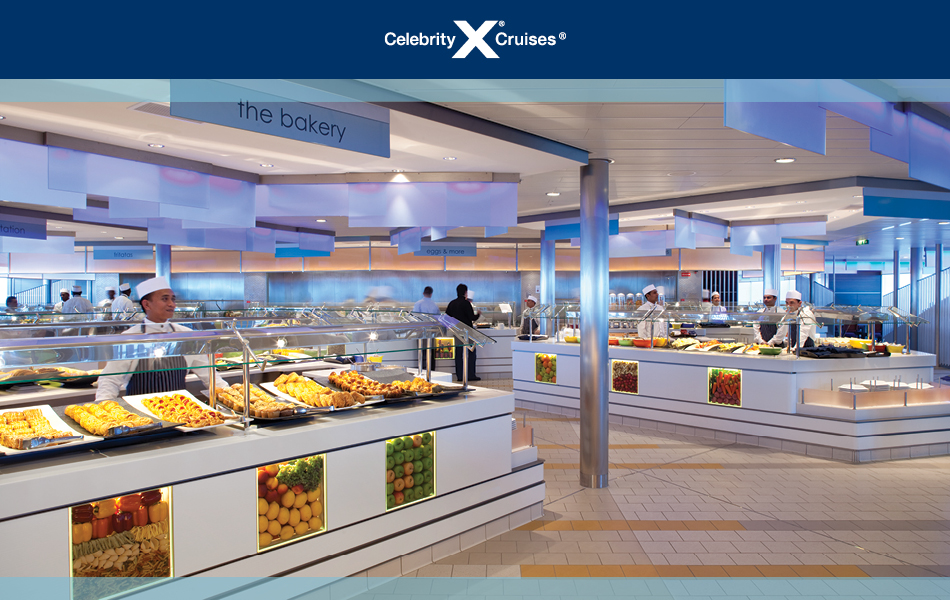 As you explore the world by ship, discover a universe of tastes and flavours with the most incredible cruise dining choices – all complimentary, of course
OCEANVIEW CAFÉ
The Oceanview Café reflects the fantastic choice and value of an international marketplace. Help yourself and take a voyage around the world to discover flavours from across the globe. From pasta and pizza to stir-fry and sushi, there is something for everyone at lunch, dinner and late into the night.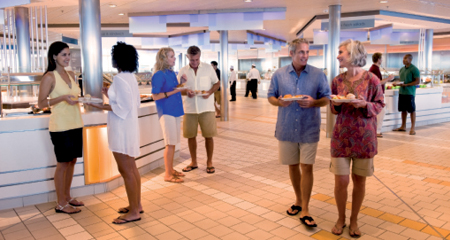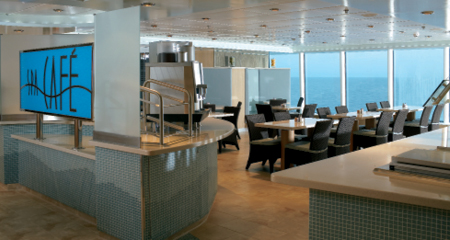 THE AQUASPA CAFÉ
The unique AquaSpa Café is the first cruise dining option of its kind. This spa-inspired restaurant serves an eclectic mix of dishes that will satisfy your hunger but still keep you in shape. Each meal combines flavoursome and healthy ingredients to please you whether you are a food lover or fitness fan.
POOL/MAST GRILL
The relaxed atmosphere of the Pool/Mast Bar & Grill makes it the perfect casual dining place to sit back and relax. Sip a cocktail or a soft drink on deck, or order a light bite to eat poolside. Music and entertainment add to the dining ambience.

---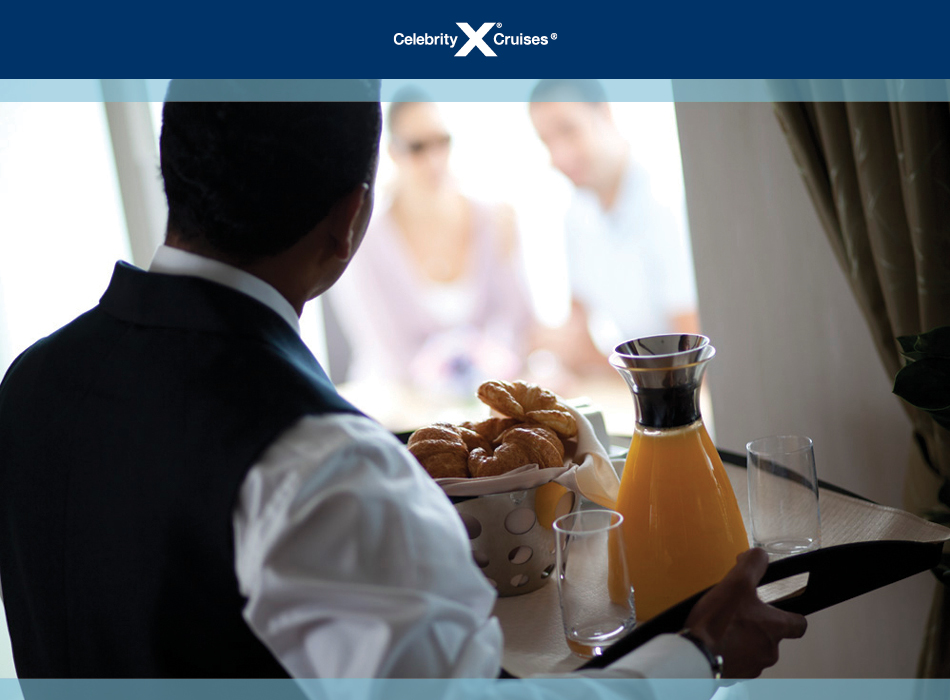 Enjoy Celebrity's delectable dining delivered right to your stateroom or suite, complimentary and at any time.
COMPLIMENTARY IN-STATEROOM DINING
Tired from a day of exploring? Whether you are recuperating or just in the mood to relax, with our complimentary cruise 24-hour room service you may never want to leave the comfort of your stateroom. Breakfast on the balcony? Choose from a continental or full breakfast, delivered to you by one of our attentive, friendly staff members. Or select from a wide range of delicious dishes at any time of day, or night!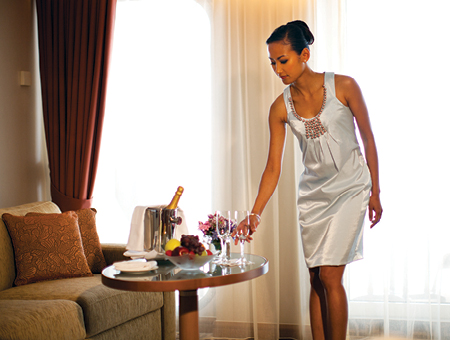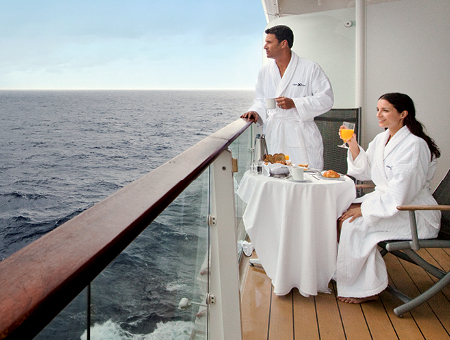 SPECIAL EXTRAS AT YOUR BECK AND CALL
Simply request the menu from your Butler or Stateroom Attendant and pick the extras to make your on board experience complete. From wine and soft drinks to Champagne to toast your travels*, Celebrity will deliver straight to your room and even set up on the balcony if you desire.
*Additional charges will apply.
---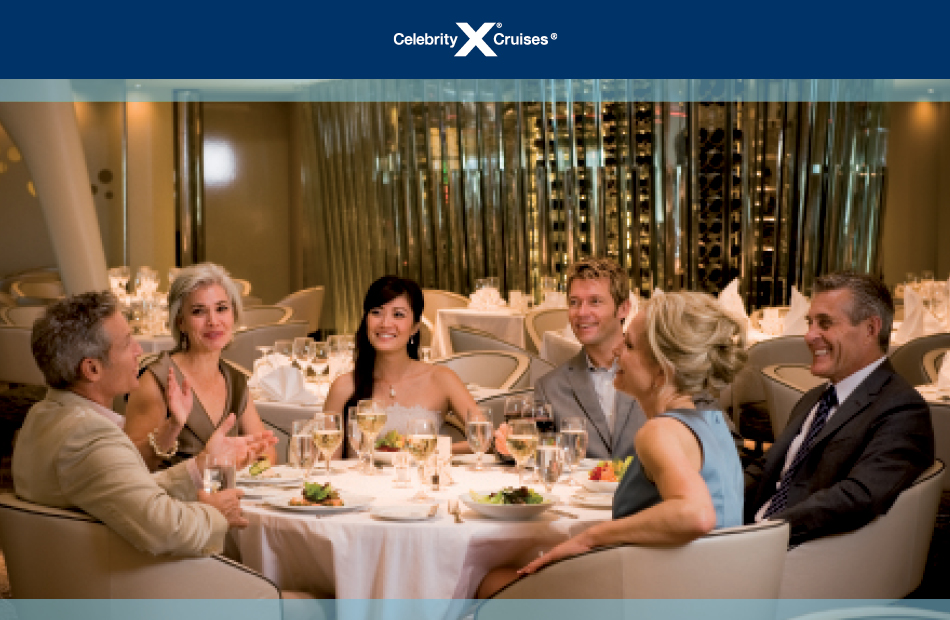 A Celebrity cruise is a step into luxury, so it's the perfect opportunity to dress up for dining every evening.
DRESS CODES
Whether enjoying a table for two or sharing a meal with friends, the right cruise dining attire ensures everyone enjoys their on board dining experience. Depending on how long you've booked your cruise for, you will enjoy a number of smart casual and formal evening wear events. The dress code is smart casual for all of Celebrity's speciality restaurants on every night of your cruise.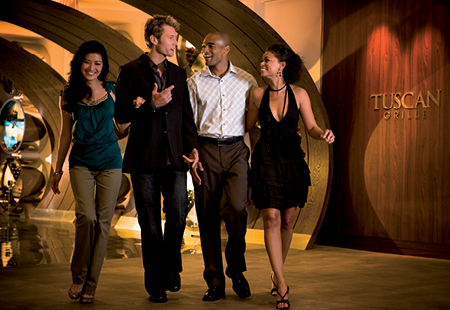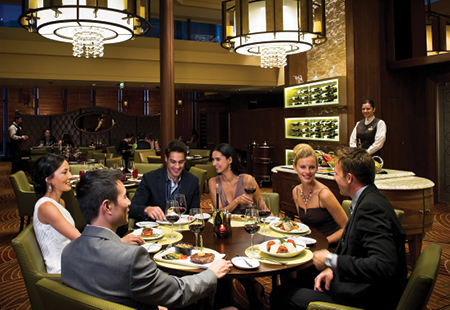 SMART CASUAL AND ABOVE
For smart casual cruise dining attire, women should wear a skirt or trousers (with no holes, rips or tears) complemented by a sweater or a blouse.
Gentlemen will need to pack trousers (with no holes, rips or tears) coupled with a collared sports shirt or sweater for smart casual dining events. Any shirts must have sleeves.
EVENING CHIC
'Evening Chic' evenings have replaced the formal nights aiming to be less dressy but yet more formal than smart casual nights. On these occasions, women can choose their favourite cocktail dress to wear, or substitute it for a skirt, or even designer jeans paired with an elegant top. Gentleman's attire for evening chic should comprise of either designer jeans alongside a button-down shirt or sweater or alternatively you can opt for a chic tuxedo.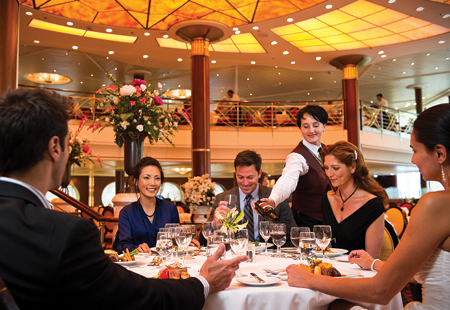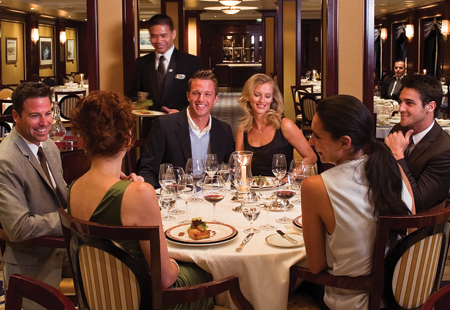 WHAT TO WEAR AND WHEN TO WEAR IT
For cruises of 2-6 days, there are 1-5 smart casual events and 1 evening chic event.
For cruises of 7-11 days, there are 5-9 smart casual events and 2 evening chic events.
For cruises of 12-15 days, there are 9-12 smart casual events and 3 evening chic events.
For cruises of 16+ days, there are more than 12 smart casual events and 4 evening chic events.
---
Need Help?
Do you have a question about cruising? Ask your question here and visitors to the site, who have real cruise experience, will share their answers with you.
Post your own questions
Read answers from real cruisers
Help other cruisers with their questions
Be part of a real cruise community
Expand your cruise knowledge
If you'd like to know more about prices or a cruise that you've already booked, speak to a specialist cruise consultant, call us on 0800 408 6228.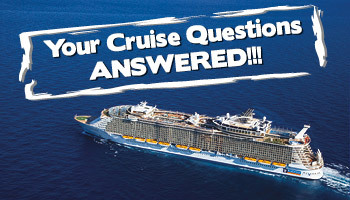 Would You Like To Ask A Question?