Royal Caribbean recently released a whole raft of details about the upcoming Quantum of the Seas, its latest ship and a game changer in terms of technology at sea.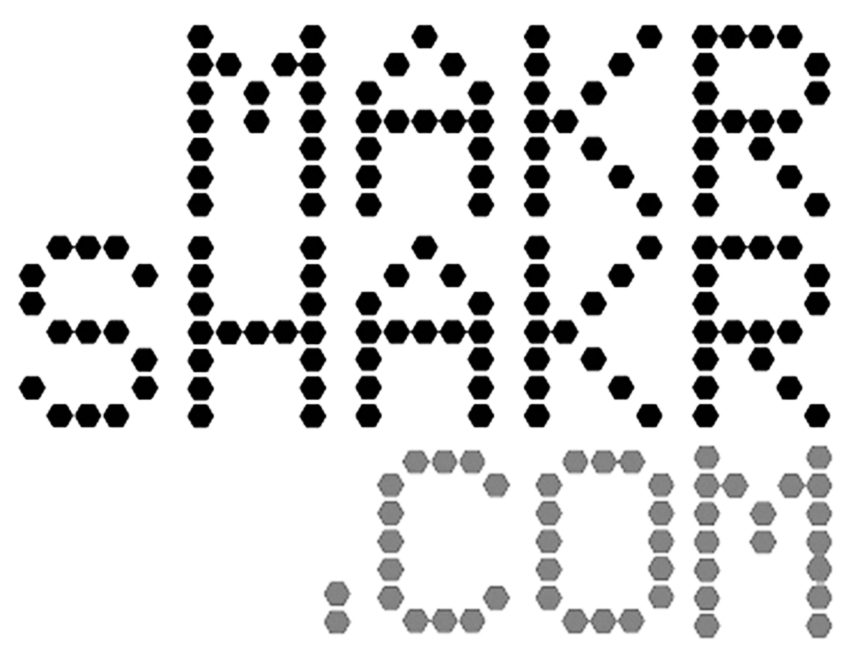 One of the surprise announcements of the day was the Bionic bar, a bar on-board Quantum in which your drink will be created and served entirely by robots!
It may sound like science fiction but we're here to tell you it's science fact and can be experienced any time you want by just booking a cruise with Royal Caribbean.
Curious about this new technology www.CRUISE.co.uk got in touch with Makr Shakr, the creators behind the technology for an exclusive interview!
You can read the interview, in full, below…
 So where did the original idea for the concept come from?
We received a request from Google to develop an installation which studied how new technologies affect people's lives.
We set out to explore this concept around the idea of the Italian bar.
The first prototype was presented at Google's I/O 2013 – After Hours conference. Makr Shakr, the company, was then founded earlier this year to continue the development of new models and start selling them.
How long did the project take to get off the ground?
The first prototype was realized in three months, however, the design and development of a fixed product line – from concept to manufacturing – took slightly less than a year.
So apart from on a Royal Caribbean ship where else could people see your technology?
Right now, the only way to experience Makr Shakr is on board the Quantum of the Seas, where it powers the Bionic Bar venue.
However, Makr Shakr will soon be available on shore in cities worldwide. We are in discussions with several major hotel chains…

Robotic technology has been around in the manufacturing industries for years now but this is one of the first times it's ever really been released to the public on a mass market basis – How do you think people will react?
The system explores the new dynamics of social creation and consumption — 'design, make and enjoy' — allowing users to design their own cocktail creations, while digitally controlled machines transform these designs into reality.
The main objective of the original prototype was to study how people would react to the use of industrial technologies, such as numeric control machines, applied to everyday life and how this might empower them to realize their own desire.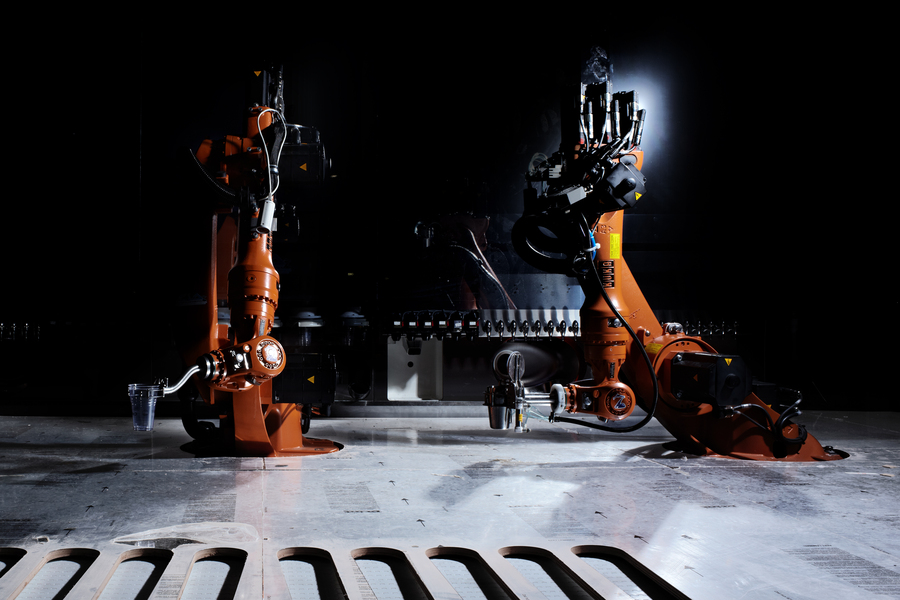 The launch at Google gave way to some terrific feedback from the public, who showed great excitement towards social creation and consumption via the robot.
In short, through the mobile application, customers were given the possibility to mix brandy and cranberry juice – if they dared – or, on the other hand, to concoct that very special Mai Tai they heard of once, with military precision in dispensing each ingredient.
Users were then able to rate and share their own cocktail on social media and with friends. The initial reactions, in short, were extremely positive.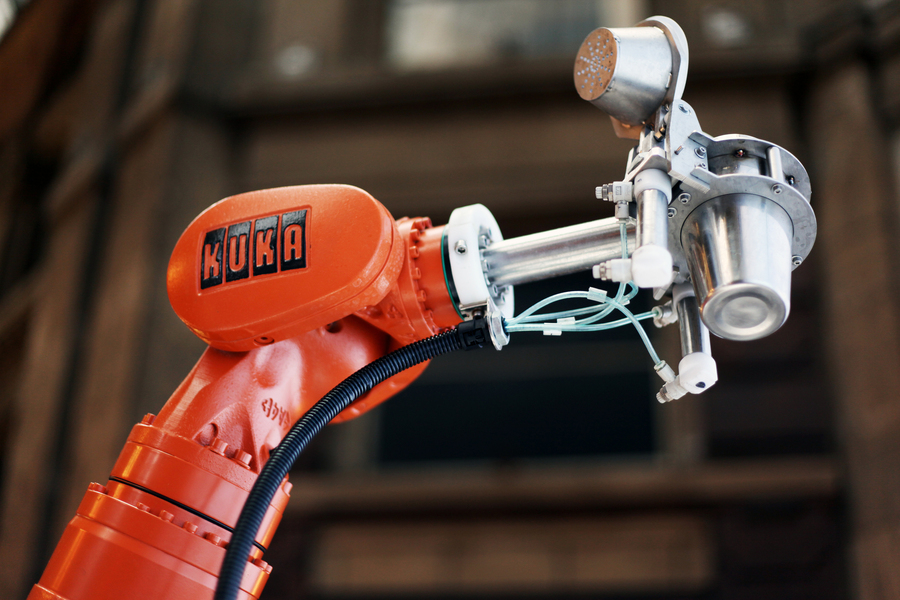 How many different drinks can the bar serve at the moment?
Besides choosing from standard and signature recipe, customers will be able to entirely customize their cocktail, from a selection of more than 30 spirits, 8 sodas, 6 juices, 3 syrups, sugar, mint, limes and lemon. Combinations of cocktails are practically endless.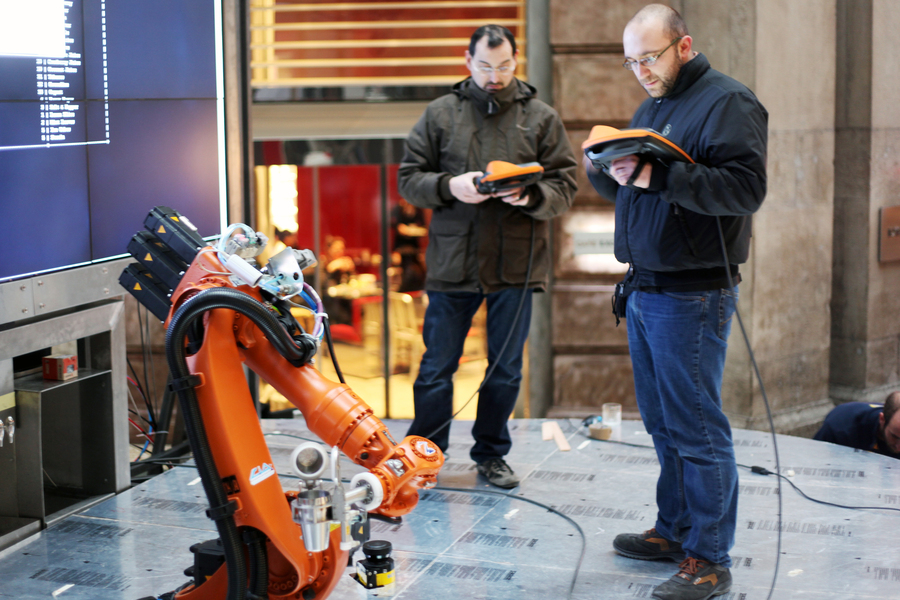 Can it remember your favourite drinks from your room card (or WOW-band)?
The machine will keep track of all users' standard and custom-made cocktail history.
The Makr Shakr application will provide users with personalized access to the installation.
Customers will be able to access their user history and re-order their favourite cocktails, while rating and commenting on them.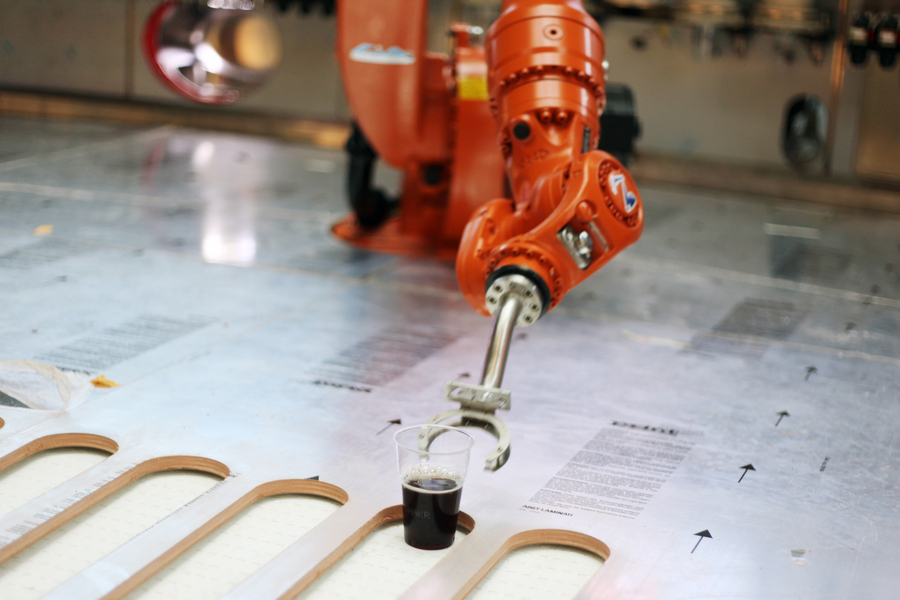 For the tech geeks amongst us can you provide any specifications for the technology?
At the moment, the dimension of the bar is approximately 5m width x 4m depth x 3m high and works with a combination of three phase and single phase power.
However, we are developing a modular system so that dimensions can be easily adjusted to different conditions. 
Power consumption as well as cost varies based on the model and number of robots, as Makr Shakr can be composed by one, two or more robotic arms. 
The bar can be customized to comply with different regulation worldwide, such as the strict marine environment, as was the case for Royal Caribbean's Quantum of the Seas.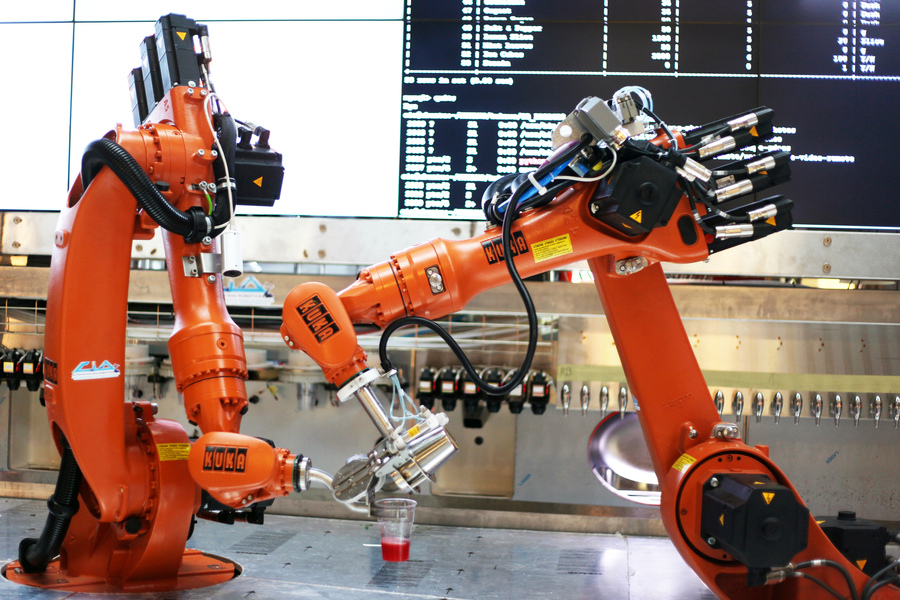 And how environmentally friendly is it?
Makr Shakr works with electric power and we suggest to our clients that they use power from renewable sources to reduce the impact on the environment.
Furthermore, the bar can be partially switched off over night in order save energy, while keeping basic functionalities, such as ice production, ready to resume production quickly.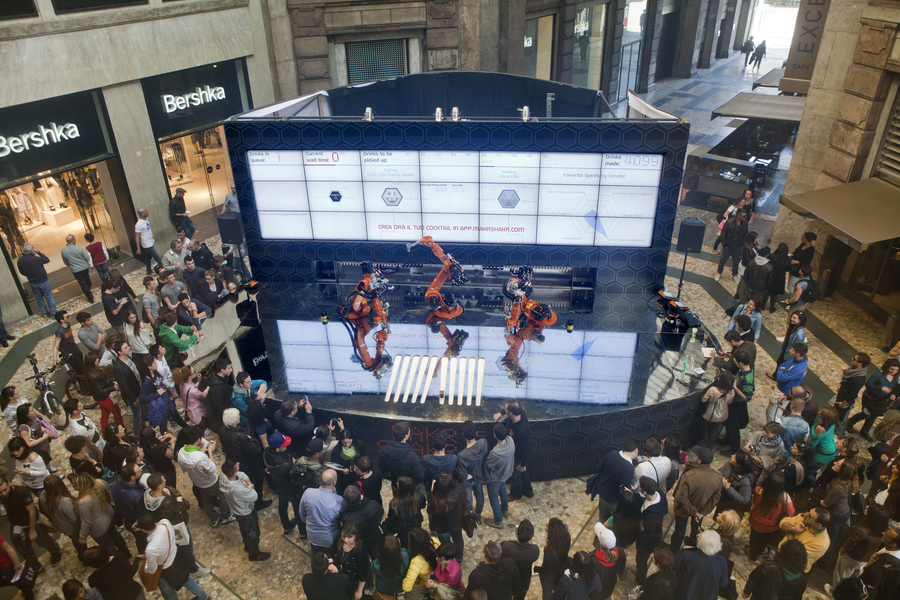 Does it require much upkeep?
Very minimal cleaning is required – similar to a standard bar. Spirit must be refilled daily and sodas every two or three days.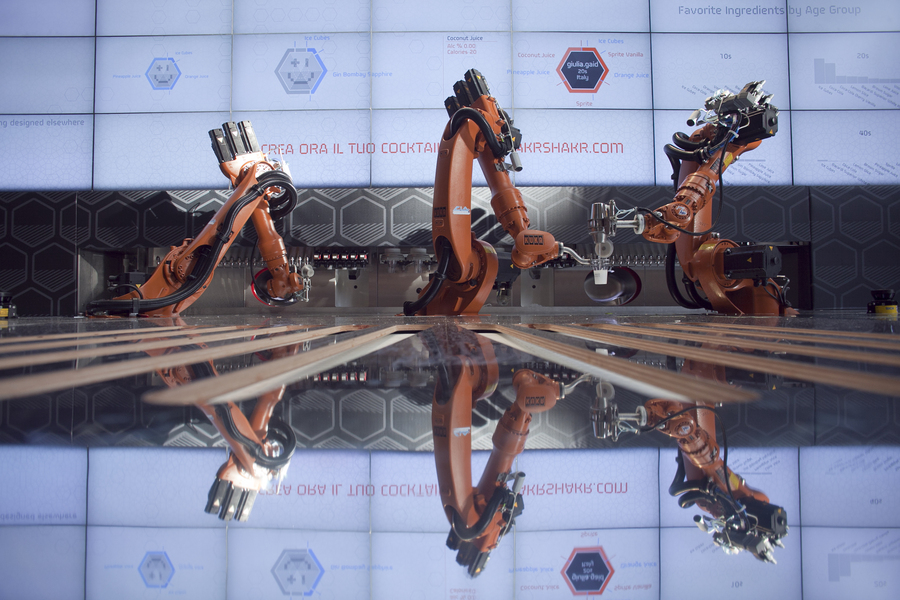 Can they operate in rough seas? Would stormy weather affect its calibration? Is there a point during bad weather where the bar will have to close?
The bar can stay open 24/7 whether the vessel is sailing in calm or stormy waters.
Calibration is not affected by vibration or tilting of the ship. 
The real question is whether the customer would like a drink while waiting out a storm…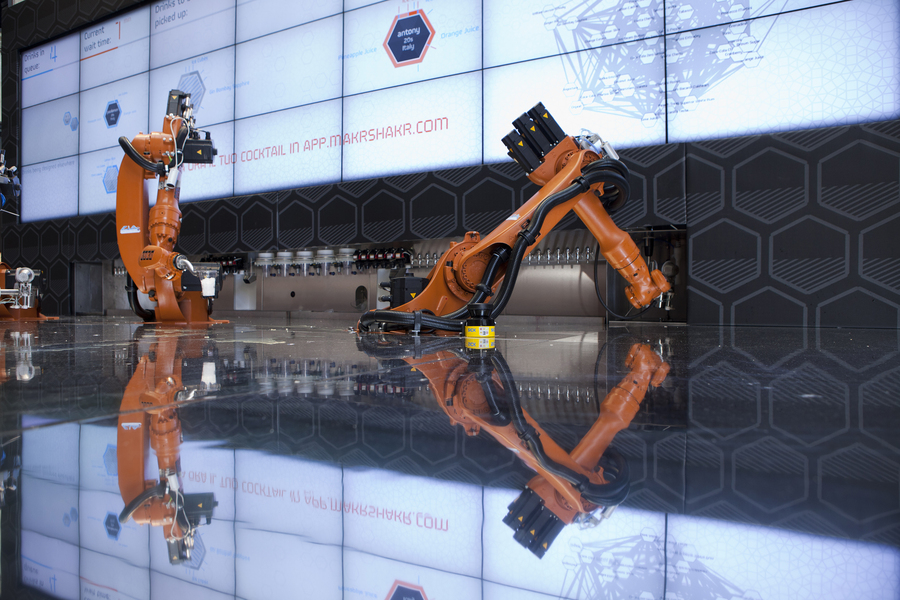 Will there be an engineer on board to help with any problems?
We are providing a remote maintenance service to avoid any possible issues, although typical maintenance procedures will be autonomously performed by staff on board through an easy-to-operate, dedicated control panel, where you can check consumable levels as well as all important features of the machine.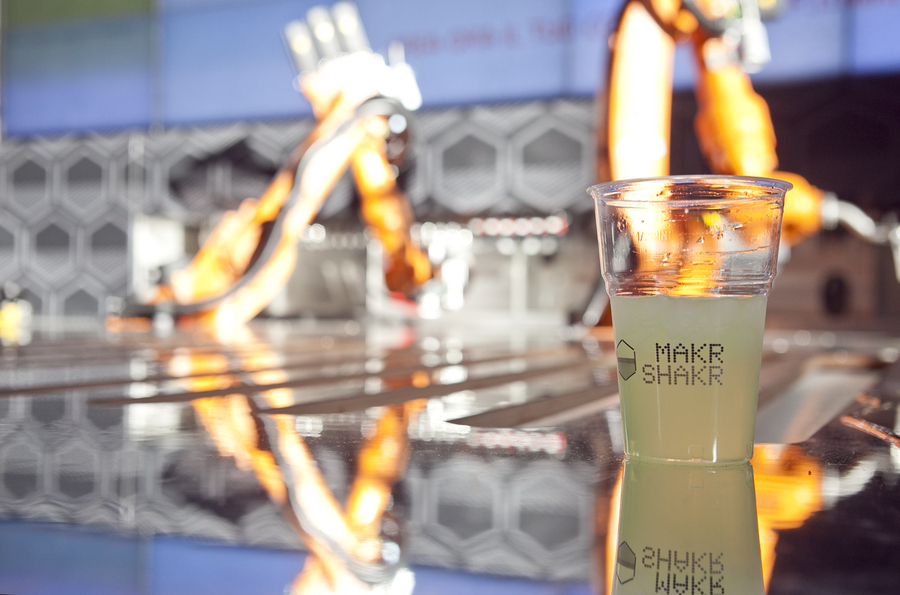 Are they waterproof? What if I spill my drink on them?
The robot will be able to sustain spills, and even glass. Although, they might get upset when it happens….
Many bar staff will refuse to serve you if you're too drunk – Will they track your drinks and stop serving you after so many?
Local alcohol consumption will still be monitored by local waiters and users can be temporarily suspended – via software – to use the application in case they have had one too many. Additionally, an automatic measure of the quantity of alcohol consumed by any customer could also be monitored by the robot and, in the future, automatic suspension could be implemented to black-list users based on hourly alcohol consumption rate
As the technology is so new, a lot of cruisers would like your help with a burning question –
"What's the appropriate amount to tip a robotic bar man?"
This is quite an interesting question, although rather easy to answer.
The same amount of tip as a human barman.
In addition to the robots, you will still have a waiter to serve the room (in case someone would rather have the drink delivered to their table) and personnel to clean it!
(Editor's note) – A lot of detractors of the new technology were worried that this would cut out human interaction so it's good to know real live human staff will still be on hand!
Do you ever envision a time when this technology will become standard in the bar trade?
We do not believe Makr Shakr will directly enter every "bar" – but it can certainly provide huge value by adding a unique experience to any environment.
So hypothetically how much would it cost to install this technology in our local bar?
Depending on external requirement and regulation, number of arms and special features implemented, such as dance moves or custom aesthetic details, the price range could vary significantly.
At the moment it is still rather expensive. But we are working to make it more affordable in the future – think same order of magnitude of an elaborate bar fixture.
 What are your plans for the future of the technology?
Commercializing the product worldwide – and also developing a complementary digital platform for spirits.
Will it always just be bars or can you see any other areas you'd like to install these?
There are plenty of similar applications although we are going to remain focused on the bar as our core business for the initial commercialization phase.
 Can you say if there's any plans unroll this technology across Royal Caribbean's entire fleet?
You should ask them! So far, we are working towards several models for forthcoming cruise liners…
And finally if the technology has the capability to learn could it eventually take over the world and launch a pre-emptive nuclear strike against humanity? (One of our readers was worried…)
Behind every robot there is always a man – or a group of them…
And on that ominous threat of world domination the interview ended… (We joke – The people at Makr Shar were lovely and we're really excited about seeing their amazing technology in action!)
Although for us by far the most exciting news to come out of the interview was the hint that this technology may soon be unveiled on other cruise lines – "So far, we are working towards several models for forthcoming cruise liners…"
Will this technology become a staple component of cruising in years to come?
Only time will tell…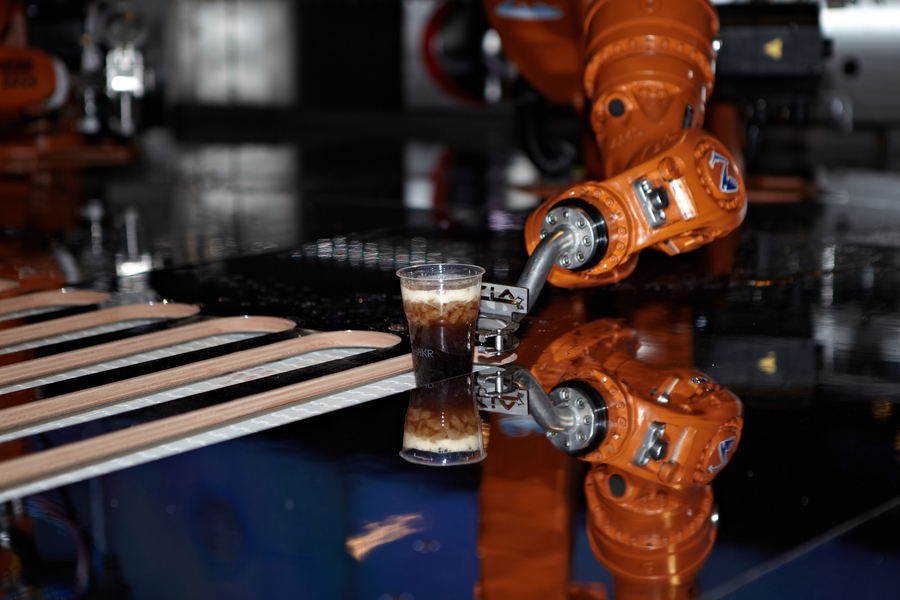 The interview was conducted with Carlo Ratti, Project Director and Alessandro Incisa, Project Manager.
Our thanks once again to the whole Makr Shakr team – You can learn more about them on their website – www.makrshakr.com
// END - About the Author ?>