Date, Region, Line & Ship:


(last updated
Dec 10 2013 10:07AM)

Royal Caribbean Cruises provide an extensive variety of cruise holidays to all holidaymakers. With 22 ships on the seas - the array of schedules, activities and facilities will appeal to all age groups, families and tastes. Offering so much more than a regular cruise company; Royal Caribbean is popular with both new and regular cruisers, and is often referred to as one of the industry's greatest.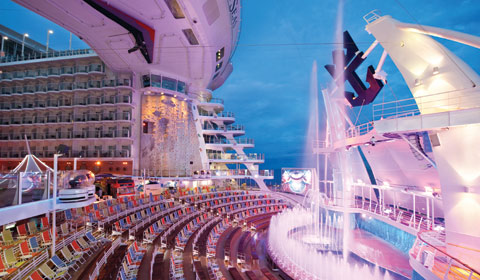 Royal Caribbean cruise ships are some of the most remarkable on the seas. They are up to date, upmarket, stylish, and appeal to all age ranges and energy levels. In fact, their latest vessel, Oasis of the Seas - launched in 2009, is the world's largest cruise ship. The enormous liner holds an astonishing 5,400 guests who can stay in the 2,700 stunning staterooms onboard. In fact, Royal Caribbean is known for bringing many 'firsts' to the industry, such as on-board ice rinks and climbing walls.

Both Independence of the Seas and Adventure of the Seas will be sailing from Southampton for the 2013/14 cruise season offering cruises to the Mediterranean, Iceland & Norway and France and Spain.

With a huge variety of dining options, bars, spas and leisure activities - their magnificent cruise ships have everything you could ever want in one place. Their reputation is excellent and their customer service is to an incomparable standard. How do we know this? Our happy customers tell us so, read their cruise reviews.

Relax in the Solarium; keep the kids happy in the children's pool; burn off some calories in the fitness centre; have some quiet reading time in the library; have your hair done in the salon; enjoy fine dining in the restaurant; try your luck on the slot machines in the casino and party the night away in the nightclub.
All onboard a fabulous Royal Caribbean cruise!

Royal Caribbean cruises are available for sailings in the UK from Southampton and Harwich to: the Canary Islands, the Mediterranean and Northern Europe. We also offer a wide choice of fly cruise holidays to the Caribbean, Alaska, North America, Panama Canal and Hawaii. With all these choices - it's quite easy to see that travelling with Royal Caribbean is much more than just a cruise holiday.

Royal Caribbean cruises are available with flights from 18 different airports including Belfast, Aberdeen, Jersey and Newcastle.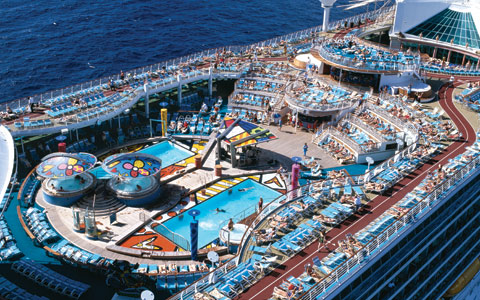 Colon, Panama : Cartagena, Colombia : Kralendijk, Bonaire : Oranjestad, Aruba : Willemstad, Curacao : Colon, Panama
Vision of the Seas
14th Dec 2013 for 7nts
WAS:
£1528
£1565
£1783
View Offer.
NOW:
£465
£549
£578

Check Live Availability and Book Online
San Juan, Puerto Rico : Tortola, B.V.I. : Philipsburg, St. Maarten : Basseterre, St. Kitts : Roseau, Dominica : Bridgetown, Barbados : San Juan, Puerto Rico
Jewel of the Seas
14th Dec 2013 for 7nts
WAS:
£1472
£1463
£1567
View Offer.
NOW:
Full
Full
Full

Check Live Availability and Book Online
Fort Lauderdale, Florida : Nassau, Bahamas : Charlotte Amalie, St. Thomas : Philipsburg, St. Maarten : Fort Lauderdale, Florida
Oasis of the Seas
14th Dec 2013 for 7nts
WAS:
£1540
£1595
£1744
View Offer.
NOW:
£691
Full
£931

Check Live Availability and Book Online
Baltimore, Maryland : Basseterre, St. Kitts : Tortola, B.V.I. : San Juan, Puerto Rico : Labadee, Haiti : Baltimore, Maryland
Grandeur of the Seas
14th Dec 2013 for 10nts
WAS:
£1841
View Offer.
NOW:
£613
£673
Full

Check Live Availability and Book Online
Galveston, Texas : Roatan, Honduras : Belize City, Belize : Cozumel, Mexico : Galveston, Texas
Navigator of the Seas
15th Dec 2013 for 7nts
WAS:
£1121
£1194
£1262
View Offer.
NOW:
Full
Full
Full

Check Live Availability and Book Online
Fort Lauderdale, Florida : George Town, Grand Cayman : Falmouth, Jamaica : Labadee, Haiti : Fort Lauderdale, Florida
Independence of the Seas
15th Dec 2013 for 6nts
WAS:
£1342
£1383
£1383
View Offer.
NOW:
£600
Full
£1020

Check Live Availability and Book Online
Fort Lauderdale, Florida : Labadee, Haiti : Falmouth, Jamaica : Cozumel, Mexico : Fort Lauderdale, Florida
Allure of the Seas
15th Dec 2013 for 7nts
WAS:
£1546
£1605
£1670
View Offer.
NOW:
£884
£964
£1224

Check Live Availability and Book Online
Port Canaveral, Florida : Cococay, Bahamas : San Juan, Puerto Rico : Philipsburg, St. Maarten : Port Canaveral, Florida
Freedom of the Seas
15th Dec 2013 for 7nts
WAS:
£1271
£1477
View Offer.
NOW:
£577
£747
£1007

Check Live Availability and Book Online
Singapore : Port Klang, Malaysia : Langkawi, Malaysia : Singapore
Mariner of the Seas
16th Dec 2013 for 4nts
NOW:
£429
£529
£699
View Offer.

Check Live Availability and Book Online
Miami, Florida : Nassau, Bahamas : Cococay, Bahamas : Key West, Florida : Miami, Florida
Majesty of the Seas
16th Dec 2013 for 4nts
NOW:
£269
Full
Full
View Offer.

Check Live Availability and Book Online
FlyCruise: Fort Lauderdale, Cruising, Labadee, Falmouth, Jamaica, Cruising, Fort Lauderdale
Liberty of the Seas
16th Dec 2013 for 5nts
NOW:
Full
Full
Full
View Offer

Check Live Availability and Book Online
CruiseOnly: Fort Lauderdale, Cruising, Labadee, Falmouth, Jamaica, Cruising, Fort Lauderdale
Liberty of the Seas
16th Dec 2013 for 5nts
NOW:
£313
£368
£497
View Offer

Check Live Availability and Book Online
CruiseOnly: Santos, Cruising, Buzios, Brazil, Ilha Grande, Ilhabela, Santos
Splendour of the Seas
16th Dec 2013 for 5nts
NOW:
£532
£590
£653
View Offer

Check Live Availability and Book Online
Tampa, Florida : Key West, Florida : Cozumel, Mexico : Tampa, Florida
Brilliance of the Seas
16th Dec 2013 for 5nts
WAS:
£1099
£1198
£1291
View Offer.
NOW:
£292
Full
Full

Check Live Availability and Book Online
FlyCruise: Santos, Cruising, Buzios, Brazil, Ilha Grande, Ilhabela, Santos
Splendour of the Seas
16th Dec 2013 for 5nts
NOW:
Full
Full
Full
View Offer

Check Live Availability and Book Online
Port Canaveral, Florida : Cococay, Bahamas : Nassau, Bahamas : Port Canaveral, Florida
Enchantment of the Seas
16th Dec 2013 for 4nts
NOW:
£189
£189
£218
View Offer.

Check Live Availability and Book Online
Sydney, Australia : Noumea, New Caledonia : Lautoka, Fiji : Sydney, Australia
Voyager of the Seas
18th Dec 2013 for 9nts
WAS:
£2954
£3070
£3188
View Offer.
NOW:
Full
£1491
Full

Check Live Availability and Book Online
Sydney, Australia : Noumea, New Caledonia : Lifou, Loyalty Island : Champagne Bay, Vanuatu : Sydney, Australia
Rhapsody of the Seas
19th Dec 2013 for 9nts
WAS:
£2934
£2993
£3644
View Offer.
NOW:
Full
Full
£1562

Check Live Availability and Book Online
CruiseOnly:
Mariner of the Seas
20th Dec 2013 for 3nts
NOW:
£329
£398
£485
View Offer

Check Live Availability and Book Online
Miami, Florida : Cococay, Bahamas : Nassau, Bahamas : Miami, Florida
Majesty of the Seas
20th Dec 2013 for 3nts
NOW:
£199
£229
Full
View Offer.

Check Live Availability and Book Online
FlyCruise:
Mariner of the Seas
20th Dec 2013 for 3nts
NOW:
Full
Full
Full
View Offer

Check Live Availability and Book Online
Port Canaveral, Florida : Nassau, Bahamas : Cococay, Bahamas : Port Canaveral, Florida
Enchantment of the Seas
20th Dec 2013 for 3nts
NOW:
£199
£219
£359
View Offer.

Check Live Availability and Book Online
Fort Lauderdale, Florida : Labadee, Haiti : Falmouth, Jamaica : Cozumel, Mexico : Fort Lauderdale, Florida
Oasis of the Seas
21st Dec 2013 for 7nts
NOW:
£1148
£1316
£1726
View Offer.

Check Live Availability and Book Online