Top 10 Princess Cruises
After a showery start the sun came out to give a magical rainbow halo over Castries Harbor in St Lucia on this wonderful Christmas cruise
Submitted byFletcher, Milton Keynes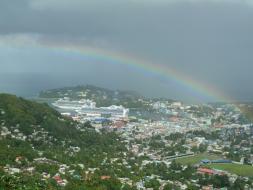 View more or submit your own cruise photos
159,162 Opinions
Ask lots of questions
Princess Cruises / Diamond Princess /
AUSTRALASIA
By Stubbs, Newcastle, Staffs on 2nd Mar 2014
Our cruise on Diamond princess was our first - nearly all our dining companions seemed to have platinum and elite cards to signify that they spent more time at sea than on land, though they did give us useful advice...
Read More >>
2449 Views
12 of 15 found this useful

Australia/New Zealand
Princess Cruises / Dawn Princess /
AUSTRALASIA
By Mehmet, Kettering on 25th Feb 2014
We have just returned from our latest cruise Feb. 20th. It was with the Dawn Princess departing from Melbourne cruising around New Zealand. It was our 3rd Princess Cruise. Our daughter lives in Melbourne therefore the choice was mainly made for convenience...
Read More >>
348 Views
4 of 9 found this useful

australia was good but new zealand was better
Princess Cruises / Diamond Princess /
AUSTRALASIA
By towner, st helens on 23rd Feb 2014
we stopped a few days in sydney prior to the cruise. we stopped at holiday inn, old sydney. you know what to expect from holiday inns but the mustard colour scheme still hurt our eyes. the hotel is ideally situated in the rocks area near to the ferries and...
Read More >>
2131 Views
19 of 19 found this useful

View more latest reviews