Top 10 Princess Cruises
After a showery start the sun came out to give a magical rainbow halo over Castries Harbor in St Lucia on this wonderful Christmas cruise
Submitted byFletcher, Milton Keynes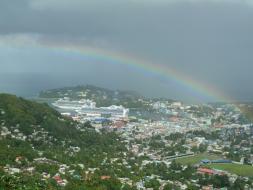 View more or submit your own cruise photos
159,402 Opinions
Our least favourite
Princess Cruises / Crown Princess /
MEDITERRANEAN
By Toone, Bath on 16th Mar 2014
wMy husband and I cruised from Southampton to Venice and back last autumn on Crown Princess. We have cruised many times with Princess and P&O and always thoroughly enjoyed the experience. Without any doubt, our favourite was Alaska and the Rockies...
Read More >>
230 Views
4 of 8 found this useful

Good Cruise - unsure about booking Princess again
Princess Cruises / Star Princess /
PACIFIC
By Compton, Easton-in-Gordano on 14th Mar 2014
Los Angeles to Hawaii & Back – January 2014. This was our first cruise on a Princess ship, having cruised previously on most of the major cruise lines – large and medium sized ships. Flights and Overnight Hotel Our flights had been...
Read More >>
529 Views
12 of 17 found this useful

South America Princess Cruises
Princess Cruises / Golden Princess /
SOUTH AMERICA
By Lewis, Westerham on 12th Mar 2014
Golden princess 2 weeks cruise around South America. Joined ship in Chile (Valpariso). Embarkation went smoothly no big queues. Cabin E506 (obscured view) was as expected. we did still have a view despite the lifeboats...
Read More >>
246 Views
2 of 2 found this useful

View more latest reviews