On Board
Princess Cruises Ships
More»
Top 10 Princess Cruises
After a showery start the sun came out to give a magical rainbow halo over Castries Harbor in St Lucia on this wonderful Christmas cruise
Submitted byFletcher, Milton Keynes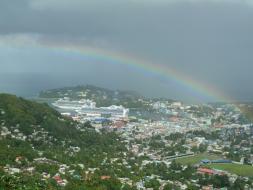 View more or submit your own cruise photos
159,249 Opinions
New Zealand From Melbourne
Princess Cruises / Dawn Princess /
AUSTRALASIA
By Hassell, Brighton on 11th Mar 2014
The Dawn Princess is smaller than other Princess ships I have been on at a little under 2,000 passengers, as a result of which there are rather fewer bars, only one specialist restaurant and no anytime dining...
Read More >>
10 Views

Sort your internet act out!
Princess Cruises / Emerald Princess /
CARIBBEAN
By Gregory, Doncaster on 10th Mar 2014
We love Princess Cruises ... this was our third cruise with this line and second sailing round the Caribbean. The itinerary was excellent. It was two cruises back to back ... so we went back to Fort Lauderdale to start the second cruise...
Read More >>
273 Views
1 of 5 found this useful

Beautiful ship - but too quiet at night
Princess Cruises / Royal Princess /
MEDITERRANEAN
By Scougall, RENFREW on 8th Mar 2014
Having booked our specific cabin we were disappointed - to say the least - that when checking in we found out we had been allocated a different cabin! After a very lengthy - and at times heated - argument we eventually managed to get checked in to...
Read More >>
808 Views
5 of 9 found this useful

View more latest reviews