On Board
Princess Cruises Ships
More»
Top 10 Princess Cruises
After a showery start the sun came out to give a magical rainbow halo over Castries Harbor in St Lucia on this wonderful Christmas cruise
Submitted byFletcher, Milton Keynes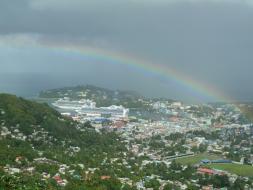 View more or submit your own cruise photos
159,278 Opinions
Beautiful Scenery , relaxing family cruise
Princess Cruises / Crown Princess /
NORWEGIAN FJORDS
By BARNETT, Taunton on 11th Mar 2014
Fantastic cruise as usual with Princess. Standards have dropped slightly, a few cut backs noted, but only things that didn't really affect the cruise. Food good slightly smaller portions and not as expensive products used...
Read More >>
78 Views

New Zealand From Melbourne
Princess Cruises / Dawn Princess /
AUSTRALASIA
By Hassell, Brighton on 11th Mar 2014
The Dawn Princess is smaller than other Princess ships I have been on at a little under 2,000 passengers, as a result of which there are rather fewer bars, only one specialist restaurant and no anytime dining...
Read More >>
133 Views
4 of 6 found this useful

Sort your internet act out!
Princess Cruises / Emerald Princess /
CARIBBEAN
By Gregory, Doncaster on 10th Mar 2014
We love Princess Cruises ... this was our third cruise with this line and second sailing round the Caribbean. The itinerary was excellent. It was two cruises back to back ... so we went back to Fort Lauderdale to start the second cruise...
Read More >>
388 Views
1 of 6 found this useful

View more latest reviews