Top 10 Princess Cruises
After a showery start the sun came out to give a magical rainbow halo over Castries Harbor in St Lucia on this wonderful Christmas cruise
Submitted byFletcher, Milton Keynes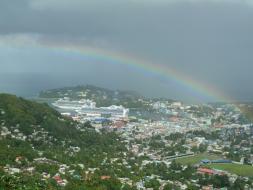 View more or submit your own cruise photos
159,208 Opinions
Beautiful ship - but too quiet at night
Princess Cruises / Royal Princess /
MEDITERRANEAN
By Scougall, RENFREW on 8th Mar 2014
Having booked our specific cabin we were disappointed - to say the least - that when checking in we found out we had been allocated a different cabin! After a very lengthy - and at times heated - argument we eventually managed to get checked in to...
Read More >>
428 Views
2 of 5 found this useful

Best cruise princess ruby
Princess Cruises / Ruby Princess /
MEDITERRANEAN
By Mitchell, Blackburn on 8th Mar 2014
First time with princess,cruise with royal caribean before balcony cabin smaller on princess on Rivera deck aft very quiet cabin steward exceptional, main restaurant food good,on east med cruise, trips can be expensive if taken with cruise so made our own way...
Read More >>
111 Views
1 of 3 found this useful

Karaoke class cruising!
Princess Cruises / Star Princess /
PACIFIC
By Dunnill, Holmfirth on 8th Mar 2014
Which is the world's tallest mountain? Obviously, Everest at 29,029 ft. But is it? There is a compelling alternative. Mauna Kea on the Hawaiian island of Hilo is 33,100 ft measured from the sea bed and more than twice Everest's base-to-peak height of...
Read More >>
126 Views
4 of 7 found this useful

View more latest reviews