Useful Links
On Board
Celebrity Cruises Ships
More»
Top 10 Celebrity Cruises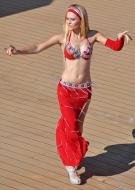 View more or submit your own cruise photos
159,278 Opinions
Northern highlights
Celebrity Cruises / Celebrity Eclipse /
NORWEGIAN FJORDS
By Dupree, Belfast on 9th Mar 2014
We sailed on the Celebrity Eclipse to Iceland and Norway. Beautiful ports and tours, although some were a bit scary with the hairpin bends!!! The Faroe Islands is a must see. A highlight for us was returning to the Blue Lagoon again but this time showing it...
Read More >>
473 Views
5 of 9 found this useful

South America and Antarctic Peninsula
Celebrity Cruises / Infinity /
SOUTH AMERICA
By Barber, Salisbury on 9th Mar 2014
We sailed from Buenos Aires on February 2nd on the Celebrity Infinity - boarding was seamless and our Concierge cabin was quite spacious and comfortable. The ship was launched in 2001 and externally is now 'showing her age' a little...
Read More >>
293 Views
7 of 7 found this useful

Asian Allure, Celebrity Millennium
Celebrity Cruises / Millenium /
FAR EAST
By Johnson, Wimborne on 7th Mar 2014
We have just returned from our Far East cruise on Celebrity Millennium. We flew to Singapore and had three nights in the Swissotel, The Stamford and can recommend this for its position, its service and its quality. We arrived at check in at 11...
Read More >>
236 Views
4 of 4 found this useful

View more latest reviews