Date, Region, Line & Ship:


(last updated
Dec 10 2013 10:07AM)
Celebrity Cruises the 5 star cruise experience Well-known for their wide range of art work and also its crew to guest ratio of 1:2, Celebrity Cruises really does have an exceptional level of customer service. With its luxurious ambiance, a Celebrity Cruise is a truly memorable cruise holiday experience. Celebrity Cruises make Honeymoon or Anniversary cruises extra special.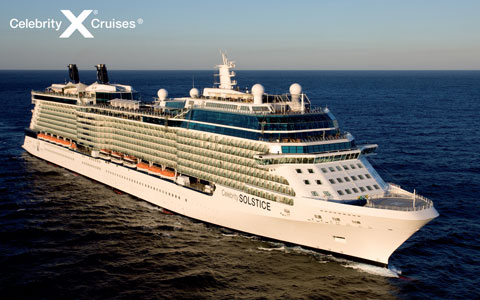 Celebrity Cruises are basing two ships in the UK for the 2013/14 cruise season. Celebrity Infinity will offer cruises from Harwich and Celebrity Eclipse will offer cruises from Southampton. Start your holiday in the UK and discover places such as the Norwegian Fjords, Mediterranean, Scandinavia and Russia and the Canaries.

On a Celebrity Cruise, everything is at your own pace and aimed to totally relax you. Take part in a world of wines auction or lay back, play on the fairways, take a class and enjoy a pampering session at the poolside. If you're after something more active Celebrity Cruise has onboard Personal Trainers who can tailor fitness and exercise plans to suit you and your lifestyle. Each of the ships in the Celebrity Cruise fleet features "The Lawn Club" - real grass on board the ship, where guests can relax, play croquet, enjoy a picnic or compete in a friendly game of bowls.

Celebrity Cruises has a fleet of four beautiful ships: Celebrity Solstice, Equinox, Eclipse and Silhouette. Each cruise liner provides an impeccable service, sumptuous surroundings and fine dining with a different experience on every ship. Celebrity Cruise's ship, Celebrity Eclipse, launched in 2010, offers numerous industry firsts including a stunning, mouth-watering pool-side barbeque where guests can create, cook and devour delicious gourmet burgers.

In the winter months, you can benefit from fly cruises to the Galapagos Islands, Caribbean, Mexico, Panama Canal, Hawaii and South America.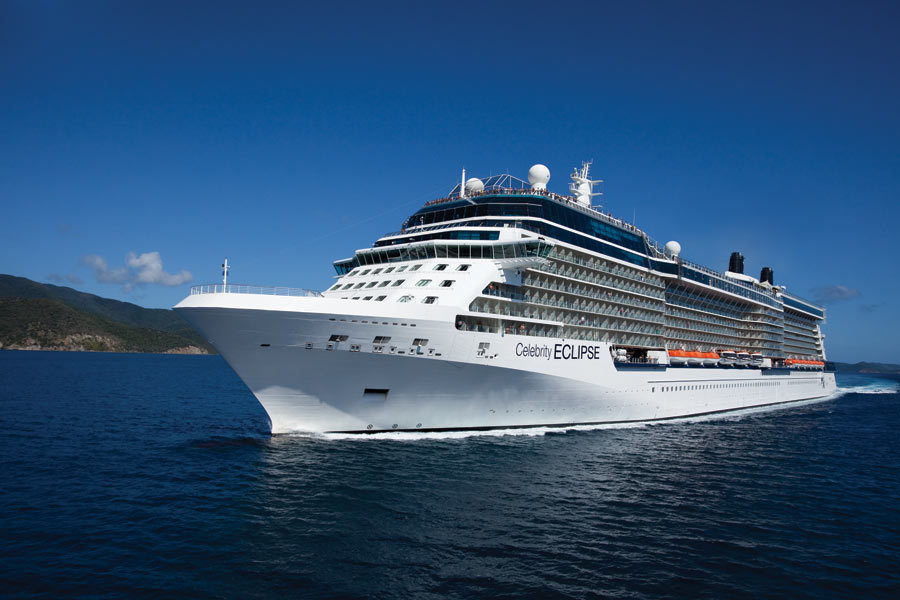 Celebrity Cruises was the brainchild of Harry H. Haralambopoulos and Brothers John and Michael Chandris, the London-based Greek cargo ship owners and operators of the former Chandris Lines and Chandris Cruises. In 1989, as the cruise industry was gaining momentum, they determined to create a newer, better cruise line, with new ships, larger, more standard cabins, and focusing more on food and service in the European tradition. In its formative years, Celebrity Cruises forged an alliance, since dissolved, with three-star Michelin chef Michel Roux. The company established an outstanding reputation for its cuisine, particularly in the main dining rooms, with a formal presentation and service.

Miami, Florida : San Juan, Puerto Rico : Charlotte Amalie, St. Thomas : Philipsburg, St. Maarten : Miami, Florida
Celebrity Reflection
14th Dec 2013 for 7nts
WAS:
£1424
£1478
£1607
View Offer.
NOW:
£379
£439
£519

Check Live Availability and Book Online
Fort Lauderdale, Florida : Cozumel, Mexico : George Town, Grand Cayman : Falmouth, Jamaica : Labadee, Haiti : Fort Lauderdale, Florida
Celebrity Silhouette
15th Dec 2013 for 7nts
WAS:
£1462
£1548
£1647
View Offer.
NOW:
£409
£539
£584

Check Live Availability and Book Online
Fort Lauderdale, Florida : Nassau, Bahamas : Key West, Florida : Fort Lauderdale, Florida
Constellation
19th Dec 2013 for 4nts
NOW:
£198
£209
£288
View Offer.

Book your Winter Warmer today!
Latin America and Antarctica: San Diego (2 Nights), Cabo San Lucas, Puerto Vallarta, Puerto Quetzal, Puntarenas, Panama Canal, Colon, Cartagena, Fort Lauderdale
Century
19th Dec 2013 for 18nts

Selected Shore Excursions:

Fort Lauderdale, Florida : Charlotte Amalie, St. Thomas : Basseterre, St. Kitts : Bridgetown, Barbados : Roseau, Dominica : Philipsburg, St. Maarten : Fort Lauderdale, Florida
Celebrity Equinox
20th Dec 2013 for 10nts
WAS:
£2474
£2692
£2631
View Offer.
NOW:
£1054
Full
£1656

Check Live Availability and Book Online
Miami, Florida : San Juan, Puerto Rico : Charlotte Amalie, St. Thomas : Philipsburg, St. Maarten : Miami, Florida
Celebrity Reflection
21st Dec 2013 for 7nts
WAS:
£2213
£2394
£2428
View Offer.
NOW:
£569
£629
£1079

Cruise through Christmas in 5* Luxury
San Diego, California : Cabo San Lucas, Mexico : Puerto Vallarta, Mexico : Puerto Quetzal,Guatemala : Puntarenas, Costa Rica : Panama Canal (Cruising) : Colon, Panama : Cartagena, Colombia : Fort Lauderdale, Florida
Century
21st Dec 2013 for 15nts
WAS:
£2892
£3421
£4150
View Offer.
NOW:
£1409
£1369
Full

Check Live Availability and Book Online
Hong Kong, China : Hong Kong, China : Hanoi (Halong Bay),Vietnam : Hanoi (Halong Bay),Vietnam : Hue/Danang(Chan May),Vietnam : Ho Chi Minh(Phu My), Vietnam : Ho Chi Minh(Phu My), Vietnam : Bangkok/Laemchabang,Thailand : Bangkok/Laemchabang,Thailand : Bangkok/Laemchabang,Thailand : Singapore : Singapore
Millenium
21st Dec 2013 for 15nts
NOW:
Full
Full
£2599
View Offer.

Cruise through Christmas in 5* Luxury
Fort Lauderdale, Florida : San Juan, Puerto Rico : Philipsburg, St. Maarten : Basseterre, St. Kitts : Fort Lauderdale, Florida
Celebrity Silhouette
22nd Dec 2013 for 7nts
WAS:
£2108
£2318
£2349
View Offer.
NOW:
£649
£709
£789

Book Online or Call us, we will be happy to help
Fort Lauderdale, Florida : Key West, Florida : Cozumel, Mexico : Fort Lauderdale, Florida
Constellation
23rd Dec 2013 for 5nts
WAS:
£1668
£1763
£1883
View Offer.
NOW:
£379
£539
£569

Check Live Availability and Book Online
Miami, Florida : San Juan, Puerto Rico : Charlotte Amalie, St. Thomas : Philipsburg, St. Maarten : Miami, Florida
Celebrity Reflection
28th Dec 2013 for 7nts
NOW:
£921
£989
£989
View Offer.

Check Live Availability and Book Online
Fort Lauderdale, Florida : Oranjestad, Aruba : Willemstad, Curacao : St. George's, Grenada : Bridgetown, Barbados : Castries, St. Lucia : St. Johns, Antigua : Philipsburg, St. Maarten : Charlotte Amalie, St. Thomas : Fort Lauderdale, Florida
Celebrity Eclipse
28th Dec 2013 for 14nts
WAS:
£2544
£3029
£3163
View Offer.
NOW:
Full
£1739
Full

Check Live Availability and Book Online
Fort Lauderdale, Florida : Key West, Florida : Cozumel, Mexico : Fort Lauderdale, Florida
Constellation
28th Dec 2013 for 5nts
WAS:
£1868
£2020
£2229
View Offer.
NOW:
£469
£539
Full

Check Live Availability and Book Online
Fort Lauderdale, Florida : Cozumel, Mexico : George Town, Grand Cayman : Falmouth, Jamaica : Labadee, Haiti : Fort Lauderdale, Florida
Celebrity Silhouette
29th Dec 2013 for 7nts
NOW:
£964
£1139
£1202
View Offer.

Check Live Availability and Book Online
Fort Lauderdale, Florida : George Town, Grand Cayman : Cartagena, Colombia : Colon, Panama : Puerto Limon, Costa Rica : Belize City, Belize : Cozumel, Mexico : Fort Lauderdale, Florida
Celebrity Equinox
30th Dec 2013 for 11nts
WAS:
£2397
£2547
£2444
View Offer.
NOW:
Full
Full
£1692

Check Live Availability and Book Online
Fort Lauderdale, Florida : Nassau, Bahamas : Key West, Florida : Fort Lauderdale, Florida
Constellation
2nd Jan 2014 for 4nts
NOW:
£278
£382
£555
View Offer.

Check Live Availability and Book Online
Auckland, New Zealand : Bay Of Islands, New Zealand : Tauranga,New Zealand : Wellington, New Zealand : Akaroa, New Zealand : Dunedin, New Zealand : Dusky Sound : Doubtful Sound : Milford Sound, New Zealand : Hobart, Tasmania : Melbourne, Australia : Sydney, Australia
Celebrity Solstice
3rd Jan 2014 for 14nts
WAS:
£3106
£3293
£3449
View Offer.
NOW:
£1114
Full
Full

Check Live Availability and Book Online
Miami, Florida : San Juan, Puerto Rico : Charlotte Amalie, St. Thomas : Philipsburg, St. Maarten : Miami, Florida
Celebrity Reflection
4th Jan 2014 for 7nts
WAS:
£1549
£1649
£1669
View Offer.
NOW:
£399
£537
£553

Check Live Availability and Book Online
Fort Lauderdale, Florida : San Juan, Puerto Rico : Basseterre, St. Kitts : Philipsburg, St. Maarten : Fort Lauderdale, Florida
Celebrity Silhouette
5th Jan 2014 for 7nts
WAS:
£1324
£1454
£1484
View Offer.
NOW:
£399
£538
£561

Check Live Availability and Book Online