Top 10 Celebrity Cruises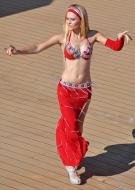 View more or submit your own cruise photos
159,208 Opinions
Asian Allure, Celebrity Millennium
Celebrity Cruises / Millenium /
FAR EAST
By Johnson, Wimborne on 7th Mar 2014
We have just returned from our Far East cruise on Celebrity Millennium. We flew to Singapore and had three nights in the Swissotel, The Stamford and can recommend this for its position, its service and its quality. We arrived at check in at 11...
Read More >>
187 Views
4 of 4 found this useful

"Celebrity Millennium" Far East Cruise - February
Celebrity Cruises / Millenium /
FAR EAST
By Holt, New Romney on 6th Mar 2014
On the 30th January, together with my wife and another couple, our best friends, we flew from London Heathrow to Singapore with Singapore Airlines aboard an Airbus A380. The long flight passed very quickly due to the superb attention of the cabin crew and...
Read More >>
367 Views
8 of 10 found this useful

STILL THE BEST
Celebrity Cruises / Celebrity Equinox /
CARIBBEAN
By Darwood, Grimsby on 5th Mar 2014
Just returned from Caribbean cruise on Celebrity Equinox. I have to say, the ship is still in pristine condition for nearly five years old. Started with overnight in the Hillton Marina Fort Lauderdale to refresh after a long day traveling prior to...
Read More >>
304 Views
5 of 6 found this useful

View more latest reviews