Date, Region, Line & Ship:


(last updated
May 23 2013 08:37PM)
At MSC Cruises, we have a long and grand history of sailing. Having explored the seas for over 300 years, we're
proud that you can depend on our expertise, passion and professionalism to give you truly enriching
experiences. We take you to the world's most beautiful places, so you can enjoy the unforgettable thrill of watching
them emerge into sight across the sea. They are magical moments that we can bring to you.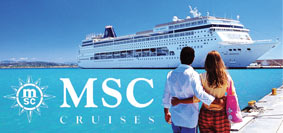 At MSC Cruises, Mediterranean values run deep in our veins and shape everything we do; a world of warmth and
hospitality, comfort and style. A world rooted in timeless values. Like family and friendship, a love of the world
through exploration and discovery together with a passion for good food. This is our way of life.
MSC Cruises has won awards based on its great value, modern and high standard fleet and exceptional service. The sociability of a friendly Italian crew, together with some of the finest cuisine on the seas, really does put MSC at the forefront of classic cruise lines.

The offerings of sheer elegance mixed with traditional appeal makes MSC Cruises the perfect choice for all age ranges. They offer a wide range of activities for people of all generations. There are amenities for singles, couples and families.

MSC Cruises are so dedicated to providing the perfect family holiday that all kids cruise for free only paying for port taxes and flights. Some of the activities that they organise include Baby Disco, T-shirt painting, baby and juniors talent shows, treasure hunts and theme parties for the young children's, while the teenagers can enjoy sports activities, disco night and karaoke.

MSC Cruises offers fly cruises to the Caribbean, Central America, Mediterranean, Northern Europe, and the Panama Canal, South America and South Africa with flights from Gatwick, Heathrow and Manchester. Passengers travelling with MSC Cruises will experience the finest Italian hospitality at very reasonable prices.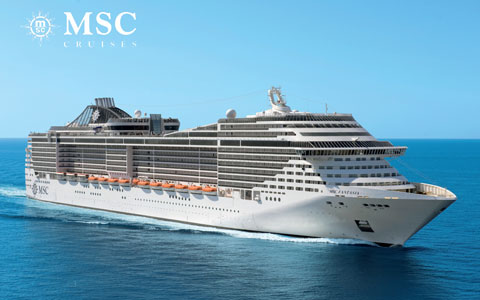 More widely known as one of the world's largest cargo shipping companies, MSC has operated cruises with an eclectic fleet since the late 1980s. When the line introduced two graceful, medium-size ships in 2003 and 2004, it ushered in an era of new shipbuilding that has seen the fleet grow faster than any other European cruise line. This line is growing into a major player in both Europe and the Caribbean.

MSC blankets the Mediterranean nearly year-round with a dizzying selection of cruise itineraries that allow a lot of time in ports of call and include few if any sea days. In summer months, several ships sail off to northern Europe to ply the Baltic. Itineraries planned for repositioning sailings visit some intriguing, off-the-beaten-track ports of call that other cruise lines bypass.
Order By:
Price
|
Date

|
Cruise Line

Southampton, United Kingdom : Ijmuiden, Netherlands : Flaam, Norway : Stavanger, Norway : Oslo, Norway : Southampton, United Kingdom
MSC Opera
1st Jun 2013 for 7nts
WAS:
£599
View Offer.
NOW:
£399
£499
£499

Kids Cruise from £99 - All cabin grades!
+
Upgrade to All Inclusive from £20 per person per day
+
FREE Carparking or Coach Transfers
Southampton, United Kingdom : Ijmuiden, Netherlands : Flaam, Norway : Stavanger, Norway : Oslo, Norway : Southampton, United Kingdom
MSC Opera
29th Jun 2013 for 7nts
NOW:
£619
£749
£949
View Offer.

FREE Car Parking or FREE Return Coach Transfer
or
FREE Regional Flights on Balcony & Suites
plus
Upgrade to All Inclusive from £20pppd
Southampton, United Kingdom : Ijmuiden, Netherlands : St Peter Port, United Kingdom : Vigo, Spain : Lisbon, Portugal : Bilbao, Spain : Le Havre, France : Southampton, United Kingdom
MSC Opera
6th Jul 2013 for 10nts
NOW:
£699
£849
Full
View Offer.

Kids Cruise from £99 - All cabin grades!
+
Upgrade to All Inclusive from £20 per person per day
+
FREE Carparking or Coach Transfers
Southampton, United Kingdom : Ijmuiden, Netherlands : St Peter Port, United Kingdom : Vigo, Spain : Lisbon, Portugal : Bilbao, Spain : Le Havre, France : Southampton, United Kingdom
MSC Opera
16th Jul 2013 for 10nts
NOW:
£799
£1009
£1149
View Offer.

Kids Cruise from £99 - All cabin grades!
+
Upgrade to All Inclusive from £20 per person per day
+
FREE Carparking or Coach Transfers
Southampton, United Kingdom : Ijmuiden, Netherlands : St Peter Port, United Kingdom : Vigo, Spain : Lisbon, Portugal : Bilbao, Spain : Le Havre, France : Southampton, United Kingdom
MSC Opera
26th Jul 2013 for 10nts
NOW:
£799
£949
£1149
View Offer.

Kids Cruise from £99 - All cabin grades!
+
Upgrade to All Inclusive from £20 per person per day
+
FREE Carparking or Coach Transfers
Southampton, United Kingdom : Ijmuiden, Netherlands : St Peter Port, United Kingdom : Vigo, Spain : Lisbon, Portugal : Bilbao, Spain : Le Havre, France : Southampton, United Kingdom
MSC Opera
5th Aug 2013 for 10nts
NOW:
£878
£1039
£1269
View Offer.

Kids Cruise from £99 - All cabin grades!
+
Upgrade to All Inclusive from £20 per person per day
+
FREE Carparking or Coach Transfers
Southampton, United Kingdom : Ijmuiden, Netherlands : St Peter Port, United Kingdom : Vigo, Spain : Lisbon, Portugal : Bilbao, Spain : Le Havre, France : Southampton, United Kingdom
MSC Opera
15th Aug 2013 for 10nts
NOW:
£829
£949
£1149
View Offer.

Kids Cruise from £99 - All cabin grades!
+
Upgrade to All Inclusive from £20 per person per day
+
FREE Carparking or Coach Transfers
Southampton, United Kingdom : Ijmuiden, Netherlands : St Peter Port, United Kingdom : Vigo, Spain : Lisbon, Portugal : Bilbao, Spain : Le Havre, France : Southampton, United Kingdom
MSC Opera
4th Sep 2013 for 10nts
WAS:
£949
View Offer.
NOW:
£729
£799
£949

Kids Cruise from £99 - All cabin grades!
+
Upgrade to All Inclusive from £20 per person per day
+
FREE Carparking or Coach Transfers
Southampton, United Kingdom : Ijmuiden, Netherlands : St Peter Port, United Kingdom : Vigo, Spain : Lisbon, Portugal : Bilbao, Spain : Le Havre, France : Southampton, United Kingdom
MSC Opera
14th Sep 2013 for 10nts
WAS:
£729
£849
View Offer.
NOW:
£659
£799
Full

Kids Cruise from £99 - All cabin grades!
+
Upgrade to All Inclusive from £20 per person per day
+
FREE Carparking or Coach Transfers
Southampton, United Kingdom : Ijmuiden, Netherlands : St Peter Port, United Kingdom : Vigo, Spain : Lisbon, Portugal : Cadiz, Spain : Palma De Mallorca, Spain : Palma De Mallorca, Spain : Olbia, Italy : Genoa, Italy
MSC Opera
24th Sep 2013 for 11nts
NOW:
£519
Full
£799
View Offer.

Kids Cruise from £99 - All cabin grades!
+
Upgrade to All Inclusive from £20 per person per day