Top 10 P&O Cruises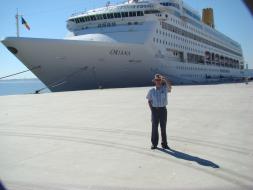 View more or submit your own cruise photos
159,267 Opinions
Arcadia Rediscovered
P&O Cruises / Arcadia /
MEDITERRANEAN
By Rondell, BEDFORD on 11th Mar 2014
My wife and I last cruised on Arcadia on her maiden trans Atlantic crossing in 2005 and decided then that we did not like Arcadia, no atrium to give the ship a focal point, odd carpets all over, a strange cabin where all doors seemed to open on to each other...
Read More >>
78 Views
1 of 2 found this useful

Don't waste your money....family un-friendly ship
P&O Cruises / Ventura /
MINI CRUISES
By Levett, Bexhill on Sea on 11th Mar 2014
Where do I start? We boarded the Ventura 27th May for a 4 night family break with great excitement. To our disbelief the main Laguna Pool was empty of water and completely netted off, wondering around in the glorious sunshine we found the...
Read More >>
224 Views
1 of 14 found this useful

Canaries in february
P&O Cruises / Oriana /
CANARIES
By Levesley, Ormesby st margaret on 10th Mar 2014
We have recently returned from a two week cruise on Oriana going to the Canaries. Although we experienced a few problems during the holiday I must say we had a fantastic time. The weather was against us from the off and we spoiled our long standing record of...
Read More >>
248 Views
8 of 9 found this useful

View more latest reviews