Date, Region, Line & Ship:


(last updated
May 22 2013 09:51AM)

Probably Britain's most famous cruise line, P and O Cruises are the largest and most modern cruise company out there, with a rich history and excellent reputation - they're always a popular choice. P&O Cruises are well-liked with first time cruisers, frequent passengers and also offers great amenities and itineraries for family cruises. Cruise weddings with P&O cruises are too becoming more and more popular.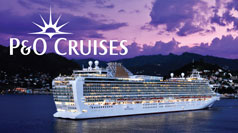 P&O Cruises are the creators of cruising as we know it. Currently, P & O Cruises sail to over 180 different destinations across the world. In fact, they dock in more ports than any other UK cruise line. Each liner boasts a traditional and cherished elegance, allowing peaceful days at sea and captivating evenings.

Throughout the year, P&O offer cruises from Southampton to most Mediterranean destinations. If you prefer, we can arrange a stay at the De Vere Grand Harbour hotel in Southampton the night before your cruise, including a free transfer to the port. P and O cruises also offer voyages from other destinations and flights for these can be organised from most UK airports.

Launched in April 2008, P&O's liner, Ventura, is the largest ship ever built for the UK cruise market. Ventura offers a fresh approach to cruising and provides exclusive and luxurious holidays for young and old. The most recent P&O ship, Azura, offers an up-to-date class of cruising and offers pre-bookable Spa Stateroom packages.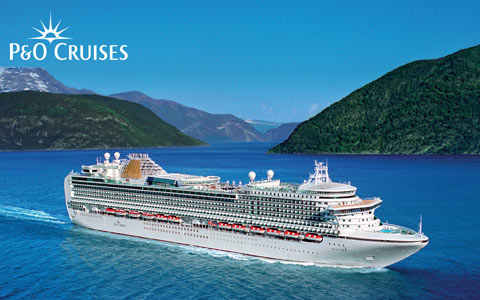 P&O Cruises (originally the Peninsular & Oriental Steam Navigation Company) boasts an illustrious history in passenger shipping since 1837. Although the company's suggestion that they invented cruising may not be entirely accurate, P&O is assuredly a pioneer of modern cruising. Having set aside such throwbacks as passenger classes, the company acquired Princess Cruises in 1974. P&O then purchased Sitmar Cruises and merged it with Princess in 1988, and the passenger-cruise business-known as P&O Princess-was spun off in 2000.
Order By:
Price
|
Date

|
Cruise Line

Southampton, England : Eidfjord, Norway : Bodo, Norway : Spitsbergen, Norway : Longyearbyen : Tromso, Norway : Geiranger, Norway : Southampton, England
Adonia
1st Jun 2013 for 16nts
WAS:
£1829
£2059
£2579
View Offer.
NOW:
£699
£729
£749

SALE NEW LOW PRICE JUST RELEASED
Southampton, England : Stavanger : Flam, Norway : Alesund, Norway : Akureyri, Iceland : Isafjordur : Reykjavik, Iceland : Torshavn, Faroe Islands : Southampton, England
Aurora
4th Jun 2013 for 14nts
NOW:
£599
£699
£899
View Offer.

SALE NEW LOW PRICE JUST RELEASED
FlyCruise: Southampton, Zeebrugge, At Sea, Guernsey, Southampton
Oceana
7th Jun 2013 for 4nts
NOW:
Full
Full
Full
View Offer

SALE NEW LOW PRICE JUST RELEASED
CruiseOnly: Southampton, Zeebrugge, At Sea, Guernsey, Southampton
Oceana
7th Jun 2013 for 4nts
NOW:
£419
£479
£599
View Offer

SALE NEW LOW PRICE JUST RELEASED
Southampton, England : Bergen, Norway : Andalsnes, Norway : Olden : Stavanger : Southampton, England
Ventura
8th Jun 2013 for 7nts
NOW:
£399
£449
£549
View Offer.

SALE NEW LOW PRICE JUST RELEASED
Southampton, England : Kristiansand, Norway : Gdansk (Gdynia), Poland : St. Petersburg, Russia : St. Petersburg, Russia : Tallinn, Estonia : Stockholm : Copenhagen, Denmark : Brussels/Bruges (Zeebrugge), Belg : Southampton, England
Oriana
9th Jun 2013 for 14nts
NOW:
£649
£659
£1199
View Offer.

SALE NEW LOW PRICE JUST RELEASED
Southampton, England : Madeira, Portugal : La Palma, Canary Islands, Spain : Gran Canaria : Lanzarote : Lisbon, Portugal : Southampton, England
Oceana
11th Jun 2013 for 12nts
NOW:
£799
£899
Full
View Offer.

SALE NEW LOW PRICE JUST RELEASED
Southampton, England : Valencia : Barcelona, Spain : Monte Carlo, Monaco : Rome, Civitavecchia, Italy : Ajaccio, Corsica : Gibraltar : La Coruna, Spain : Southampton, England
Ventura
15th Jun 2013 for 14nts
NOW:
£799
£899
£1549
View Offer.

SALE NEW LOW PRICE JUST RELEASED
Southampton, England : Stavanger : Olden : Andalsnes, Norway : Bergen, Norway : Southampton, England
Arcadia
16th Jun 2013 for 7nts
NOW:
£859
£529
£729
View Offer.

SALE NEW LOW PRICE JUST RELEASED
Southampton, England : La Coruna, Spain : Madeira, Portugal : Gibraltar : Lisbon, Portugal : Vigo, Spain : Southampton, England
Azura
17th Jun 2013 for 11nts
NOW:
£649
£749
£1199
View Offer.

SALE NEW LOW PRICE JUST RELEASED
Southampton, England : Stockholm : Helsinki, Finland : St. Petersburg, Russia : St. Petersburg, Russia : Tallinn, Estonia : Travemunde : Copenhagen, Denmark : Brussels/Bruges (Zeebrugge), Belg : Southampton, England
Arcadia
23rd Jun 2013 for 14nts
NOW:
£699
£999
£1099
View Offer.

SALE NEW LOW PRICE JUST RELEASED
Southampton, England : Stavanger : Olden : Alesund, Norway : Trondheim, Norway : North Cape, Honningsvaag, Norway : North Cape : Tromso, Norway : Geiranger, Norway : Bergen, Norway : Southampton, England
Oriana
23rd Jun 2013 for 14nts
NOW:
£599
£699
£1399
View Offer.

SALE NEW LOW PRICE JUST RELEASED
Southampton, England : Stavanger : Olden : Eidfjord, Norway : Kristiansand, Norway : Southampton, England
Oceana
23rd Jun 2013 for 7nts
NOW:
£449
£599
£749
View Offer.

SALE NEW LOW PRICE JUST RELEASED
Southampton, England : Bergen, Norway : Andalsnes, Norway : Olden : Stavanger : Southampton, England
Azura
28th Jun 2013 for 7nts
NOW:
£499
£529
£649
View Offer.

SALE NEW LOW PRICE JUST RELEASED
Southampton, England : Brussels/Bruges (Zeebrugge), Belg : Southampton, England
Ventura
29th Jun 2013 for 2nts
NOW:
Full
Full
£219
View Offer.

SALE NEW LOW PRICE JUST RELEASED
Southampton, England : Cartagena, Spain : Barcelona, Spain : St Raphael : Florence/Pisa (Livorno), Italy : Alghero, Italy : Gibraltar : La Coruna, Spain : Southampton, England
Oceana
30th Jun 2013 for 14nts
NOW:
£949
£1049
£1649
View Offer.

SALE NEW LOW PRICE JUST RELEASED
Southampton, England : Copenhagen, Denmark : Saaremaa Island, Estonia : Tallinn, Estonia : St. Petersburg, Russia : St. Petersburg, Russia : Stockholm : Visby : Kalmar, Sweden : Sassnitz, Germany : Kiel : Southampton, England
Adonia
3rd Jul 2013 for 16nts
WAS:
£1879
£2099
£2529
View Offer.
NOW:
Full
£1199
£1299

SALE NEW LOW PRICE JUST RELEASED
Southampton, England : Stockholm : Helsinki, Finland : St. Petersburg, Russia : St. Petersburg, Russia : Tallinn, Estonia : Warnemunde : Copenhagen, Denmark : Kristiansand, Norway : Southampton, England
Aurora
5th Jul 2013 for 14nts
NOW:
£749
£849
£1149
View Offer.

SALE NEW LOW PRICE JUST RELEASED
Southampton, England : Dublin Bay, Ireland : Reykjavik, Iceland : Isafjordur : Akureyri, Iceland : Alesund, Norway : Olden : Stavanger : Southampton, England
Arcadia
7th Jul 2013 for 14nts
NOW:
£699
£899
£999
View Offer.

SALE NEW LOW PRICE JUST RELEASED
Southampton, England : Stavanger : Olden : Andalsnes, Norway : Bergen, Norway : Southampton, England
Oriana
7th Jul 2013 for 7nts
NOW:
£499
£519
£899
View Offer.

SALE NEW LOW PRICE JUST RELEASED
Southampton, England : Cartagena, Spain : Messina : Corfu, Greece : Dubrovnik, Croatia : Venice, Italy : Valletta, Malta : Gibraltar : Southampton, England
Azura
9th Jul 2013 for 17nts
NOW:
£999
£1199
£1399
View Offer.

SALE NEW LOW PRICE JUST RELEASED