Top 10 P&O Cruises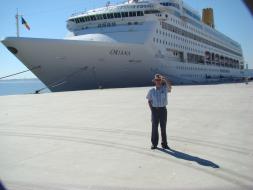 View more or submit your own cruise photos
159,235 Opinions
WINTER IN THE CARIBBEAN
P&O Cruises / Ventura /
CARIBBEAN
By Ward, Edinburgh on 10th Mar 2014
We have just returned from a 14 night Caribbean cruise on P & O's Ventura. The weather was good with very little rain. The ship holds over 3,000 passengers but as it is quite large it never seems to be too full except at the pool areas where trying to...
Read More >>
73 Views
1 of 3 found this useful

Birthday celebrations on the Oriana
P&O Cruises / Oriana /
NORWEGIAN FJORDS
By Ketteringham, Basingstoke on 8th Mar 2014
We chose this cruise because both my husband and our friend Gloria were both aged 70 during the cruise. 4 days apart. The dining staff really looked after them for their special occasion. All 4 of us had a lovely time and were impressed by the cabins and the...
Read More >>
321 Views
4 of 9 found this useful

Not Quite According to Plan!
P&O Cruises / Oriana /
CANARIES
By Lomax, Milton Keynes on 7th Mar 2014
We set out, heading into the storms coming from the Atlantic, in mid-February, heading for the Canaries. Our first trip on the Oriana, and, indeed, with P&O, although we have taken many cruises with other companies in the past...
Read More >>
493 Views
10 of 12 found this useful

View more latest reviews