Date, Region, Line & Ship:


(last updated
Dec 10 2013 10:07AM)

World-renowned luxury cruise line, Cunard Line, has been leading the industry as one of the finest brands for over 160 years. To this day, the legendary 'White Star Service' continues to maintain the custom of going above and beyond your very highest expectations.Cunard values itself on combining the most up to date technologies with the line's traditional values of flawless service and attention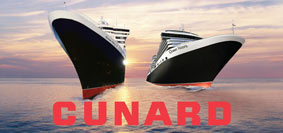 to detail. Cunard Line travel all over the world to locations including Africa, Dubai, Hawaii and the Indian Ocean.

Start your holiday with a pre-cruise stay at the striking De Vere Grand Harbour Hotel, Southampton and benefit of the various parking and transfer packages that we have available.

Want something really special? Travel on the Queen Mary 2, Cunard Line's flagship, where you can truly relax and enjoy yourself. We offer a timeless transatlantic journey sailing on a cruise from New York to Southampton, or alternatively, a fly and cruise holiday to the Caribbean or perhaps the Americas.

Whether you're looking for luxury cruises, special occasion cruises, and worldwide cruises - it's time to look at the Cunard Line.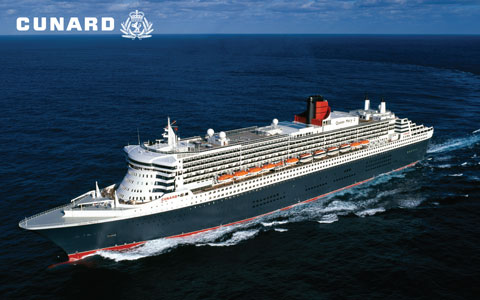 One of the world's most distinguished names in ocean travel since 1840, the Cunard Line has a long history of deluxe transatlantic crossings and worldwide cruising. The line's ships are legendary for their comfortable accommodations, excellent cuisine, and personal service. After a series of owners tried with little success to revive the company's flagging passenger shipping business, Carnival Corporation offered an infusion of ready cash and the know-how to turn the line around in 1998. Exciting new ships have followed.

Southampton, England : New York, America
Queen Mary 2
15th Dec 2013 for 7nts
WAS:
£1189
£1409
£1379
View Offer.
NOW:
£599
£699
£699
Christmas Fairytale in New York
North America and the Carribbean: Southampton, New York (5 Nights)
Queen Mary 2
15th Dec 2013 for 13nts

Selected Shore Excursions:

Happy New Year in New York
North America and the Carribbean: New York (4 Nights), Southampton
Queen Mary 2
30th Dec 2013 for 11nts

Selected Shore Excursions:
New York Island Cruise
Get a New Year Bargain in New York
North America and the Carribbean: Southampton, New York (5 Nights)
Queen Mary 2
30th Dec 2013 for 11nts

Selected Shore Excursions:

To Rio with Queen Victoria
Latin America and Antarctica: Southampton, At Sea (3 Days), Ponta Delgada, At Sea (5 Days), Fort Lauderdale, At Sea (3 Days), Barbados, At Sea (3 Days), Barbados, At Sea (3 Days), Fortaleza, At Sea (3 Days), Rio De Janeiro (2 Nights)
Queen Victoria
2nd Jan 2014 for 25nts

Selected Shore Excursions:
Sugar Loaf Mountain
Latin America and Antarctica: Southampton, At Sea (3 Days), Ponta Delgada, At Sea (5 Days), Fort Lauderdale, At Sea (3 Days), Barbados, At Sea (3 Days) Rio De Janeiro, Iguazu (3 Nights), Rio (2 Night))
Queen Victoria
2nd Jan 2014 for 28nts

Selected Shore Excursions:
Iguazu Falls Brazilian Side
Corcovado With Christ Redeemer Statue Tour