Top 10 Cunard Cruises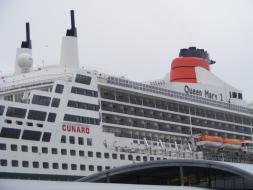 View more or submit your own cruise photos
159,278 Opinions
NOT TO BE MISSED
Cunard Cruises / Queen Victoria /
MEDITERRANEAN
By flounders, coventry on 6th Mar 2014
we cruised with Cunard for the first time on the QUEEN VICTORIA in dec 13. \\\\\\\\\i can honestly say that in our opinion the cruise outshone all other cruise lines. The cabins with balcony were first class...
Read More >>
498 Views
15 of 23 found this useful

QM2 Dubai - Sydney
Cunard Cruises / Queen Mary 2 /
WORLD CRUISE
By Fry, Bournmouth on 4th Mar 2014
My husband and I have recently returned from a cruise on Queen Mary 2. The itinerary was a section of the world cruise and we boarded her in Cape Town. From there we sailed to Durban, Mauritius, Perth Melbourne and disembarked in Sydney...
Read More >>
2427 Views
19 of 28 found this useful

Queen Victoria - long may she reign.
Cunard Cruises / Queen Victoria /
NORTHERN EUROPE
By Armstrong, Prestatyn on 22nd Feb 2014
It was a good omen when we didn't have change of a £20 for the taxi from Southampton station and the driver said just make it a fiver ,saving us £2. The embarkation was very well organized and we were in our beautiful cabin within half an...
Read More >>
801 Views
16 of 23 found this useful

View more latest reviews