Date, Region, Line & Ship:


(last updated
Dec 10 2013 10:07AM)

Cruises to the Mediterranean have something for everybody. Singles, couples and families can all enjoy the delights of the Med, with a huge array of activities, places and cultures to discover.

Need some ideas for shore excursions on your Med cruise? Click here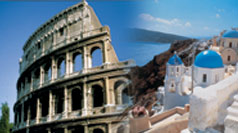 Mediterranean cruises are the ideal choice for first-time cruisers as they are so easily accessible from the UK. With all destinations just a short journey away, cruising the Med is perfect for those who want to cruise but are unsure of what it is all about.

Cruising the Mediterranean is full of possibilities. From the usual Med destinations of Spain, Greece and the Balearics to more unusual places like Corsica - there is something for explorers, sun seekers and culture enthusiasts alike.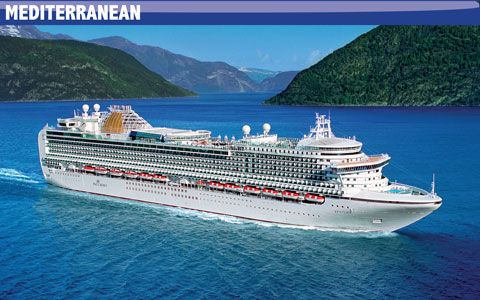 Cruises to France

Some of the most luxurious and exclusive ports in the Mediterranean are based in France. The glamour of Cannes, chic Monte Carlo and flourishing town of Nice are all accessible by cruise. Spend your time soaking up the stylish French ambiance, culture and heritage. World-renowned for being romantic, cruises to France are perfect for couples looking for peace and tranquillity. Families can spend their days on the beautiful beaches and exploring the breathtaking scenery. Single cruisers can spend their days sipping delicious French wine and strolling around the beautiful towns.

Cruises to Spain

Spain is one of the most cosmopolitan countries on the planet with something for everybody. Spend your days on the miles of golden beaches, immerse yourself in the country's culture by visiting museums or relax and unwind in the fabulous towns and villages. The breathtaking scenery, amazing cuisine and variety of things to do makes Spain a great choice for all cruisers. For first-timers, Spain is a classic cruise destination and for experienced cruisers there is always something new to discover. Speak to our Cruise Experts today to plan your trip.

Cruises to the Balearic Islands

The Balearic Islands are always a popular holiday destination due to their variety and rich history. Spend your evenings in Majorca's Palma harbour with a tray of Paella and a glass of cool Sangria, or head over to the smallest of the Balearics, Menorca to visit beaches that resemble the Caribbean.

Cruises to Greece

Vibrant, colourful and luscious landscapes are what cruisers can expect from the stunning Greek islands. From older towns such as Corfu to the islands' livelier resorts, Greece is perfect for singles, couples and families. The stretches of golden sands, narrow cobbled streets and pure white buildings will take your breath away. Known for its friendly locals and beautiful scenery; Greece is the perfect getaway.

Cruises to Italy

Italy is arguably the most stylish country in the world. Nurture your love for Italian food in one of the country's many bars and restaurants and discover the true history behind the stunning boot-shaped country. For romantics, Venice is a perfect choice of destination, with its narrow streets and amazing canals. For the shoppers out there, Milan is the fashion capital of Italy, with miles and miles of boutiques and stylish shops.

Cruises to Corsica

Although Corsica is close to Italy, it's ambiance is French and really exquisite. As soon as you dock in at the Ajaccio port, your breath will be taken away by the views and scenery of this charming destination. The cuisine is a mixture of French and Italian and the wine is truly exceptional. Discover the times gone by of the island by visiting Napoleon Bonaparte's historic house and visiting the island's stunning buildings.