Write a Cruise Review
and receive a FREE
Berlitz Guide to Cruising worth £17.99!
New Photos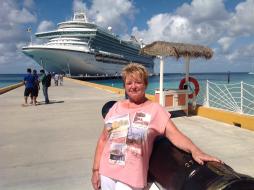 View more or submit your own cruise photos
159,251 Opinions
New Zealand From Melbourne
Princess Cruises / Dawn Princess /
AUSTRALASIA
By Hassell, Brighton on 11th Mar 2014
The Dawn Princess is smaller than other Princess ships I have been on at a little under 2,000 passengers, as a result of which there are rather fewer bars, only one specialist restaurant and no anytime dining...
Read More >>
40 Views

MSC Fantasia
MSC Cruises / MSC Fantasia /
MEDITERRANEAN
By Begg, LONDON on 10th Mar 2014
MSC FANTASIA – Greece, Israel – Friday February 21st 2014 A review of an 11 day cruise to Greece and Israel on board the MSC Fantasia leaving Genoa Friday February 21st 2014. The holiday was booked direct with MSC and travel was...
Read More >>
62 Views
3 of 3 found this useful

View more latest reviews