Date, Region, Line & Ship:


(last updated
Dec 06 2013 09:14AM)
With over 100 years' experience of planning great value holidays, with Shearings you can rest assured you're in safe hands. 2013 sees Shearings' biggest and best river cruise programme yet, with a wide range of itineraries on the world's finest waterways – all offering exceptional value for money...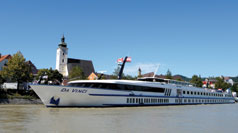 Ships
This year's programme offers a total of 19 vessels – six of which have been chartered by Shearings. New for 2013 is the exclusively-chartered MS Alegria, an impressively spacious ship that's ideal no matter what your level of mobility. Also new is the MS Princess – a small and friendly ship that's perfect for the narrow waterways of the Elbe. These ships join the popular MPS Da Vinci, MPS Rotterdam, MV Virginia and MV Esmeralda.
Onboard Experience
Shearings river cruises bring you superb service from start to finish. On board you'll find friendly staff for whom nothing's too much trouble, a range of superb facilities, an inviting sun deck, and comfortable lounges from which you can sit back, relax and watch the world go by as you get to know fellow like-minded holidaymakers. All cruises are full-board, and include visits to fascinating ports of call.
The Finest Destinations
Shearings can take you along the world's best-loved waterways. Floral Dutch canals, the romantic Rhine, the magical Moselle, the magnificent Main and the delightful Danube – so much to choose from. New for 2013, you can also experience the enticing Elbe and Ukrainian Dnieper. Prefer something a little more exotic? Then how about sailing along Russia's waterways, the Nile, Yangtze or Mekong?
Easy joining
With coach travel from over 300 joining points nationwide, flights from over 20 airports and Eurostar cross-Channel rail travel all available, you'll find it so easy and convenient to join your river cruise.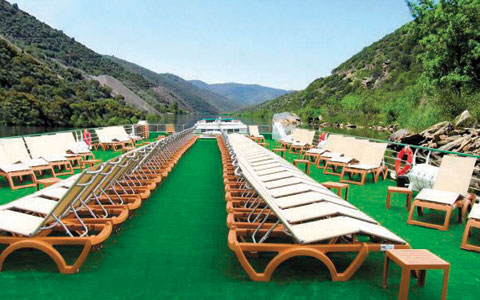 Christmas Markets on the Rhine

River Rhine: Uk, Cologne, Koblenz, Rudesheim, Bonn, Cologne, Uk
MPS Rotterdam
8th Dec 2013 for 6nts

Selected Shore Excursions:


4 nights full board cruise
Welcome cocktail on arrival
Captain's dinner on the last evening of your cruise
On-board evening entertainment programme
Services of a Shearings resort representative
Expertly planned optional excursion programme to help you make the most of your cruise
Join by Coach
Dutch & Belgian Christmas River Cruise

Dutch Waterways: Uk To Northern France, Amsterdam, Rotterdam, Antwerp, Vlissengen, Ghent, Uk
MV Virginia
21st Dec 2013 for 6nts

Selected Shore Excursions:

CruiseOnly: Uk, Northern France, Cologne, Konigswinter, Koblenz, Rudesheim, Mainz, Bonn, Cologne, Northern France, Uk
MPS Rotterdam
21st Dec 2013 for 7nts
NOW:
Full
£789
Full
View Offer
CruiseOnly: Uk, Cologne, Koblenz, Rudesheim, Cologne, Uk
MPS Rotterdam
29th Dec 2013 for 4nts
NOW:
Full
£599
Full
View Offer
Dutch & Belgian New Year River Cruise

Dutch Waterways: Uk To Northern France, Amsterdam, Rotterdam, Antwerp, Vlissingen, Ghent, Uk
MV Virginia
29th Dec 2013 for 6nts

Selected Shore Excursions:

Spring Gardens Extravaganza

Dutch Waterways: Uk To Northern France, Amsterdam(2 Days), Wijik Bjj Duurstede, Rotterdam, Kinderdijk, Bergen Op Zoom, Antwerp, Uk
MPS Rotterdam
5th Apr 2014 for 8nts

Selected Shore Excursions:

Tulips and Windmills

Dutch Waterways: Uk To Northern France, Amsterdam, Volendam, Enkhuizen, Amsterdam, Northern France, Northern France To Uk
MV Virginia
6th Apr 2014 for 6nts

Selected Shore Excursions:

Tulips and Windmills

Dutch Waterways: Uk To Northern France, Amsterdam, Volendam, Enkhuizen, Amsterdam, Northern France, Northern France To Uk
MV Virginia
13th Apr 2014 for 6nts

Selected Shore Excursions:

CruiseOnly: Uk To Belgium, Antwerp, Gorinchem, Arnhem, Amsterdam, Amsterdam, Holland To Northern France, Northern France To Uk
MPS Rotterdam
13th Apr 2014 for 7nts
NOW:
Full
£749
Full
View Offer

Special Battlefield cruise
Spring Gardens Extravaganza

Dutch Waterways: Uk To Northern France, Amsterdam(2 Days), Wijik Bjj Duurstede, Rotterdam, Kinderdijk, Bergen Op Zoom, Antwerp, Uk
MPS Rotterdam
19th Apr 2014 for 8nts

Selected Shore Excursions:

CruiseOnly: Uk To Belgium, Antwerp, Gorinchem, Arnhem, Amsterdam, Amsterdam, Holland To Northern France, Northern France To Uk
MPS Rotterdam
27th Apr 2014 for 7nts
NOW:
Full
£749
Full
View Offer

Included excursion to the National Liberation Museum & Cemetery
German & Swiss Rhine

River Rhine: Uk To Northern France, Cologne, Koblenz, Rudesheim, Mainz, Speyer, Strasbourg, Breisach, Basel, Reims, Uk
MPS Rotterdam
13th May 2014 for 9nts

Selected Shore Excursions:

The Rhine and The Moselle

River Moselle: Uk To Northern France, Northern France To Cologne, Andernach, Winningen, Cochem, Koblenz, Rudesheim, Cologne, Cologne To Northern France, Northern France To Uk
MV Virginia
13th May 2014 for 9nts

Selected Shore Excursions:

Classic Rhine & Strasbourg

River Rhine:
MV Virginia
20th May 2014 for 9nts

Selected Shore Excursions:

Scenic Switzerland and the Rhine Valley

River Rhine: Uk, Reims, Basel, Breisach, Strasbourg, Speyer, Mainz, Rudesheim, Bonn, Cologne, Northern France, Uk
MPS Rotterdam
20th May 2014 for 9nts

Selected Shore Excursions:

CruiseOnly: Uk, Northern France, Cologne, Dusseldorf, Arnhem, Nijmegen, Gorinchem, Dordrecht, Willemstad, Antwerp, Brussels, Northern France, Uk
MPS Rotterdam
27th May 2014 for 9nts
NOW:
Full
£1149
Full
View Offer
Dutch & Belgian Inclusive

Dutch Waterways: Uk To Northern France, Northern France To Amsterdam, Rotterdam, Dordrecht, Zijpe Bruinisse, Ghent, Antwerp, Brussels, Brussels To Northern France, Northern France To Uk
ms Alegria
27th May 2014 for 9nts

Selected Shore Excursions:

The Rhine and The Moselle

River Moselle: Uk To Northern France, Northern France To Cologne, Andernach, Winningen, Cochem, Koblenz, Rudesheim, Cologne, Cologne To Northern France, Northern France To Uk
MV Virginia
3rd Jun 2014 for 9nts

Selected Shore Excursions:

Battlefields Commemorative Cruise

Dutch Waterways: Uk, Northern France, Cologne, Dusseldorf, Arnhem, Nijmegen, Gorinchem, Dordrecht, Willemstad, Antwerp, Brussels, Northern France, Uk
MPS Rotterdam
3rd Jun 2014 for 9nts

Selected Shore Excursions:

Dutch & Belgian Inclusive

Dutch Waterways: Uk To Northern France, Northern France To Amsterdam, Rotterdam, Dordrecht, Zijpe Bruinisse, Ghent, Antwerp, Brussels, Brussels To Northern France, Northern France To Uk
ms Alegria
3rd Jun 2014 for 9nts

Selected Shore Excursions: