Date, Region, Line & Ship:


(last updated
Dec 10 2013 10:07AM)
Discover a contrast of cultures as the Main flows through the modern city of Mainz to the traditional medieval Bavarian towns. With lush forests, charming castles & palaces lining the river banks, the river has suddenly become a sightseeing haven. Visiting cities which suffered massive damage during World War II, sail past some of their beautiful buildings which have been restored to their former glory.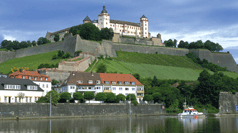 Originating in Upper Franconia where the White and Red Main rivers converge near Kulmbach. The significant tributary of the river Rhine flows through the German Highland Valleys before crossing the Lower Main Lowlands, where it empties into the Rhine insights into the rich history of the region. The Main River provides a cruise through charming scenery and insights into the rich history of the region. Crossing through the heart of central Germany from Bamberg to Mainz through the states of Bavaria, Baden-Wurttemberg and Hesse.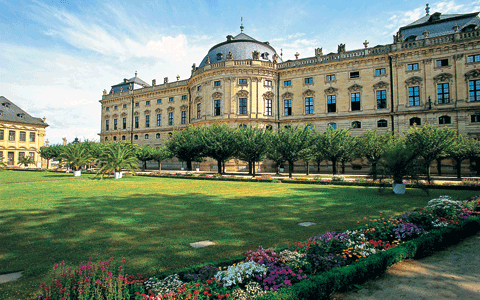 Taking over twelve hundreds years to finalize the Main-Danube canal connects the Rhine, Main and the Danube together. Charlemagne dreamed of creating a waterway to connect the North Sea with the Black Sea. The challenges of construction at this point as well as the upheaval of wars and other events delayed the achievement of this dream until 1992, when the Main-Danube canal was open. This 106 mile long canal now unites 15 countries and hundreds of inland ports creating a 2,200 mile long waterway. While the canal is man-made this by no means detracts from the natural beauty of the landscape in which it was built in. Many few passengers sailing on the canal can detect that it is not an organic element of the landscape.
Flowing from cosmopolitan German cities like Mainz to traditional medieval Bavarian Towns where wine and leather goods are manufactured, meaning a river cruise along the Main lets you explore both worlds. By this point, the 330 mile long, river has become particularly scenic, lush forests, rolling hillsides dotted with fairytale castles, majestic churches (some in good repair, other in states of picturesque ruin) and charming rustic medieval villages all line the Main's river banks. There are also many palaces which over look the main including Johannisburg Palace which sits prominently above the town of Aschaffenburg. The architectural masterpieces of Balthasar Neumann, such as the Bishops' Residenz, adorn the beautiful city of Wurzburg. Many of the buildings with in this city were either destroyed or suffered massive damage during World War 2. Roughly 85% of the city lay in ruins at the end of the war; however Wurzburg's historic buildings have been restored to their former glory.

Grand European Tour

River Main: Amsterdam, Kinderdijk, Cologne, Koblenz, Miltenberg, Wurzburg, Bamberg, Nuremberg, Regensburg, Passau, Melk, Krems, Vienna, Bratislava, Budapest (Overnight)
Viking Lif
19th Apr 2014 for 14nts

Selected Shore Excursions:
Budapest Tour
Bucharest Tour
Veliko Tarnovo & Arbanasi Tour

FREE Flights and Transfers
FREE Drinks with Lunch and dinner
All Taxes and Charges are included
FlyCruise: Amsterdam, Kinderdijk, Cologne, Koblenz, Miltenberg, Wurzburg, Bamberg, Nuremberg, Regensburg, Passau, Melk, Krems, Vienna, Bratislava, Budapest (Overnight)
Viking Jarl
29th Apr 2014 for 14nts
NOW:
Full
£2995
Full
View Offer

Guided City tour in Nuremberg. Cruising the Middle Rhine
Grand European Tour

River Main: Amsterdam, Kinderdijk, Cologne, Koblenz, Miltenberg, Wurzburg, Bamberg, Nuremberg, Regensburg, Passau, Melk, Krems, Vienna, Bratislava, Budapest (Overnight)
Viking Skadi
3rd May 2014 for 14nts

Selected Shore Excursions:
Budapest Tour
Bucharest Tour
Veliko Tarnovo & Arbanasi Tour

FREE Flights and Transfers
FREE Drinks with Lunch and dinner
All Taxes and Charges are included
Grand European Tour

River Main: Budapest (Overnight), Bratislava, Vienna, Durnstein, Melk, Passau, Regensburg, Nuremberg, Bamberg, Rothenburg, Wurzburg, Miltenburg, Koblenz, Cologne, Kinderdijk, Amsterdam
Viking Lif
3rd May 2014 for 14nts

Selected Shore Excursions:
Budapest Tour
Bucharest Tour
Veliko Tarnovo & Arbanasi Tour

FREE Flights and Transfers
FREE Drinks with Lunch and dinner
All Taxes and Charges are included
Grand European Tour

River Main: Budapest (Overnight), Bratislava, Vienna, Durnstein, Melk, Passau, Regensburg, Nuremberg, Bamberg, Rothenburg, Wurzburg, Miltenburg, Koblenz, Cologne, Kinderdijk, Amsterdam
Viking Baldur
4th May 2014 for 14nts

Selected Shore Excursions:
Budapest Tour
Bucharest Tour
Veliko Tarnovo & Arbanasi Tour

FREE Flights and Transfers
FREE Drinks with Lunch and dinner
All Taxes and Charges are included
Grand European Tour

River Main: Budapest (Overnight), Bratislava, Vienna, Durnstein, Melk, Passau, Regensburg, Nuremberg, Bamberg, Rothenburg, Wurzburg, Miltenburg, Koblenz, Cologne, Kinderdijk, Amsterdam
Viking Magni
18th May 2014 for 14nts

Selected Shore Excursions:
Budapest Tour
Bucharest Tour
Veliko Tarnovo & Arbanasi Tour

FREE Flights and Transfers
FREE Drinks with Lunch and dinner
All Taxes and Charges are included
Grand European Tour

River Main: Budapest (Overnight), Bratislava, Vienna, Durnstein, Melk, Passau, Regensburg, Nuremberg, Bamberg, Rothenburg, Wurzburg, Miltenburg, Koblenz, Cologne, Kinderdijk, Amsterdam
Viking Alta
27th May 2014 for 14nts

Selected Shore Excursions:
Budapest Tour
Bucharest Tour
Veliko Tarnovo & Arbanasi Tour

FREE Flights and Transfers
FREE Drinks with Lunch and dinner
All Taxes and Charges are included
Grand European Tour

River Main: Amsterdam, Kinderdijk, Cologne, Koblenz, Miltenberg, Wurzburg, Bamberg, Nuremberg, Regensburg, Passau, Melk, Krems, Vienna, Bratislava, Budapest (Overnight)
Viking Jarl
27th May 2014 for 14nts

Selected Shore Excursions:
Budapest Tour
Bucharest Tour
Veliko Tarnovo & Arbanasi Tour

FREE Flights and Transfers
FREE Drinks with Lunch and dinner
All Taxes and Charges are included
Grand European Tour

River Main: Amsterdam, Kinderdijk, Cologne, Koblenz, Miltenberg, Wurzburg, Bamberg, Nuremberg, Regensburg, Passau, Melk, Krems, Vienna, Bratislava, Budapest (Overnight)
Viking Skadi
31st May 2014 for 14nts

Selected Shore Excursions:
Budapest Tour
Bucharest Tour
Veliko Tarnovo & Arbanasi Tour

FREE Flights and Transfers
FREE Drinks with Lunch and dinner
All Taxes and Charges are included
Grand European Tour

River Main: Amsterdam, Kinderdijk, Cologne, Koblenz, Miltenberg, Wurzburg, Bamberg, Nuremberg, Regensburg, Passau, Melk, Krems, Vienna, Bratislava, Budapest (Overnight)
Viking Magni
1st Jun 2014 for 14nts

Selected Shore Excursions:
Budapest Tour
Bucharest Tour
Veliko Tarnovo & Arbanasi Tour

FREE Flights and Transfers
FREE Drinks with Lunch and dinner
All Taxes and Charges are included
Grand European Tour

River Main: Amsterdam, Kinderdijk, Cologne, Koblenz, Miltenberg, Wurzburg, Bamberg, Nuremberg, Regensburg, Passau, Melk, Krems, Vienna, Bratislava, Budapest (Overnight)
Viking Bragi
7th Jun 2014 for 14nts

Selected Shore Excursions:
Budapest Tour
Bucharest Tour
Veliko Tarnovo & Arbanasi Tour

FREE Flights and Transfers
FREE Drinks with Lunch and dinner
All Taxes and Charges are included
Grand European Tour

River Main: Amsterdam, Kinderdijk, Cologne, Koblenz, Miltenberg, Wurzburg, Bamberg, Nuremberg, Regensburg, Passau, Melk, Krems, Vienna, Bratislava, Budapest (Overnight)
Viking Alta
10th Jun 2014 for 14nts

Selected Shore Excursions:
Budapest Tour
Bucharest Tour
Veliko Tarnovo & Arbanasi Tour

FREE Flights and Transfers
FREE Drinks with Lunch and dinner
All Taxes and Charges are included
Grand European Tour

River Main: Budapest (Overnight), Bratislava, Vienna, Durnstein, Melk, Passau, Regensburg, Nuremberg, Bamberg, Rothenburg, Wurzburg, Miltenburg, Koblenz, Cologne, Kinderdijk, Amsterdam
Viking Jarl
10th Jun 2014 for 14nts

Selected Shore Excursions:
Budapest Tour
Bucharest Tour
Veliko Tarnovo & Arbanasi Tour

FREE Flights and Transfers
FREE Drinks with Lunch and dinner
All Taxes and Charges are included
Grand European Tour

River Main: Amsterdam, Kinderdijk, Cologne, Koblenz, Miltenberg, Wurzburg, Bamberg, Nuremberg, Regensburg, Passau, Melk, Krems, Vienna, Bratislava, Budapest (Overnight)
Viking Lif
14th Jun 2014 for 14nts

Selected Shore Excursions:
Budapest Tour
Bucharest Tour
Veliko Tarnovo & Arbanasi Tour

FREE Flights and Transfers
FREE Drinks with Lunch and dinner
All Taxes and Charges are included
Grand European Tour

River Main: Amsterdam, Kinderdijk, Cologne, Koblenz, Miltenberg, Wurzburg, Bamberg, Nuremberg, Regensburg, Passau, Melk, Krems, Vienna, Bratislava, Budapest (Overnight)
Viking Baldur
15th Jun 2014 for 14nts

Selected Shore Excursions:
Budapest Tour
Bucharest Tour
Veliko Tarnovo & Arbanasi Tour

FREE Flights and Transfers
FREE Drinks with Lunch and dinner
All Taxes and Charges are included
Grand European Tour

River Main: Budapest (Overnight), Bratislava, Vienna, Durnstein, Melk, Passau, Regensburg, Nuremberg, Bamberg, Rothenburg, Wurzburg, Miltenburg, Koblenz, Cologne, Kinderdijk, Amsterdam
Viking Lif
28th Jun 2014 for 14nts

Selected Shore Excursions:
Budapest Tour
Bucharest Tour
Veliko Tarnovo & Arbanasi Tour

FREE Flights and Transfers
FREE Drinks with Lunch and dinner
All Taxes and Charges are included
Grand European Tour

River Main: Budapest (Overnight), Bratislava, Vienna, Durnstein, Melk, Passau, Regensburg, Nuremberg, Bamberg, Rothenburg, Wurzburg, Miltenburg, Koblenz, Cologne, Kinderdijk, Amsterdam
Viking Jarl
8th Jul 2014 for 14nts

Selected Shore Excursions:
Budapest Tour
Bucharest Tour
Veliko Tarnovo & Arbanasi Tour

FREE Flights and Transfers
FREE Drinks with Lunch and dinner
All Taxes and Charges are included
Grand European Tour

River Main: Amsterdam, Kinderdijk, Cologne, Koblenz, Miltenberg, Wurzburg, Bamberg, Nuremberg, Regensburg, Passau, Melk, Krems, Vienna, Bratislava, Budapest (Overnight)
Viking Alta
8th Jul 2014 for 14nts

Selected Shore Excursions:
Budapest Tour
Bucharest Tour
Veliko Tarnovo & Arbanasi Tour

FREE Flights and Transfers
FREE Drinks with Lunch and dinner
All Taxes and Charges are included
Grand European Tour

River Main: Amsterdam, Kinderdijk, Cologne, Koblenz, Miltenberg, Wurzburg, Bamberg, Nuremberg, Regensburg, Passau, Melk, Krems, Vienna, Bratislava, Budapest (Overnight)
Viking Lif
12th Jul 2014 for 14nts

Selected Shore Excursions:
Budapest Tour
Bucharest Tour
Veliko Tarnovo & Arbanasi Tour

FREE Flights and Transfers
FREE Drinks with Lunch and dinner
All Taxes and Charges are included
Grand European Tour

River Main: Budapest (Overnight), Bratislava, Vienna, Durnstein, Melk, Passau, Regensburg, Nuremberg, Bamberg, Rothenburg, Wurzburg, Miltenburg, Koblenz, Cologne, Kinderdijk, Amsterdam
Viking Skadi
12th Jul 2014 for 14nts

Selected Shore Excursions:
Budapest Tour
Bucharest Tour
Veliko Tarnovo & Arbanasi Tour

FREE Flights and Transfers
FREE Drinks with Lunch and dinner
All Taxes and Charges are included