Date, Region, Line & Ship:


(last updated
Dec 06 2013 09:14AM)
APT River Cruises offer a boutique hotel experience on board one of the youngest fleet of ships on the rivers. Two of their ships, the MS Amadagio and MS Amabella recently won a best river cruise ship award. They cover a vast variety of destinations and pride themselves on the highest levels of customer satisfaction and enjoy a healthy 98% satisfaction rating from their travellers.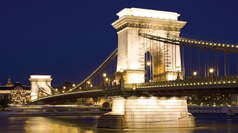 APT River Cruises offer guests a chance to sail along one of 10 of the world's most breath-taking rivers throughout Europe, Asia and Russia.

APT have excellent attention to detail and offer an all-inclusive package right from complimentary wines, beers and soft drinks with your meals to shore excursions in the tiniest of towns and villages that you will encounter along your journeys. With a ship capacity of between 108 on the fantastic new AmaVida covering the River Douro and 160 passengers on the European rivers, guests will have an intimate and first class feel on board. Guests will benefit from luxury river view staterooms with many ships offering a full private outside balcony.

APT are only one of a handful of operators that will pamper guests with an indulgent hair and beauty salon on board and featuring exclusive owners suites with a separate mini bar. If that wasn't enough they will offer a fully stocked bar in the lounge that is always open and elevator and a 24 hour reception desk. You know that help is always at hand. APT really have thought of everything and offer a well-stocked library on board with local nightly entertainment.

APT River Cruises offer a selection of dining experiences from fine restaurants to casual fare in the lounge, alfresco ambience to room service. You are sure to find something with all these different dining options that are on offer.

To book your River Cruise with APT, or to hear more about their voyages on the most picturesque rivers in the world - speak to a Cruise Expert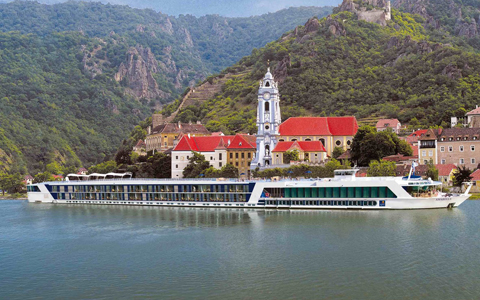 Vietnam and Cambodia Highlights

River Mekong: Saigon, Cai Be, Vinh Long, Sa Dec, Tan Chau, Phnom Penh, Chong Koh, Oudong, Kampong, Kampong Chhnang, Tonle Sap, Siem Reap, Angkor.
AmaLotus
3rd Jan 2014 for 13nts

Selected Shore Excursions:
APT Tan Chau
APT Chong Koh

'Companion flies FREE' Offer

+

Flights, transfers and gratuities included

+

All excursions and entrance fees included

+

ALL drinks included throughout your river cruise

+

Itinerary may operate in reverse
Discover Vietnam and Cambodia

River Mekong: Hanoi, Ha Long Bay, Saigon, Cu Chi Tunnels, Saigon, Cai Be, Vinh Long, Sa Dec, Xeo Quyt, Tan Chau, Phnom Penh, Chong Koh, Oudong, Kampong Tralach, Kampong Chhnang, Tonle Sap, Siem Reap, Angkor, Siem Reap
La Marguerite
14th Jan 2014 for 16nts

Selected Shore Excursions:
APT Phnom Penh
APT Ha Long Bay

7 night Mekong cruise included

+

Enjoy a rickshaw ride in Hanoi

+

Services of a TravelMarvel Tour Director

+

Itinerary may operate in reverse
FlyCruise: Hanoi (2 Night Hotel Stay), Ha Long Bay, Siem Reap, Angkor, Kampong Chhnang, Chong Koh, Phnom Penh, Tan Chau, Sa Dec, Xeo Quyt, Saigon
La Marguerite
14th Jan 2014 for 17nts
NOW:
Full
£3895
£4089
View Offer

2nd Passenger gets Free Flights
FlyCruise: Hanoi (2 Night Hotel Stay), Ha Long Bay, Siem Reap, Angkor, Kampong Chhnang, Chong Koh, Phnom Penh, Tan Chau, Sa Dec, Xeo Quyt, Saigon
La Marguerite
14th Jan 2014 for 17nts
NOW:
Full
Full
Full
View Offer

2nd Passenger gets Free Flights
FlyCruise: Hanoi (2 Night Hotel Stay), Ha Long Bay, Siem Reap, Angkor, Kampong Chhnang, Chong Koh, Phnom Penh, Tan Chau, Sa Dec, Xeo Quyt, Saigon
La Marguerite
14th Jan 2014 for 13nts
NOW:
Full
£3895
£4089
View Offer

Featyres 2 night cruise on Ha Long Bay
Vietnam and Cambodia Highlights

River Mekong: Saigon, Cai Be, Vinh Long, Sa Dec, Tan Chau, Phnom Penh, Chong Koh, Oudong, Kampong, Kampong Chhnang, Tonle Sap, Siem Reap, Angkor.
AmaLotus
31st Jan 2014 for 13nts

Selected Shore Excursions:
APT Tan Chau
APT Chong Koh

'Companion flies FREE' Offer

+

Flights, transfers and gratuities included

+

All excursions and entrance fees included

+

ALL drinks included throughout your river cruise

+

Itinerary may operate in reverse
Discover Vietnam and Cambodia

River Mekong: Hanoi, Ha Long Bay, Saigon, Cu Chi Tunnels, Saigon, Cai Be, Vinh Long, Sa Dec, Xeo Quyt, Tan Chau, Phnom Penh, Chong Koh, Oudong, Kampong Tralach, Kampong Chhnang, Tonle Sap, Siem Reap, Angkor, Siem Reap
La Marguerite
11th Feb 2014 for 16nts

Selected Shore Excursions:
APT Phnom Penh
APT Ha Long Bay

7 night Mekong cruise included

+

Enjoy a rickshaw ride in Hanoi

+

Services of a TravelMarvel Tour Director

+

Itinerary may operate in reverse
FlyCruise: Hanoi (2 Night Hotel Stay), Ha Long Bay, Siem Reap, Angkor, Kampong Chhnang, Chong Koh, Phnom Penh, Tan Chau, Sa Dec, Xeo Quyt, Saigon
La Marguerite
11th Feb 2014 for 17nts
NOW:
Full
£3895
£4089
View Offer

Companion Fly Free- Save £900
Vietnam and Cambodia Highlights

River Mekong: Saigon, Cai Be, Vinh Long, Sa Dec, Tan Chau, Phnom Penh, Chong Koh, Oudong, Kampong, Kampong Chhnang, Tonle Sap, Siem Reap, Angkor.
AmaLotus
28th Feb 2014 for 13nts

Selected Shore Excursions:
APT Tan Chau
APT Chong Koh

'Companion flies FREE' Offer

+

Flights, transfers and gratuities included

+

All excursions and entrance fees included

+

ALL drinks included throughout your river cruise

+

Itinerary may operate in reverse
FlyCruise: Beijing, Yichang, Three Gorges Dam, Xiling, Shennong Stream, Wu Gorge, Fengdu, Chongqing, Xian (2 Nights), Shanghai (3 Nights)
Yangzi Explorer
12th Mar 2014 for 13nts
NOW:
Full
Full
Full
View Offer

SAVE £250pp - Book before 20 Sep
FlyCruise: Amsterdam (Overnight), Cologne, Rudesheim, Miltenberg, Wurzburg, Bamberg, Nuremberg, Regensburg, Passau, Melk, Durnstein, Vienna (Overnight), Budapest
AmaLyra
14th Mar 2014 for 14nts
WAS:
£4295
£5189
View Offer
NOW:
Full
£3545
£4439

SAVE £750pp - Book before 30 Sep