Top Ten Things Unexpected Things on a Cruise Ship
September 23, 2014
There are certain things that you're going to expect on a cruise ship as standard.
Swimming pool, check.

Casino, check.

Loud-mouthed dinner guest who spends the whole time talking about the zillion past cruises he's been on, check.
Throw in some fantastic excursions, amazing food and the use of a sunlounger with sea views and you might think you've got the cruise ship experience down. Not so!
The beauty of cruising is that these mysterious floating resorts are constantly evolving, updating and moving the cruise ship experience on to the next level – which means that you'll find at least one or two surprises onboard each time you go – and that's assuming you use the same ship each time as well!
Here are our top ten unexpected things that you could find on a cruise ship – SURPRISE!!!!
A Waterpark
You're expecting a swimming pool on your ship, especially on a sunshine cruise. Maybe a token slide for the kids to try to climb up instead of slide down. But what about a full-on, all bells and whistles, bright and brilliant waterpark?
Since family cruising became big business cruise lines have been falling over themselves to tempt this growing market. And one of the easiest ways to do that is with funnel slides, twisters, vertical drops, inflatable raft slides, jets and splash pools – you'll even find a FlowRider surf simulator on Royal Caribbean's Freedom and Oasis class ships!
If you've got water babies – or you love an adrenalin-fuelled splash around yourself – take a look at Carnival Cruises WaterWorks parks for the best slide selection.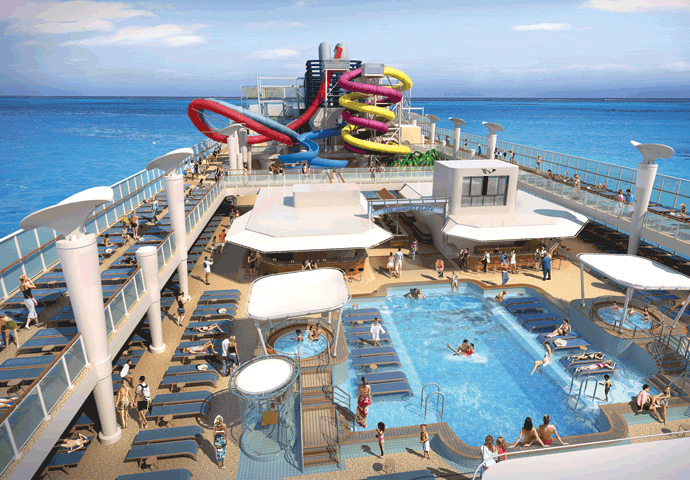 You can learn more about cruise ship waterparks here
A Synchronised Swimmer
Choose to cruise on Royal Caribbean's Oasis or Allure of the Seas and you'll be treated to a world exclusive – an onboard Aqua Theatre show. Featuring synchronised swimmers and acrobatic high-divers, combined with a mesmerising light and music show; it's a must see for cruisers of all ages.
You'll have no excuse not to go off the top diving board in the ship's swimming pool when you see the heights from which these daredevils jump!
You can learn more about a cruise on the Allure of the Seas here
A Virtual Balcony
So you fancied yourself some glorious sea views from a balcony cabin – then you saw the price. Don't resign yourself to a windowless box in the bowels of the ship; go for a 'virtual balcony' cabin on Royal Caribbean's Navigator or soon to launch Quantum instead.
Ok, so technically you're still in a windowless box in the bowels of the ship but thanks to the latest technology you have a real time view from the ship projected onto an 80 inch LED screen complete with curtains.
If the kids ask you can't hook your Xbox up to them though – trust us we've checked!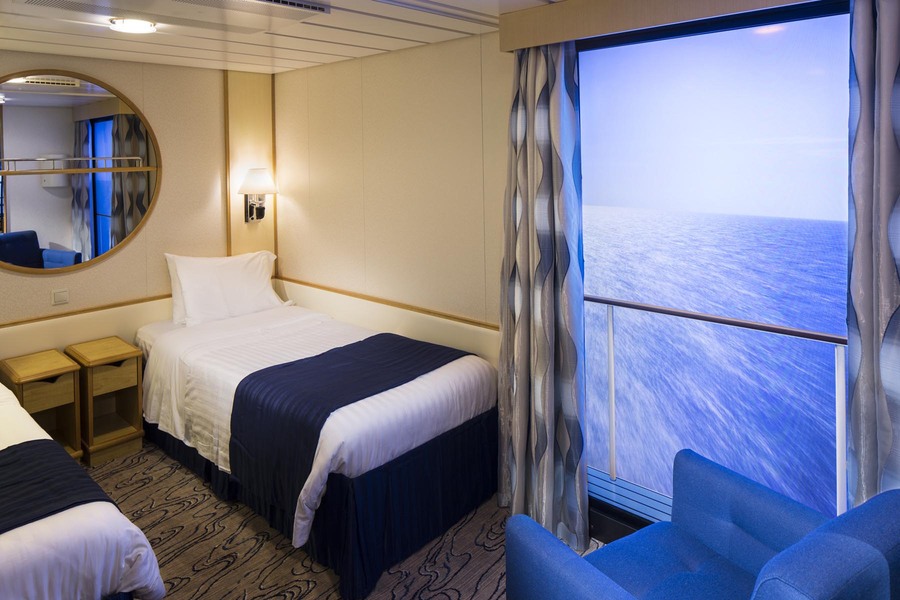 You can learn all about cruising with Royal Caribbean here.
A Michelin Star Restaurant
Hand ups – this is a slight exaggeration as there are no actual Michelin star restaurants onboard cruise ships.
What there are however, are menus designed by Michelin star chefs; which is still a tasty prospect for foodies!
On P&O you'll find triple star chef Marco Pierre White serving up a storm (not personally, you have a waiter for that) and on Crystal Cruises Symphony and Serenity you'll find Nobuyuki Matsuhisa restaurants.
Never heard of him?
He's the sushi genius behind the Nobu restaurant empire where celebrities and the uber-rich go for their Friday and Saturday night suppers.
So if you can't afford Michelin star prices you can try Michelin standard dishes often included in the cost of your cruise.
A Bird's Eye View
You can't beat looking out to sea from your balcony cabin or a spot on a sun lounger……….or can you? The soon to launch (Nov 2014) Quantum of the Seas ship in the Royal Caribbean fleet goes one better with its amazing North Star observation capsule which lifts you up above the top deck of the ship for a 15 minute opportunity to drink in the most amazing sea views.
If you're more of a thrill-seeker than a gentle observer then the SeaWalk on Royal Princess will have even the most blasé cruiser clinging to the handrail. This glass-bottomed walkway hangs over the side of the ship and creates the illusion that there's nothing but air between you and the sea far, far below.
Not one to try after a heavy night in the cocktail bar.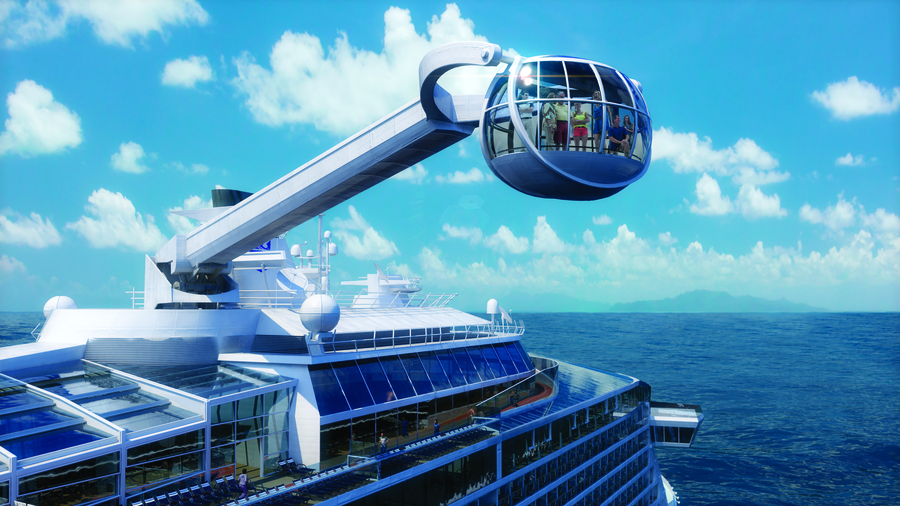 You can see more details about the Royal Princess here.
A Bumpy Ride
Going back to Quantum with a bump now – another unexpected feature is the bumper car ride. This ship seems determined to add the fun of the fair to its never-ending list of surprises. Prepare yourself  to be dragged on by your excited kids again and again so they can delight in giving you whiplash. Or maybe just vow never to venture near that area of the ship.
Just tell the kids that that's where the shuffleboarding takes place!
There's a lot more to see on Quantum of the Seas here.
A Bowling Alley
Strike it lucky on Norwegian Epic, Pearl and Gem – there's a bowling alley onboard!
Pack your clown shoes (or just borrow some, if you don't take your high score that seriously) and challenge your family or newly made friends to a game. Loser buys ice-creams.
You can see about booking a cruise with Norwegian Cruise Lines here.
Samba with the Stars
If, in the battle of X Factor versus Strictly, Strictly wins in your house every time then you'll be excited to find Dancing with the Stars: At Sea on Holland America liners.
Professional dancers will lead you in your lessons and if you've got a flair for the foxtrot or a talent for the tango then you can dance on the main stage in a live finale.
You could even get to meet Dancing with the Stars celebrities on select cruises – or win yourself a free Caribbean cruise.
Surely worth packing the sequins for?
There's a lot more info on cruises with Holland America here.
A Mountain
Ok so maybe not quite a mountain but you can climb a rock wall on some Royal Caribbean or Norwegian Cruise liners.
Make sure you bring your head for heights as these walls stand at over 40 feet tall. With several routes to the top you can have fun timing your climbs and competing. It'll give Dad a chance to channel his inner Sly Stallone in Cliffhanger too – that's one lifelong dream fulfilled!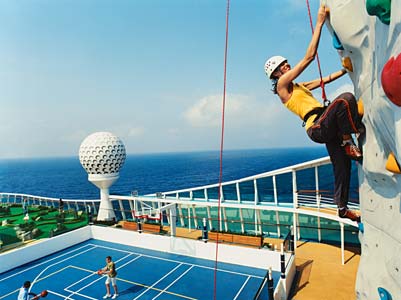 A Running Track
Fear not – you don't have to worry about missing your morning run on a cruise. Liners now boast running tracks so that you can keep up your fitness programme while on holiday (how thoughtful of them). On the bright side, a few laps around the track is a great excuse for that second trip to the desert table.
If staying fit on a cruise is important to you then there's a great guide here comparing gym facilities across different ships and cruise lines – Full guide here.
Cruise ships are full of surprises, so set your sights higher than a few laps of the pool followed by a game of table tennis.
Whatever you're into you'll find a cruise ship that has it or something similar – or you might even discover a hidden talent for surfing/ballroom dancing/eating obscene amounts of Michelin standard food!
At www.CRUISE.co.uk we think that a cruise should be a voyage of discovery, both off and on the ship.
So throw caution overboard and give something new and exciting a go!
Comments