Top Ten Royal Caribbean Dining Experiences
September 24, 2014
Food should be part of the pleasure of any holiday – not having to worry about cooking or the washing up for a week or two is a heavenly prospect! On Royal Caribbean, however, the pleasure goes much further than that. These megaships have the space and the culinary expertise to offer a wide variety of dining experiences, from hotdogs on the Boardwalk to fine dining at the Chef's Table. There are so many foodie options that you'll need more than a week to try them all. Best make it a fortnight then!
1 – Jamie's Italian
You'll find a familiar face on RCI's new Quantum class ships, Quantum and Anthem of the Seas (coming soon!) – Jamie's Italian brings a bit of our cockney cheeky chappy onboard. With a family-friendly menu full of antipasta for sharing, pasta, risottos and a selection of Italian-inspired mains, there's something for everyone in the family, from Grand Mamma-Mia to the little bambinos. Pukka. Additional charge.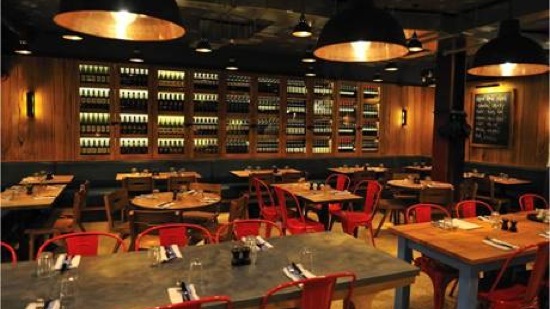 2 – Wonderland
Drop down the rabbit hole on Quantum class ships for a unique dining experience at Wonderland. Magical surroundings, weird and wonderful flavour combinations and an unusual menu divided into elements wind, sea, fire, ice and dreams make a trip to Wonderland an undeniably epic adventure. Just don't be late! Additional charge.
3 – Izumi
If you're a fan of sushi, Japanese restaurant Izumi, on Oasis class ships Oasis and Allure of the Seas, is full of Eastern promise. Bamboo and cherry blossoms add Asian flare to the décor, and the sushi is prepared fresh right in front of your eyes. You can also order a hot rock plate to cook your own meat at your table, meaning it's piping hot and exactly as you like it. Just watch your arms if you're wearing short sleeves – you don't want sizzled forearm on the menu! Additional charge.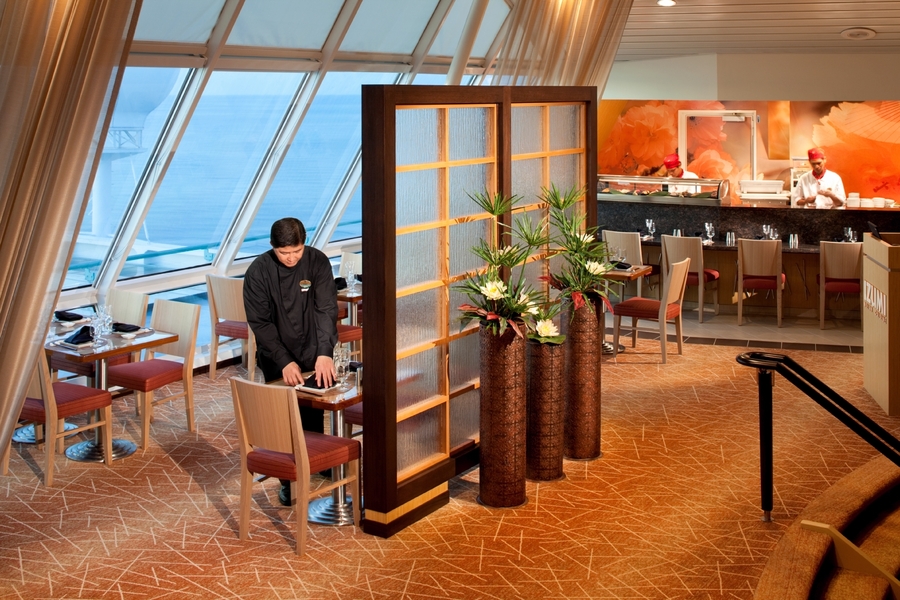 4 – Johnny Rockets
While fine dining and haute cuisine can be quite delightful, sometimes what you really crave is a big fat burger and shake. So pull off that penguin suit or evening gown, grab the kids (if you have them – don't grab someone else's!) and head to the Johnny Rockets American style diner. You'll find it on Oasis and Freedom class ships, with such calorific treats on the menu as deluxe shakes, malts and floats, chilli fries, Rocket Double cheeseburgers and apple pie served American style (with a hunk of cheddar cheese!). Additional charge.
5 – Silk
Visit Silk restaurant on Anthem or Quantum and allow each dish to weave you a story through the rich tapestry of Asian flavours. Described as 'where Silk Road spice meets the salt of new shores' Silk offers up tastes of China, India, Japan, Thailand and Vietnam, for an unforgettable culinary journey through the exotic East. No additional charge.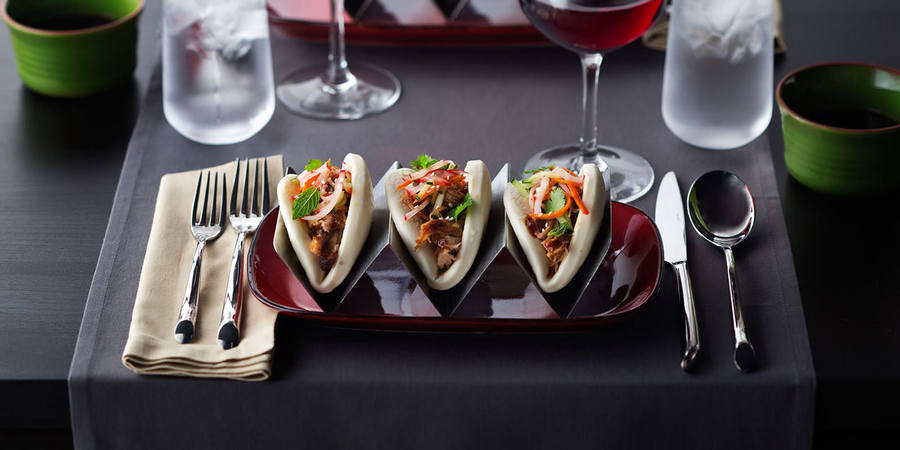 6 – 150 Central Park
For fine dining on Allure and Oasis of the Seas, 150 Central Park is the place to be. A huge step up from your average picnic, this restaurant, in the sophisticated and leafy Central Park area of the ship, offers the most upscale dining experience onboard. With six course seasonal menus created by award winning chef Michael Schwartz and paired with matching wines, it's nothing short of a gastronomic wonder. Finish with a stroll of the Central Park tropical garden and you have the perfect evening onboard. Additional charge.
7 – The Boardwalk
A great dining experience doesn't have to be about course after course of gourmet concoctions matched with fine wines. Head to the Coney Island-esque Boardwalk on Oasis class ships for an on the go meal with all the fun factor of the fair. Hit the Dog House for hotdogs to go (extra onions!), then the donut shop or ice cream parlour for desert. When you can finish a meal with a spin on the carousel, who needs a cheese board? No additional charge at Dog House or Donut Shop.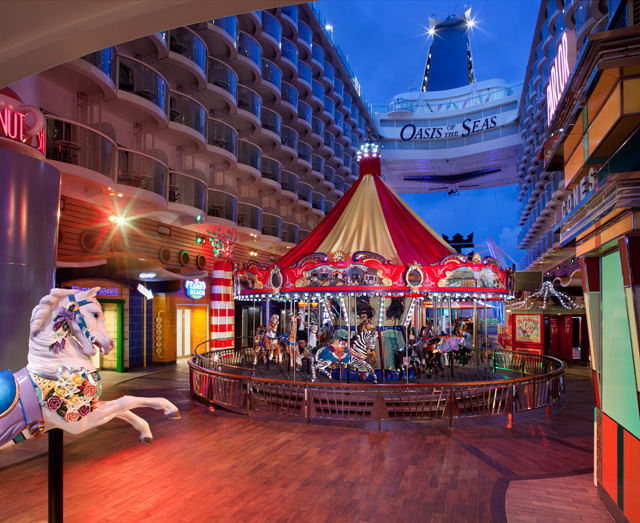 8 – The Grande
While it's great that family friendly megaships have a variety of more casual dining options, sometimes it's nice to hark back to a more formal age of cruising. The Grande restaurant on Quantum class ships does exactly that, with a classic menu featuring such traditional treats as Chateaubriand Wellington and Crème Brulee. With its exquisite décor of crystal chandeliers, Venetian mirrors and plush, high backed chairs, you'll definitely want to dress for dinner at this elegant spot. Oh, and you might want to book a babysitter for the kids – this isn't the type of place that offers crayons at the table. No additional charge.
9 – Chef's Table
If you really want to push the boat out with an exclusive dining experience (as exclusive as you can get on a ship carrying 4,000 passengers!), why not book a place at the Chef's Table – available on Oasis, Allure, Splendour and Radiance. This is a private and formal affair for just 14 to 16 diners each evening, hosted by the one of the ship's head chefs. You'll be taken through the gourmet delights of a five course meal, each course matched beautifully with wine by the expert sommelier (also in attendance), for a truly exceptional dining experience. Just don't plan much for afterwards as chances are you'll want to head straight to your cabin to collapse into a blissful food coma! Additional charge.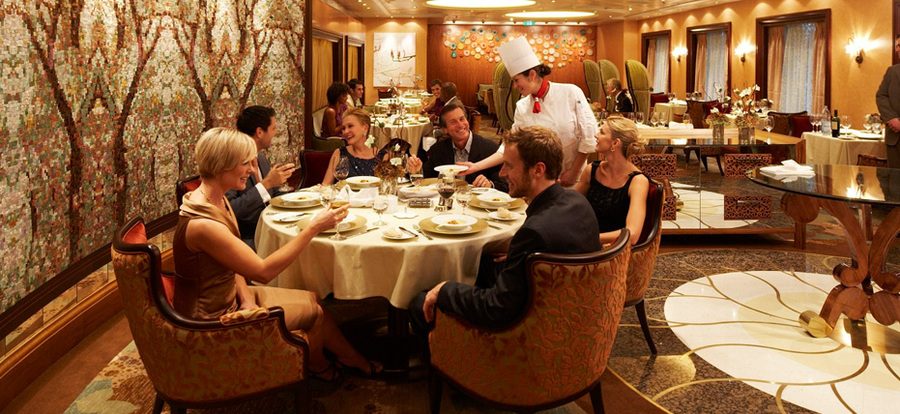 10 – Main Dining Room
While the Main Dining Room, or MDR, on a cruise ship is often considered to be the poor relative to the speciality restaurants, to bump it off any list of the best dining options onboard would be doing it a disservice. Forget all thoughts of a school or work canteen – these dining rooms are grand affairs, complete with chandeliers, artwork on the walls and linens on the table. The menus are extensive – great for those who like lots of choice – and you can try as many different dishes as you like. Plus, and here's the clincher, the majority of the food is free!
Note that, on new Quantum class ships, RCI has dispensed with the MDR (get me?), favouring a Dynamic Dining concept instead. On Quantum and Anthem of the Seas you'll instead find five complimentary, full service restaurants, including Silk and The Grande above, plus American Icon Grill, Coastal Kitchen and Chic. This makes Royal Caribbean's newest class of ship ideal for you if you want the variety and service of speciality restaurants, without having to pay extra for it.
There really is a packed menu of food options waiting on Royal Caribbean cruises, from quick bites to fine dining – with no shopping, cooking or washing up to do! Are you feeling hungry after reading all about it? You won't be on a Royal Caribbean cruise, that's for sure!