Top 5 Places to Hang Out Onboard
September 23, 2014
There's so much to do onboard your average cruise ship that it's too easy on sea days to become a crazy whirl of activities that require you to follow the tightest of schedules to fit everything in.
Stop racing from the pool to the sports deck to the lecture theatre and take some time just to relax – after all, you're on holiday!
Here are some of the best places to just 'hang out' onboard:
1 – In the Hot Tub
Or the steam room, or the sauna… Anywhere in the ship's spa is usually a good place to just practice your zen breathing and really sink your pedicured toes into some solitary chill time. Most liners have a basic spa but if you're into your aromatherapy oils in a big way then one of the lines that goes the extra massage mile could be for you.
On Crystal Symphony and Serenity you can sail away on a luxurious dry float bed and the AquaSpas on Celebrity's newest ships boast a Persian Garden steam room for those times when a run of the mill sauna cabin just won't do!
If you're looking to compare the spas between cruise ships you can find a lot more information on them here.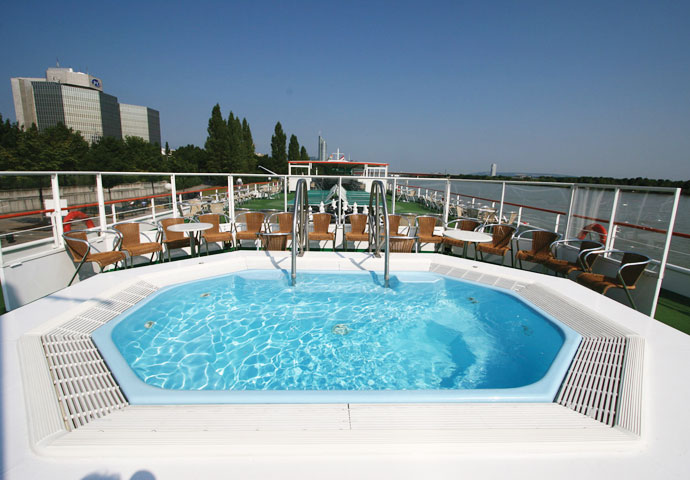 2 – The Games Room
If your idea of the ultimate chill day at home is hanging with your games console then you'll be glad to know can recreate the magic on some cruises. Norwegian Cruise Lines is partnered with Nintendo so if you're a Mario or Zelda fan you'll be in your gamer element. Just sink into a bean bag and let your other half think you've signed up for a lecture on the famous landmarks of your next port destination. Peachy!
Interested in booking a cruise with Norwegian Cruise Lines? There's loads of information and offers with them here
3 – On the Prom
If people-watching is your cup of tea the ship's promenade deck is going to be a great place to just kick back and watch the world and his wife go by.
Royal Caribbean Voyager and Freedom class ships have both outdoor and indoor promenades, with the seaside pier-style boardwalk on Oasis of the Seas being worth a special mention.
Grab a bag of (free!) donuts and a (not free!) latte from the Starbucks, pull up a bistro chair and watch the carnival parade of liner life pass you by.
If you're cruising with kids, all the better – they can be kept quiet on the fairground carousel while you enjoy some 'me time' – can't say fair-er than that!
Here's a great video of what life's really like on a Royal Caribbean cruise
4 – In the Library
Trying to find that elusive peace and quiet on a busy cruise ship?
Want somewhere to relax that's a bit less 'closet alcoholic' than a dark corner of the ship's pub?
Head straight to the liner's library!
Banish all thoughts of your stuffy council-run library back home; the libraries on cruise ships are plush, cosy and peaceful places to hide away from the rest of the world. The libraries on Carnival ships are particularly conducive to a sneaky doze; with comfy seats, relaxing lighting and sumptuous décor.
You could even read a book, if you like!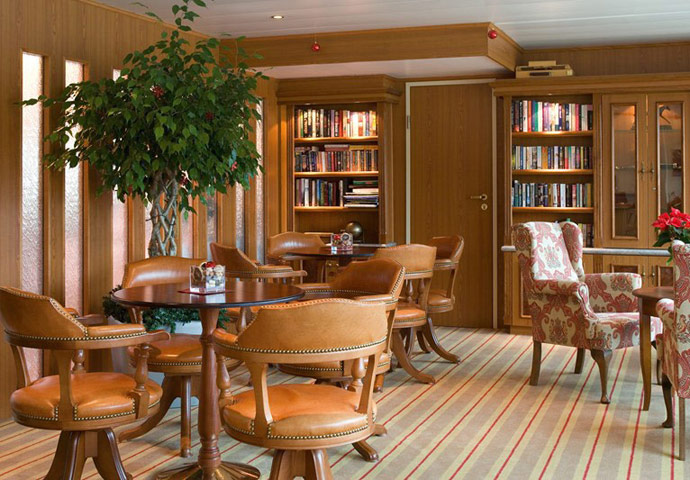 5 – The Coffee Shop
Every cruise ship has a coffee shop, but not all cruise ship coffee shops are created equal (try saying that ten times fast after a double espresso!).
The Explorations Café on Holland America ships really takes the biscuit, raising the barista bar to caffeine high levels with an extensive coffee menu, free newspapers, a library and complimentary pasties and snacks.
It's the perfect place to get your hit of café culture onboard. If you have a tooth that's so sweet even a caramel latte and almond croissant won't satisfy it, the Coffee and Chocolate Bars on Costa Cruise liners serve up chocolate drinks alongside chocolate pastries alongside a chocolate fountain – it's enough to give even a hardened chocoholic a cocoa-hangover.
You can see more info about a cruise with Holland America here
Or if you want to cruise with Costa you can learn about them here
Whilst the 24/7 activity programmes, running tracks, waterslides, nightclubs et all are all great features of a cruise ship; sometimes it's good to just sit back, relax and smell the coffee (or the lavender oils in the spa).
Find your favourite hangout onboard – just be sure to keep it a secret, or your 'you time' will quickly turn into your 'you, the wife, the kids, the mother in law and that couple you met at dinner' time.
Comments