Top 5 Cruise Ships for Alfresco Dining
September 25, 2014
It's not always possible to dine outside when you're at home, even if the guys are desperate to prove their macho worth by cremating sausages on their top-of-the-range barbecue.
Alfresco dining can be a refreshing change but the UK weather just doesn't cut the mustard (most of the time) and can make it a little too refreshing for comfort. 
Luckily, when you're on-board a cruise you have more chance of enjoying some outdoor dining – without the charcoaled chicken – especially when you're sailing to exotic, faraway destinations where the chance of rain is almost as unlikely as seeing a mankini-clad passenger on the ship (here's hoping that never happens).
Dressing for a sit-down dining extravaganza is a big part of cruising for many but sometimes you're not in the mood for indoor dining and the smart dress code that often goes with it.
Sometimes, you just want to enjoy the food, company and ambience of outdoor dining, without having to dress up for the occasion.
Sometimes, all you want to do is sit back, relax and forget about the tux that's safely hanging in your cabin wardrobe.
While dress codes often mean that you won't be able to dine in your flip flops and speedos, you can still enjoy the fresh sea breeze and sunshine in some smart casual chinos and day dresses.
If your mood is calling for amazing alfresco dining, www.CRUISE.co.uk think that these five cruises should be on your menu, no matter what time of day you wish to fill your tum: 
5. P&O
If you're an indecisive type (how many times have you changed for dinner?!) P&O cruises offers passengers a flexible way to dine – Freedom Dining – which allows you to mix and match different restaurants, different tablemates and different scenery as the mood takes you.
If you fancy heading outside on a crisp evening or you want to grab a bite to eat when there isn't something else filling your hectic cruise itinerary, the various grill restaurants offering unfaltering views of the ocean, such as The Pennant Grill (Aurora – aft of the ship, on the Lido Deck), The Horizon Grill (Oceana – front of the ship on the Sun Deck) and The Terrace Grill (Oriana – aft of the ship, on the Lido Deck), will tantalise your alfresco taste buds.
As a great British cruise line which caters for traditional British tastes, you can expect a fresh haddock or cod catch of the day, Morecambe Bay buttered shrimps, handmade speciality burgers and big, juicy steaks that will make your mouth water.
Let's not forget the puds for the sweet tooth, either – the mini chocolate brownies, the banoffee cheesecake, the Knickerbocker glory…let's hope you have a good dentist, eh?
How many times have you enjoyed your dinner only to find that you're a little peckish a few hours later? If you want to pacify those tummy grumbles, the Mediterranean themed café also opens up at 10:30pm, just in case you fancy a late night snack and let's not forget the room service of course!
If you're lucky enough to have a balcony, there's little better than enjoying a relaxed meal in the comfort of your own cabin, catching the sea breeze and the sun's rays.
Just pick up the phone and order – your wish is chef's command!
 
4. Celebrity
Celebrity Cruises really know how to make you feel relaxed, whether it's in your cabin, in one of the lounges or outside on the pool deck.
The Seaview Bar is a great place to escape to if you want a quick bite at the stern of the ship – the best place to be to wave goodbye to the stresses and strains of home whilst overlooking the ocean!
Whether you want to sup a cocktail before dinner, relax with a chilled icy drink and a good book during the day, or you're planning on having a relaxed evening with your new cruise buddies, there's an alfresco spot to suit all cruising VIP's on Celebrity ships.
The Pool/Mast Bar & Grill provides guests with a chance to remain casual and relaxed, when elsewhere, the dress code may be upped a notch or two.
If you're missing taking the helm at your home barbie, you can become your own party's Grill Master at the Lawn Club Grill onboard the Silhouette and the Reflection ships – it's like being the host of your own barbecue, only better, because you can be paired with one of the liner's professional chefs to provide your table with some gorgeous, chargrilled (and hopefully not charcoaled) meats in the open air (with a glass roof meaning that any rare showers don't see you downing tools and running for cover!).
You can also go traditional with your outside dining and scrap the table and chairs!
Pick up a themed picnic basket and spread out on the real grass at The Lawn Club.
With baskets crammed with tasty treats, as well as fresh fruit plates, handheld fans and chilled towels, it'll be one of your simplest, but most memorable, meals onboard.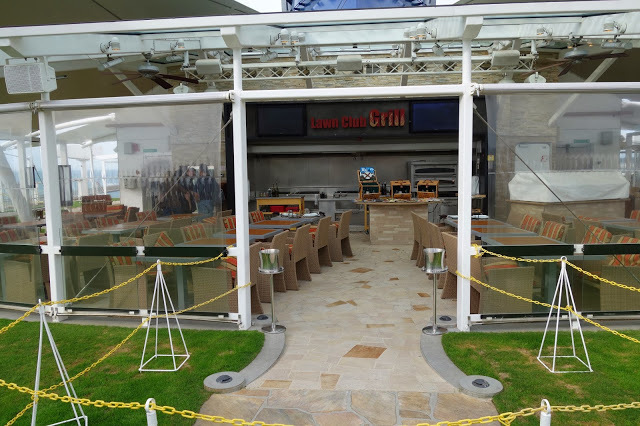 3. Fred.Olsen
Dine on some British favourites as you soak up the sun at the Marquee Bar on Fred.Olsen's Boudicca, Balmoral and Black Watch ships.
From burgers and salads to fish and chips, if you need some comfort food to get you through the afternoon, this is the place to go (as long as the rainclouds stay away!).
When the clouds part, huge parasols will help to keep your table in the shade but if you do want a blast of sunshine then there's nothing stopping you from leaning back a little (not too much though – especially after a cocktail or two!)
Enjoy a dressed-down alfresco breakfast or lunch at the Lido Bar onboard the Braemar, where you can catch the sun's rays from every angle.
Alternatively, head here for a quiet evening drink before dinner or dress up for one of the sailaway parties, as the liner leaves port to continue on her journey.
The canopied Marquee Pool Bar also provides great sunny and shaded spots for drinks and light bites, when you need extra sustenance to keep you going in the Jacuzzi!
2. Oceania
It's hard to deny that the Alaskan sunset, the South American coastline and the white sands of the South Pacific are three of the most stunning sights to see on a cruise and with a wander onto the Oceania deck, you can see these beauties and more for yourself.
If you'd like to enjoy the view and a varied menu, then Oceania's Terrace Café would be the perfect spot for you.
Sailing by the glaciers?
Why not warm the cockles with a bowl of carrot and pumpkin soup as you look out across the deck or tuck into some of the flavoursome rotisserie meats, before demolishing some deep fried calamari and French bouillabaisse?
Perhaps you're missing the taste of a takeout and something from the pizza oven is more up your street?
Make ours a double pepperoni!
If you're cruising a hotter destination and you're in need of a little cool-down, don't worry – the varied menu will have something to make you feel less humid and more refreshed.
A Nordic seafood salad, followed by a something from the ice cream trolley, perhaps?
For something even more low-key, the Waves Grill is perfect for popping into after working up an appetite in the pool.
With an open galley meaning you can watch the chefs as they work, there are no worries about the food being anything offer than prepared to perfection.
Barbequed meats, succulent seafood and salads are the order of the day and why not treat yourself to a hand-dipped, made-to-order milkshake for afters?
It'll definitely put Nesquik in its place.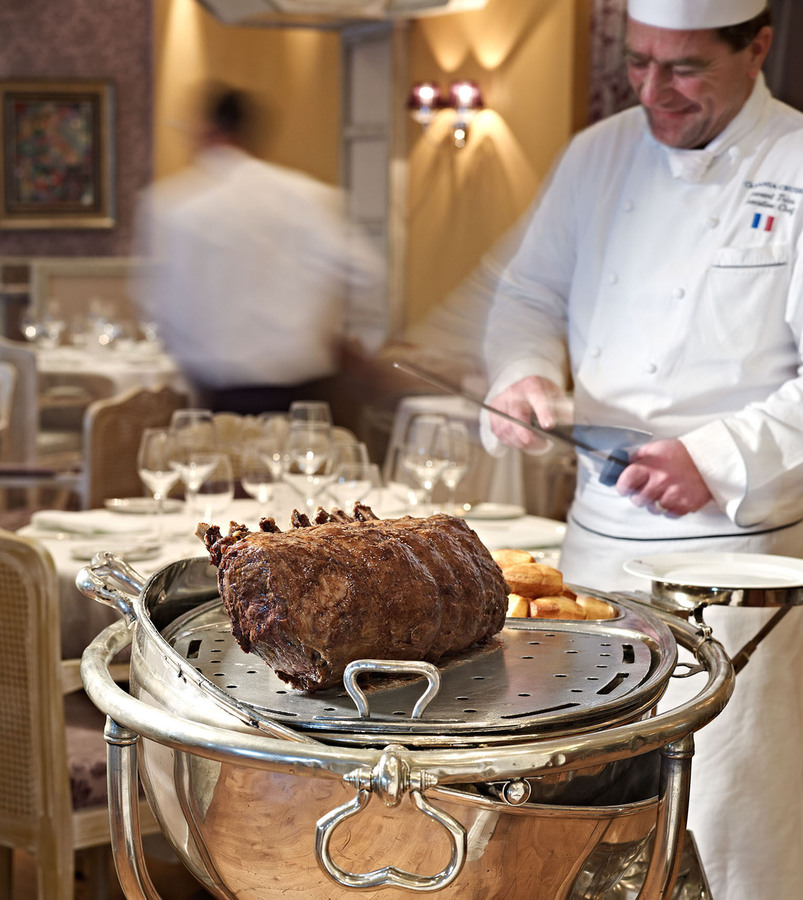 1. Seabourn
One of the Seabourn fleet's massive selling points is the quality outdoor space that the ships offer. From cocktail parties under the stars poolside, before retiring to The Club when the sea breeze makes the hairs on your arms stand up to Seabourn Square, where you can grab a coffee mid-morning before organising shore excursions with the wandering concierge; Seabourn has plenty of opportunities for you to spend time outside.
No one chooses to cruise to spend all day in their cabin or undercover after all!
The Colonnade Restaurant – onboard the Sojourn, Odyssey and Quest and the Veranda Café – onboard the Legend, Pride and Spirit – provide ample seating for anyone wishing to enjoy some fine food alfresco.
Whether you're in the mood for an informal meal with new friends or a romantic candlelit dinner for two, there's nothing quite like dining beneath the sun or the stars.
In fact, you might get so engrossed in your stargazing that you let your meal go cold – the ocean skies are incredible beautiful and not even the finest fillet steak can compete!
The Patio Grill onboard the Sojourn, Odyssey and Quest, with an ever-changing menu, also provides outside dining by the pool – perfect if you need a quick snack before cannonball-ing into the pool (a joke, people!
Of course Seabourn guests are far too refined and reserved for such shenanigans!).
Whereas the Sky Grill on Legend, Pride and Spirit is a perfect spot for lunch with a view, as it overlooks the ocean from the top deck of the ship. The Grills are also used for speciality dinners, such as steak and lobster, for the finest alfresco dining experience possible
Every morsel on Seabourn ships – from foie gras to French fries to fresh fruit smoothies to frozen cocktails – gets the same level of attention from the highly skilled chefs, servers and bartenders.
That level of attention to detail is carried through the impeccable outdoor seating spaces, with their perfect balance or sun and shade and the attentive service (Seabourn staff will spritz you with mineral water and offer frozen towels to cool you down, while cleaning your sunglasses for you!). Together it makes this fleet of small, luxury liners a dinner winner when it comes to dining in the open air.
So these are our tastiest offerings when it comes to alfresco dining using a table and chairs (or a picnic blanket, on Celebrity) but remember all of the opportunities to grab a light bite by the pool or to sup a mocktail (who are we kidding, a cocktail and make it a strong one!) on your lounger as you catch the rays.
Whether you're dining outside because you want to lap up every last bit of sun or you just want to watch the stunning sunset, these five cruise lines come out on top.
Don't forget to take a jacket if you're heading outdoors of an evening though as the sea breeze can get a little gusty – just ask any of the seasoned cruisers (they're the ones chowing down in their scarves)!