The Top Six Reasons P&O are THE Cruise Line for Beginners
April 4, 2016
You've dutifully oohed and aahed at the photos your cruise-crazy friends and relatives have posted on Facebook and now you've decided that it's high time you got in on a bit of the ocean wave action yourself!
Whether you go online to browse or give yourself arm ache carrying a massive pile of thick, glossy brochures home from the travel agents it's hard to know where to start when it comes to finding the perfect cruise for you.
All cruise liners have their own distinct personalities and cater for the specific tastes of their loyal customers.
Here at www.CRUISE.co.uk we reckon that when it comes to your very own maiden voyage, P&O is the way to go.
Here's why…
A Taste of Cruises to Come
You know the cruising clichés about claustrophobic cabins and exclusively elderly clienteles aren't true, but just knowing that once the anchor lifts there's no going back means that a niggling nervous newbie voice in your head may pop up and ask 'is cruising for me?'
If this is the case, P&O's many short cruises from Southampton to destinations that include Guernsey, Amsterdam, Bruges and Hamburg are a great way to dip your toe into the water – choose between two, four or seven night itineraries for a great introduction to cruising and all it has to offer.
Just be warned, it won't take long to feel right at home on the open seas and you may end up never wanting to leave!
Alternatively, if your first cruise is one of P&O's more adventurous Fly Cruises or a longer at-sea voyage, you can combine the novelty of cruising with the tried and tested option of staying in a hotel.
Find Your Cruising Style
Cruise liners vary a huge amount in their atmospheres and a big part of this relates to how formal the evening dress codes are.
Cunard is known for its formal glamour and Royal Caribbean is a favourite with people who are happier in casual dresses and jeans.
P&O is a great choice for experiencing the best of both worlds with its mixture of glitzy gala evenings and more dressed-down nights.
If you know that part of the fun for you is going to be hitting the shops to deck yourself out in formal finery then opt for Arcadia, Aurora or Oriana which have three dress codes: Evening Casual (smart denim is OK, but strictly no trainers or sportswear), Smart (jackets for men and dresses or tailored trousers for ladies) and Black Tie (an excuse to break out the bling!).
 If glamming up to the max is something you want to keep to a minimum, choose Azura, Britannia, Oceana or Ventura. These ships skip the smart code and typically have six Black Tie nights on a two-week cruise as opposed to ten on Arcadia, Aurora and Oriana.
This chance to try both sides of modern cruising with P&O is a great way for you to decide what works best for you, but even on the Black Tie nights there's still a friendly, fun atmosphere onboard, meaning there's no need to mind your Ps and Qs on P&O!
A Home From Home
From the excitement of embarkation to unlocking the door to your spacious, comfortable cabin to sitting down to a delicious five-course dinner to exploring new places, every minute of your cruise will be full of exciting and foreign experiences, but to avoid new experience overload, P&O, with its modern British ethos, provides a comforting anchor to good old Blighty!
With the biggest choice of Southampton departures in the business, P&O attracts a largely British clientele, giving you lots of opportunities to make new friends who may even live near you back on dry land!
Also, great British touches like afternoon tea, onboard prices in pounds, screenings of UK sporting events, traditional deck games, and tea and coffee-making facilities mean that, while all the boring bits of being at home seem like a distant dream, new cruisers won't feel too cast adrift from their familiar comforts.
Will I get Seasick?
All P&O's ships are over 850 feet long and more than 100 feet wide, meaning that even if it's blowing a gale outside, the ship stays stable.
So onboard seasickness is rare and you're very unlikely to feel green about the gills.
In fact, unless you can actually see the ocean, you'll often forget you're at sea!
However if you are unlucky enough to fall victim, the anti-seasickness injection Promathezine is available from the ship's doctor and all ships are well stocked with familiar over-the-counter medication.
Keeping in Touch
New cruisers often worry about what will happen if they're in the middle of the ocean when an emergency occurs at home.
P&O understands that its passengers need to be contactable both in urgent circumstances and the moments where you just fancy a catch up (and a gloat!) with those they've left behind.
Travelling on any ocean liner means that mobile phone signals and Wi-Fi can't be guaranteed at all times.
However, with an excellent onboard mobile service that converts to land-based whenever the ship docks and Wi-Fi available for your device or in the internet café, you can easily stay in touch (just remember to ignore those work emails!)
There's also the back-up option for your family to visit www.pocruises.co.uk/contactus to arrange a call to your ship's satellite phone if they need to contact you urgently.
Just remember to leave your ship's name and full itinerary with those who may need it and check international roaming costs with your mobile phone company before you leave.
That way you can get on with the serious business of immersing yourself in the exciting new world of cruising, safe in the knowledge you're not off the radar.
On-board Enjoyment
Unlike some of the more niche ships, when it comes to eating, drinking and having fun, there's something for absolutely everyone on a P&O cruise.
The Food Heroes concept means that incredible dining comes as standard, with Michelin-starred chefs Atul Kochhar and Marco Pierre White, TV wine buff Olly Smith, patissier Eric Lanlard and Saturday Kitchen's James Martin all onboard with P&O to sprinkle their culinary magic across the fleet's huge choice of dining options.
However particular your tastes may be, you'll always find just the food you fancy on your giant floating resort.
P&O's Club Dining plan is the traditional fixed time, mixed table way of dining onboard.
First time cruisers often feel nervous about the prospect of eating with strangers but on P&O ships, with their friendly atmosphere and less chance of language or cultural barriers you'll be making friends for life in no time.
However if you'd rather do your own thing, the Freedom Dining plan is a great option too, where you can decide when and where to eat at a moment's notice.
With world class entertainment including shows, music, talks and dance, luxury spas, fantastic pool complexes, great shopping, state of the art gyms and team sports, P&O will beat any resort you've ever been to for sheer choice of things to do, come rain or shine. And with its fleet divided into calm, sophisticated adult-only ships and family-friendly vessels with excellent childcare, these ships really do have something to offer for every first time cruiser.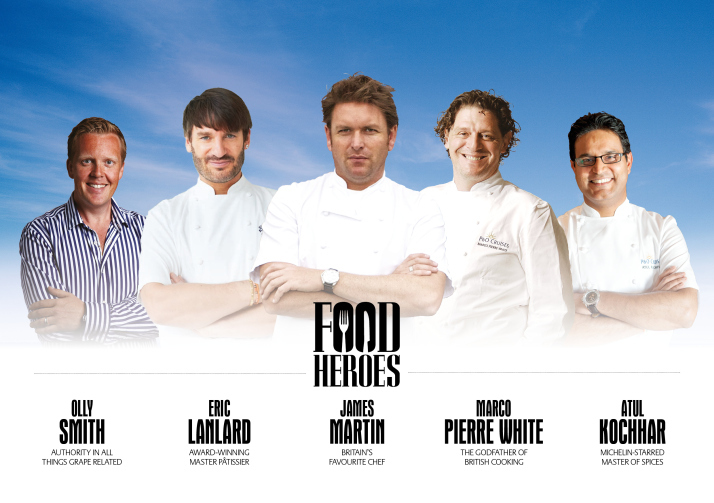 Now you know P&O is a no-brainer for your first cruise, all you have to do is decide where to go.
Whether it's Barbados, Barcelona, Bruges, the Baltics or our very own British Isles, P&O's itineraries stretch as far or near as you want them to – and the great deals available mean that even the furthest corners of the earth are within financial reach!
Interested in booking a P&O cruise in 2018? Take a look here! 
Do you agree that P&O is best for first time cruisers? Let us know in the comments below…
Comments
Other Articles you may be interested in