Royal Caribbean: Top Ten Things to do for Adults (while the kids are occupied!)
September 24, 2014
Royal Caribbean has a well-earned reputation as being a family friendly cruise line, but that doesn't mean that the adults on-board have to make compromises. While the kids are away, the adults can play, so make the most of having an around the clock entertainment programme for tots to teens and indulge in some grown up time with family, friends and, of course, that special someone. Here are some ideas if you're a bit rusty:
1 – Indulge Your Hobbies
Once children come along, our own hobbies can get pushed to the side to make way for the endless whirl of clubs and activities that starts with baby ballet and tots soccer and ends with pick ups from the gym and taxis to the disco. Whatever it is that you're into, you can rediscover your love of it on a Royal Caribbean megaship. Or, why not try something new? From ice skating to basketball to rock climbing to skydiving there are dozens of new experiences to be had on-board – why should the kids have all the fun?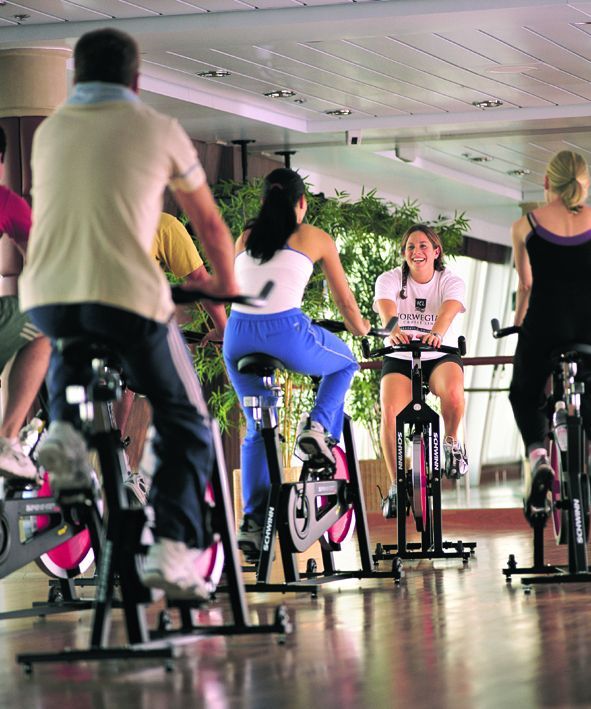 2 – Be a Bar Fly
Take advantage of Royal Caribbean's morning, noon and night kids' clubs and in-cabin babysitting service to enjoy a really good night (or afternoon!) out. When was the last time you lingered over a drink or ordered that second beer without having to worry about the kids getting bored in the pub play area? Share a bottle in Vintages Wine Bar, treat yourself to a glass of the good stuff in the champagne bar or just head to the good old English pub for a taste of home. Wherever you choose to drink, relax and savour the sweetest nectar of all – unhurried grown-up time.
3 – Table for Two
Kids enrolled in the Adventure Ocean Youth Programme (which, of course, yours will be) are able to dine together on certain nights, freeing you up for a romantic meal a deux. Why not push the boat out and choose a speciality restaurant for this special occasion?  Better still, go for something that the kids definitely wouldn't like, like fresh sushi in Izumi, the Japanese restaurant on Oasis class ships.
Or go for the food of love at Italian restaurant Portofino. If you want to treat yourself to some real fine dining, new for 2015 RCI ship Anthem of the Seas boasts several to tickle your tastebuds – from the magical flavour combinations of Wonderland to an Asian dining adventure in Silk. Whatever your haute cuisine of choice, it's sure to be a memorable meal.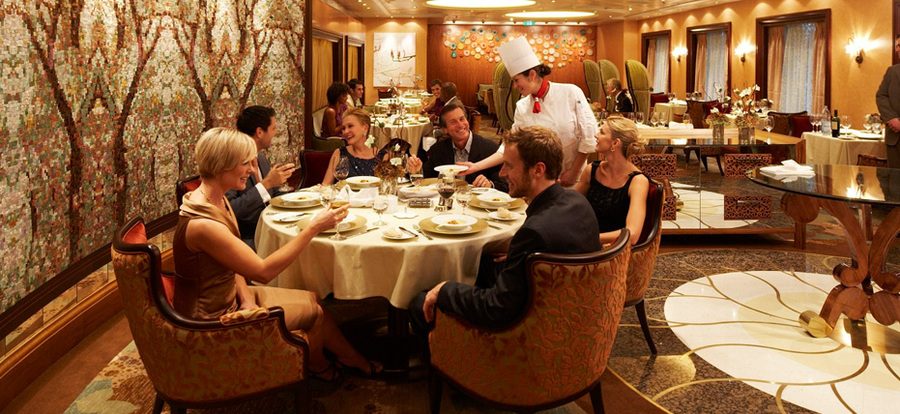 4 – Show Time
Love the West End? Dream of hitting Broadway? On a Royal Caribbean cruise you can have the next best thing, every night of the week – and without the painful ticket prices! The onboard shows are world class and you'll find a Broadway style theatre on every ship in the fleet. The productions vary, but to give you a hint of the razzle dazzle that awaits, you'll currently find Chicago wowing audiences on Allure of the Seas.
For something a little different, the AquaTheater on Oasis and Quantum class ships presents breathtaking high diving and synchronised swimming displays, set to lights and music. And don't worry about the kids – they'll be kept happy watching the Madagascar Aqua Show as part of the DreamWorks kids programme. Watch out for those pesky penguins onboard!
5 – Get Romantic
A holiday offers the perfect opportunity to relax and reconnect as a couple and a Royal Caribbean liner has everything you need to make getting romantic smooth sailing. As well as meals and nights out, why not try to sneak some quality time into your daytimes? First up, make sure the kids are occupied; no-one likes to see their parents smooching or whispering sweet nothings. Once the darlings are happily out of the way, the ship is your oyster.
You could sneak off to the Vitality day spa for a couples massage while the kids are having a splashtastic time at the H2O Zone waterpark. Or, if you're planning a cruise on Anthem of the Seas, what could be more romantic than a trip up high above the top deck in the North Star glass observatory capsule. The time it just right to watch the sun set over the ocean and the brownie points are sure to stack up.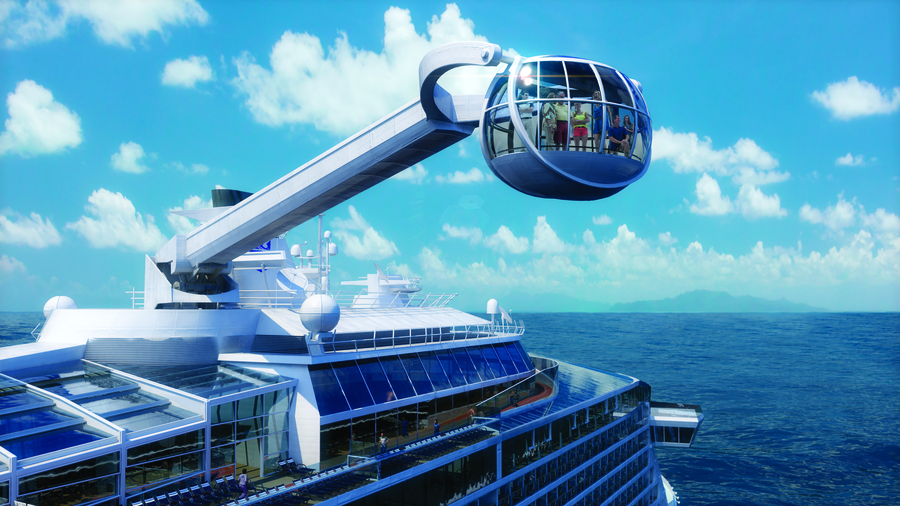 6 – A Dip With a View
Looking for a special spot to relax on Allure of the Seas? Look no further than the cantilevered whirlpools. Projecting out from the side of the ship with 180 degree wraparound glass windows and a glass roof, you can sink into the bubbles with incredible views over the ocean. 'You time' doesn't get much better!
7 – Get Steamy in the Spa
If you want to take your relaxation experience to the next level, or you want to rev up those energy levels (for whatever reason!) the Vitality Spa and Fitness Centre awaits for some Royal Rejuvenation. Enjoy a workout together in the state of the art gym, relax with a massage or make sure that you look your best with a facial, manicure or pedicure. Or why not go for the full works – you are on holiday, afterall!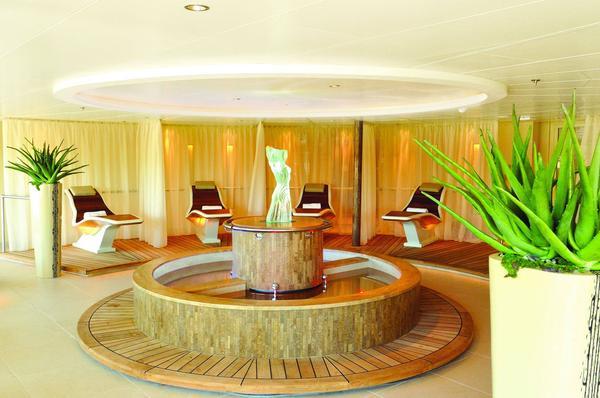 8 – Take a Trip to Vegas
There's no need to cruise to Vegas to experience all the excitement of the casino. The Casino Royale, which you'll find on all RCI ships, is the perfect place to bring out your inner James Bond or Miss Moneypenny. As well as being a sophisticated spot for fun-loving couples, the adults-only casino also makes a sociable night out for groups of friends and family. Red or black? You decide!
9 – Stroll the Promenade
On Oasis, Freedom and Voyager class ships, the Royal Promenade is a great place to while away an hour or two. Take a stroll down the glossy prom, browsing the boutiques and maybe stopping for a coffee or a glass of wine as you go. On Oasis and Allure you also have the upscale Central Park area complete with, of course, a green space in the form of an open-air tropical garden. Appease the kids first by taking them to the Coney Island/Brighton Pier style Boardwalk for a hotdog and a spin on the carousel, before enjoying some sophisticated grown-up time in Central Park.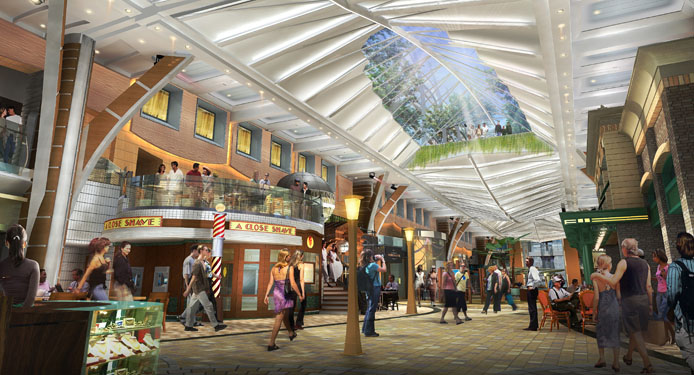 10 – Absolutely Nothing
If you've got children, a busy lifestyle, or both, you'll know that sometimes doing absolutely nothing at all is the pastime you most look forward to. A long lie in, lazing with a book, watching the world go by or leisurely getting ready for a night out can be the ultimate luxury. In that case, you can rest easy that you have everything you need in your cabin to do absolutely nothing in comfort!
There are no compromises to be made on Royal Caribbean ships, which are packed to the rafters with exciting attractions for all ages. Younger cruisers are kept occupied and happy with the Adventure Ocean programme and the fun features onboard – and, as all parents know, if the kids are happy, the adults are happy. Still, throw in a spa, cinema, casino, great shows, shops, sports facilities and loads loads more and the grown-ups are guaranteed to be even happier!
So, those are your first ideas to make the most out of your cruise with Royal if you're an adult with kids! What are your thoughts? Are you impressed with the balance of kids supervised activities and relaxing pasttimes for adults? Would the Royal Promenade be the first place you head or is a spa treatment exactly what you've been waiting for? Leave us your thoughts!
Comments
Other Articles you may be interested in