Quantum of the Seas features giant polar bear
September 25, 2014
Quantum of the Seas will set new standards for cruise liners when it is launched by Royal Caribbean, but one feature of the gigantic ship takes some explaining.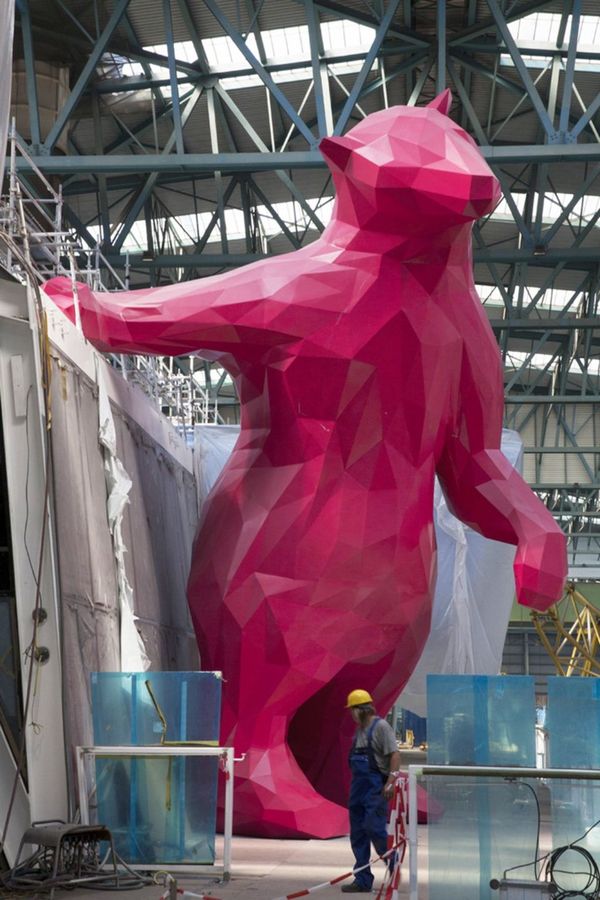 The liner features a 30-foot-tall magenta polar bear situated prominently on the exterior deck of the ship, which was revealed for the first time when the liner left the enclosed building hall at the Meyer Werft Shipyard in Papenburg, Germany, earlier in the month. 
Royal Caribbean explained that the bear is a sculpture created by Denver-based artist Lawrence Argent and it is the most eye-catching part of a 2,980-piece art collection themed 'What Makes Life Worth Living' that has been curated especially for the launch of the Quantum of the Seas. 
Lisa Lutoff-Perlo, executive vice-president of operations at Royal Caribbean International, stated that the cruise company always tries to support exciting new artworks and across its fleet the firm has one of the largest private art collections in the world. 
She said: "The pieces we have commissioned for Quantum of the Seas are stunning, engaging and in some cases completely unexpected and we are so thrilled that our guests have the opportunity to enjoy a variety of exceptionally brilliant works from some of the world's most talented artists such as Lawrence Argent." 
The giant polar bear structure is named 'From Afar' and is made up of 1,340 stainless steel triangles. It weighs around eight tonnes and Royal Caribbean stated that it is intended to "incite wonder among guests, encouraging them to admire the bear from afar, as well as interact with it on a more intimate, yet whimsical level". 
From Afar artist Argent said he is excited his work will have a very visible and significant presence on the Quantum of the Seas, allowing it to be exposed to thousands of people every week. 
Quantum of the Seas is due to sail out of New York harbour from Cape Liberty for her inaugural season before departing to her homeport of Shanghai (Baoshan), China. 
Have you travelled with Royal Caribbean?
Comments
Other Articles you may be interested in