Write a Cruise Review
and receive a FREE
Berlitz Guide to Cruising worth £17.99!
New Photos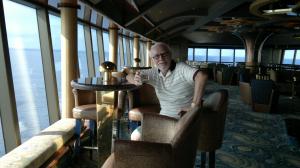 View more or submit your own cruise photos
159,222 Opinions
Northern highlights
Celebrity Cruises / Celebrity Eclipse /
NORWEGIAN FJORDS
By Dupree, Belfast on 9th Mar 2014
We sailed on the Celebrity Eclipse to Iceland and Norway. Beautiful ports and tours, although some were a bit scary with the hairpin bends!!! The Faroe Islands is a must see. A highlight for us was returning to the Blue Lagoon again but this time showing it...
Read More >>
206 Views
2 of 4 found this useful

South America and Antarctic Peninsula
Celebrity Cruises / Infinity /
SOUTH AMERICA
By Barber, Salisbury on 9th Mar 2014
We sailed from Buenos Aires on February 2nd on the Celebrity Infinity - boarding was seamless and our Concierge cabin was quite spacious and comfortable. The ship was launched in 2001 and externally is now 'showing her age' a little...
Read More >>
132 Views
5 of 5 found this useful

View more latest reviews