Direct Call
0800 408 6148
Escorted Rio Carnival & Machu Picchu with Brazilian Beaches
17 nights from £2959pp
5 Nights Escorted Tour of Lima, Cusco & Machu Picchu

Rio Carnival Escorted Tour with Christ Redeemer - Tickets Included!

FREE Scenic Train Ride to Machu Picchu from Sacred Valley

9 Nights Full Board Cruising on MSC Musica to Brazilian Beaches

Includes All Flights & International Transfers
12 February 2020
Cruise Highlights
MSC Cruises- MSC Musica - 17 Nights - 12 February 2020
WHAT'S INCLUDED:
- 5 Nights Escorted Tour of Lima, Cusco & Machu Picchu
- Rio Carnival Escorted Tour with Christ Redeemer - Tickets Included!
- FREE Scenic Train Ride to Machu Picchu From Sacred Valley
- 9 Nights Full Board Cruising on MSC Musica to Brazilian Beaches
- Includes all Flights & International Transfers
SHIP HIGHLIGHTS:
From relaxing pursuits and enriching activities to world-class entertainment and gourmet cuisine, when you step aboard, you are setting a course for a world of wonderful new discoveries.
Your Itinerary
Fly UK to Lima (overnight)

ARRIVE IN LIMA

Upon arrival in Lima meet our service representatives and be transferred to your 4* hotel.
Lima is a modern metropolis full of history, which has approximately ten million inhabitants and is going through an exciting process of cultural and economic changes.

LIMA - CUSCO

Lima City Tour and Larco Museum

Your tour will start in downtown Lima, where you will visit the Main Square, where Lima was first founded as "The City of Kings," in 1535. Next, you will go to Pueblo Libre district to visit the Larco Museum, founded by Rafael Larco Hoyle en 1926.
At the end of the tour you wil be transferred to the airport.

Fly to Cusco

At the Cusco airport, transfer you to your 4* hotel. You will be accompanied by a guide who will inform you about the attractions and services that the city has to offer.

CUSCO – URUBAMBA – AGUAS CALIENTES

Sacred Valley Excurison

You will start your tour at the Pisac market, where the town's main square is full of scores of stands that exhibit and sell products created by the residents of the area on a daily basis. You will subsequently head for the Ollantaytambo citadel, a picturesque Andean town which will maintains the urban planning of the Incas and is crowned by an impressive fortress with ascending terraces over the steep side of the mountain that holds it. At the end of the tour head to the Ollanta Train station and board the Expedition train to Aguas calientes. Upon arrival at Aguas calientes meet a local guide and be transferred to your hotel.

MACHUPICCHU – CUSCO

Machupicchu Excursion

Transfer by bus to Machu Picchu, a masterpiece of engineering and architecture that is believed served as a sanctuary and retreat for the Inca Pachacutec (1438 - 1572). After your escorted tour of the ancient terraces & learning the theories of how the citadel was used, take some free time to explore & meet the resident Alpacas.

In the afternoon head to train station and board the Expedition train back to Ollanta.

Transfer to your hotel in Cusco City.

CUSCO

Half day Tour of Cusco

Visit the "Temple of the Sun" and the Cathedral, the most imposing monument in Plaza de Armas square. Also the fortress of Sacsayhuaman, a magnificent building conceived and built by Inca ruler Pachacuti in the 15th century.

Transfer to the airport for your flight to Lima.

LIMA – BUENOS AIRES

After breakfast transfer to the airport for your onward flight to Buenos Aires

Upon arrival, transfer to your 4* central hotel for an overnight stay.

Embark MSC Musica

Transfer to the port and embark MSC Musica.

Punta Del Este, Uruguay

Punta del Este welcoming all of its visitors with perfect weather and beautiful surrounding plainscape. This Fashionable & Sophisticated port is a holiday destination for the rich and famous!

Ilhabela, Brazil

Made up of beautiful volcanic peaks, and steeped in rich pirate history, nearly all of Ilhabela is a Unesco heritage site, and for good reason.

Buzios, Brazil

Armação dos Búzios, or Buzios is famed in Brazil for its plethora of beach destinations, 23 beaches in total each with a different culture to offer and unique atmosphere of its own.

Rio de Janeiro, Brazil (including overnight in port)

Today you will be escorted to see Christ Redeemer and then the spectacle that is Rio Carnival! All transport and seating is arranged so that you can watch the World Class & Exuberantly decorated samba schools parade and compete to be 2020's Champions without stress!

Buenos Aires - Disembark

Disembark your ship and transfer to the airport for your flight to the UK.
Highlights
Buenos Aires, Argentina

It's easy to see how Buenos Aires created the tango, both of them being highly captivating and seductive. Visually similar to Europe (with a Latin American edge), the city is a sprawling metropolis filled with romantic restaurants, an unmatched nightlife and an aroma of passion that travels from its outer neighbourhoods through to its bustling centre.

Christ the Redeemer

Meet one of the most representative icons of Rio de Janeiro, Corcovado (Christ the Redeemer). Enjoy this spectacular view from the top to take stunning photographs from the top of Corcovado Mountain.

Cusco & Pisac Market

You will be picked up at the hotel and driven to the market of Pisac. It is a well-known market amongst inhabitants which has not lose its original charm in spite of the high numbers of visitors. There are two sections that can be visited: one local part where people of Pisac and surrounding villages sell and buy their fruits and vegetables bargaining prices. On the other hand, there is the part where are many handicraft stands with ceramics, alpaca clothes and jewelry. Bargaining is welcome here, too! In the afternoon, you continue to Ollantaytambo. The impressive fortress thrones protectively above the village, the sight is great. Ollantaytambo is one of the few scenes where the Spaniards lost a battle against the Incas. Dinner at a local restaurant. After the meal you will be transferred back to your hotel in Cusco. Breakfast and dinner included.

Machu Picchu

The 'lost city of the Incas' is not only one of the New Seven Wonders of the World, but also the biggest treasure of Peru's past. Undiscovered by the Spaniards and forgotten over centuries, it was 1911 that the US-American scientist Hiram Bingham came upon it accidentally. Until today, the ruins leave scientists with numerous questions and riddles on how it was built and for which purpose. Theories vary but one thing is for sure: Machu Picchu is one of the most impressive and exciting places in the world, sublime and majestic on top of the mountain and surrounded by impenetrable rainforest.

Punta Del Este, Uruguay

Spend the day enjoying this beautiful, chic beach resort, its marinas, museums and fascinating shops. Or venture into the equally picturesque countryside and visit a cattle station. Take a trip to Sea Wolves Island and view a colony of endangered sea lions and seals. Visit the 18th-century city of Maldonado with its many enchanting buildings, cathedral and lovely museum.

Rio de Janeiro, Brazil

The scale of Rio de Janeiro cannot be emphasised enough. From ecstatic views atop Corcovado peak and Christ the Redeemer down to its sea of endlessly unique markets, one struggles to find fault with this perfect captivation of Brazilian culture. Famed for its often-spiritual bond with music, this is the only place where samba rhythm can truly be experienced
Your Ship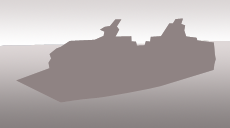 MSC Musica

MSC Musica is luxury cruising at its best. Designed to wow guests on board, you'll find plenty to do on board whether your in the sports bar enjoying a cold beverage or relaxing in the tranquil Aurea Spa! Be sure to check out the speciality restaurant for incredible A'la Carte Asian and Sushi cuisine. Staterooms and Suites are spacious yet elegant and most have private balconies.
Package fares from £pp
Inside

£2879pp

Outside

£3049pp

Balcony

£3179pp

Suite

£3549pp
Book with confidence. We are a member of ABTA which means you have the benefit of ABTA's assistance and Code of Conduct. All the package and Flight-Plus holidays we sell are covered by a scheme protecting your money if the supplier fails. Other services such as shore excursions on their own may not be protected and you should ask us what protection is available.
Many of the flights and flight-inclusive holidays on this website are financially protected by the ATOL scheme. But ATOL protection does not apply to all holiday and travel services listed on this website. Please ask us to confirm what protection may apply to your booking. If you do not receive an ATOL Certificate then the booking will not be ATOL protected. If you do receive an ATOL Certificate but all the parts of your trip are not listed on it, those parts will not be ATOL protected. Please see our booking conditions for information, or for more information about financial protection and the ATOL Certificate go to: www.atol.org.uk/ATOLCertificate