Direct Call
0800 408 6148
7 World Wonders with the Taj Mahal, The Great Wall & Angkor Wat
32 nights from £5549pp
See Our 7 Wonders of the World on this Exclusive Escorted Tour

Explore the best of China with Chengdu, Xian & Beijing Tours

17 Days Escorted Touring with Local Experts

11 Incredible UNESCO Heritage Sites
04 February 2020
Cruise Highlights
Celebrity Cruises- Celebrity Millennium - 32 Nights - 04 February 2020
WHAT'S INCLUDED:
- Escorted Tours to the Great Wall of China, Angkor Wat & Terracotta Warriors
- Visit the Original Panda Research Centre in Chengu, China
- See the Taj Mahal from a hidden away spot away from crowds
- Free time in Overnights in Hong Kong & Singapore
SHIP HIGHLIGHTS:
- Newly rennovated in February 2019
- Mid-sized ship with 2,198 guests
- Renowned for service and good food with 5* service
Your Itinerary
Fly UK to Siem Reap (overnight)

On arrival in Siem Reap, you will be met by your guide at the airport and transferred to your hotel.

Siem Reap, Cambodia

After breakfast you will begin touring of one of the worlds largest and best preserved UNESCO Heritage sites. Beginning at the Southern Gate, flanked by a row of 54 stone figures on each side, afterwards, visit Baphoun, Phimeanakas and the Elephant Terrace, used as a giant viewing stand for public ceremonies, and the Terrace of the Leper King. After lunch, visit Ta Prohm before watching the sunset over Angkor Wat to end the day.

Siem Reap, Cambodia

This morning, you will visit Tonle Sap Lake and embark on a cruise to Kompong Phluk, an isolated Khmer community of three vilages built on wooden stilts, rising from six to eight meters high above the waters. During your visit your boat will take you through macaque mangrove forests. Enjoy a Khmer lunch followed by activities in a local village with a stop to a Buddist temple on the way back to Siem Reap.

Siem Reap to Beijing

Your guide will meet you at your hotel and transfer you to the airport for your flight to Beijing.

Beijing, China

Walk around Tiananmen Square, one of the most well-known historical sites in China. Continue on to the Forbidden City, once the seat of Chinese political power for almost 500 years and once home to China's last ruling dynasties. Get behind the wheels of an authentic Chinese rickshaw as you wind your way through the hutong alleyways. Try a street snack before heading back to your hotel.

Beijing, China

Today visit Juyongguan section of Great Wall. Visit the Jade Factory. Later, wander through the exquisite Summer Palace. After the tour, enjoy an acrobatic show before being transferred back to your hotel.

Beijing to Xian

Today, you will travel by Bullet train to Xian, China's ancient capital. On arrival, you will be transferred to your hotel where the rest of the day is free at your own leisure.

Xian, China

Come face to face with the Terracotta Warriors, built to protect Emperor Qin in the afterlife. Afterwards, visit the Xian Arts and Ceramics Exhibition Centre before proceeding to the Ancient City Walls, where you will have time to take a leisurely stroll.

Xian to Chengdu

Check-out of your hotel and at a time previously arranged by your guide, you will be transferred to the station to take the Bullet Train to Chengdu. On arrival into Chengdu, you will be met and transferred to your hotel for a one-night stay.

Chengdu Panda Reserve

This morning visit the famous Panda Reserve. It includes a protected wilderness and breeding area, as well as a museum and research facility. After lunch, enjoy a half day tour to Jinli street and People's Park, and then enjoy a Sichuan Dinner.

Chengdu to Hong Kong - Embark Celebrity Millennium

Your guide will meet you at your hotel and transfer you to the port to embark Celebrity Millennium.

Hong Kong, China (Overnight)

Today you can explore Hong Kong at your own pace from the Millennium.

Ha Long Bay, Vietnam

Setting sail and cruise to Dao Tung Lam Bay on a traditional Vietnamese Junk Boat. Relax onboard as the junk boat cruises through the UNESCO Protected limestone cliff faces, known locally as the bay of dragons. Seafood lunch provided on board before returning back to ship early evening.

Ha Long Bay, Vietnam

Still time for some last minute exploration from the ship before cruise departure early afternoon.

Hue/Danang (Chan May), Vietnam

Arrive at the port of Chan May, a short distance from the cities of Hue and Danang.

Where Hue still proudly demonstrates the beauties of Imperialistic architecture, Danang offers a more modern twist on the Vietnamese city formula, with spectacular bridges and paradise resorts along its gorgeous beachline.

Ho Chi Minh (Phu My), Vietnam

Vietnam's biggest city woos visitors with its French colonial backdrop and wide-set boulevards, allowing plenty of room for the often-chaotic lifestyle of Ho Chi Minh City.

Those with an appetite should sample the distinct cuisine of the Ben Thanh Market.

Bangkok, Thailand (overnight)

This morning you will be met off ship for your tour to visit the temples and palaces of central Bangkok; visiting Wat Traimit - the worlds largest solid gold statue, the Grand Palace & finally Phra Kaew - a buddist temple home to the revered Emerald Buddha.

Today enjoy some time in port before cruise departure at 4pm.

Singapore

Particularly famed for its shopping scene, the city offers catwalk fashion and just-released technologies at affordable prices within its gloriously atmospheric malls.

Disembark - Singapore to Delhi

Disembark your ship and transfer to the airport for your flight to Delhi. Upon arrival in Delhi you will be met and transfered to your 4* hotel for check in.

Delhi
Following breakfast at the hotel you will visit New & Old Delhi. New Delhi was designed and built by the British in the 1920's with wide boulevards, impressive Government buildings & parks; sat next to Old Delhi, an anicent walled city with its heritage and monuments with Qutub Minar & Humayuns tomb, both impressive examples of Mughal architecture. The clear highlight however of Old Delhi is the impressive and opulent Red Fort.

Delhi – Agra
Breakfast followed by check-out at the hotel and transfer over to Agra. Agra was the capital of the Mughal Empire becoming a leading centre of art, science and commerce. No touring today, instead free time when you arrive before an evening dinner at a local restaurant.

Agra
Early Morning Sunrise Visit to Taj Mahal, before returning to the hotel for breakfast. The rest of the day will be spent with visits to Agra Fort with a village tour finishing with High Tea in a hidden away spot overlooking the Taj Mahal.


Agra – Jaipur
Breakfast followed by check-out at the hotel and start of your drive to Jaipur.


Jaipur

Breakfast at hotel followed by a Heritage Walk of Old Jaipur taking in spectacular Amer Fort a marvellous example of Rajput architecture with its terraces and ramparts reflected in the Maota Lake below. In the afternoon visit the Palace of Winds, this palace is shaped like a pyramid and is a five-storied building, with number of small windows and screens, with arched roofs. This evening you will enjoy a dinner at Dera Amer where guests can feed elephants followed by a welcome drink and dinner at a private camp surrounded by the Aravali hills and wilderness.

Jaipur - Delhi

Following breakfast you will be transfered back to Delhi for your final night in India.

Delhi

Following breakfast you will be transfered to Delhi International for your onward flight back to London or Regional Airport.
Highlights
Bangkok, Thailand

A melting pot of futuristic and traditional architecture, Bangkok fearlessly places climate-controlled megamalls and neon-lit streets next to 200-year-old village homes and gold-spired Buddhist temples. It's a contradictory amalgamation of the capital's past, present and future, and we wouldn't have it any other way. Few cities offer such a satisfying sense of exploration, as you stumble across hidden markets and chat to the fun locals.

Beijing, China

A city that pays perfect homage to its grand history, with its Forbidden City palace, Great Wall and sublime temples, Beijing is the perfect place to bask in Chinese culture. Between each piece of architectural and imperial mastery, you will find yourself amidst an endless sea of markets, each filled with the trinkets, food and people of this great capital.

Hanoi

The capital of Vietnam is a delight to explore, its Old Quarter, 600 temples and colonial architecture providing the perfect nod to the city's rich history. Explore rare culinary flavours across the diverse palate of restaurants, the streets between them brimming with scooters and lively street excitements.

Ho Chi Minh City

Once dearly called Diamond of the Far-east with the luxury level overriding that of Hong Kong or Bangkok, Ho Chi Minh City is now the most populated city in Vietnam. Modern office skyscrapers, amidst Chinese style pagodas and food stalls along the street, create a dynamic urban area in very special sense. It is not oddly tidy like in Singapore, nor is urban slumps omnipresent like in India. Ho Chi Minh City's architecture and lifestyle is the reconciliation between American and Chinese influence, with many dots of modernity yet without losing Vietnamese traits and as much historical as it is modern.

Hong Kong, China

Home to one of the world's most iconic harbours and consisting of over 70% mountains and country parks, Hong Kong is a visual masterpiece. Immerse yourself in its culture and unique spirit as you travel from skyscrapers to holy Sikh temples, browsing endless markets along the way. Worshipers of the God of Cookery, Hong Kong's culinary reputation is that of legend; enjoy diverse meals, from new cutting edge sensations to classics such as wonton noodles.

Hue/Danang, Chan May

The Nguyen Dynasty founded this former capital in the 17th century on the banks of the Perfume River. Today, it is a massive open-air museum of temples, pagodas and palaces. Where Hue still proudly demonstrates the beauties of Imperialistic architecture, Danang offers a more modern twist on the Vietnamese city formula, with spectacular bridges and paradise resorts along its gorgeous beachline.

Jaipur

The pink city! Overflowing with colour, Jaipur once housed India's royal family. The city was painted pink by order of Sawai Ram Singh to welcome Edward VII (the Prince of Wales) in 1876.
Jaipur has many traditional shops selling hand-crafted goods. Skilled artisans, artists and craftsmen were attracted here and settled in the city.

Siem Reap

Located in Northwestern Cambodia Siem Reap is known as the gateway to the Angkor. Home to the world famous heritage site of the temples of Angkor and known as the epicentre of the new Cambodia. Siem Reap is filled with charm with its old French shop-houses a result of French explorers who rediscovered Angkor in the 19th century. With new developments Siem Reap is transforming into a resounding place for visitors. Despite international influences, Siem Reap and its people have conserved much of the town's image, culture and traditions.

Singapore

The 'City in a Garden' is full of surprises for those that traverse between its endless skyscrapers. Ancient rainforests brimming with monkeys and drongos, botanical gardens, peaceful farms and rustic paradises are hidden away behind Singapore's seemingly normal exterior. Chinese, Malaysian and Indian heritage have defined Singapore's Nonya cuisine as a unique experience of tantalising flavours, and should be appreciated by all travellers who visit this futuristic powerhouse city. Between culinary hot spots enjoy the ambitious shopping scene, ranging from consumer-filled temple boutiques to futuristic sci-fi-esque malls housing cutting edge gadgets at affordable prices. Particularly famed for its shopping scene, the city offers catwalk fashion and just-released technologies at affordable prices within its gloriously atmospheric malls.

Tiananmen Sq, Forbidden City and Summer Palace

After your hotel pickup, this tour starts at Tian'anmen Square with its plentitude of monuments testifying to the communist, Mao's influence on China's modern history. From there you will proceed to the Forbidden City, the largest and best-preserved ancient imperial palaces with over 500 years of history. Visit the Forbidden City along the central axis from south to north for 2 hours. On the way to Temple of Heaven, you will have a chance to visit a centre for Chinese traditional medicine culture. After having a short rest, we'll visit the Temple of Heaven - the largest ancient imperial worship architecture group in the world where the ancient Emperors prayed for peace and harvest. The visit to the Temple of Heaven will take about 1 hour. After a Western and Chinese buffet lunch (40minutes) in Bangfuchun Restaurant, enjoy a short visit to a pearl free market - not to be missed. We will then drive (30minutes) to the Summer Palace, the largest and most beautiful Chinese imperial garden. The visit takes about 1 hour and 20 minutes before you will be transferred back to your hotel.



Xian

Xi'an is the first of China's four great ancient temples and has played a very important part in China's history. Xi'an is characterised by and proud of its ancient heritage, being home to the Terracotta Warriors and the starting point of the silk road.
Your Ship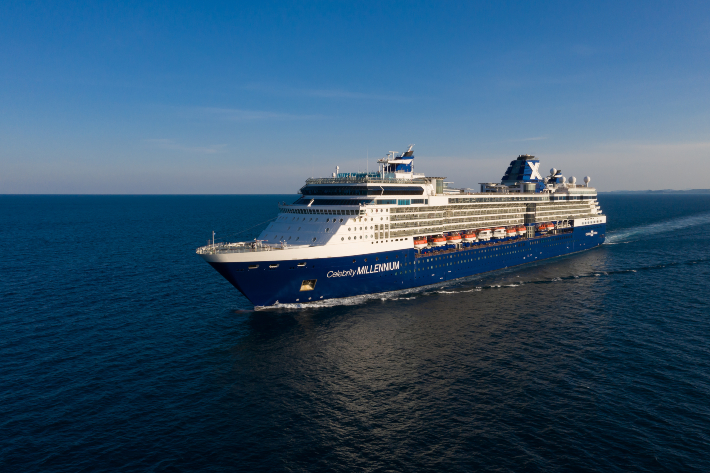 Celebrity Millennium

A favorite of many vacationers, Celebrity Millennium will continue to cruise to Alaska, the Caribbean and the Panama Canal throughout 2011. Then, in April and May of 2012, she'll undergo a revitalization and emerge much more luxurious. By the time she sails to Asia, she'll be renewed with spa-inspired AquaClass® staterooms, the AquaClass signature restaurant, Blu, and the addition of verandas to her chic Celebrity Suites. We can't think of a better way to experience the exotic beauty of Asia and the South Pacific.
Package fares from £pp
Inside

£5499pp

Outside

£5999pp

Balcony

£7499pp

Aqua

£7759pp
Book with confidence. We are a member of ABTA which means you have the benefit of ABTA's assistance and Code of Conduct. All the package and Flight-Plus holidays we sell are covered by a scheme protecting your money if the supplier fails. Other services such as shore excursions on their own may not be protected and you should ask us what protection is available.
Many of the flights and flight-inclusive holidays on this website are financially protected by the ATOL scheme. But ATOL protection does not apply to all holiday and travel services listed on this website. Please ask us to confirm what protection may apply to your booking. If you do not receive an ATOL Certificate then the booking will not be ATOL protected. If you do receive an ATOL Certificate but all the parts of your trip are not listed on it, those parts will not be ATOL protected. Please see our booking conditions for information, or for more information about financial protection and the ATOL Certificate go to: www.atol.org.uk/ATOLCertificate