Best Seller - No Fly Ultimate Norway

Up to $1000 Per Cabin Onboard Spend from Norwegian Cruise Line*
Book with www.CRUISE.co.uk For $110 Per Cabin Bonus Onboard Spend
£50 Per Cabin Discount Included from www.CRUISE.co.uk
Premium All Inclusive Drinks & All Tips Included
14 June 2019 - 12 nights - Norwegian Cruise Line - Norwegian Spirit
Southampton, Stavanger, Trondheim, Hammerfest, Honningsvaag, Geiranger, Flam, Haugesund, Southampton
Was £1849pp From £1824pp
Cruise Code - S141894
All Inclusive Rome to Barcelona with Greek Isles & Croatia

Up to $1000 Per Cabin Onboard Spend from Norwegian Cruise Line*
Book with www.CRUISE.co.uk For $100 Per Cabin Bonus Onboard Spend
£50 Per Cabin Discount Included from www.CRUISE.co.uk
Family of 4 from £6459
Premium All Inclusive Drinks & All Tips Included
28 Jul 2019 - 11 Nights - Norwegian Cruise Line - Norwegian Pearl
Rome (Civitavecchia), Dubrovnik, Kotor (Montenegro), Corfu, Santorini, Mykonos, Argostoli, Sicily (Messina), Palma de Mallorca, Barcelona
Was £2195pp From £2169pp
Cruise Code - S143233
All Inclusive Baltic Cities From Copenhagen With Tips Included

Up to $1000 Per Cabin Onboard Spend from Norwegian Cruise Line*
Book with www.CRUISE.co.uk For $100 Per Cabin Bonus Onboard Spend
£50 Per Cabin Discount Included from www.CRUISE.co.uk
Family of 4 from £5219
Premium All Inclusive Drinks & All Tips Included
18 August 2019 - 9 nights - Norwegian Cruise Line - Norwegian Getaway
Copenhagen, Berlin (Warnemunde), Gdynia, Tallinn (Estonia), St Petersburg, Copenhagen
Was £1599pp From £1574pp
Cruise Code - S135017
Greece, Naples & Malta with Complimentary Drinks & Tips

Up to $1000 Per Cabin Onboard Spend from Norwegian Cruise Line*
Book with www.CRUISE.co.uk For $100 Per Cabin Bonus Onboard Spend
£50 Per Cabin Discount Included from www.CRUISE.co.uk
Premium All Inclusive Drinks & All Tips Included
01 September 2019 - 11 nights - Norwegian Cruise Line - Norwegian Jade
Rome (Civitavecchia), Santorini, Athens (Piraeus), Mykonos, Rhodes, Crete (Chania), Sicily (Messina), Valletta (Malta), Naples, Florence/Pisa (Livorno), Rome (Civitavecchia)
Was £2110pp From £2085pp
Cruise Code - S135029
All Inclusive Miami Beaches & A Private Island

Up to $1000 Per Cabin Onboard Spend from Norwegian Cruise Line*
Book with www.CRUISE.co.uk For $60 Per Cabin Bonus Onboard Spend
£50 Per Cabin Discount Included from www.CRUISE.co.uk
Premium All Inclusive Drinks & All Tips Included
30 November 2019 - 8 nights - Norwegian Cruise Line - Norwegian Escape
Miami, Honduras (Roatan Island), Belize (Harvest Caye), Costa Maya, Cozumel, Miami
Was £1825pp From £1799pp
Cruise Code - S134920
Immersive Caribbean Islands with Up to $1000 Spending Money

Up to $1000 Per Cabin Onboard Spend from Norwegian Cruise Line*
Book with www.CRUISE.co.uk For $110 Per Cabin Bonus Onboard Spend
£50 Per Cabin Discount Included from www.CRUISE.co.uk
Premium All Inclusive Drinks & All Tips Included
25 October 2019 - 14 nights - Norwegian Cruise Line - Norwegian Gem
Boston, St Thomas, St Maarten (Philipsburg), Antigua (St John's), Barbados (Bridgetown), St Lucia (Castries), St Kitts (Basseterre), Road Town (Tortola), Boston
Was £2617pp From £2592pp
Cruise Code - S135009
Florence, Rome & Naples with Drinks, Wi-Fi & Tips

Up to $1000 Per Cabin Onboard Spend from Norwegian Cruise Line*
Book with www.CRUISE.co.uk For $70 Per Cabin Bonus Onboard Spend
£50 Per Cabin Discount Included from www.CRUISE.co.uk
Premium All Inclusive Drinks & All Tips Included
30 October 2019 - 7 nights - Norwegian Cruise Line - Norwegian Epic - Also Available May to October 2019*
Rome (Civitavecchia), Florence/Pisa (Livorno), Cannes, Palma de Mallorca, Barcelona, Naples, Rome (Civitavecchia)
Was £1199pp From £1174pp
Cruise Code - S134886
Greek Isles & Venice with All Tips Included

Up to $1000 Per Cabin Onboard Spend from Norwegian Cruise Line*
Book with www.CRUISE.co.uk For $70 Per Cabin Bonus Onboard Spend
£50 Per Cabin Discount Included from www.CRUISE.co.uk
Premium All Inclusive Drinks & All Tips Included
3 November 2019 - 7 Nights - Norwegian Cruise Line - Norwegian Star
Venice, Kotor (Montenegro), Corfu, Santorini, Mykonos, Argostoli, Dubrovnik
Was £1251pp From £1225pp
Cruise Code - S135075
Rome to Dubai with Abu Dhabi & Cyprus - Including Drinks, Spend, Entertainment & More

Up to $1000 Per Cabin Onboard Spend from Norwegian Cruise Line*
Book with www.CRUISE.co.uk For $170 Per Cabin Bonus Onboard Spend
£50 Per Cabin Discount Included from www.CRUISE.co.uk
Premium All Inclusive Drinks & All Tips Included
7 November 2019 - 21 Nights - Norwegian Cruise Line - Norwegian Jade
Rome (Civitavecchia), Athens (Piraeus), Kusadasi, Rhodes, Limassol (Cyprus), Haifai, Port Said, Suez Canal, Safaga, Aqaba (Jordan), Salalah (Oman), Fujairah, Abu Dhabi, Dubai

Was £3414pp From £3389pp
Cruise Code - S149479
Speak to an Expert now on 0330 303 8484
www.CRUISE.co.uk is fully bonded by the Civil Aviation Authority under Air Travel Organisers License (ATOL) number 3385 to protect your holiday payments and repatriation. All fares are per person based on two adults sharing. Prices are correct at the time of publication, we do our best to supply accurate pricing. All fares are subject to availability, capacity controlled and www.CRUISE.co.uk reserve the right to withdraw any deal at any time without prior notice. *All fares are based on the lowest grade of each cabin type and upgrades are subject to availability. All Flights are based on London Airports, maybe indirect and are subject to availability. Regional Flights are available but may cost extra. *Up to $1000 onboard spend from Norwegian Cruise Line is per cabin, based on the highest grade of suite. Insides receive $50, Outsides $150, Balcony & Mini Suite $200. Suites $500 – selected Haven & Legend Suites $1000 per cabin. Holiday insurance is required. *£50 per booking discount has already been deducted from displayed prices & onboard spend from www.CRUISE.co.uk is not combinable with any further offer or discount. *£1pp Low Deposits apply to 2019/20 cruises from July 2019 onwards & you are liable for the full deposit amount. The date your full deposit is due will be specified by your cruise consultant at the time of booking. Please see www.CRUISE.co.uk for full terms and conditions. Prices checked 28.12.18. Must Book By 16th January 2019. E&OE.
Company Reg No. 01827977. VAT Reg No. 916 2376 24
Registered Office: Grosvenor House, Prospect Hill, Redditch, B97 4DL
Need Help?
Do you have a question about cruising? Ask your question here and visitors to the site, who have real cruise experience, will share their answers with you.
Post your own questions
Read answers from real cruisers
Help other cruisers with their questions
Be part of a real cruise community
Expand your cruise knowledge
If you'd like to know more about prices or a cruise that you've already booked, speak to a specialist cruise consultant, call us on 0800 408 6228.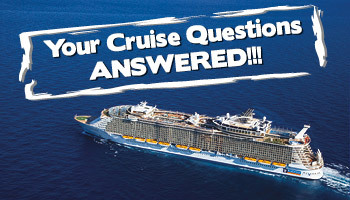 Would You Like To Ask A Question?