Royal Caribbean's award winning Adventure Ocean program caters for children of all ages from babies and tots all the way to teens- there is just so much for little ones to get stuck into.
Day 1 Kids Daily Planner (Ages 3 - 11)
Day 2 Kids Daily Planner (Ages 3 - 11)
Teens Daily Planner (Ages 12-14)
Teen Daily Planner (Ages 15-17)
Royal Caribbean split the kids in 6 different age groups.
Royal Babies (6-18 Months)
Royal Tots (18-36 Months)
For Royal Tots and Babies Royal Caribbean run daily activities and playgroup sessions including music, toys and learning activities developed exclusively by Fisher-Price. Note, a parent or caregiver must accompany children.
Read More Details for Royal Babies
Read More Details for Royal Tots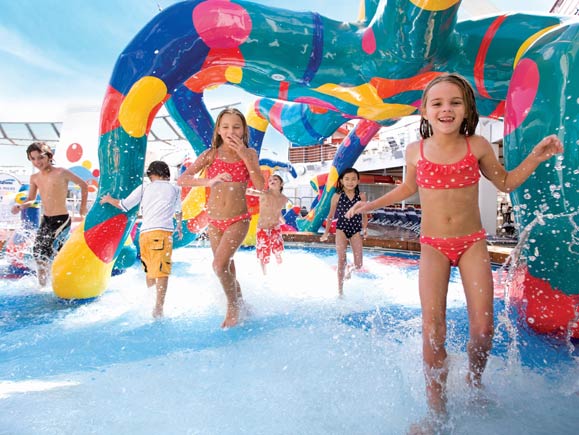 Aquanauts (3-5 Years)-
For children aged 3-5 years, there are activities such as story time, face painting, theatre and lots more.
Read More Details for Aquanauts
Explorers (6-8 Years)
- Children can do everything from conduct science experiments to learn how to make kites and sweets.
Read More Details for Explorers
Voyagers (9-11 Years)-
For 9 to 11 year olds there's a range of cool and educational activities including science experiments, backstage tours and new sports like Gagaball.
Read More Details for Voyagers
Teens (12-17 Years)
- There's tons of cool stuff for teens including games and sports, parties and competitions. You'll find laid-back places on board where you can hang out with friends plus, some ships even have teen-only clubs where you can dance, listen to music or just chill out. Come the evening, there are great family discos.
Read More Details for Teens
Babysitting
If you want to enjoy that quite meal or some time alone Royal Caribbean Cruises offer a baby-sitting service. Babysitting is offered both in a group setting and individually in your stateroom. In-stateroom babysitting must be booked through the Guest Relations Desk (Purser's Desk) at least 24 hours in advance.
It cannot be reserved prior to the cruise holiday and there is no guarantee that babysitters will be available. The service is offered between 8 a.m. and 2 a.m. when staff are available. Sitters will be assigned on a first-come, first-served basis
Children MUST be at least 1 year old.
Approximate Rate: USD 19 per hour for up to three children within the same family.
Times and prices are subject to change without notice. Payment must be made in cash.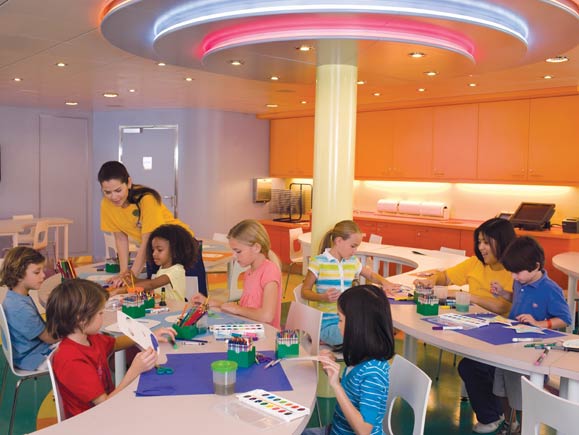 Have you ever used the kids facilities on Royal Caribbean? What did you think of their kids program?