Hello again everyone!
I've got a little more to catch you all up on so I'll start with our full day on the ship (as you already know, wifi on-board La Marguerite wasn't strong enough for me to update you daily so I'll backtrack on what I've missed out since then!) We had a whole day relaxing on the ship as we were sailing towards the Vietnamese border and even though the ship is understandably small there's still enough to fill your time with.
The sun deck is where most people spent their time as the weather was stunning (so it was also the day everybody got their sunburn) and the pool is the perfect place to cool off with the bar and the sun loungers, too.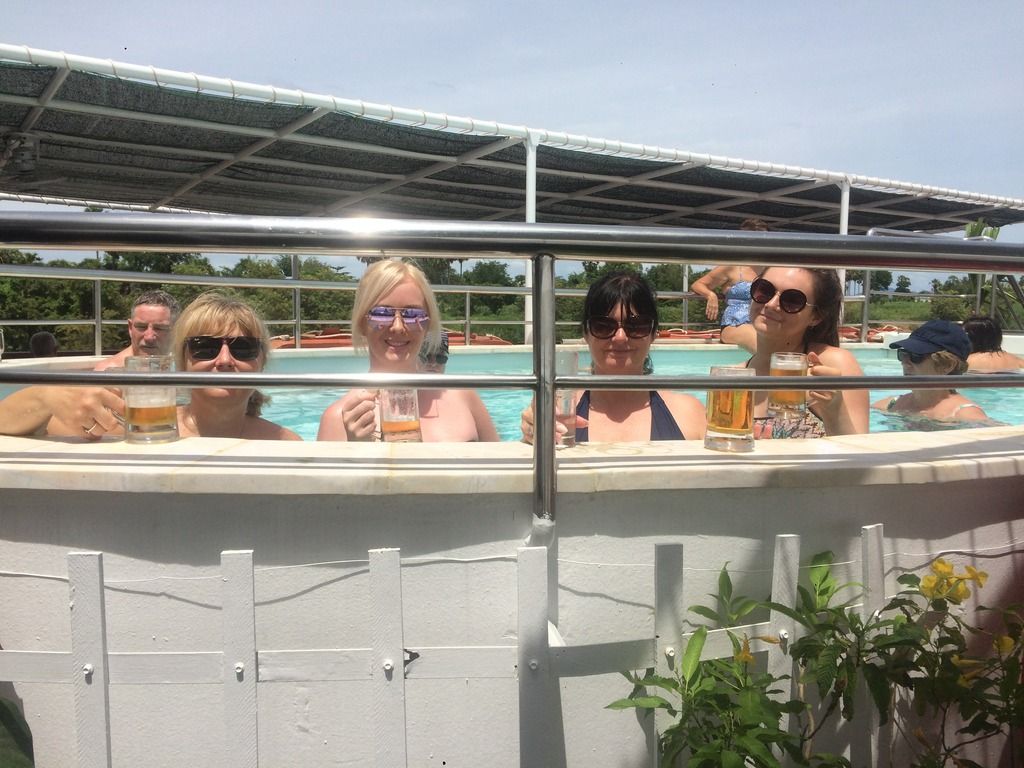 There's even a gym next door if you're feeling like burning off the calories from all the bread and wine from the week!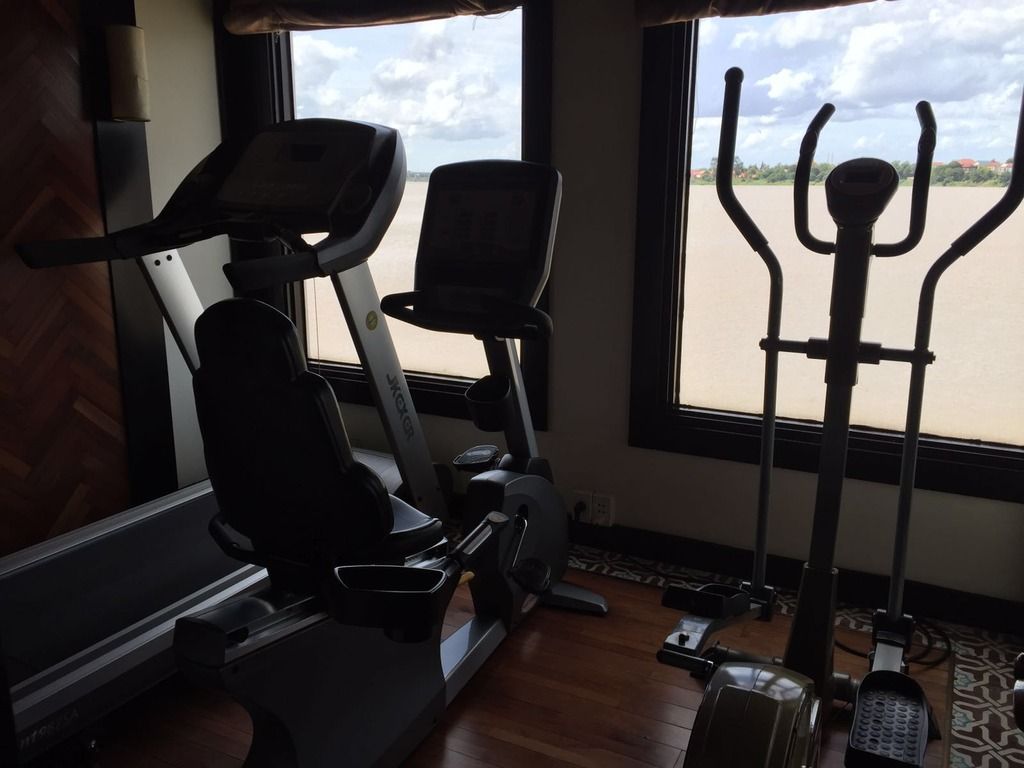 The Saigon Lounge is the perfect place for relaxation as you've got clear views of the river, tea and coffee all day (including any other drink you fancy from the bar) and this is sometimes the best spot for wifi so a lot of passengers will use this space and time to skype home and update their family and friends.
There's a spa with the most amazing massages and a massive selection of dvd's to take back to your room- also the library is the quietest spot with computers, wifi and books. A day of relaxation was much needed!
The following day feeling refreshed, we explored Tan Chau, a small river town that's virtually untouched by tourism (so it isn't just tourist-central places that you visit with typical tourist prices) so we got to experience the town like a real local. My highlight was travelling to the silk factory by rickshaw! It's basically like a three wheeled bicycle with a seat behind to fit just one passenger- this was a bit better than the tuk tuk's I found because it's more open and we were even hi-fiving the kids who were passing by. Once again the breeze was a blessing and it was a brilliant way to experience and see the first sights of Vietnam. It's certainly a change from the towns of Cambodia and there's a hell of a lot more motorbikes here too.
We got on another boat to an evergreen island where there's stilt houses that lean against eachother haphazardly- as I was looking over to it it reminded me of something out of a storybook and definitely something you wouldn't see at home.
We gave some local children some gifts we had brought them at the shop and it is almost heartbreaking to see how excited they all got as they lined up after eachother to wait to each be given their pen, pencil and notepad each! It is so easy to compare it to our lives at home where the latest technology is the must-have for everyone- it couldn't be more opposite over here.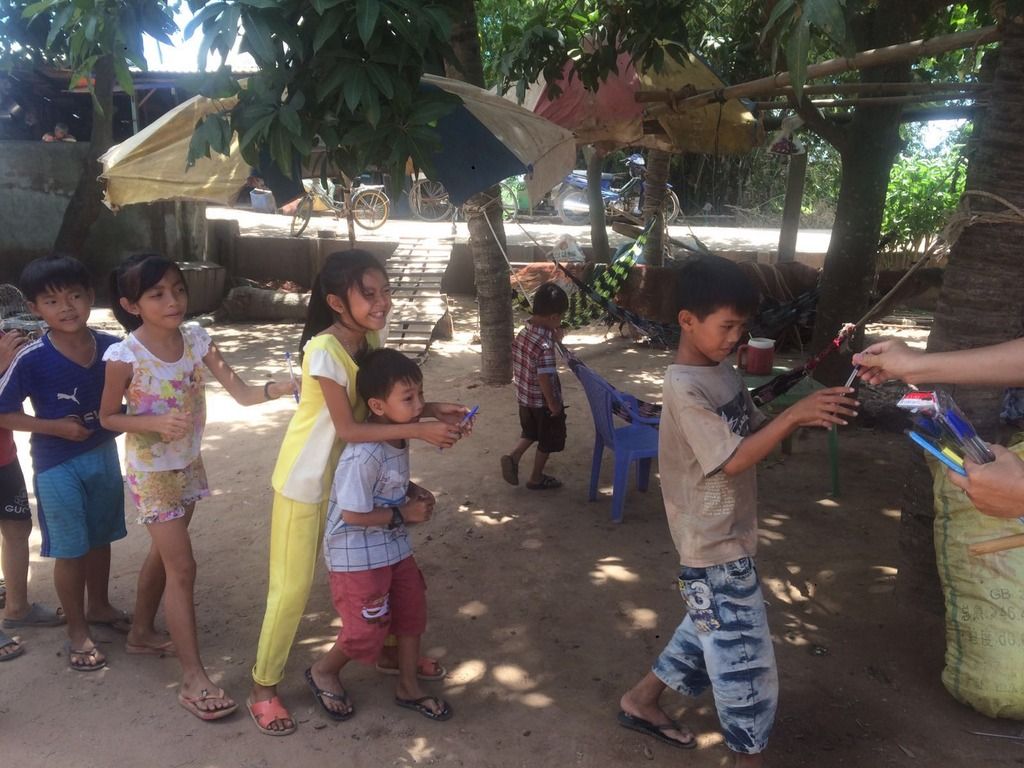 Our penultimate evening on the ship was the one I definitely won't be forgetting; all of the staff on-board told us there would be a surprise around 9pm so we all made sure we were patiently waiting in the Saigon Lounge with a drink after dinner around that time. It turns out the staff and our guide Tung had arranged a show for us with some of them performing different acts for us while three of the passengers were picked to be the judges with their own scorecards. The staff have a brilliant sense of humour that I don't think any of us knew the extent of until these performances! After the winner had been decided, the disco started and every passenger was up on the dancefloor with all of the waiters too and there was a real air of everyone being grateful to each other person on-board for making the cruise as great as it was.
We still had one more day and night left at this point so we woke again early the next day for a morning excursion- this was more about exploring the local streets of Sa Dec and we went to the local markets along the riverbank. Most of us did skip quickly past the fish markets as it wasn't the most pleasant of sights and smells but we all still managed to get a photo to take home with us. We always end up questioning ourselves at these points wondering how the locals must put up with the fish markets but of course this is their life and what they are used to- our world at home is completely different to what they know too!
We also took a tour in Huynh Thuy Lee's old house- this man was someone who fell in love with Marguerite Duras (who our ship, La Marguerite, was named after!) and she wrote the famous tale- 'The Lover'- a tragic love story about the two of them.
On arrival the attendants gave us some lotus tea in teacup and saucer as we glanced around at the arched doors and stained-glass windows. The house is as old as 119 years and it was a peaceful and beautiful haven on a very busy street- not what you expect to find here- but at the time of our visit to the street it was a very rainy and stormy day and it was a lovely, quiet escape off the road of a million motorbikes.
That night we had our farewell dinner on the cruise and it made everyone realise how amazing the trip had really been so far. Never have I stayed somewhere for a week and felt so valued as a passenger and looked after by every member of staff- every waiter, chef and room attendant is over the moon to be helping your week be the best it can be and when you're so far away from home for two weeks, that's a real comfort. We all enjoyed our last three course meal and our last evening of drinks after dinner in the Saigon Lounge with the pianist in the background. La Marguerite couldn't have served us better.
The next morning was an early start with our suitcases whisked away to our next hotel stop in Ho Chi Minh and after a smooth departure from the ship we headed on for our next excursion to the Cu Chi Tunnel Complex before heading to the Grand Saigon Hotel- but I'll save all of that for next time. Forgive me as I've had trouble uploading the photos of the last few things I've mentioned in this blog- I'll get them to you tomorrow! Hope you've enjoyed my latest update!
Until then,
Millie