To find out what happened yesterday, click here!

Hello everyone!
Today is the day where we are crossing the border into Vietnam so am happy to use this chance to share more of what I've been up to! Every day is usually as jam packed as the next and I have seen and done more in the past week than I feel like I have on my own past few holiday's! Wednesday started with a small boat excursion near Kampong Chhnang. We visited a local town and cruised past the floating villages- once again it's just a completely different world to home where you see that the locals live by the river and sell fruits and local food to make a living.
When we got off the boat to walk down a street in the town we asked a very young girl why she wasn't in school that morning- we found out that the children attend afternoon classes and help their family sell food at the market to make their money in the morning time. As usual, every person was friendly and welcoming and grateful for our visit and interest in their lifestyle (I'm not quite sure I can imagine people would be the same at home!)
I can officially say I've been on an ox cart ride, which was a surreal experience to say the least! (I can't say I expected to come home with a selfie with an ox).
It was two people in a cart per two ox's and the bumpy ride took us along a path where people live with next to nothing yet all the children are always laughing and are always just happy to see us even if we are just waving and passing by. It might be a cliche but this trip is definitely one where you vow to yourself to never take for granted what you have back at home after you see the locals with the most cheerful attitude with the bare minimum to live on.
The ox's took us to the bus that would take us to Oudong (the former capital of Cambodia) where we got to visit a Buddhist monastery. This is an experience that leaves you more intrigued- it really is how you hear it to be, the monk's live a strict and regimed life where they only have two meals a day, must shave their head and live to many other rules e.g. no alcohol.
Below I captured the moment the monks were taking part in silent meditation.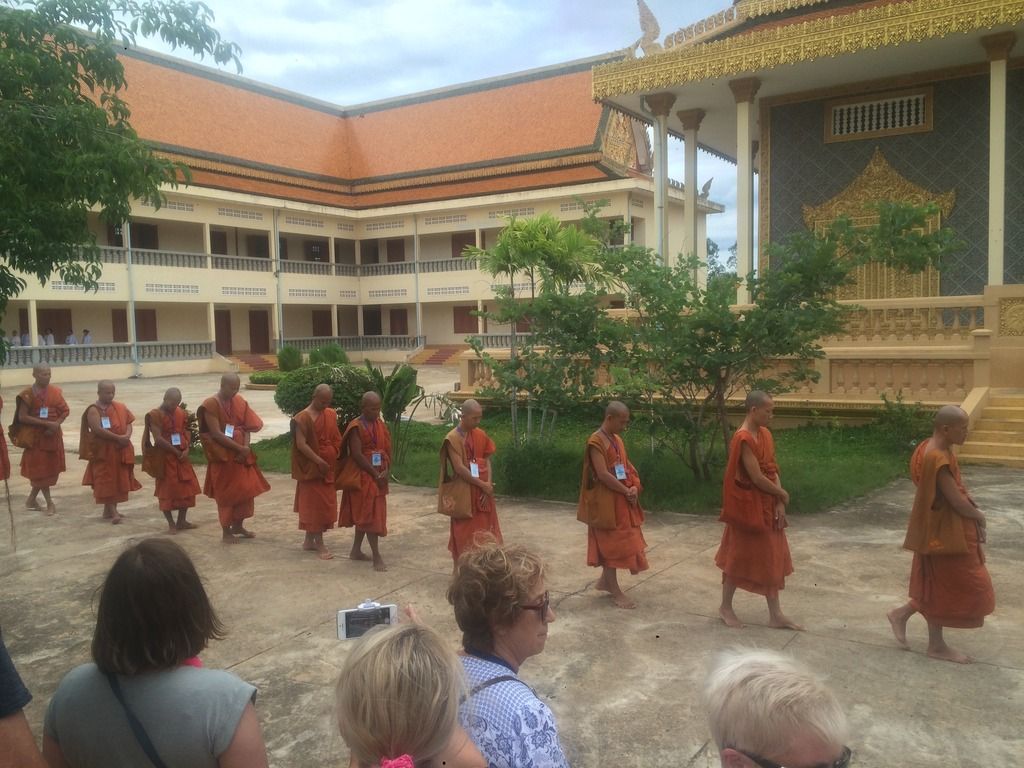 I learnt that you can become a monk as young as 7 years old! But you can live this lifestyle for as long or short as you like: even our tour guide showed us a photo of when he lived as a monk but explained that he couldn't live away from his wife and children any longer to do it. We had a Buddhist blessing where you enter the temple, remove your shoes and musn't point your feet towards them; the monks prayed and threw flowers over us which is for good luck so we all tried to get as much of this as possible! After all this is something you might only get to do once in your life.
The dinner ended with another cocktail party and three course dinner- there is something different every day so I don't see how anyone could go hungry on this cruise, you're given your favourites and a taste of their local and traditional dishes (bare in mind the pictures below are only the vegetarian options!)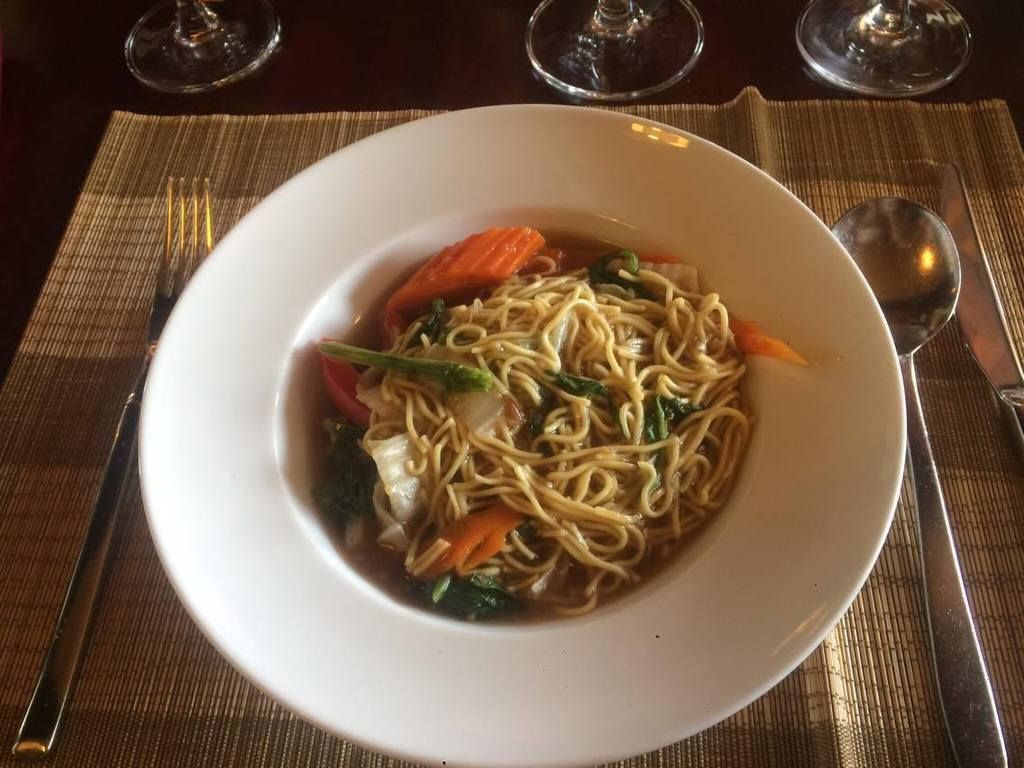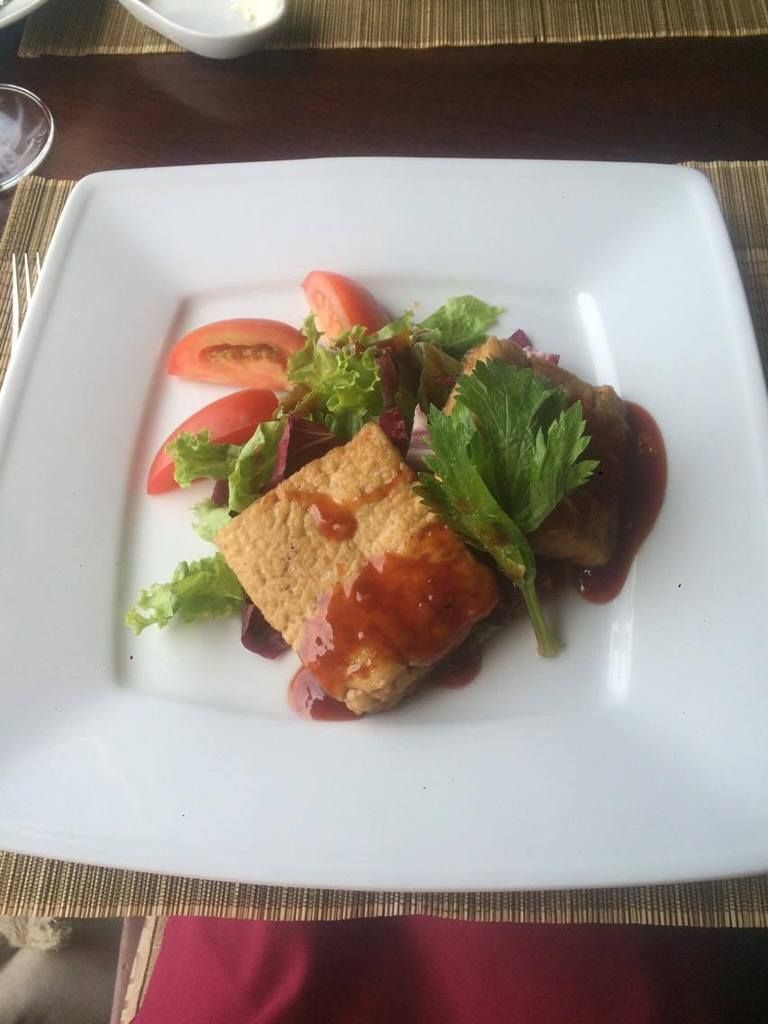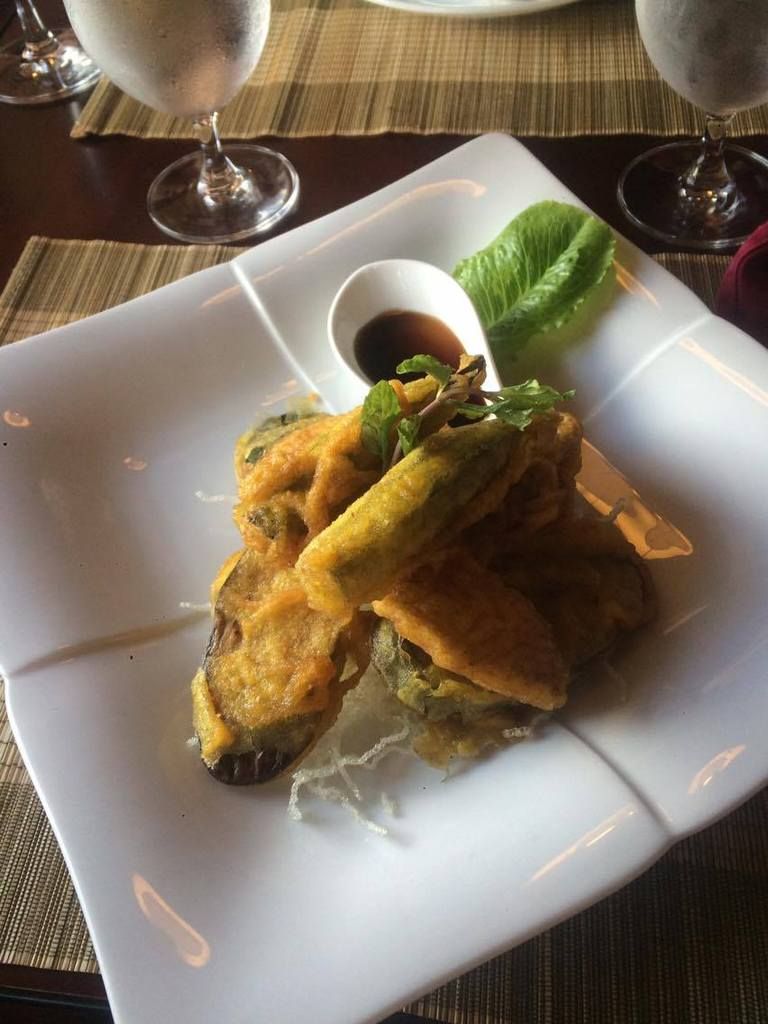 Tonight we watched a documentary in the Saigon Lounge on the Pol Pot regime and I feel awful to say I didn't know any of the facts or background to these terrible things that happened to so many people. It prepared me for our visit to the KIlling Fields and I'm glad that I can take away from the experience that I'll be less ignorant and more aware to part of the tragic history behind Cambodia.
The day after we visited the copper manufacturing village where we were showed how to tell the difference between real silver and fake silver- that might not be interesting to some but over here there's an awful lot of silver being sold at cheap prices so it's very handy to know how to tell the difference over in Koh Chen!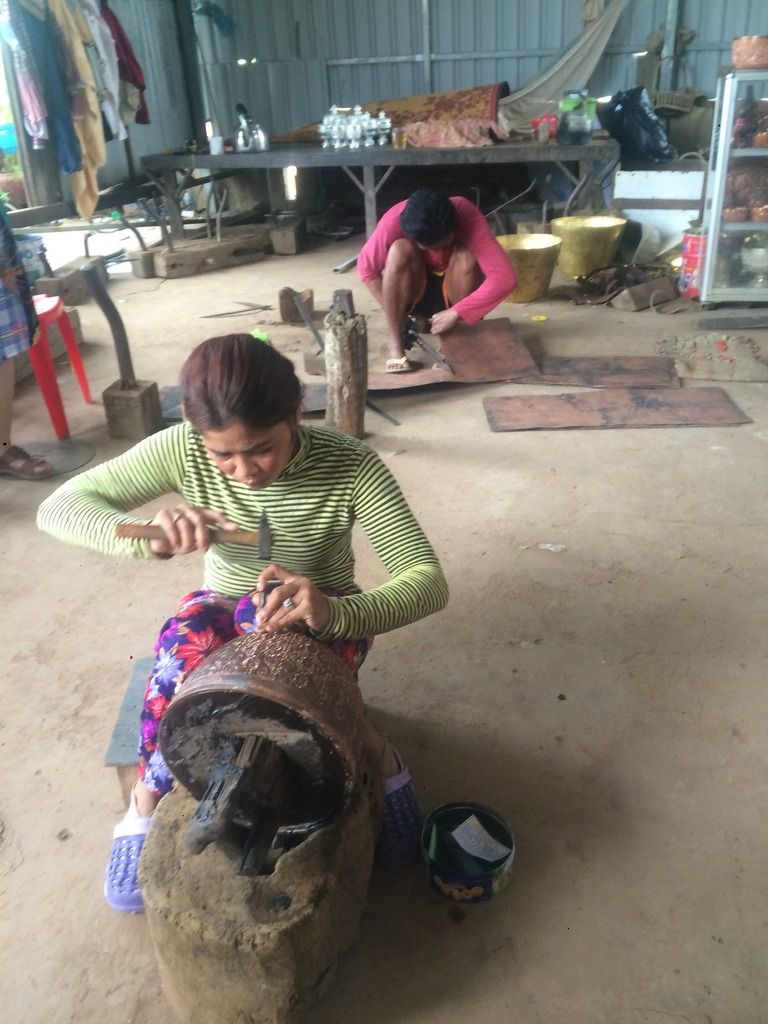 We then visited a local school and each got to go round to the children in the classroom- their English was a lot better than I expected and they all sang us a song to welcome us. We felt like we wanted to return the favour so our whole group sang back to them which they loved (even if it was just 'the wheels on the bus go round and round').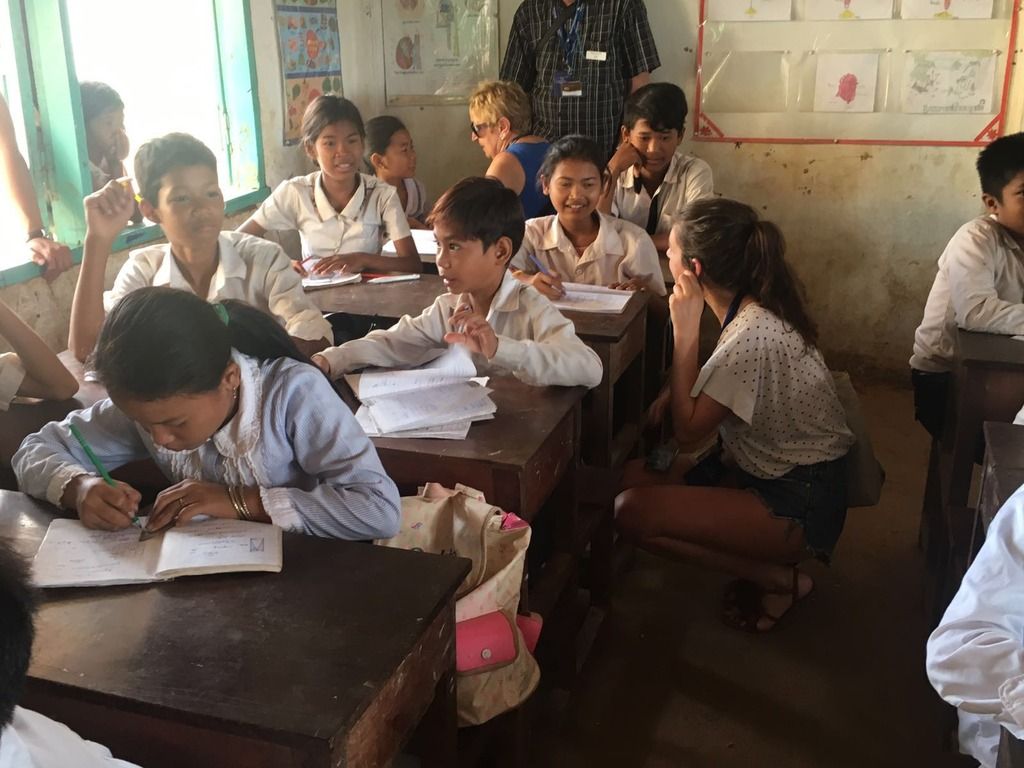 We have since spent two nights docked in Phnom Penh but I'll save that for next time! I'll be able to tell you about the sobering visit to the Killing Fields (we actually met a survivor!) and I've found a big difference between Siem Reap and Phnom Penh that I wasn't expecting. Please let me know if you have any questions about the ship or any part of the itinerary I haven't covered! Hope you're all still enjoying the updates.
Until then,
Millie

To find out what happens next, click here!