To find out what happened yesterday, click here!
Hello again everyone!
First of all I'm so sorry for not blogging sooner! The wifi has been very shaky and hasn't been letting me post any more updates to you but luckily we have now docked in Phnom Penh and closer to civilisation!
It's been another whirlwind of more temples, humidity and tuk tuk's. Another early morning meant another lovely breakfast from Shanta Mani and this time we were able to go and visit another luxury hotel that APT use and not for one second did I think it would be this amazing! We were all welcomed to Sofitel Angkor resort with a traditional dance and music with jasmine flowers to put around our wrist (which smelt amazing) and a glass of iced tea.
All of the staff were so grateful for our visit and gave us a tour of the whole hotel. I can definitely say that I've never seen anything like it- the pool and outside area was amazing and just the definition of luxury. An intriguing experience, it was good to step outside of our own hotel and see what else APT has to offer and what other luxury resorts exist in Siem Reap. It's safe to say I was very impressed and mesmorised by one particular view (picture is below!)
After a joint manicure and pedicure at a local salon in the town (I still can't quite get over the level of politeness and attentiveness from staff over here), our next excursion began! The first stop was the 13th century Temple of Bayon which was another experience where I was constantly looking up and around me at the amazing views, it's definitely worth all of the walking and the heat too.
The next stop was Angkor Wat, the one you might know of best, and this is one I've heard great things about- definitely one to get all your best pictures (there's nothing wrong with embracing being a tourist!) Our tour guide, Vuthy, couldn't have been any better, as we moved from one place to the next on the bus he would be giving us great background and facts on our next destination.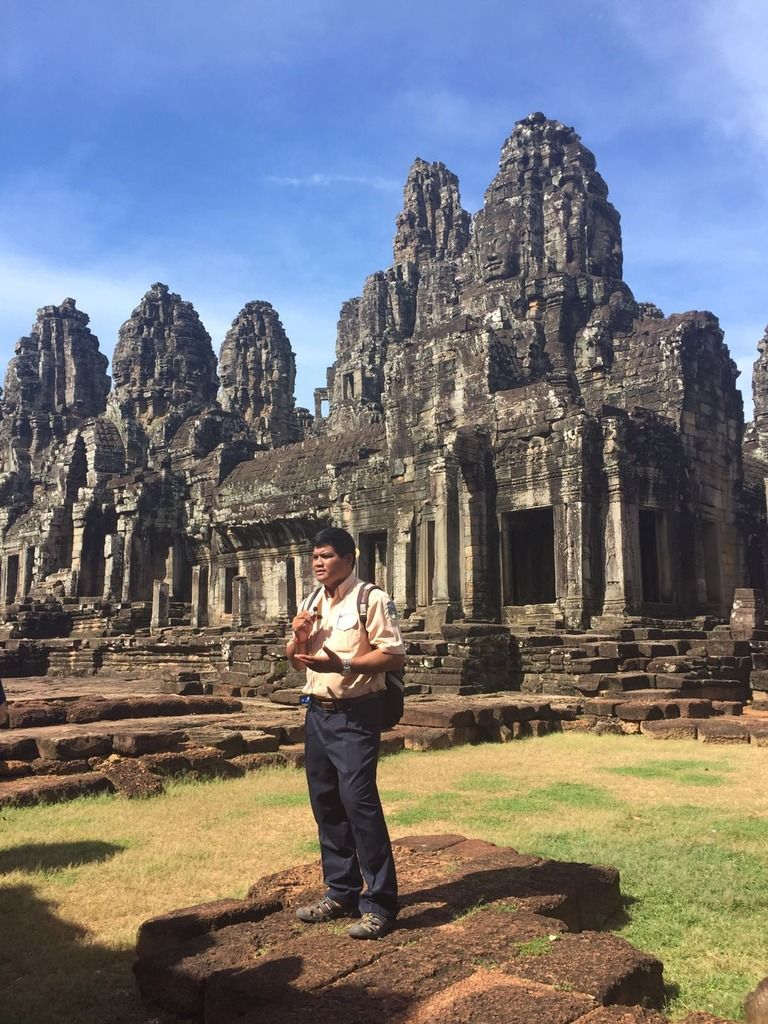 Angkor Wat translates to city temple and is the largest religous monument in the world but was originally made as a funeral temple- it faces West and this is the sign of death!
[/URL
]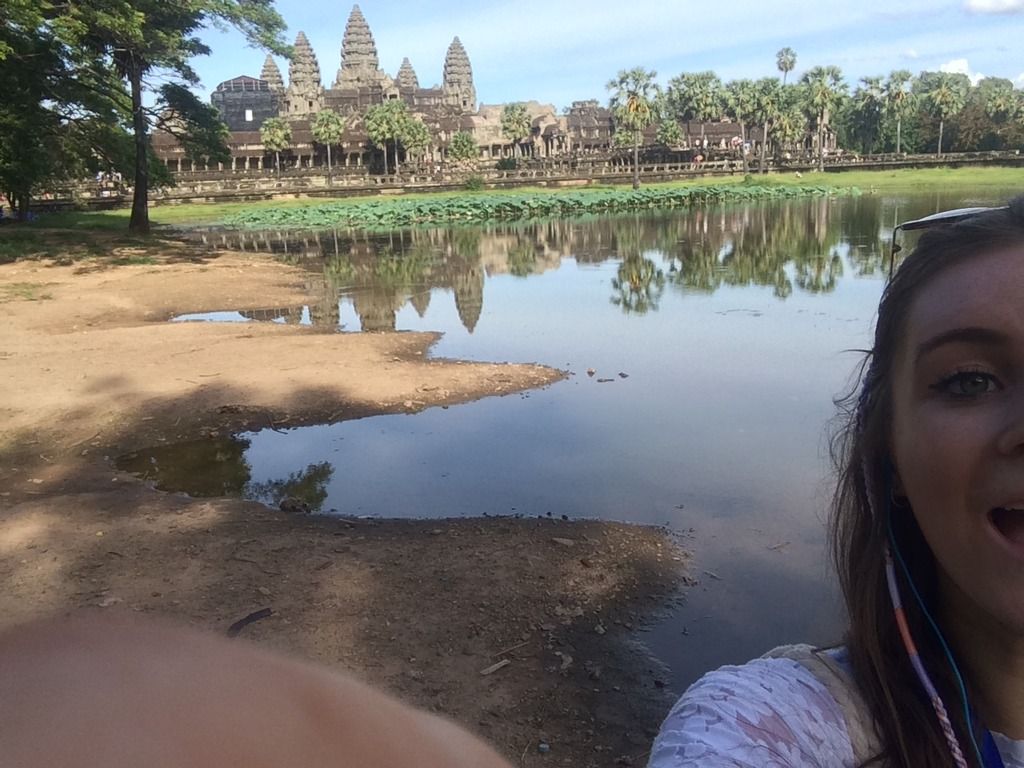 All the walking did get a bit much for most of the group but I was determined to make my way to the very top level and I had to climb some very steep stairs to get there (the monks used to climb these without the railings on the side!)
The views from the top were worth the climb and felt even better knowing only a few get to experience this view. We waited for the sunset but sadly it was too cloudy to get the real effect- we still left Angkor Wat happy with our adventure and the views are unforgettable even if I hadn't of got the photos I did to remind me!
We had our final night at the Shanti Mani resort in Siem Reap last night which meant a very early start for our five hour bus journey to the port this morning! It went a lot faster than anticipated with two stop off's and another tour guide giving us facts and background to the city on our trip. The first stop was off was another local market and the second was an unexpected experience! There were stalls lined up next to eachother with trays of tarantulas, crickets and water beetles for you to buy and eat.
This definitely isn't something to my taste but I saw a few people eat a leg of a tarantula and the feedback was a taste of a fried shallot with a peanut oil (very very bizarre). As I looked around at these stalls (and there was a few live tarantulas crawling around too if you fancied one on your shoulder or in your hand.)
I couldn't help comparing it to home- even if a tarantula's leg isn't your first choice of snack you've still got to find the culture refreshing; it's not exactly like the restaurants lined up against eachother like our local shopping centre's at home, but it's a completely different way of life that you just have to witness. There's got to be a first time to experience everything, right?
Upon arrival at the port of Prek K'dam we boarded La Marguerite and having never been on anything other than an ocean ship I was excited to experience my first river ship. Once again we were welcomed with a refreshing drink and some piano music in the Saigon lounge before we were given the key to our rooms.
It's understandably a lot smaller on a river ship but I feel like it's refreshing in a way as it feels more like home (plus there's never too far to walk to get to the library, lounge, restaurant or sun deck). I love the rich decor as it makes you feel like you're still experiencing the culture without strolling through the town, markets and monuments. It does feel luxurious to me too and I'm over the moon with the balcony and window seat in our room so we can always have our own private view of the Mekong as we slowly sail further towards Vietnam!
[/URL
]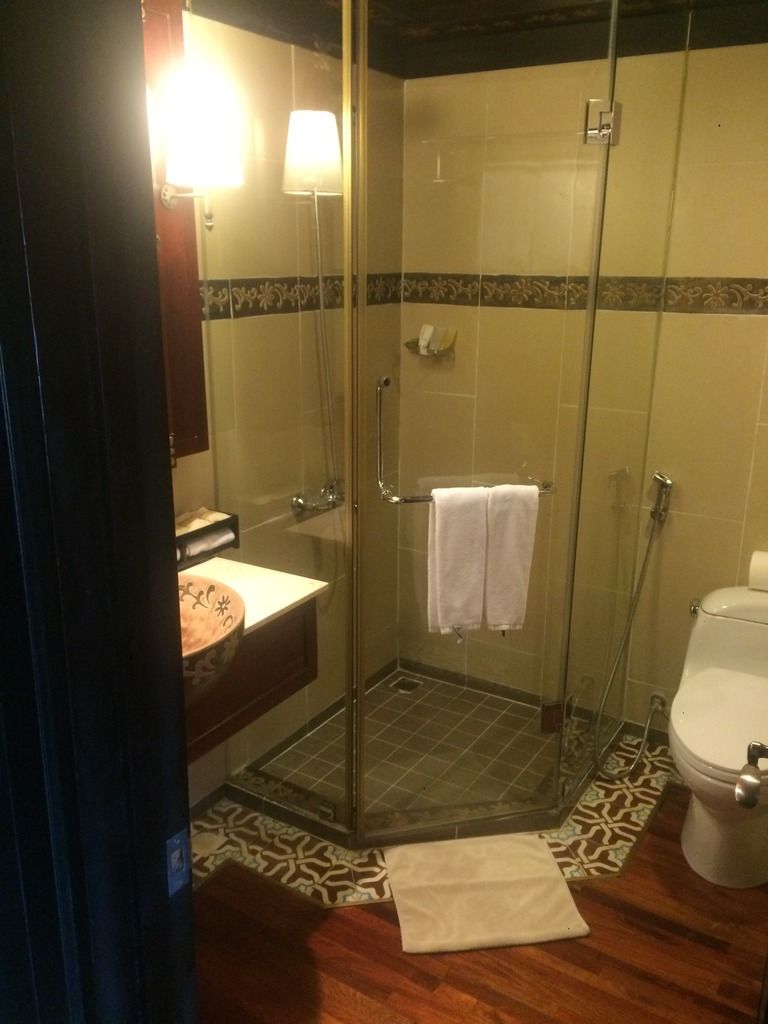 In my next blog I'll be able to tell you about the Captain's cocktail parties, evening meals on-board, an Ox-cart ride and a Buddhist blessing! As soon as I have a chance to make use of the good wifi again I'll be back to blog for you so keep checking back for more images of the ship and I hope you're all enjoying my blogs so far! What would you most like to do out of the itinerary so far?
Until then,
Millie
To find out what happens next, click here!