P&O Cruises' Launch 'Walk the Wire' – The World's First Tightrope Experience Between Two Cruise Ships at Sea

P&O Cruises is giving Australians the opportunity to experience a thrill-seeking activity of a lifetime with the launch of 'Walk the Wire' - the world's first tightrope walk between two cruise ships as they glide side-by-side on the Pacific Ocean.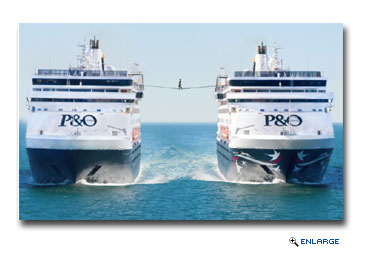 The safety harness equipped activity involves a 30-metre walk from the top deck of Pacific Aria to sister ship Pacific Eden on a cable stretched 40-metres high above the sea.
Adrenalin-loving guests can take part in the ultimate balancing act during select cruises in 2019 when the two ships are sailing alongside each other off the coast of New South Wales.
P&O Cruises President Sture Myrmell said the launch of 'Walk the Wire' was aimed at Cruiselings with a sense of adventure and fun, particularly those who had conquered all of the activities at P&O's signature adventure park at sea, The Edge, which includes walk the plank, a flying fox and funnel climb.
"Our many loyal guests have told us they're looking for unique, high-energy experiences to make their cruise memorable and to capture that perfect holiday photo moment. So, we decided to give our fun-loving guests the ultimate onboard activity across two P&O ships," said Mr. Myrmell.
"Walk the Wire is a result of many months of research and development where it was stress-tested by some of the best tight-rope walkers and aerial artists in the business and could be likened to Philippe Petit's incredible wire walks in New York, Paris and Sydney. We're expecting unrivalled demand for the experience and are encouraging guests to register their interest early."
The new experience will be available for a select number of guests who pass preliminary tests. Interested participants can visit P&O Cruises' Australia's Facebook page and sign up to the Walk the Wire event to receive more information, including how to book.

Should be a laugh. The problem is you would have to do it again to get back to your ship.


Would you try it.......I think not.