I am sure that many of you must be Splendida'd out by now (with the exception of Duncan) but I have written the following for the review site - goodess knows if will actually appear! The advantage here is that I can add a few Pics.

Hope you enjoy it.
*******************
We were lucky enough to be selected to join a 3 night forum cruise on the MSC Splendida which started in Hamburg, included a day at sea and a port day at Le Havre before disembarking in Southampton.
This being the first time we had visited Hamburg, we took the opportunity to fly there a day early. As we needed to meet up with the rest of the forum group the following morning, we decided to book an airport hotel – Radisson Blu. Having had a 3am alarm call that morning we were delighted that they allowed us to check-in at 10am which gave us the chance to rest before exploring the city.
Hamburg has a wonderful transport system whereby you can buy a '9am ticket' (Off Peak) which is valid all of the rest of the day for up to 5 people and covers all HVV transport at a cost of just 11.60 euros.
We really struck lucky as it was a festival weekend, which included such delights as multiple food stands, pop up bars, music stages, a ferris wheel and even dragon boat racing on the Binnenalster lake! Having sampled much of this we also had a 1 hour tour of the harbour on ferry 62 (included in our transport ticket). The evening was completed with a great firework display reflected in the lake and set to music.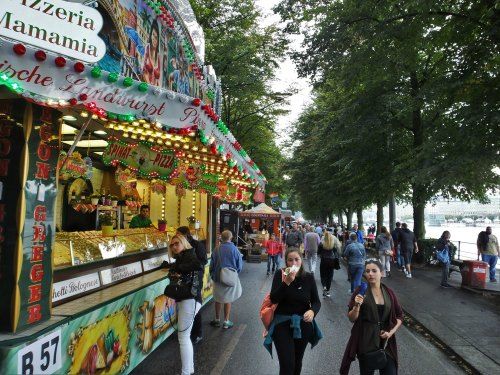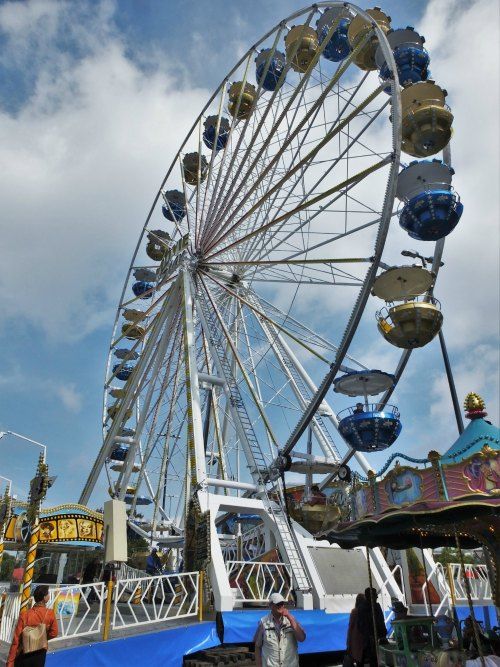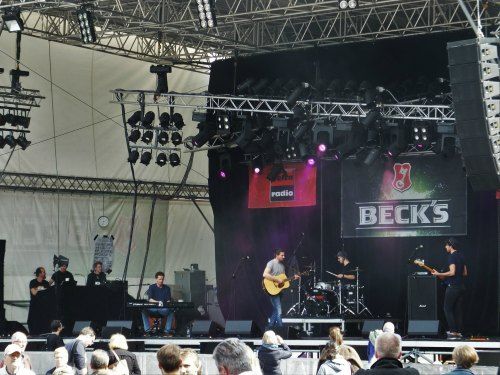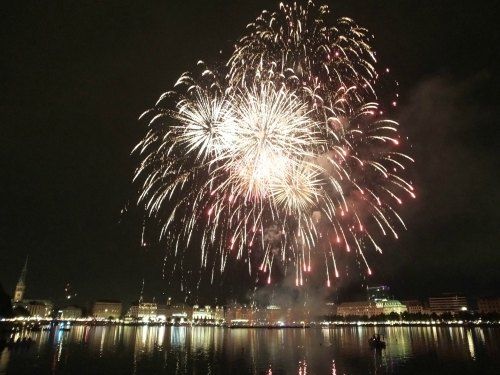 Next morning, after a hearty breakfast, we joined the group at the airport for the transfer to the ship via a 30 minute coach journey.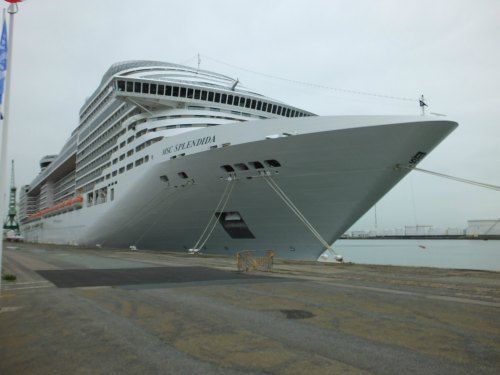 Embarkation
As we entered the terminal there was orange juice and water available – a nice touch and very welcome. We had been given 'priority boarding' so there was not much of a queue, but the other queue didn't seem so bad either. First surprise was that there was no health questionnaire and no health questions at check-in. Photo taken and on-board cards issued, we set off for the ship and I realised they hadn't taken any credit card details. This being our first cruise with MSC we had not been told at check-in, but found out later that you need to register your card via a machine on-board. This may save a little time at the terminal check-in but I feel the RCI method of gathering this information on-line before you travel to be better.
The next surprise was the amount of information available on the cruise key card – Name,
Cabin number
, Dining details and Internet ID as well as the sticker that denotes a drinks package. This could be a big problem for any lost or mislaid cards.
Cabin
We had a Fantastica grade balcony on deck 11 which was of a good size with good storage space. There was a sofa, bed and carpet and large headboard all in bright red and a large mirror opposite the bed. This could seem too heavily decorated but it did seem to work.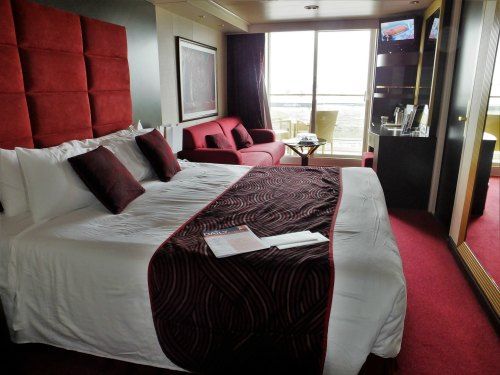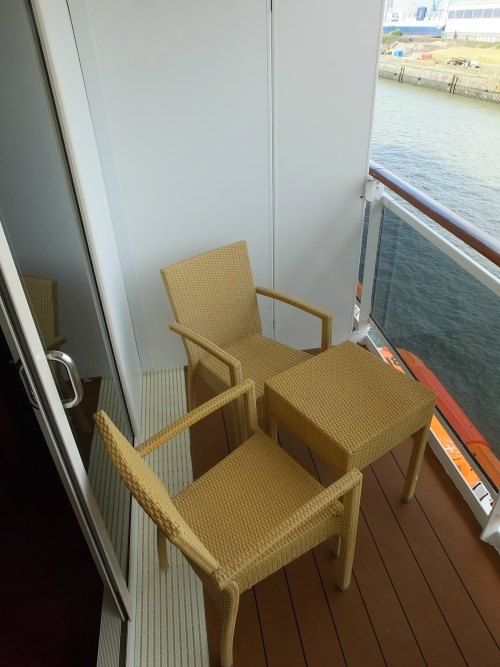 The Ship
At more than137,000 tons, Splendida most definitely falls into the large ship category with 18 decks (including a deck 13 but not 17 – it's an Italian thing!).I found it difficult to remember the names of the decks but there again the ship is Italian and I'm not!
The décor throughout is beautiful and elegant with the showpiece Swarovski staircase in the atrium looking absolutely stunning. With show lounge, wine bar, jazz bar, coffee bar, night club and a 1600 seat theatre there was never a shortage to be able to find entertainment or relax and room to find a seat.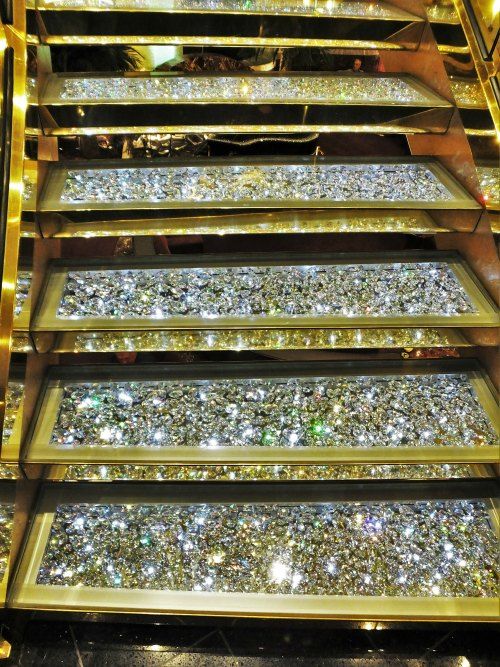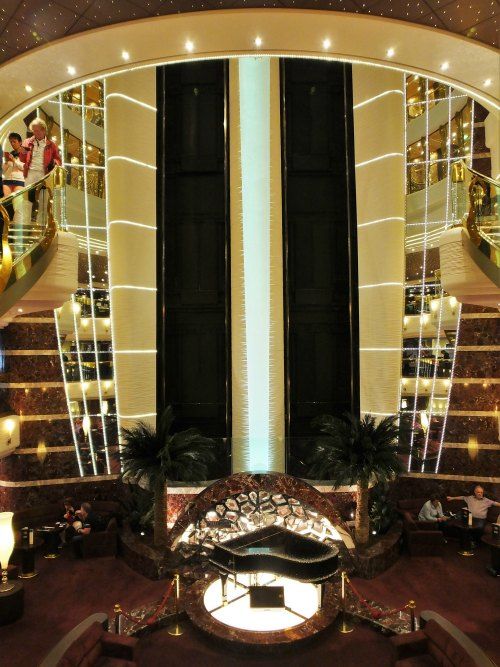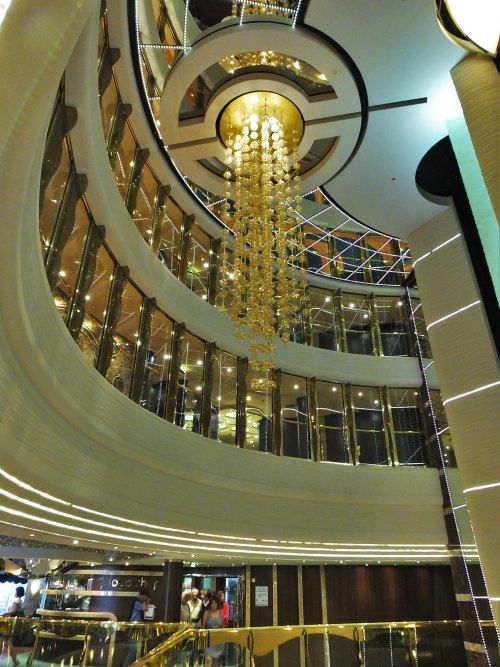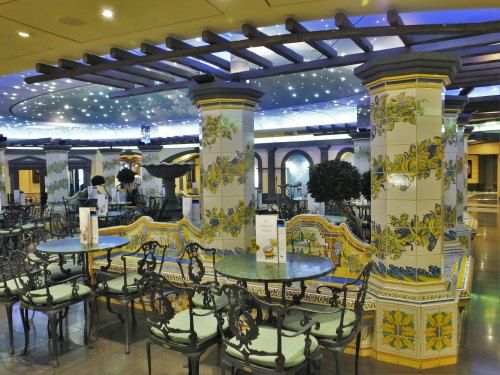 The high decks are well served with pools and hot tubs. There is a small aft pool and hot tubs next to the Movida bar. The Aqua Park main pool has fountains spraying into it making it all the more attractive. There is also a covered pool with retractable roof, so all weather options are covered. High up on deck 18 can be found the Exclusive Solarium where for extra charge you can lounge in luxury ratten pods.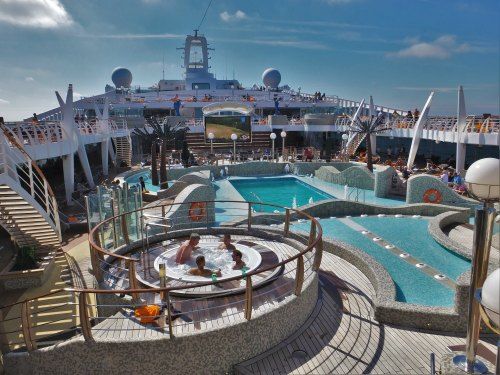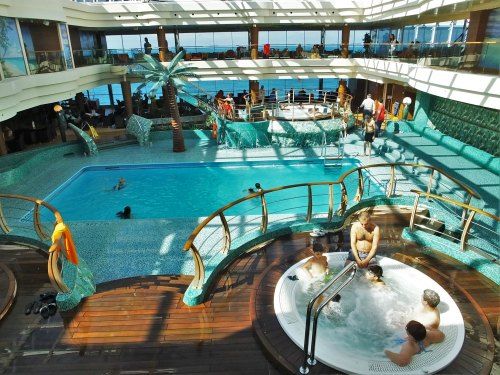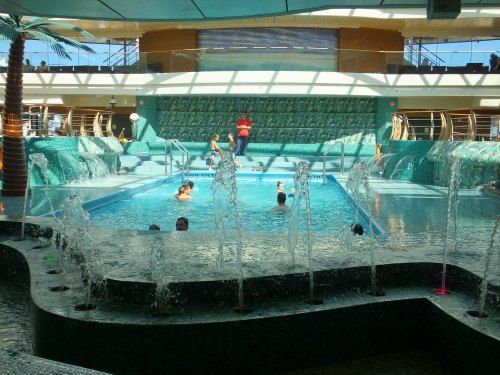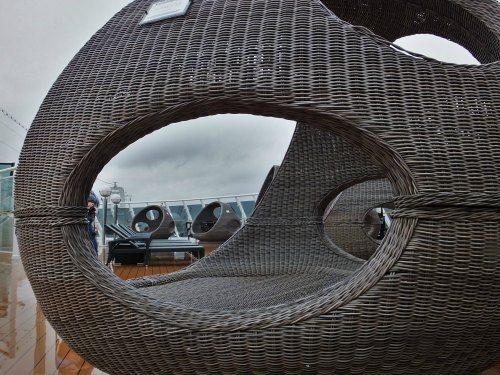 Rather tucked away are the F1 Simulator and 4D cinema. I had a go on the simulator and did as well as any World Champion – a crash on the first bend (they've all done it!). It was great fun and the cost was 8 euro but they had a very good offer of unlimited use of this and the 4D cinema, for the length of the cruise, for just 35 euro which was the price for everyone in the cabin.
Also, of course, MSC have the Yacht Club marketed as a 'ship-within-a-ship' which gives passengers booking the relevant cabins / suites access to their own exclusive area. Included in this area is the One Pool Deck – no problem getting a lounger here! Also in this area is the Top Sail lounge offering guests unlimited beverages and affording the best views of the sea, looking across the bow of the ship. Butlers are available 24 hour a day to look after any passenger needs. True luxury, if you can afford to treat yourself.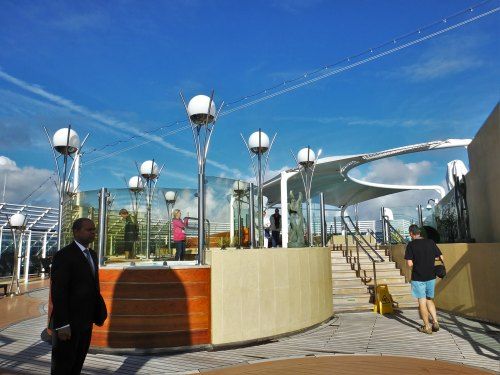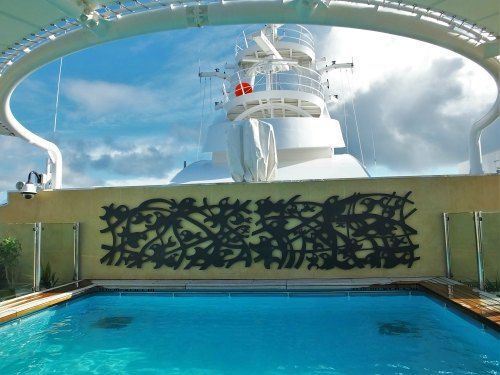 Apart from the Yacht Club I felt the ship to be rather inward looking with few areas affording a view of the sea. There is a Promenade deck but you cannot see anything past the adjacent lifeboats.
Food
Firstly we were most surprised at the low level use of hand sanitizers. There was never anyone requesting the use of them and although available, they were tucked against the wall and mostly ignored.
As a vegetarian my views are bound to be rather subjective compared to others. We ate in a different venue each evening with our first offering in Villa Verde – one of the Yacht Club choices. The décor and service were superb but food wise I found it rather bland. The main course was a Tuscan vegetable stew which was perfectly edible but not terribly exciting.
The second night was Gala night and we ate in the main restaurant La Reggia. The food on the night was much tastier and the pasta course was absolutely devine. Most people made a reasonable effort to dress well for the occasion but what a shame to see someone wearing a football shirt and shorts on a special night – ashamed to say it was an England shirt.
The last night was the Sant FeTex Mex restaurant. This is an optional 'pay extra' restaurant with open kitchens and themed decoration. The food was good and made quite a change to the formal meals but not sure it would count as a 'Specialty' restaurant.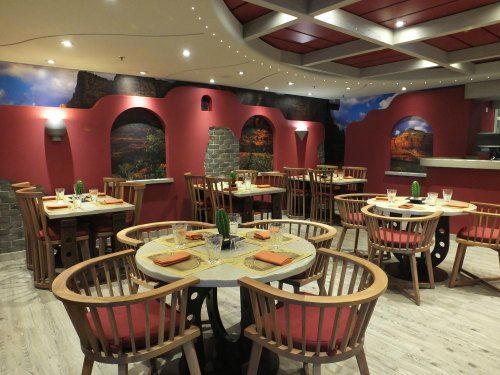 The Bora Bora buffet was as busy as most cruise ship buffets but had very good choice and was laid out in different sections – pasta / salad / hot dishes / fruit etc. The hot dishes were all labelled for ingredients – something that is not always easy to find out about without constantly asking. Although busy, we found a table without too much trouble.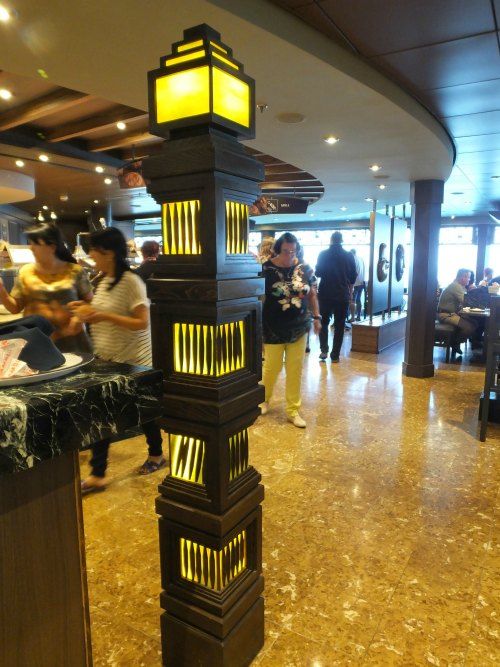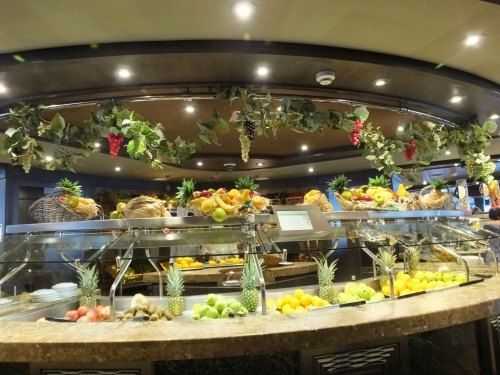 Entertainment
There was so much going on around the ship I am sure we only scratched the surface. Many of the bars had live music ranging from strings, piano, duos and a very good party band in the Aft lounge which is where the theme party nights were held. The first of these was a70's night with the band playing tunes from that decade and video screens showing the original artistes. The entertainment team were very proactive in getting many people up dancing and I must say there was a better atmosphere here than any other ship's theme nights I have experienced. On our last night the theme was a White Night which was quite DAZling!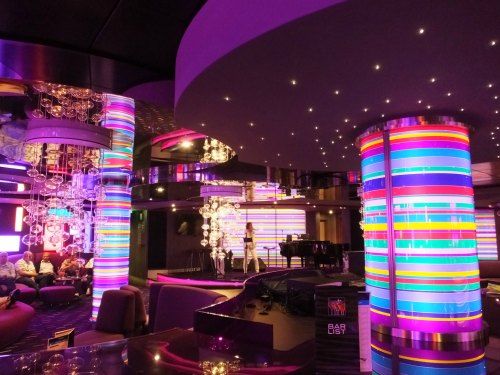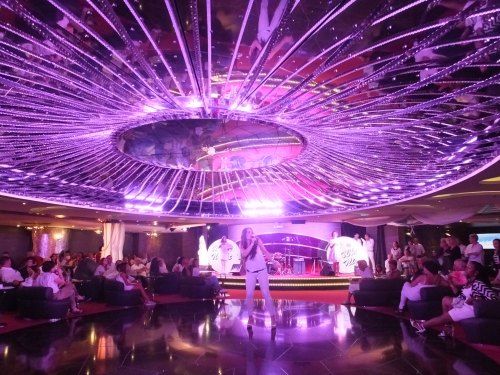 The Strand theatre is large (1600 seat) with good sight lines and technically advanced. There was a revolving stage (reminded me of Sunday Night at the London Palladium) and also raising sections. The shows here are song and dance to backing tracks (no orchestra) with specialty acts such as acrobats. We went to a show called Coney Island which was loosely circus based but left us puzzled for any story line – I liked the bearded lady dancer though!
The night club, Club 33, is superb, well attended and stayed open for most of the night (I know this as fact!)but is sensibly tucked way up on deck 16, well away from cabins.
We were treated to a 'Behind the Scenes' tour which took us backstage at the theatre, seeing the costume and scenery stores, changing rooms and the sophisticated control desk. We also went to the laundry where they have washers taking 100kg at a time and enormous rollers for pressing sheets – feel for the workers here as it is very hot. We also went through the kitchens and massive food storage areas. The attention to detail and organisation needed to produce more than 10,000 meals a day is, and needs to be superb. We completed our tour with a visit to the Yacht Club mentioned earlier.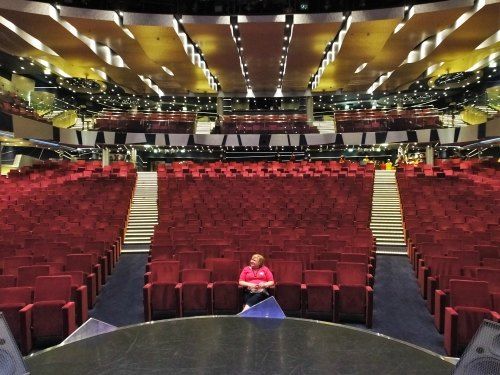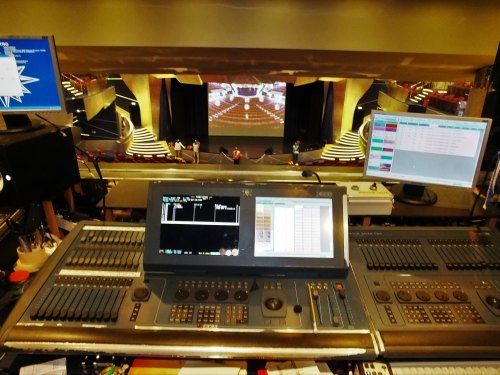 MSC attracts passengers from many different countries which means the announcements need to be made in several languages but they are not over done and you soon get used to it. I am sure the dynamics change depending on the location of the itinerary but on this cruise found the International mix refreshing and like our own mini United Nations! On this cruise there were 3,567 passengers with 1,360 from Germany, 600 from UK, 400 from Russia, 300 from Italy, 200 from Spain with the rest from many other countries.
We thoroughly enjoyed this experience and would like to thank the executives from MSC for their wonderful hospitality and the great team from Cruise.co.uk for their organisation skills, their great company and for choosing us to participate.
This has most certainly put MSC onto our 'cruise radar' and hope to be sailing with them again soon.