Thank you for all your kind comments on our previous thread about our time onboard MSC Splendida.
As we've both already written quite a bit I didn't want to go on about too much more, or to repeat what's already been said, but instead to take the opportunity to elaborate on some of our earlier points and share some pictures we hope you'll find interesting.
We were met by Katie of
cruise.co.uk
at Hamburg airport who provided us with these lanyards and name badges which were very handy to help us all identify each other… I'll be keeping mine to use for work as all my colleagues know how much I love cruising, and it's possibly a good advert for our agent of choice!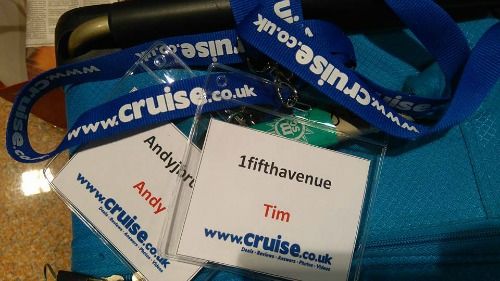 Lunch was taken in the buffet, we usually always go to the MDR for lunch, so this made a change and was a bit more of an eye-opener. We were greeted by this lovely looking cake and fruit creation: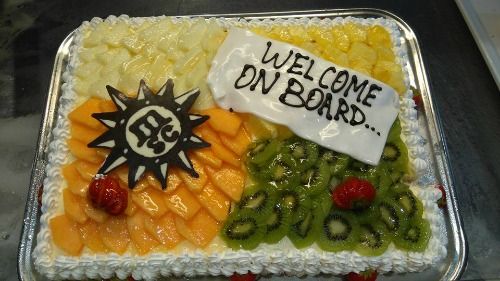 The choice in the buffet was varied, from a roast beef joint on the carvery, vegetables, salads, potatoes, burgers and hot dogs, fries, pizza, breads and meat. Andy and I had a couple of slices of pizza, some fries and a salad. The pizzas were lovely and soft, on a thin crust, not overloaded with topping but executed to a high standard, which you'd expect from an Italian cruise line.
We had a look at the desserts, but knowing that we would be eating dinner late we didn't choose anything from the buffet, heading instead to the piazza later in the afternoon for one of the beautiful cakes on offer there (which are chargeable and priced individually)
I had a beautiful chocolate cake and Andy had a selection of small cakes - they were absolutely divine!! The chocolate cake was actually incredibly light with an airy sponge and a mousse like filling - perhaps my photo doesn't do it justice, but we met with some of our fellow cruisers the next day and gave our recommendations.
That evening we dined in the TexMex, which if I'm honest isn't really to my taste, we don't eat much food of this type at home, maybe fajitas once a month but that's about the extent of it. As we all often say on this forum, food is subjective, so although we didn't enjoy it as much as we enjoy the MDR, the food was nicely cooked and the portion sizes were generous. Andy and I shared a table with Connie and Jodie from Cruise and had a great evening filled with much laughter! The blushing margarita drink we had was very tasty, and very alcoholic! The salt on the rim of the glass had the desired effect of making me pull some very funny faces when I took a sip haha.
The rest of the night was spent having a few glasses of champagne and re-acquating ourselves with the crew who we knew from previous cruises!
Monday morning was a fairly early wake up so that we could join our fellow group on the tour of the ship. This is something we've often thought about doing, so it was a really lovely 'treat' for us. Many years ago I started training as a chef, so I was very interested to see the kitchens and bakery, they were spotlessly clean as you'd expect and the hygiene was second to none, with the butchery area being 'behind bars' like a prison cell. Having us guests wear the overalls, hairnets and mouth covers just goes to show how seriously hygiene is taken in this area.
We had a bit of a chill out day, again sampling many of the drinks available on the premium Allegrissimo package which we'd upgraded to. We can highly recommend the Côtes de Provence rosé available in the Le Enoteca wine bar. This bar also serves tapas in the evenings. The standard Allegrissimo package tends to only include Heineken draught lager, but in this bar you can also have Murphy's, Amstel, New Castle Brown and John Smith's on draught - handy tup for anyone wanting to cruise with MSC. On Lirica-class the same is true in the English Pub at the front of the ship.
During the day, we were also 'guests' at a wedding that took place in the atrium surrounded by the glittering staircase. A Russian couple had the ceremony onboard. One of the Ukrainian staff saw I was listening to the wedding service, and we managed to have a small conversation in Russian later on, which I'd not practiced since I was at school.
The atrium is such a wonderful area and I can't imagine how romantic it must have felt for Aleksey and Elena. She looked absolutely beautiful in her gown… I might be a big softy but it brought a tear to my eye. Unfortunately our best friend suffers sea-sickness and with Andy's parents only cruising Cunard it's not an option for us!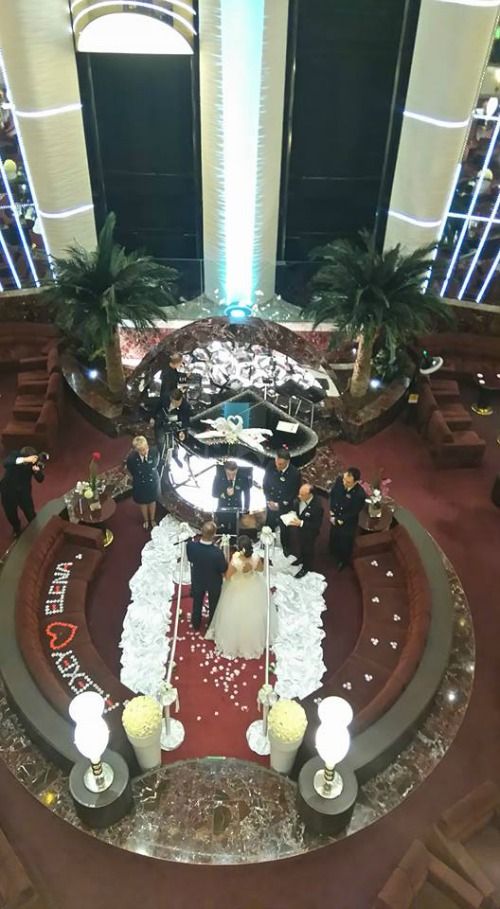 The evening's theatre production was inspired by Coney Island so was largely based around circus acts, acrobats and dancing. The finale was quite special and this picture was taken from the very back of the theatre, which has 1604 seats. As you can see no obstruction to the view!
A cognac and an amaretto were the perfect drink for us - be warned though, the measures aren't exactly small and when the crew get to know you like a drink they're not afraid to do what they call a "double double" - hic!!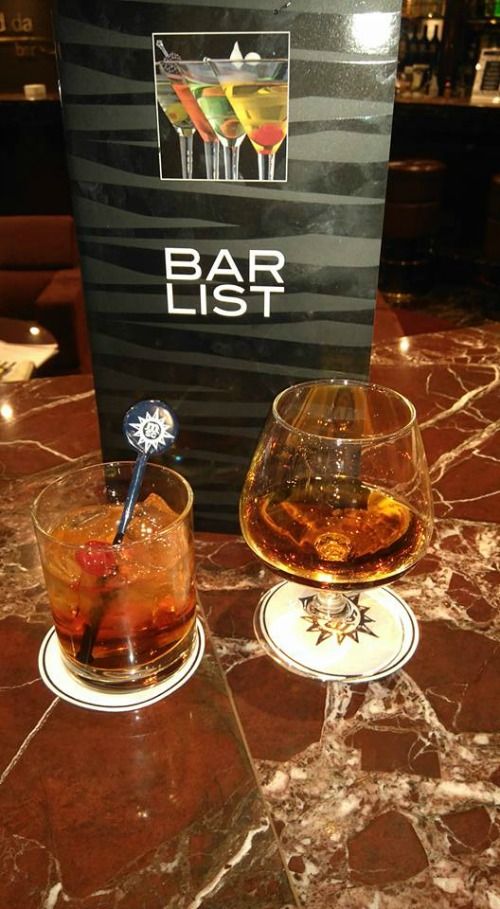 The 7 course dinner in the MDR for the gala night was exactly what we are used to from the previous cruises, the same menu and service. Andy really enjoyed the lobster bisque! I won't repeat our previous comments on the gala dinner as already covered this.
Our final on Tuesday night was taken in L'Olivo, the Yacht Club restaurant. The food was superb. The beef tartare starter was really flavoursome, with tender beef and a quail egg. We sat with Steve from MSC and Phil - we had a great chat over dinner.
My main course was probably one of the best fillet steaks I have ever had. As we also travel to Paris regularly I'm used to some of the best food courtesy of a restaurant we know in Le Marais. I like my steak blue, which can mean that it's difficult to get right, however this really was just how I like it, perfectly seasoned and tender; so easy to cut and chew.
The rest of the night was spent with our fellow cruisers and the staff from
cruise.co.uk
. In the disco we met with Antonio, the CEO of MSC UK - he wanted to ask how we had found the cruise. At that point he didn't know we were such avid MSC cruisers. When we told him we brought a tear to his eyes - a tear of joy may I add. Indeed he said hearing feedback like that makes it all worthwhile.
I didn't get to sleep until 4am, to be awake at 7am to get ready to disembark in Southampton. We were aware that a full border check would be done. As our train home to Birmingham wasn't until 11:45 we decided to hang around the ship and let the queue die down. As so many people were going on excursions to London, Bath, Winchester etc the queue was very long, so MSC could only get people off the ship as quickly as the UKBA could check passports. Perhaps the full-check was due to the number of Russians and Chinese onboard? We've never experienced this before but then again we've never cruised back to Southampton.
We sat in the piazza with a couple of glasses of champagne to have 'one for the road' and once the queues had gone were straight off the ship.