We said our goodbyes to Cyprus and boarded one of Mr O'Leary's private jets bound for Athens, OK it had Ryanair painted on the side but we can all live the dream.
Now some of you may recall a few months ago we cruised Cuba on the Louis Cristal and on disembarkation day we sat up on deck in the outside bar area where a TV screen was promoting the Idyllic Aegean for Celestyal Cruises.
When we watched the promo for this cruise with its mix of popular Greek Island ports and small fishing villages seemingly untouched by time, we just had to go for it.
On its way home from its Cuba charter, Louis Cristal gets a makeover to remove the logos and hull paintings, returning it back to a plain white hull with a new title, Celestyal Crystal.
We enjoyed this little 24000 tonnes vessel, not only for its ability to enter ports the large cruise ships cannot get near, but for its warm and friendly crew at every level that we came into contact with.
But, oh no this was not to be. 48 hours into our stay in Cyprus I get a call notifying me that Celestyal Crystal had collided with a tanker during the night and was going nowhere. I Immediately emailed Celestyal Cruises asking them if I needed to cancel my flights and hotel in Piraeus, and received an email back within two minutes offering me a cruise, initially on Olympia (Ex RCCL Song of America) or alternatively Odyssey, same dates, different ship, different port of departure Lavrio, some 40 miles away.
If I was happy to accept they would provide a car from Piraeus hotel to Lavrio Port. The whole rebooking process took less than three minutes of to and fro emailing. I told you on my last blog this was one friendly cruiseline!
Our 'new' ship Celestyal Odyssey. This 24,318-ton, 836-passenger ship was originally built in 2002 as the Olympia Explorer for the now-defunct Royal Olympia Cruises. First impression is of a private yacht like appearance with its classic lines, sharp prominent bow and rakish stance. The ship is unique in the fact that, when built it was the fastest passenger vessel in the world and can reach speeds of up to 30 knots only to be out paced even today by the QM2. Being an ageing boy racer myself, I rather liked the idea.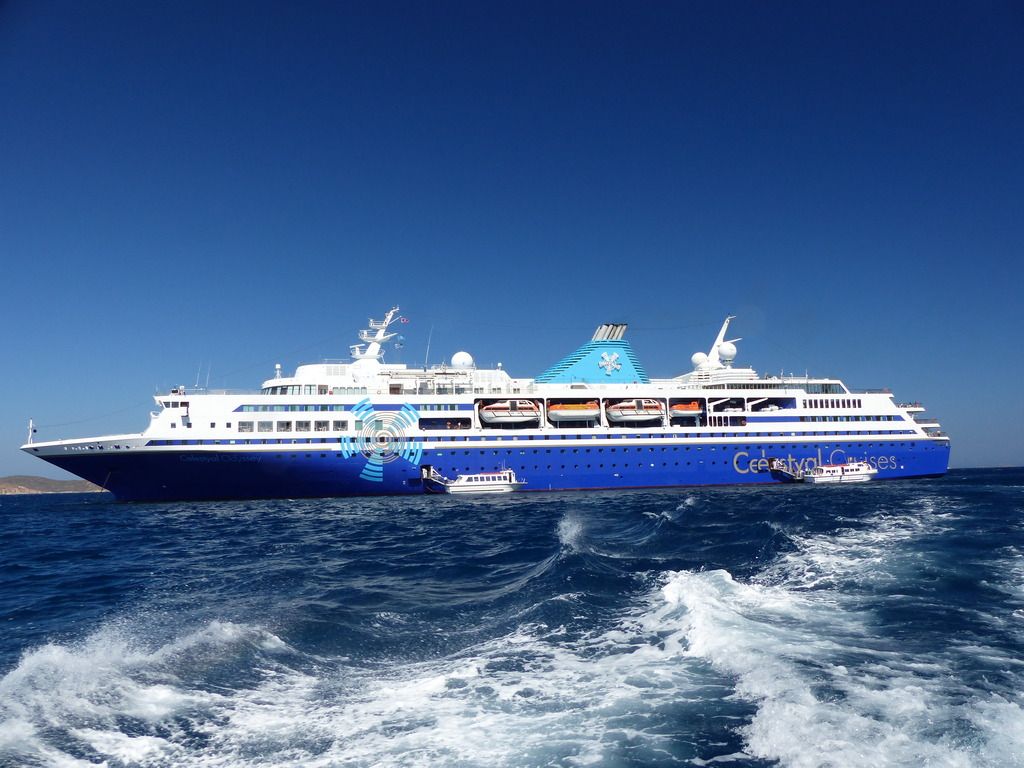 The cabin is an XF grade, top grade Oceanview before suite status and is of a sharp contemporary design, a feature that runs throughout the ship.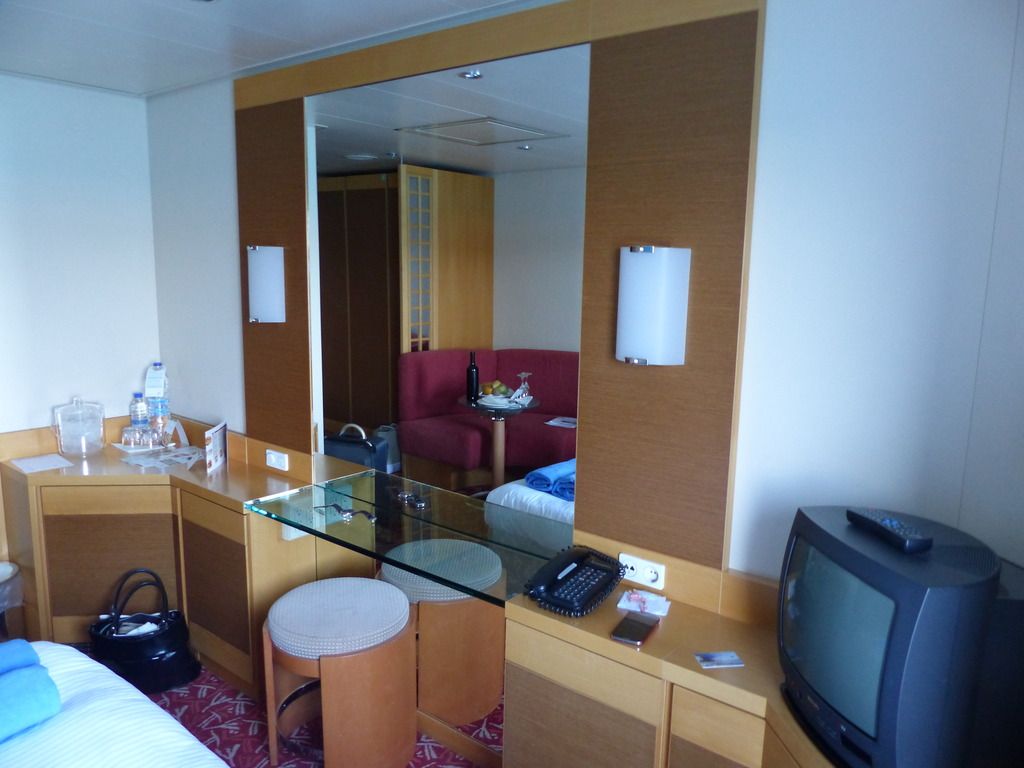 We set sail at 1430 hours, boat drill completed and were on our way to our first port of call, Mykonos, for an 1830 hours arrival!
We were first in the MDR at 1930 hrs for what was a satisfactory first meal of Langoustine Bisque followed by Pork Cordon Bleu and an Orange Gran Marnier Pud. From there it was a shuttle bus (free) into Little Venice for an evening walkabout, a place we have visited many times by day, but never by night.
The place has always been busy, but at night it was heaving, every bar and restaurant jammed, so shop mooching was Mrs Wilba's prerogative for the next few hours. The first shop we went into we bumped into Fern Britten & Phil Vickery. On recognition PV said Shh! Don't tell any one! Mrs W quickly responded with, Shh! Same here. That might have kept him guessing, and on our way we went. Back on onboard we sat through the evening introduction show before retiring for a well deserved rest………….Wilba