Pullmantur Terms and Conditions
These Terms and Conditions should be read carefully and apply when we are the organiser of your package including travel by air and a cruise. In all other cases Fred. Olsen Travel is simply an agent for Pullmantur and you will receive a Confirmation Invoice from us on their behalf after the booking has been made. Where we act as an agent, only clauses 17 to 19 apply and you should ask for a copy of Pullmantur's booking conditions before confirming your holiday if you have not seen them already.
Your contract is with Fred. Olsen Travel Ltd ("FOT"), a company registered in England and Wales (Company Registration No. 2287241). A contract will exist when we have accepted a deposit and issued our confirmation invoice. These Booking Conditions, together with any other information brought to your attention before you booked your package, form the basis of your contract and set out our respective rights and obligations, and all bookings are accepted by us subject to these Booking Conditions. In these Booking Conditions references to "we" and "us" mean Fred. Olsen Travel and "you" and "your" include the lead-named person on the confirmation invoice (who must be at least 18 years old at the time of booking) and all persons on whose behalf a booking is made.
1. Brochure Changes
1.1 We reserve the right to make changes to the details contained in any brochure or on our website before a contract is entered into. Any such changes will be communicated to you before a contract is concluded. You should carefully check your written confirmation to ensure it is correct and matches exactly what you booked. If it does not, you must contact us within 24 hours of receiving your confirmation to inform us of any inaccuracy. Failure to do so will result in any necessary changes being made at the usual cost of amendments to this contract.
1.2 In cases where, before the contract is entered into, we are unable to provide any of the services requested, you shall be duly notified and may withdraw your request for the services and receive a full refund of any corresponding amounts paid up front, if applicable.
2. Reservations, Deposit and Final Payment
2.1 To make a reservation please contact Fred.\Holidays (part of Fred. Olsen Travel), Olympus House, 2 Olympus Close, Ipswich IP1 5LN on 0800 021 3180, email sales@pullmanturcruises.co.uk, website www.pullmanturcruises.co.uk, or contact your preferred ABTA agent.
2.2 A minimum, non-refundable deposit of £150 is required at the time of booking. In addition to the deposit, payment for flights and other services may be required and may also be non-refundable. A receipt will be issued upon payment.
2.3 The remaining balance must be paid no later than 90 days prior to the embarkation or departure date. Bookings made less than 90 days prior to the embarkation or departure date must be paid in full on confirmation of the reservation. If the balance is not paid in time, we reserve the right to cancel the booking and retain the deposit.
2.4 In the case of special offers, payment must be made in accordance with the stipulations of the offer. Acceptance of reservations by us is subject to the availability of places on the requested dates.
2.5 Should you need to cancel your reservation after booking; the cancellation charges set out below will apply.
2.6 Reservations made by minors shall not be accepted. Reservations for minor passengers must be made by the people who have their custody or by other adults who have the necessary legal faculties. Furthermore, they will only be accepted if the minor travels accompanied by his or her parents or legal guardians authorising the minor and together with an adult who assumes in a document all the responsibilities with regard to the minor.
2.7 The prices published must be considered by person, based on the type of occupation. In cases in which after the withdrawal or cancellation of a traveller the mode of occupation of a cabin is reduced, the other passengers that were going to occupy the same cabin will bear the repercussion on the price of the existing difference, in other words, from double to single, from triple to double, etc.
2.8 A 2% surcharge will apply to payments made for any Booking made by credit card (American Express credit card 2.5%).
2.9 All monies you pay to the travel agent are held by him on behalf and for the benefit of the Trustees of the Air Travel Trust at all times. This is subject to the agent's obligation to pay it to us for so long as we do not fail. In the unlikely event of our failure, any money held at that time by the agent, or subsequently accepted from you by him, is and continues to be held on behalf of and for the benefit of the Trustees of the Air Travel Trust without any obligation to pay that money to us.
3. Pricing
3.1 The price of the package includes:
Transport for the outward and homeward bound journeys outlining the type of transport, characteristics and category as featured in the contract or documentation submitted to you.
The accommodation, with the board type featured in the contract or in the documentation submitted to you. Special diets (vegetarian or special diets) are only guaranteed if they have been agreed by the parties when the contract is formalised.
All other services and complements specified in the brochure or which is expressly stated in the contract or documentation submitted to you.
3.2 The price of the package does not include Visas for entering and leaving any of the countries included in the itinerary, that will be paid directly by the passenger if required by the local authorities, tourist charges for accommodation, excess luggage, vaccination certificates, "extras" or "premium services" such as serving certain drinks, Sea Spa, hairdresser, beauty and well-being salon, Duty Free Shops, Internet and Wi-Fi in the reserved areas, 24 hour service, babysitting service, laundry and ironing service, telephone calls or messages to land, medical service, excursions and, in general, any other service that figures in the "premium services" section or that does not expressly figure in the "The price of the package includes" section or is not expressly contracted by you and therefore does not appear in the contract and documentation that is delivered when the contract is formalised.
3.2 The excursions or tours not reserved at point of origin do not form part of the package contract. Their publication is merely of an informative nature. These excursions shall be offered to you independently with their own specific terms and conditions and final price, whilst fulfilment of these is not guaranteed until hired. Their organisation will depend on local providers, independent from FOT and Pullmantur, where these activities will be subject to a direct agreement between you and the tour/excursion providers.
3.3 Price review. Changes in (transportation costs, including the cost of fuel) (dues, taxes or fees chargeable for services such as landing taxes or embarkation or disembarkation fees at ports and airports) and (exchange rates) mean that the price of your travel arrangements may change after you have booked. However there will be no change within 30 days of your departure. We will absorb and you will not be charged for any increase equivalent to 2% of the price of your travel arrangements, which excludes insurance premiums and any amendment charges. You will be charged for the amount over and above that, plus an administration charge of £1 per person together with an amount to cover any agent commission. If this means you have to pay an increase of more than 10% of the price of your travel arrangements, you will have the option of accepting a change to another holiday if we are able to offer one (we will refund any price difference if the alternative is of a lower value), or cancelling and receiving a full refund of all monies paid, except for any amendment charges. Should you decide to cancel you must do so within 14 days from the date on your final invoice. We will consider an appropriate refund of insurance premiums paid if you can show that you are unable to transfer or reuse your policy. Should the price of your holiday go down due to the changes mentioned above, by more than 2% of your holiday cost, then any refund due will be paid to you. However, please note that any travel arrangements are not always purchased in local currency and some apparent changes have no impact on the price of your travel due to contractual and other protection in place.
3.4 Special offers. When a package has been reserved in response to special offers, last minute offers or similar, for a different price to the one featured in the brochure, the services included in the price are only those specified in detail in the offer, even when this offer refers to one of the programmes described in this brochure provided that the reference is made exclusively for the purposes of general information on the destination and the general contract terms. These offers are subject to availability time limits, according to the criteria established on each occasion by Pullmantur.
4. Financial Protection
4.1 We provide full financial protection for our package holidays.
4.2 For flight-based holidays this is through our Air Travel Organiser's Licence number 0944. When you buy an ATOL protected flight or flight inclusive holiday from us you will receive an ATOL Certificate. This lists what is financially protected, where you can get information on what this means for you and who to contact if things go wrong. We will provide you with the services listed on the ATOL Certificate (or a suitable alternative).
4.3 In some cases, where we aren't able to do so for reasons of insolvency, an alternative ATOL holder may provide you with the services you have bought or a suitable alternative (at no extra cost to you). You agree to accept that in those circumstances the alternative ATOL holder will perform those obligations and you agree to pay any money outstanding to be paid by you under your contract to that alternative ATOL holder. However, you also agree that in some cases it will not be possible to appoint an alternative ATOL holder, in which case you will be entitled to make a claim under the ATOL scheme (or your credit card issuer where applicable).
4.4 If we are unable to provide the services listed (or a suitable alternative, through an alternative ATOL holder or otherwise) for reasons of insolvency, the Trustees of the Air Travel Trust may make a payment to (or confer a benefit on) you under the ATOL scheme. You agree that in return for such a payment or benefit you assign absolutely to those Trustees any claims which you have or may have arising out of or relating to the non-provision of the services, including any claim against us, the travel agent (or your credit card issuer where applicable). You also agree that any such claims may be re-assigned to another body, if that other body has paid sums you have claimed under the ATOL scheme.
4.5 When you buy a package holiday that doesn't include a flight, protection is provided by way of a bond held by Fred. Olsen Travel Ltd with ABTA, using ABTA Y0128. For further information please see www.abta.com.
5. Cancellation by You
5.1 You may cancel your contract subject to notice to FOT in writing and payment to FOT for any cancellation fee in accordance with the following scale:
| | |
| --- | --- |
| 90 days or more | loss of deposit and non-refundable items |
| 89 - 57 days | 60% |
| 56 - 43 days | 75% |
| 42 - 15 days | 85% |
| 14 - 00 days | 100% |
5.2 Cancellation will only be effective on the day it is received in writing at our offices, and for the avoidance of doubt these charges will apply whatever the reason for cancellation including illness, incapacity or any other intervening event. No refunds will be made for unused services, or unused portions of the cruise once travel arrangements have commenced. Insurance premiums are non-refundable.
5.3 Cancellation fees may be insurable so we recommend that you take out appropriate travel insurance to cover such charges.
6. Modifications by Organiser
6.1 We undertake to provide customers with all the services hired as contained in the brochure with the terms and conditions and characteristics stipulated, all of which is in accordance with the following assumptions:
On the assumption that prior to the departure date of the package booked, we reserve the right to make changes or cancel your booking at any time. If we make a major change to your holiday, we will inform you or your travel agent as soon as reasonably possible if there is time before your departure. In any such instance, the terms of the ABTA Code of Conduct will apply.
In this event, and unless otherwise agreed by the parties, you could opt to cancel the contract without any penalty being applied, or accept a modification to the contract in which the variations are specified and their effect on the price. These options don't apply for minor changes. Examples of minor changes include alteration of your outward/ return flights by less than 12 hours, changes to aircraft type, change of accommodation to another of the same or higher standard, changes of carriers. You must notify us of the decision taken within three days of receiving notification of the modification referred to in section (a). In the event that you fail to inform us of your decision within the stipulated term, it shall be understood that you have opted to continue with the contract.
In the event that you choose to cancel the contract pursuant to section (b), or in the event that we cancel the package before the agreed departure date for any reason not attributable to you, upon the cancellation of the contract you shall be entitled either to a refund of all amounts paid in relation to the same or to receive another package of equivalent or superior quality, provided that we are in a position to propose such an option. In the event that the package offered were to be of an inferior quality, we shall reimburse you, where applicable, according to the quantities already paid, with the price difference according to the contract. In all cases, you may insist on a refund of all amounts paid, in which case the refund will be processed as soon as possible and, in any case, within a maximum term of 14 calendar days from the date of cancellation. Consumers who do not receive confirmation of the booking in the terms stipulated in the contract will have this same right.
In the foregoing cases, we shall be liable to pay compensation, where applicable, as a result of breach of contract. The compensation value shall be 5% of the total travel package value if the aforementioned breach occurs between two months and fifteen days prior to the scheduled travel date; 10%, if occurring between fifteen days and three days beforehand, and 25% in the event that the breach occurs 48 hours beforehand.
There shall be no obligation to pay compensation in the following circumstances:
When the cancellation is due to the cruise no longer being operated and, as such, you are informed in writing prior to the deadline stipulated for this purpose in the contract which, as a minimum, shall be 70 days prior to the planned start date of the trip.
When the cancellation, unless in the event of excess reservations, is the result of "force majeure". For the purposes of these Booking Conditions, "force majeure" means any unusual or unforeseeable event or circumstance beyond our control or that of the supplier of the service(s) in question that even with all due care and diligence could not be avoided. These include but are not limited to war, threat of war, piracy or threat of piracy, riots, civil disturbances, terrorist activity and its consequences, industrial disputes, natural and nuclear disasters, fire, epidemics, health risks and pandemics including but not limited to incidents of infectious or other diseases or illnesses, unavoidable and unforeseeable technical problems with transport for reasons beyond our control or that of our suppliers, deviation at sea in response to a distress call or emergency, closed or congested airports or ports, adverse weather conditions or adverse sea states, and failure of power supplies.
In the event that, after departure, we cannot provide a large part of the service included in the contract we shall adopt, where possible, suitable solutions for continuing the trip without any surcharge in the price to you and, where applicable, shall pay the difference between the services planned and those provided. If you continue the trip with the solutions offered, it shall be considered that you tacitly accept those solutions.
You will have the right to a refund of the total package price if any element is cancelled due to mechanical faults, or to a partial refund or the difference between the services planned and those finally provided if the cancellation occurs when the trip has started, due to mechanical faults. You will have the right to be taken to the contracted destination port or to the place of departure, if the cruise ends early due to mechanical faults. You will also have the right to accommodation in the event of the early end of the cruise due to mechanical faults if disembarkation and the need to stay overnight in a non-scheduled port is necessary.
If the solutions adopted by us were not viable, or you were not to accept them on reasonable grounds, then we shall provide you, with no surcharge whatsoever, with a means of transport equivalent to the one used in the trip in order to return to the departure location or any other that both have agreed to without prejudice to the compensation which could be applicable.
In the event of a claim, we shall proceed with due diligence to find suitable solutions.
Under no circumstances shall anything not included in the package contract (e.g. transport tickets from your place of origin to the place of departure for the trip or vice versa, hotel reservations on days prior to or following the trip, etc.) be our responsibility, whilst there is no obligation to compensate for these possible expenses for individual services or arrangements should the trip be cancelled for the reasons stipulated in section e).
Users who refuse to use any service included in the contract shall not be entitled to request a reimbursement for the services which he/she voluntarily elected not to use.
6.2 According to international maritime law, when circumstances or causes or force majeure require or recommend it, shipping companies can alter the order of the cruise stopovers, cancel any, modify the time spent in the relevant port, change the ship for another of a similar category, etc. Provided that these changes occur prior to the trip start date, you shall be informed, and be entitled to full reimbursement of the amounts paid, except for administration costs with no right to any compensation whatsoever.
7. Modifications by You
7.1 If, after our confirmation invoice has been issued, you wish to change your travel arrangements in any way, for example your chosen departure date or accommodation, we will do our utmost to make these changes but it may not always be possible.
7.2 Any request for changes to be made must be in writing from the person who makes the booking or your travel agent. You will be asked to pay an administration fee of £20, and any further costs we incur in making this alteration. You should be aware that these costs could increase the closer to the departure date that changes are made and you should contact us as soon as possible.
7.3 Please note that certain travel arrangements (e.g. Apex ticket) may not be changeable after a reservation has been made and any alteration request could incur a cancellation charge of up to 100% of that part of the arrangements.
7.4 Changes to flights are normally treated as cancellations by airlines. Some flights have conditions, which mean no changes can be made after we have confirmed the booking without you having to pay the full cost of the flight tickets originally booked. Should we be unable to assist you and you do not wish to continue with the original booking then we shall treat this as cancellation by you and cancellation fees will be payable.
8. Flights
8.1 This publication is the sole responsibility of FOT. It is not made on behalf of, and does not commit any airline mentioned or any other airline whose services are used during the course of the trip. Notwithstanding this any rules, regulations, terms and conditions published by any such airline will apply and may limit the airline's liability to you in certain circumstances.
8.2 We shall provide details of the relevant airline routing and any intermediate stops as soon as possible, but any changes to the actual airline or routing are considered to be a minor change and if this happens, you will not be entitled to cancel without penalty nor will compensation be paid.
9. Obligation by You to Notify Any Breach in the Execution of the Contract
9.1 You undertake to notify any breach in the execution of the contract preferably "in situ" or, otherwise, as soon as possible in writing or in any other way to ensure that we, and where applicable, the provider of the service in question, is informed. In the event that the solutions adopted by us or the service provider were not deemed to be satisfactory for you, you shall have, independently of the content of the following section, 30 days to make a claim to us. In the maximum term of another 30 days we will answer in writing to the claims made within the deadline. All claims must be sent to the following e-mail address: sales@pullmanturcruises.co.uk
10. Prescription of Actions
10.1 Regardless of the provisions of the previous section, the period for the prescription of the action of submitting claims shall be two years to be counted as from: i) when the service in question is enforceable; ii) when the service is provided; or iii) the date on which you prove having requested that we or the service provider comply with any of the obligations agreed to.
11. Liability
11.1 The liability of FOT and any other party that may be involved in the supply of services in connection with this Contract for damages resulting from the breach or poor execution of services included in the trip may be limited by international conventions including those relating to carriage by sea, including the Athens Convention 1974 (as amended), carriage by air, including the Warsaw Convention 1929 (as amended by the Hague Protocol 1955) or the Montreal Convention 1999 or otherwise and hotel stays, including the Paris Convention1962, and in the case of all such conventions, any applicable Protocols or other amendments as made from time to time. Where these or any other conventions apply to any service or accommodation supplied during any part of the trip, whether or not directly supplied by us, then insofar as we may have any responsibility or liability, the limits of liability afforded by such conventions apply and any liability or responsibility in respect of us shall be determined accordingly.
11.2 Save as provided otherwise in these terms and conditions and subject to the provisions relating to liability, including limits in these terms and conditions, all arrangements for the provision of transport of passengers, their baggage and personal property, accommodation and other services are in addition to these terms and conditions subject to the terms and conditions of airlines and owners or operators of the cruise ships and all other service providers such as transfer operators, hotels, etc.
11.3 Unless otherwise provided for by force of law or in accordance with these terms and conditions, the liabilities, duties, obligations and responsibilities of FOT or any other party acting as operator or otherwise involved in the supply of services under this contract shall be limited in accordance with the limits applicable to a carrier under the Athens Convention 1974 (Carriage of Passengers and Luggage by Sea) as modified and set out in parts I and II of Schedule 6 of the Merchant Shipping Act 1955 ("the Convention").
11.4 The liability of FOT or any other party acting as operator or otherwise involved in the supply of services under this Contract, for death or illness of, or personal injury to, any passenger, or the loss of or damage to the luggage of any passenger is limited to the maximum amount specified in Articles 7 and 8 of the Convention save in the case of valuables (as defined in Article 5 of the Convention) where no liability is accepted unless such valuables have been deposited with the carrier for the agreed purpose of safekeeping in which case liability will be limited to the limit provided for in Article 8(3) of the Convention.
11.5 No responsibility is accepted for loss or damage caused to passengers by failure to perform the contract or improper performance of the contract where the failure or improper performance happens without fault on the part of FOT or any other party acting as operator or otherwise involved in the supply of services under this Contract because:
The fault detected in the execution of the contract can be attributed to you.
The flaws can be attributed to a third party outside the provision of the services featured in the Contract and are of an unforeseeable or insurmountable nature.
The faults referred to are the result of "force majeure". This is understood to refer to circumstances beyond the control of he/she who alleges them, abnormal and unforeseeable, the consequences of which could not have been avoided in spite of having acted with due diligence.
The faults are due to an event which we or, where applicable, the service provider in spite of having acted with all the due diligence required, could not foresee or overcome.
11.6 No liability is accepted in respect of arrangements or commitments made by or on behalf of the passenger that are not part of the package Contract.
11.7 If any term, condition, section or provision becomes invalid or be so judged, the remaining terms, conditions, sections and provisions shall be deemed severable and shall remain in force.
11.8 In the event FOT has any legal liability for any loss of or damage to property otherwise than in accordance with the Convention and any other applicable conventions including the Montreal conventions then its liability shall not at any time exceed £250 per passenger and FOT shall not at any time be liable for loss of or to any money, jewellery, valuables or medication. Passengers are advised not to pack money, jewellery, other valuables or medication in their luggage and must ensure that their personal possessions and valuables are with them at all times.
11.9 All carriage (by land, air and sea) is subject to the conditions of carriage of the actual operator/carrier. These may limit or exclude liability. Save as otherwise provided in these Conditions, the carriers' conditions of carriage are expressly incorporated into the Contract and are deemed to be expressly accepted by you at the time of booking.
11.10 FOT's liability will not at any time exceed that of any carrier under the carrier's conditions of carriage and/or applicable or incorporated conventions.
11.11 Tour providers. FOT has no direct control over the tour providers and their services. In no case, whatsoever, will FOT be held liable for loss, damages and injuries incurred by you as a result of the negligent act or omission or otherwise of the tour providers. Reasonable skill and care will be exercised by the service provider in the selection of a reputable tour provider. In assessing performance and/or liability of any tour provider, local laws and regulations will apply.
12. Mobility, Medical Matters and Special Assistance
12.1 The ships have a limited number of cabins adapted for disabled passengers, and not all areas or facilities on board can be accessed by the disabled, nor are they specifically equipped for such passengers.
12.2 We inform disabled passengers or people with reduced mobility, whose contracted cruise has its port of embarkation located within a member state of the European Union, or the port of embarkation of which is located outside the territory of a member state and port of disembarkation is located in the territory of a member state that whenever it is strictly necessary, and according to the following conditions: (i) in order to meet the security requirements set forth by the regulations/enforcing authorities; or (ii) if the design of the vessel or the infrastructures and port facilities, including terminal facilities, make it impossible for the passenger to safely or practically embark or disembark, or to transport the person in question, we may require that a disabled passenger or person with reduced mobility is accompanied by another person capable of providing the required assistance. This person must be an adult, who will not be subject to any cost, exclusively for the services related to the cruise.
12.3 Passenger obligations. You must give written notice to us at the time of booking of any disability, mobility problem or any other condition requiring special care, specific assistance, attention or treatment. If any such condition arises after the contract is formed then written notice must be given to us as soon as possible, and in any event, no later than 48 hours prior to departure. We shall make all reasonable endeavours to provide any specified assistance where requested.
12.4 If, in our reasonable opinion, a passenger's disability, mobility problem or medical condition cannot be accommodated safely by the cruise vessel or any other transport provider that would breach national and international maritime and aviation safety standards, then we reserve the right to refuse passage. If refusal is based upon this paragraph then you shall be provided with reasons, in writing by us within 5 days of refusal. In any such event, the passenger shall have the option of reimbursement or, if possible, re-routing.
12.5 Given that the ships are not equipped for assisting in pregnancies and births, no reservations are accepted from passengers who, at the end of the trip, would be in their 24th week of pregnancy, or who are at a more advanced stage of their pregnancy.
12.6 When boarding, pregnant passengers must provide a medically approved certificate confirming the good state of their health and that of the baby, whilst the foreseen birth date is stated as is the medical aptitude of the passenger to participate in the trip. We and the ship accept no liability, which could be derived during the trip or after as the consequence of complications during pregnancy or other related events which means that pregnant passengers shall board, providing the aforementioned criteria have been met, under their entire responsibility. For safety reasons, and specifically due to not having incubators designed for the transport of new born babies, and the material required to attend to them on board, we will not accept bookings for infants who are not over six months old on the scheduled embarkation date.
12.7 Doctor on board. The ship has all the necessary professional emergency care, until there is available land medical care. If resorting to the services of the doctor on board this is on a voluntary basis and the cost of the consultations shall be borne by you. The decisions taken by the doctor on board with regard to a passenger's aptitude for boarding or continuing the cruise are binding and irrefutable.
12.8 You are responsible for ensuring you have received all necessary medical inoculations (notwithstanding that we may provide advice on these matters from time to time). We or any party involved in the supply of services reserve the right to disembark any passenger without compensation who in the opinion of us or other party involved may be suffering from a contagious or infectious disease or whose presence may be considered detrimental to the safety or comfort of other holidaymakers or crew members.
13. Conduct, Safety and Security
13.1 You must behave in a manner which does not put the safety, peace and enjoyment of the cruise by other passengers at risk. You shall adopt the caution and diligence standards reasonably required and shall comply with the administrative and legal provisions in relation to the trip.
13.2 You are prohibited from taking goods, alcoholic beverages, live animals (except for recognised guide dogs for people with visual disability) weapons, ammunition, explosives, flammable, toxic or hazardous substances on board the ship without written consent from us.
13.3 Use in the cabins of any personal electrical appliance or electrical heating device such as irons, kettles, teapots, electric pans or saucepans, hair tongs, hair dryers, heaters, radiators, etc. are totally prohibited.
13.4 The embarkation of any type of vehicle is not allowed regardless of whether the traction is animal, human, electrical or mechanical, except for those used by people with some type of disability or handicap and that are essential for guaranteeing their autonomy. If this is breached, the devices found will be taken away by the crew and cannot be used until the end of the cruise, when they will be returned to their respective owners. You shall be held responsible for damages suffered by us as the result of a breach of his/her obligations as described in these terms and conditions, and in particular, shall respond to any damages incurred by other passengers and third parties as well as any fines and costs which, due to them, we or Pullmantur is obliged to pay to port, customs or health authorities or any others in any country in which the cruise makes a stopover.
14. Travel Insurance
14.1 When confirming the reservation, you will be informed that it is a condition of the Contract to take out travel insurance prior to departure, which covers the costs of cancellation, medical, emergency airlift/ boat transfer at sea and repatriation liabilities for the holiday. FOT reserves the right to cancel the contract without any liability or cost to you in the event that you do not comply with this paragraph. Final holiday documentation cannot be released until we have received notification of your insurance policy details.
14.2 Destinations in the Caribbean, at specific times of the year, could experience hurricanes. For this purpose it is, nevertheless, recommended that you contact the relevant authority and bodies.
15. Passports, Visas and Documentation
15.1 All passengers, without exception (including children), must have an individual passport, valid for at least 6 months after the date of return to the UK, and/or other valid documents for all the countries included in the itinerary of the trip, and entry and transit visas and health certificates that might be required. It shall therefore be your responsibility when trips require, to obtain relevant visas, passports, vaccination certificates, etc.
15.2 In the event that a visa application is refused by any Authority, for specific reasons relating to the user, or their entry to a country is refused as the result of not meeting the requirements in force or due to not having the required documentation or not carrying such documentation on their person, we accept no liability whatsoever for occurrences of this nature. You must bear any costs incurred whilst in those circumstances, the conditions and rules established for the voluntary withdrawal of services shall be applicable.
15.3 Passengers under the age of 18, or those considered as minors in accordance with the legislation in the country in question, who are travelling alone or with anyone other than their parents must also provide written authorisation from their parents or legal guardians, together with a copy of their credentials, since such documents may be requested by any authority. These documents must also include the contact details for parents or legal guardians in order that they may be contacted in the event of an emergency.
15.4 Parents or legal guardians travelling with a passenger under the age of 18, or a minor, who has a different surname to the parents or legal guardians will be required to produce official proof such as a full birth certificate/wedding certificate/divorce papers to prove that they are the parents or legal guardians of the passenger under the age of 18 or minor concerned.
16. Further Information
16.1 You can embark free of charge 30 kilogrammes of luggage on board Pullmantur cruise vessels. However, if your package includes flights or any other elements then it will be your responsibility to ensure the correct weight of luggage is taken. All excess luggage will be charged at your expense using the current luggage charge, without prejudice to the carrier's right to limit the weight of the excess luggage.
17. Acting as Agent
17.1 Where we act only as agent for Pullmantur, we will pass on a confirmation invoice on their behalf with the holiday price converted to Sterling, which you should check to ensure accuracy. In these situations, our liability is limited to situations of proven negligence on our part, and any other claims must be sent direct to Pullmantur, with who you shall be in contract. In these circumstances, all monies you pay to the travel agent are held by him on our behalf at all times.
18. Data
18.1 Personal details will be held and processed by us to enable fulfilment of the Holiday contract. You hereby agree to this information being passed to any third parties in order for the supply of the Holiday. Personal details supplied to us may also be used for marketing purposes. Marketing communications from us will allow you the opportunity to opt out of further marketing communications. We will not disclose personal details to third parties for marketing purposes without express permission.
19. Law and Jurisdiction
19.1 These Conditions and any dispute or claim arising out of or in connection with it or its subject matter or formation (including non-contractual disputes or claims) shall be governed by and construed in accordance with English Law.
19.2 The parties irrevocably agree that the courts of England and Wales shall have exclusive jurisdiction to settle any dispute or claim that arises out of or in connection with these Conditions or its subject matter or formation (including non-contractual disputes or claims).
Issued December 2016
Need Help?
Do you have a question about cruising? Ask your question here and visitors to the site, who have real cruise experience, will share their answers with you.
Post your own questions
Read answers from real cruisers
Help other cruisers with their questions
Be part of a real cruise community
Expand your cruise knowledge
If you'd like to know more about prices or a cruise that you've already booked, speak to a specialist cruise consultant, call us on 0800 408 6228.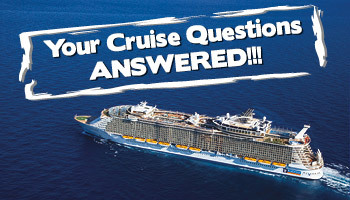 Would You Like To Ask A Question?