Luxury

SUITES


At Sea
---
Where Prestigious Hotel Stays &
Guided Tours Come as Standard

YOUR SEABOURN SUITE IS THE IDEAL HAVEN
Your home away from home is a superbly appointed luxury suite. Here, you can revel in sublime comfort as the world passes by.
Measuring an ample 277 square feet or more, your Seabourn suite is an ideal haven. The sea is always in view, framed by the expanse of a five-foot picture window or the doors of your balcony or veranda. Fine Egyptian cotton linens, a fluffy duvet and king-sized down and feather pillows encourage the indulgence of afternoon naps.
Sunshine enters your suite each day in the form of your personal suite stewardess. Whether she draws the warm, scented bath of your choice from our Pure PamperingSM menu or surprises you at night with a sprinkling of rose petals on your bed, she helps make your wishes come true.
Everything you could ever want and more is here. From the complimentary in-suite bar stocked daily with your personal favourites to the flat screen TVs and stereo systems, nothing is overlooked.
---
What you may appreciate most, however, is your personal suite stewardess, whose thoughtful, unobtrusive service is delivered with care.
Welcome you with Champagne and canapés
Offer you a selection of designer soaps
Draw you a Pure PamperingSM bath
Replenish your ice and bar set-up
Provide your personalized stationery
Deliver a daily newspaper and program
Manage your valet service needs
Assist you with any special requests
Personalize your nightly turndown service


IN-SUITE AMENITIES
Fine Egyptian cotton linens, fluffy duvet, down or hypoallergenic pillows, robes and slippers
24-hour complimentary room service
In-suite bar stocked according to your preferences
Fine soaps such as L'Occitane and exclusive Therapies bath products by Molton Brown, London
Personalized stationery
Flat-screen TV with music and movies
Wi-Fi and cell phone access
---

An invitation from the Master for a bridge visit when the ship is in port.
A personal visit from the Hotel Manager.
Fresh orchids or potpourri in your bathroom.
All-natural Molton Brown bath and beauty products including Pure Pampering bath oils.
A large basket of succulent tropical fruits.
High-quality bathrobes, soft and luxurious.
Complimentary Internet service.
A large bouquet of fresh flowers when you embark.
A convenient espresso machine with a variety of coffees in your suite.
Complimentary private car transfers between airport and ship.*
A choice of daily newspapers delivered to your suite.**
Wellness Bag exercise kit containing easy-to-carry workout gear available upon request.**

Need Help?
Do you have a question about cruising? Ask your question here and visitors to the site, who have real cruise experience, will share their answers with you.
Post your own questions
Read answers from real cruisers
Help other cruisers with their questions
Be part of a real cruise community
Expand your cruise knowledge
If you'd like to know more about prices or a cruise that you've already booked, speak to a specialist cruise consultant, call us on 0800 408 6228.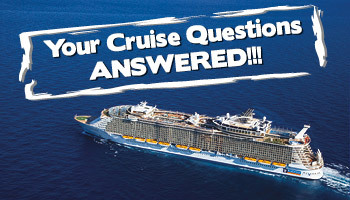 Would You Like To Ask A Question?