Muster drill on a cruise ship
Travel by cruise ship, with the possible exception of walking, is by far the safest form of travel. One of the reasons cruising is so safe is the precautions the cruise lines and their crew take to keep the guests safe
One of those precautions is the muster drill…
A muster drill is an exercise conducted by the crew of a ship prior to embarking on a voyage. The purpose of a muster drill is to prepare passengers for safe evacuation in the event of an emergency whilst on board the ship and to familiarise crew and passengers with the routes to the lifeboats.
It's important to stay quiet whilst a muster drill is happening so everyone can hear the crews instructions and announcements. When you first board you will be instructed as to what time the muster drill is starting. Whilst attendance is obviously important most drills will follow the same routine; so if you're at all worried about it here's what you can expect:
Upon boarding you will be informed what time to expect the muster drill, (normally shortly after you've set sail)
The muster drill will begin with the Captain sounding the general alarm, (so you know what to expect in a real emergency), which will consist of seven short blasts followed by one long blast of the ships horn or whistle, (although some cruise lines do sometimes skip this step)
The general alarm will be accompanied by either flashing strobe lights or emergency strip lighting in all corridors and public areas for the hearing impaired
Depending on your cabin position you will be directed to your muster area so you will know where to assemble if anything did happen
Whilst here a crew member will show you how to correctly use a life jacket and where you can find them, (normally your cabin)
Although you won't be shown to a life boat from your muster area it will only be a very short walk to where these are kept
The whole drill should take no more than thirty minutes.
Some ships that stop at multiple ports to pick up passengers don't hold a muster drill until some passengers have already been on board overnight. Others will do the muster drill after each port but only for the people who got on at that port.
Need Help?
Do you have a question about cruising? Ask your question here and visitors to the site, who have real cruise experience, will share their answers with you.
Post your own questions
Read answers from real cruisers
Help other cruisers with their questions
Be part of a real cruise community
Expand your cruise knowledge
If you'd like to know more about prices or a cruise that you've already booked, speak to a specialist cruise consultant, call us on 0800 408 6228.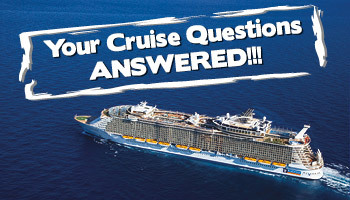 Would You Like To Ask A Question?