Added benefits are subject to availability, and may only be applicable on certain sailings, cabin grades and durations. See www.CRUISE.co.uk for more details. www.CRUISE.co.uk reserve the right to withdraw offers without prior notice. *Certain added Value benefits only apply to balcony cabins and above. *Regional flights may come at an additional supplement. *Other Dates may be higher priced than the cruise fare shown, please call for more information. Calls and phone numbers are recorded for training, marketing and quality purposes. E&OE
Click HERE For More
Cruise Deals!
Cruise Reviews - Cruise Answers - Cruise Photos - Cruise Videos
Join the forum discussions at
www.CRUISE.co.uk
- To unsubscribe from Weekly Cruise Deals
click here
Company Reg No. 01827977. VAT Reg No. 916 2376 24
Registered Office: Grosvenor House, Prospect Hill, Redditch B97 4DL


Need Help?
Do you have a question about cruising? Ask your question here and visitors to the site, who have real cruise experience, will share their answers with you.
Post your own questions
Read answers from real cruisers
Help other cruisers with their questions
Be part of a real cruise community
Expand your cruise knowledge
If you'd like to know more about prices or a cruise that you've already booked, speak to a specialist cruise consultant, call us on 0800 408 6228.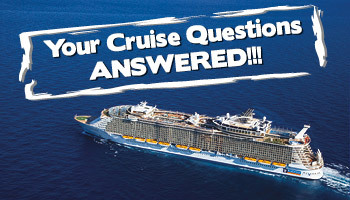 Would You Like To Ask A Question?