My Top tips for first time cruisers – part one
When it comes to your cruise picking the right cabin can be a big decision. If you have never cruised before then you might need some guidance with this. What are the pros and cons of cabin grades?
First time cruises generally go for an inside cabin or a balcony cabin. This will all depend on the price difference, sometimes the amount is not a big difference. If it is my tip would be to think how much time you would spend in your cabin ? you may be surprised with how little time is spent in your cabin on a whole!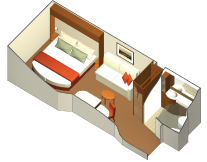 Inside Cabin
An inside cabin is accommodation in the interior of the ship. There is no window with this cabin therefore no natural light. They will have a separate en-suite as standard. These can be smaller rooms depending on the ship but are the most cost effective. Most people only use their cabin to get changed and sleep so these will suit a lot of people.
On certain ships you will find that there are inside cabins with a window (Promenade cabins) but these windows will look onto the inside promenade of the ship. These give you a bit more light in the room but will be more expensive. You will be able to see the cabins opposite however there are net curtains; it is just worth remembering when you are getting changed.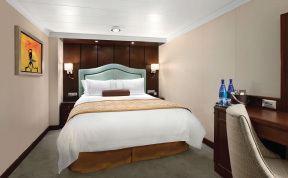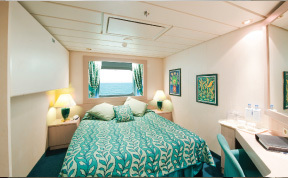 Outside Cabin
An outside cabin will basically be the same layout as an inside cabin however you will get either a porthole or a
popicture window with a view of the ocean. These give you natural light. They are more expensive than an inside cabin but certainly worth the extra to know what the weather is like every morning. You will also get some outside cabins that are larger than the standard rooms.
You will find under each category type of cabin will be subcategories and you can be paying more for an inside cabin to be on a higher deck than lower down the ship. It is worth bearing in mind that some cabins also have restricted views; these tend to be where the lifeboats are positioned on the ship. It is always worth checking when you come to book that you are opting for a clear view unless you are happy to have a restricted view
Balcony Cabin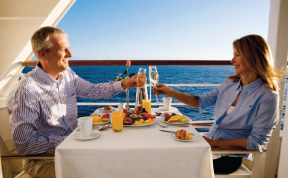 A balcony cabin will be pretty much the same as the inside cabin although will be larger. In addition to the room you will have doors that lead out onto your own private balcony overlooking the sea. You normally get two chairs and a table out on the balcony. These rooms give you the fresh air and the sound of the sea. It is nice to be able to go out on to the balcony in the morning or even order room service for breakfast on the balcony. You do pay more for the privilege of a balcony but it is certainly a good category to be in. You need to consider when looking at these cabins how long you are planning on being in the cabin as if you plan to be out and about all the day you won't get the use from a private balcony.
Some ships now have balcony cabins that don't look out onto the ocean and will look out onto certain areas within the ship. These will be cheaper than sea view balconies but you will be able to see the balcony cabins opposite your cabin.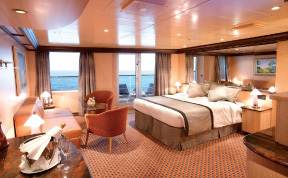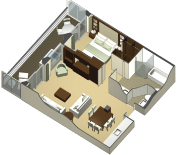 Suite
Suites are the top accommodation you can choose from on-board a ship. There will be different categories in the suites and these can vary in size. Most suites will have a separate living area to the bedroom and also your en-suite. These are a lot larger than the standard cabins and on certain ships these suites can be over two levels. Most suites will have a balcony with sun loungers however it is worth bearing in mind that not all suites feature a balcony and some will have a floor to ceiling window. Some suites will also have their own private butler if you are after pure luxury. You do pay more for the suites but if you are celebrating something special or just like to be treated like royalty then this type of cabin is for you.
Comments
comments
Grace April 8th, 2016 This entry was posted in Uncategorized
More articles you may be interested in